A Comprehensive list of the sizes of our Kitchen's Ikea cabinets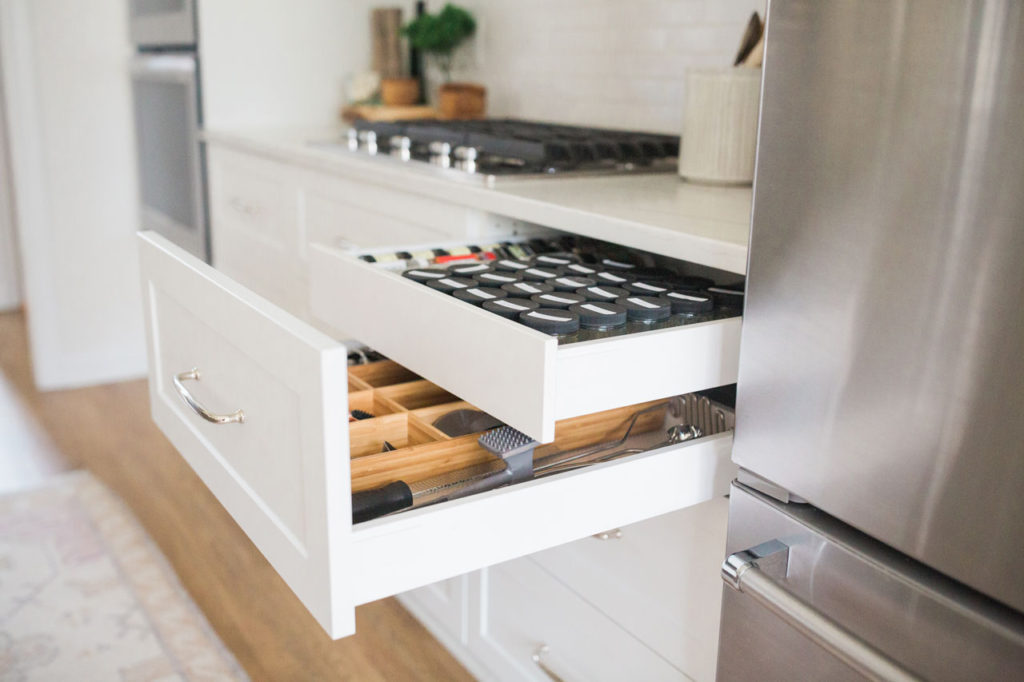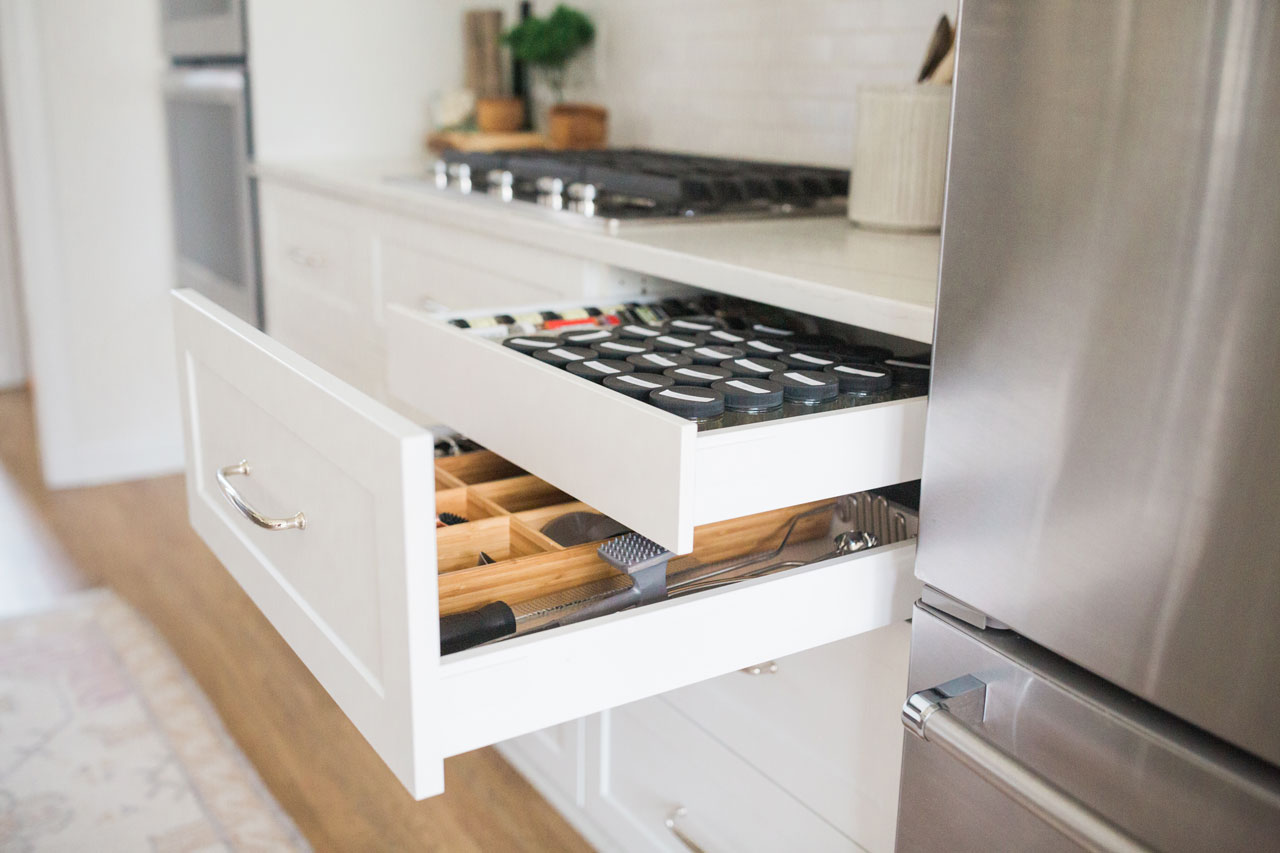 The most common questions I answer about this Ikea Cabinets with Semihandmade fronts kitchen are: "What are the sizes of your kitchen cabinets?" "How do you organize them?" I get it! When I was designing this kitchen the most important things I balanced were how it will look and how it will function. I talk about this so much! How it looks is always the easy part because we live in a world where inspiration is not sparse. It's easy to search #ikeakitchen or #semispaces and have hundreds of examples instantly. But the hard part is determining the scale and size of these kitchens you are using as your inspiration.
Will that configuration work in my space?

What size of cabinet is that?

What actually fits in a 24″ wide cabinet?
There are definitely a lot of really helpful resources who have designed Ikea and Semihandmade kitchens. It's actually a bit of a club. The Ikea and Semihandmade kitchen owners and those planning to join. I am always happy to share and answer questions about cabinet sizes and arrangements to achieve a certain look. Being a resource, both through this blog and my Instagram, is one of my favorite ways to help. That is why I thought I would break down my kitchen and how I organize it.
This post is intended to be detailed look at the sizes of our Ikea cabinet frames and Semihandmade drawer and doors. A template for what these sizes mean in real life. This is by no means, my attempt to show you how to beautifully organize your kitchen cabinets. Geesh, there are probably still crumbs in half of these pictures. The intent of this post is to show you what size of cabinet may work best for your pots and pans. Or that this hutch in the photos works extremely well at storing your pantry. By sharing my real, functioning kitchen I can hopefully help you in making sure that your plan will provide you with the best set up- for you! One that allows you to easily store, access, cook up a fancy meal, or celebrate with your family in your kitchen. I am capable of styling it up beautifully and taking pictures, but that wouldn't serve the purpose of this post.
Primary Kitchen Wall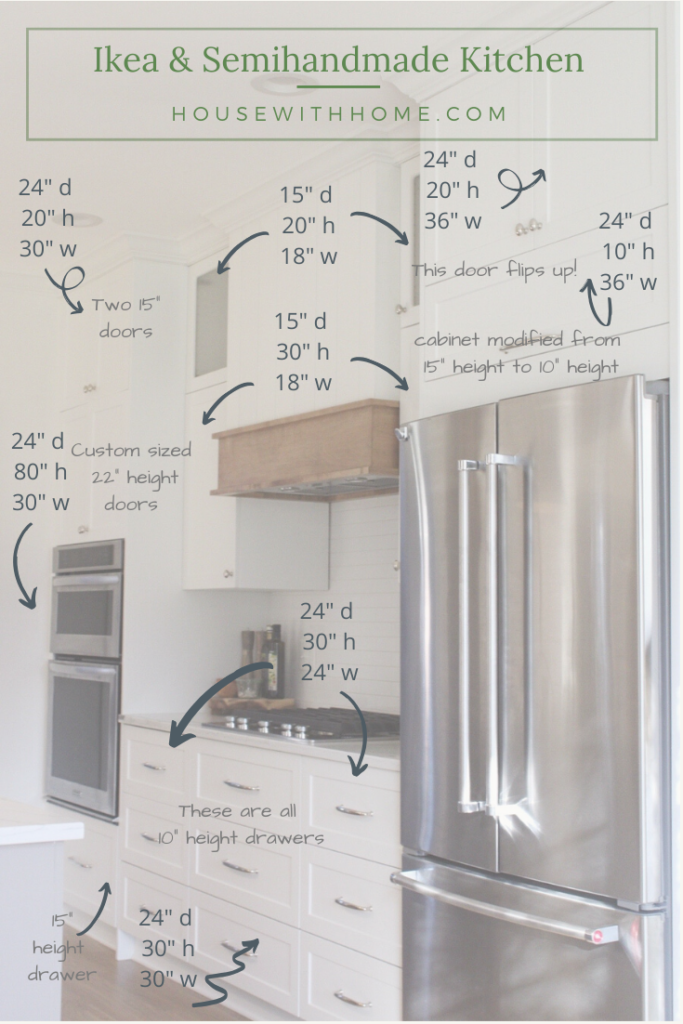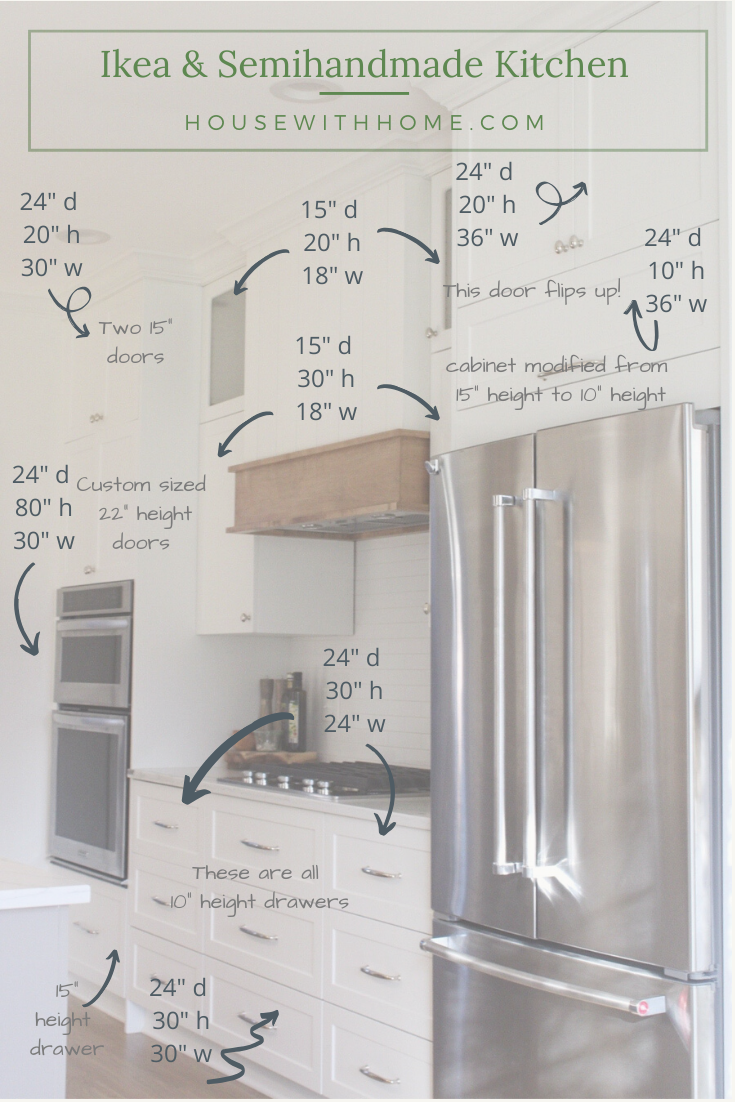 This wall is directly behind the island, and is the primary view of the kitchen from our adjacent family room. We have 9′ ceilings so I used the second row of cabinets to utilize that space for both function and aesthetic purposes. Keeping the same 20″ high cabinets across the entire top line was important to me. I love having the glass cabinets, too. They have lighting in them so at night we turn on just these and our island pendants for a cozy glow in our kitchen. I chose not to do under cabinet lights for these upper cabinets, because we have lighting on our vent hood right between them. This provides just enough task lighting for this area.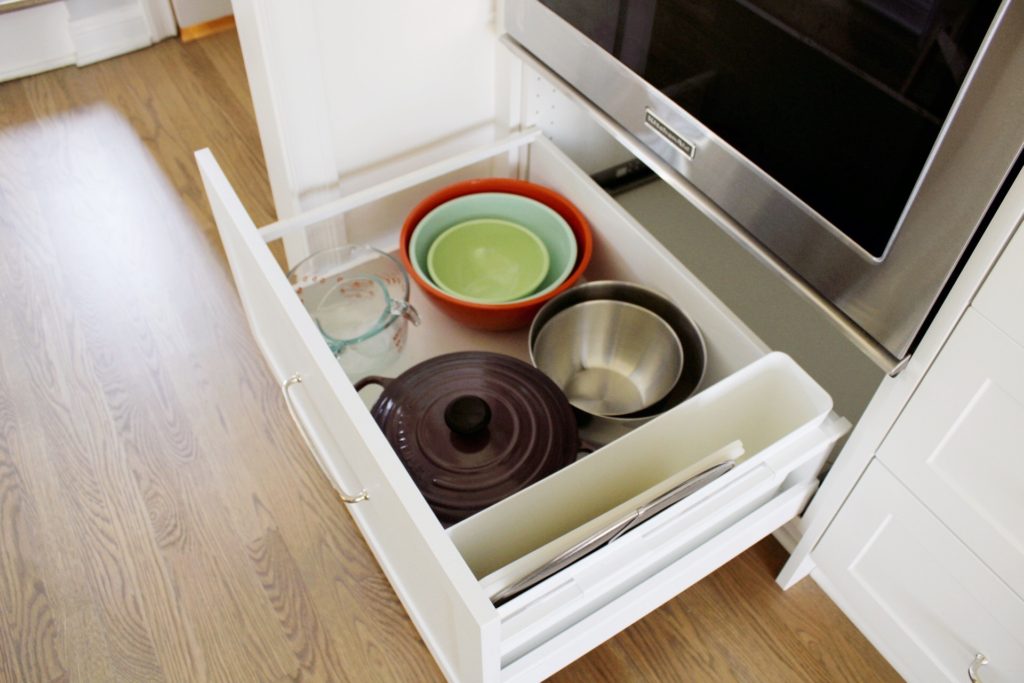 This large drawer under the oven is perfect for storing my mixing bowls and larger cast iron cookware. The cabinet above the oven it where I store all of my baking pans. Cake pans, muffin pans, bread pans, and sheet pans are all comfortably stored in this spot. The cabinet above that is where all of my serving pieces I only use on special occasions like a deviled egg dish or the gravy boat are stored. Both of these cabinets are 24″ deep so they store a ton of things, and honestly are pretty empty.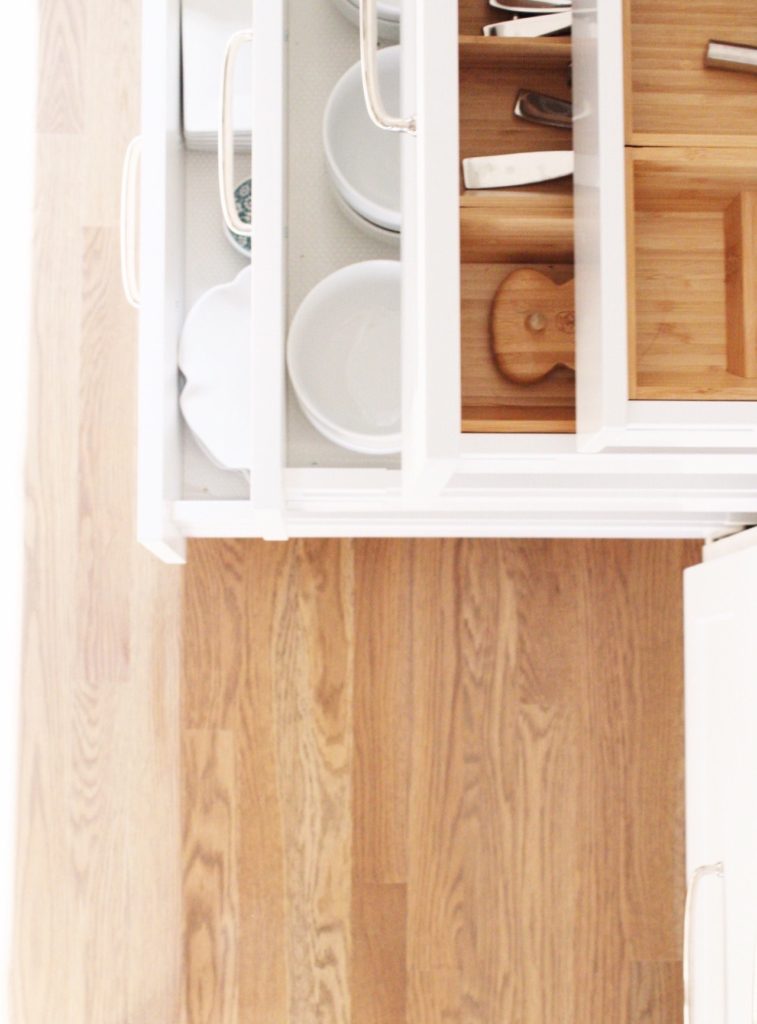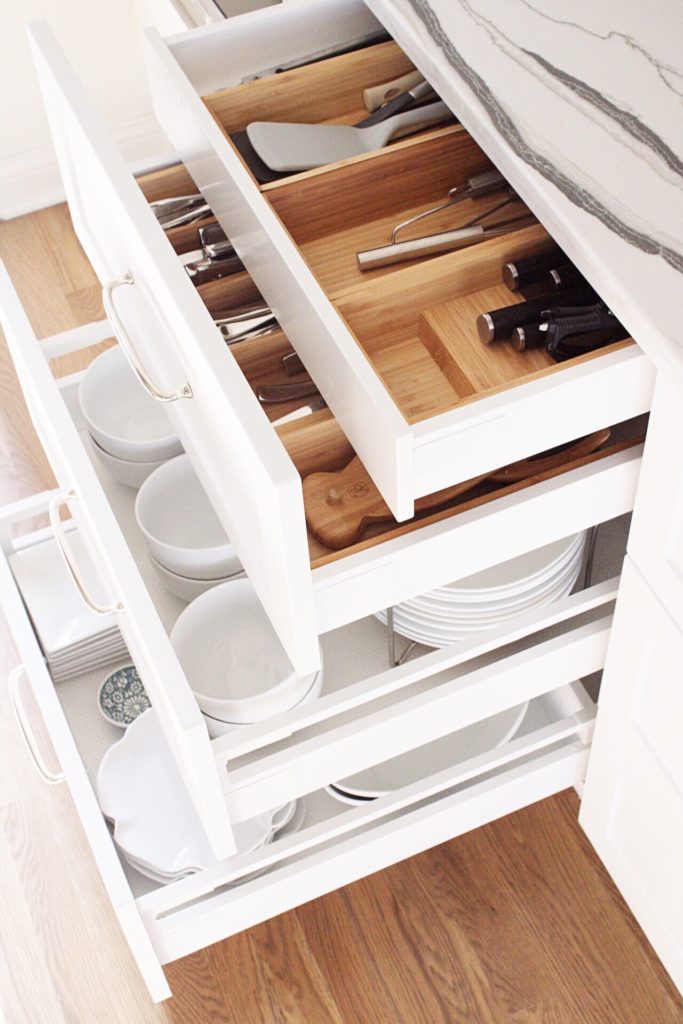 I wanted all drawers on the base cabinets for storing dishware and my cookware. This is right across from the dishwasher and makes unloading dishes a breeze. This first column of cabinets houses all of my plates and bowls in the bottom two drawers. The top drawer is where I keep all of my flatware, and the hidden drawer is perfect for my spatulas, knives, and whisks.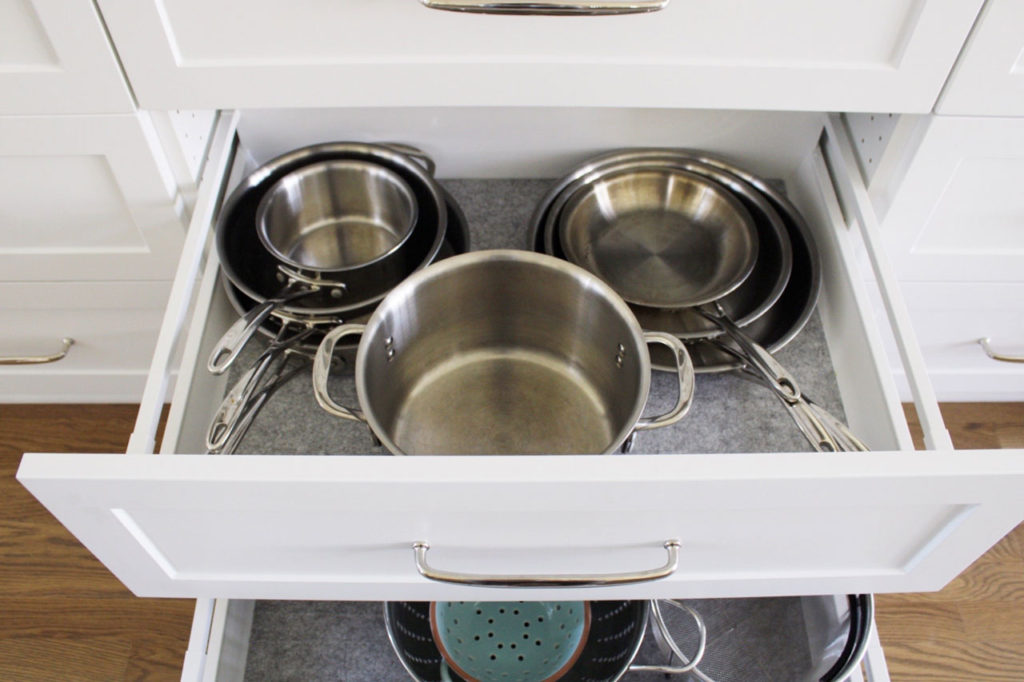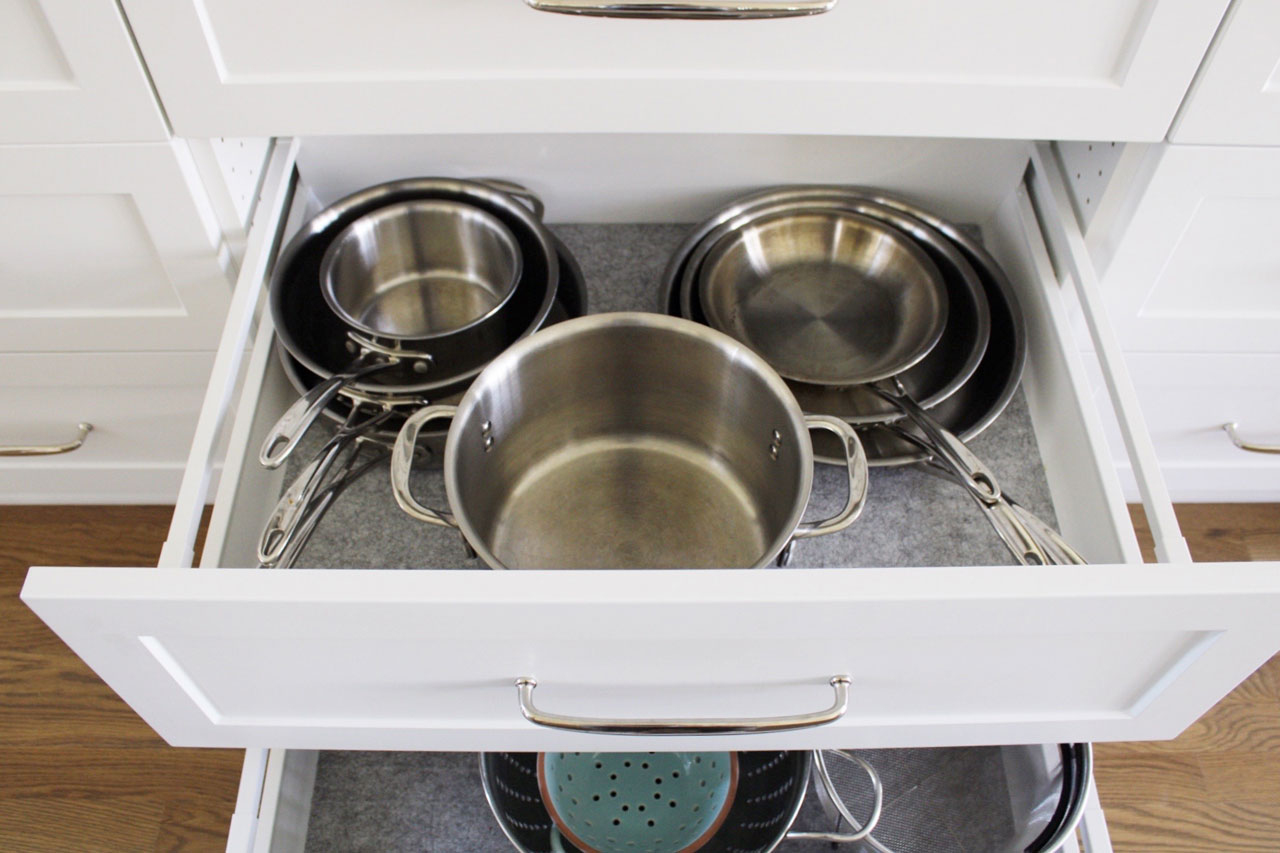 The middle column of drawers is a great location for pots and pans. I love having them stored in a drawer and right below my cook top. It makes it a breeze to quickly grab what I need when I am cooking.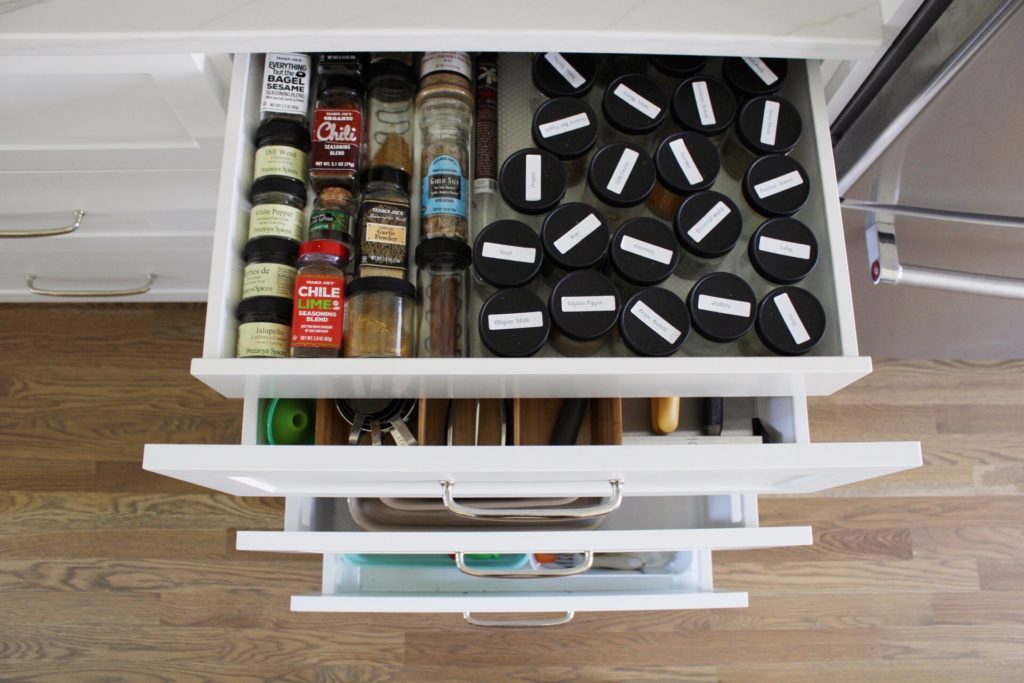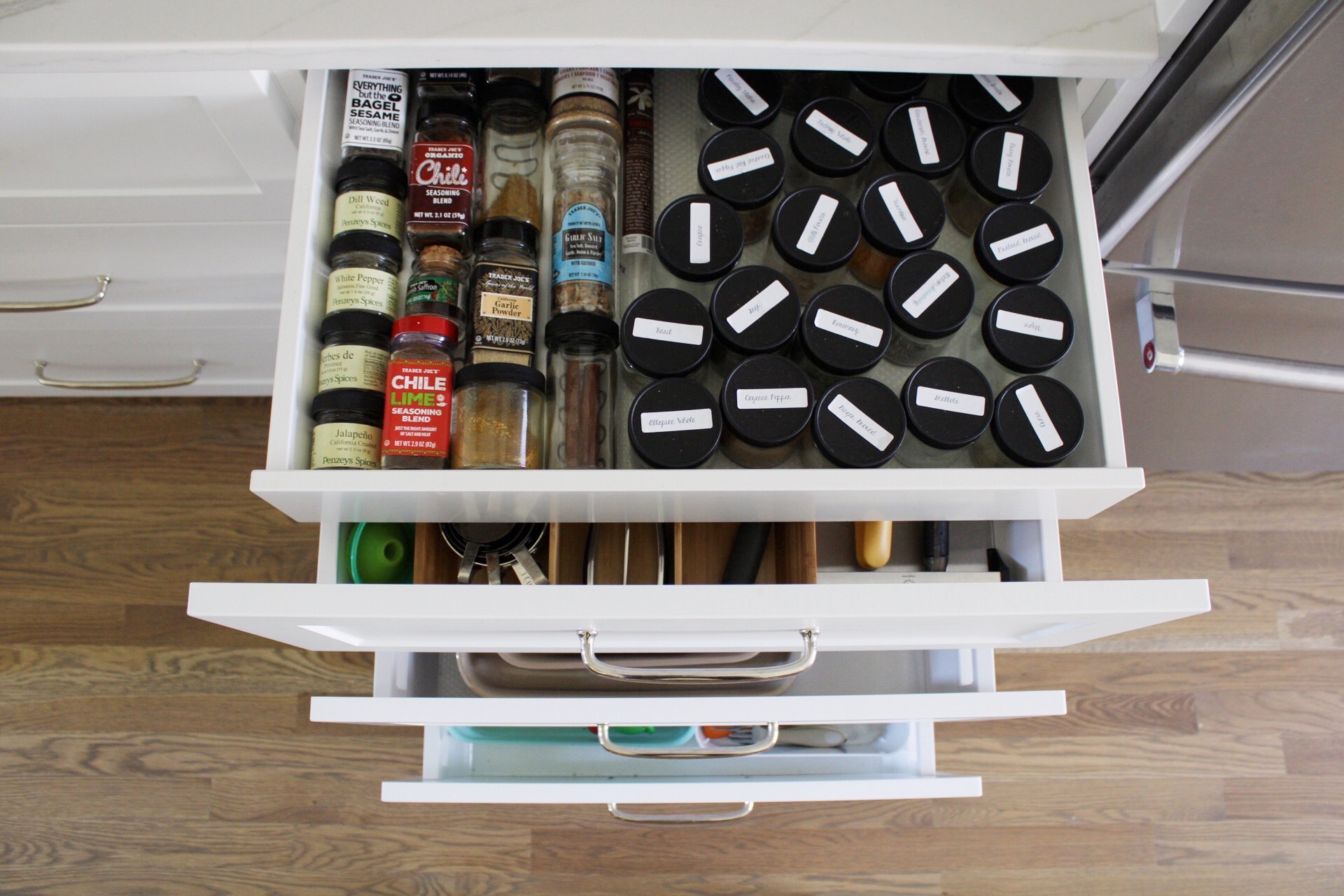 The far right column of drawers holds my cooking tools and spices on the top. I love the "hidden drawer" feature. It allowed me to keep the drawer configuration symmetric with all 10″ drawers and still squeeze in extra storage for items that don't require a deep drawer.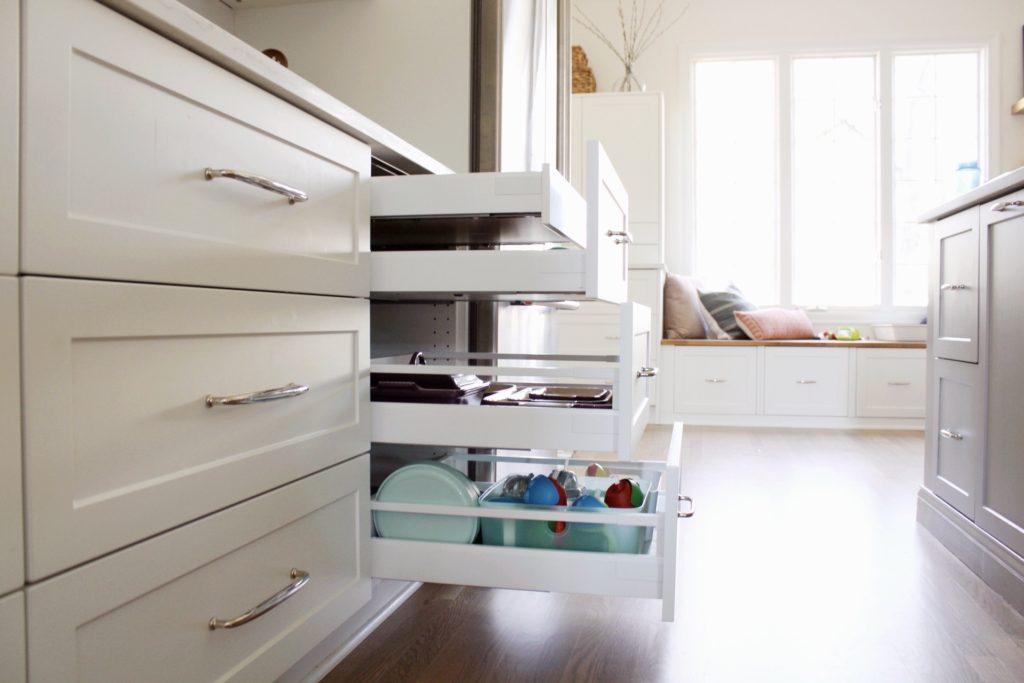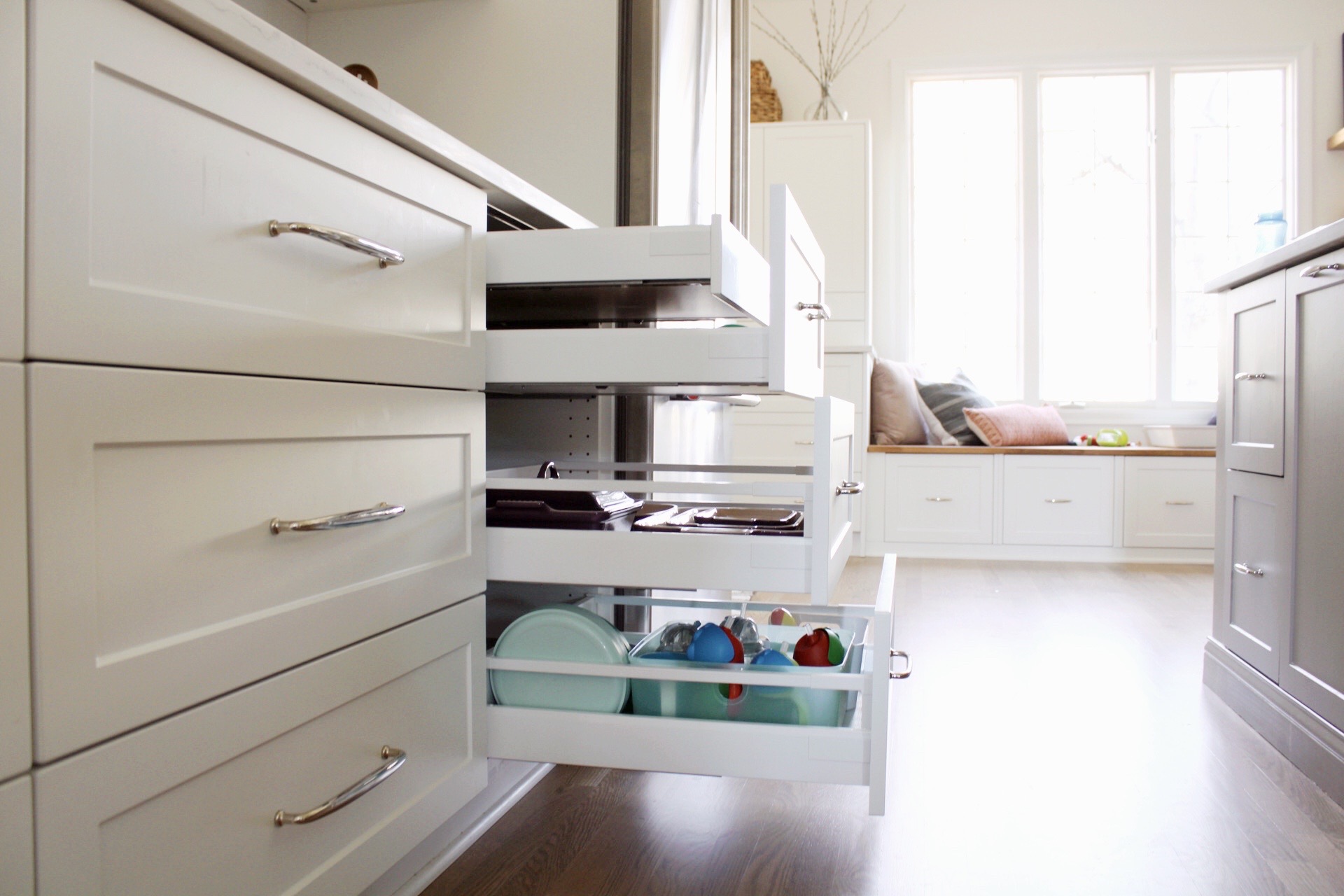 The bottom drawer is where I keep the kid's plates, cups, utensils, and bibs. This makes teaching them to put their dishes away easier and to help get them out for their meals so convenient. Toddler independence to make my life easier. A drawer contains everything nicely, especially when you have little hands organizing it.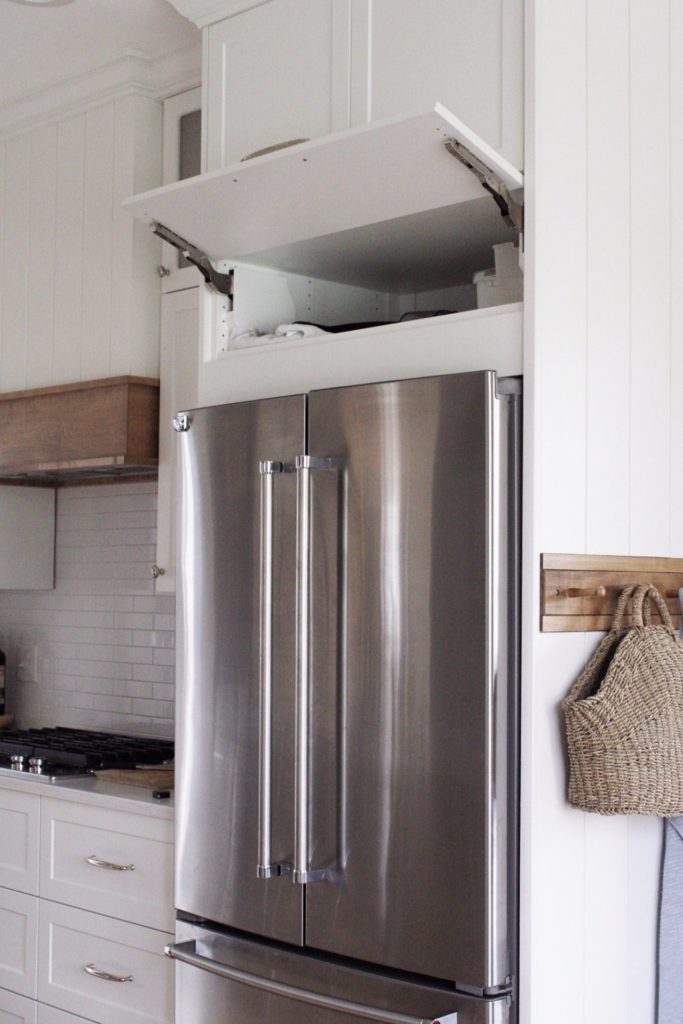 The cabinets above the fridge, similar to the ones above the oven, are great for storing items we don't need to access everyday. They are great for paper towels and pantry back stock. Our glassware fits perfectly in the upper cabinet on the right of the vent hood, right next to the refrigerator where they belong. The cabinet to the left of the vent hood stores serving platters and bowls.
The Island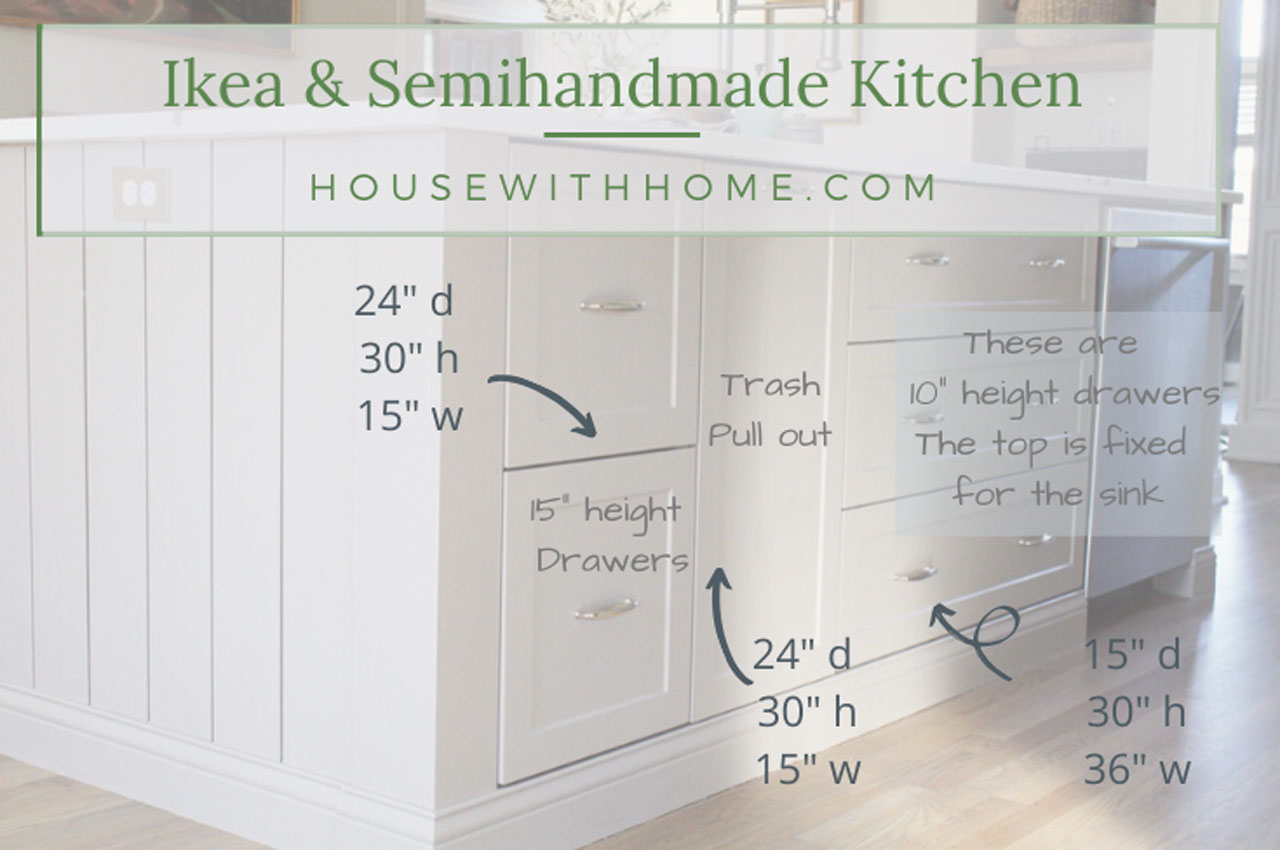 The kitchen island is the true work horse of our kitchen. It houses the sink, dishwasher, trashcan and the most used section of counter space. I share more details on the kitchen island here.
It was important to me that the trashcan be next to the sink, but also that it be under where I do the majority of my food prep. This makes it effortless to easily open the trash can and push the trash and scraps right into it. This is one spot where I am planning to add another interior drawer, just above the trashcan. This is why I love an Ikea kitchen, a year later and I can make an easy change. I just need to go into Ikea to get a low drawer insert.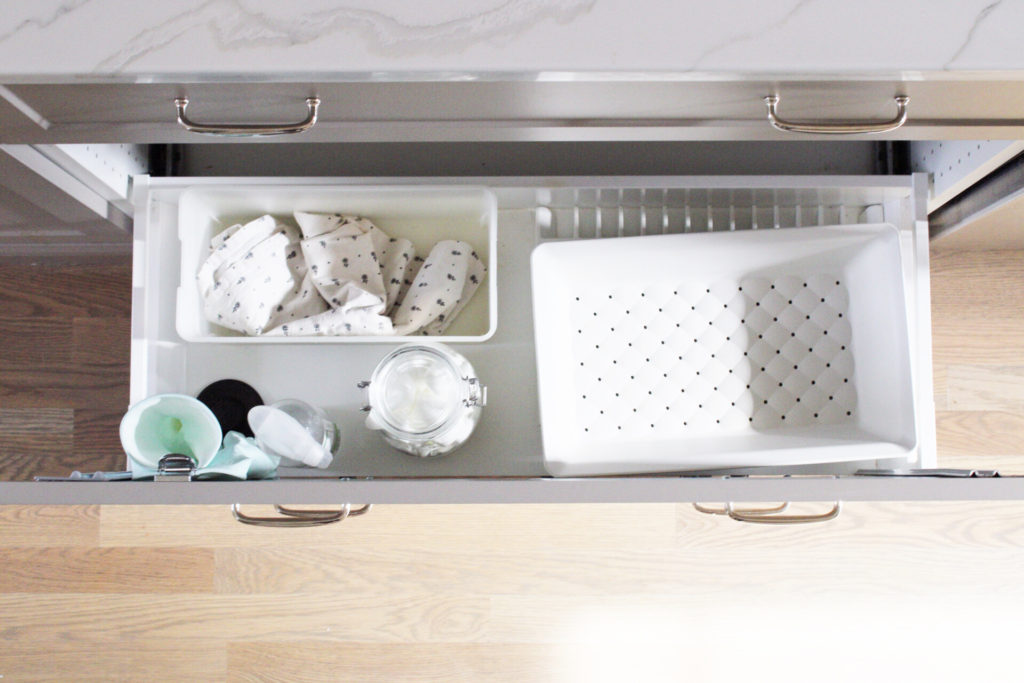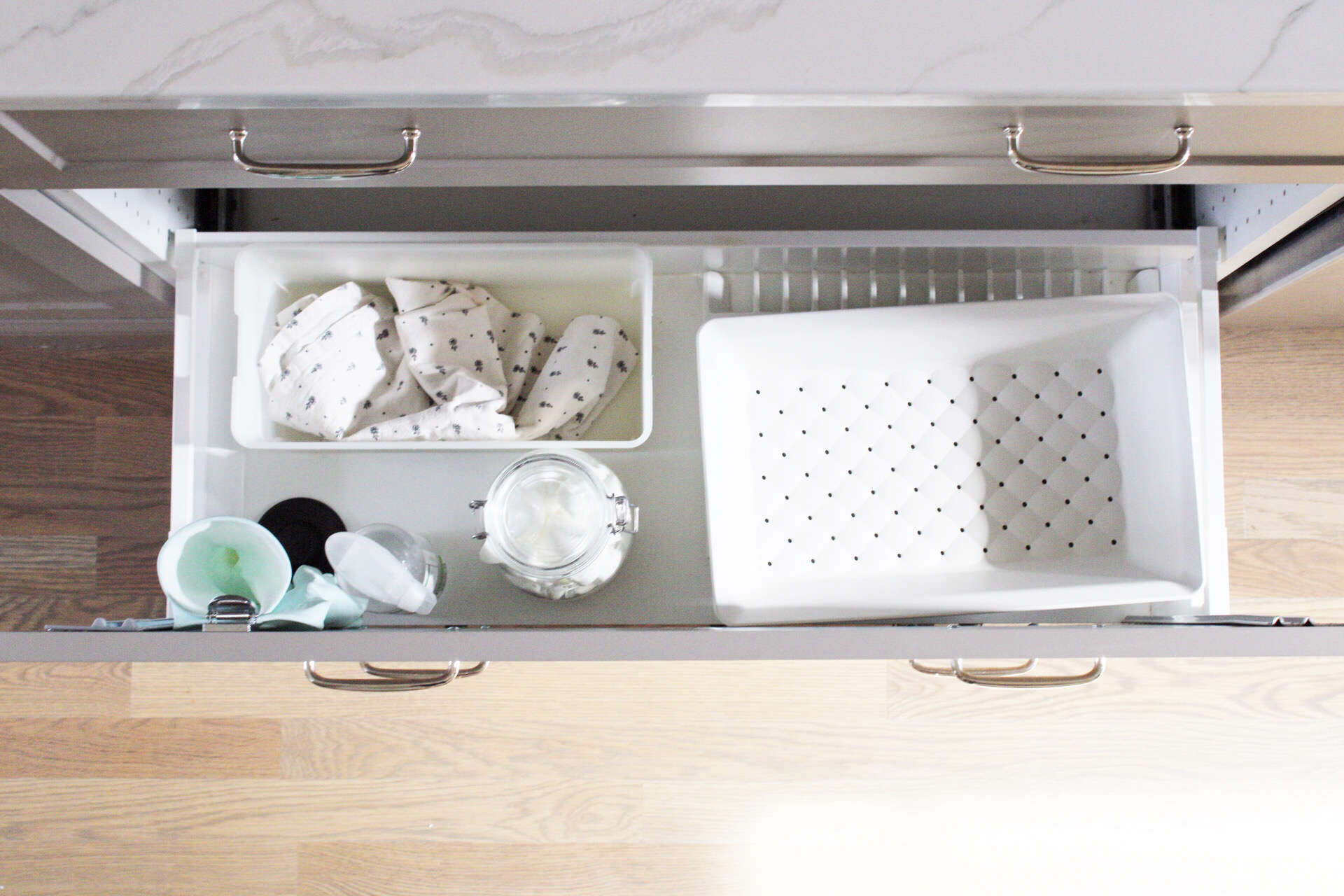 Under the sink is a large drawer, rather than a cabinet. Because this it the primary walk way of our kitchen, I love the way a drawer functions. I am not worried about doors getting clipped off by kids, and I can easily pull it out to access what I need. Mounted to the inside wall I have a paper towel holder that keeps them out of sight and easy to grab. I often rave about our
Kohler Prolific sink
, and the accessories that can be floated in it – a strainer, basket, and drying racks. These are all stored in this spot under the sink, along with my cleaning essentials. I only use
Branch Basics
as my all purpose, dish soap, and fruit/ veggie wash so this spray sits nicely in this spot. I also keep a small basket to hold the dirty washrags and towels from the day before I take them to the laundry.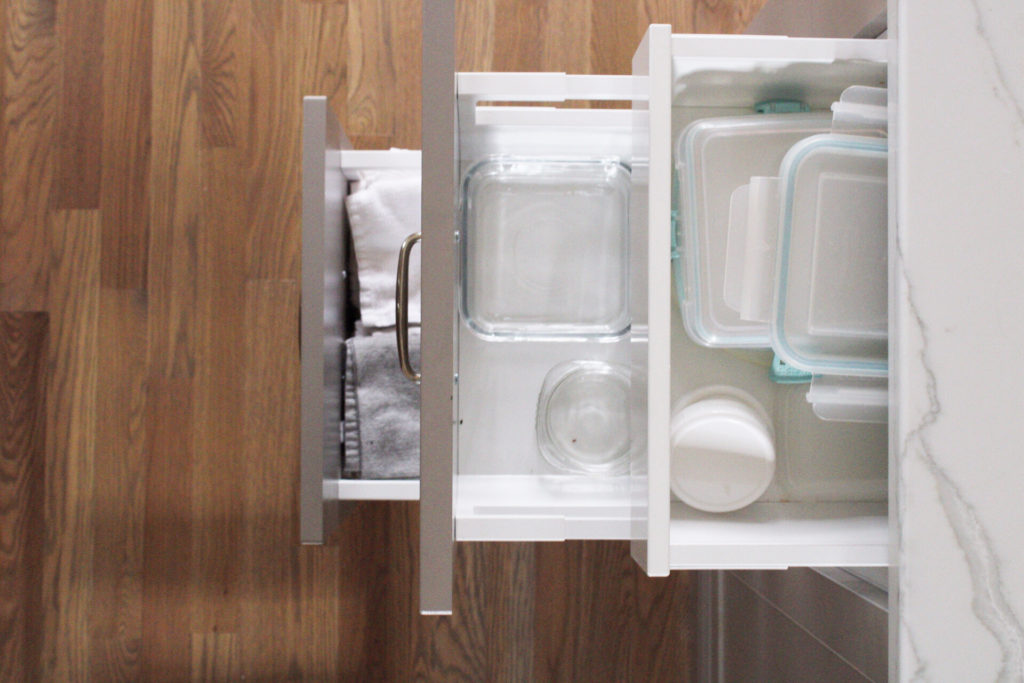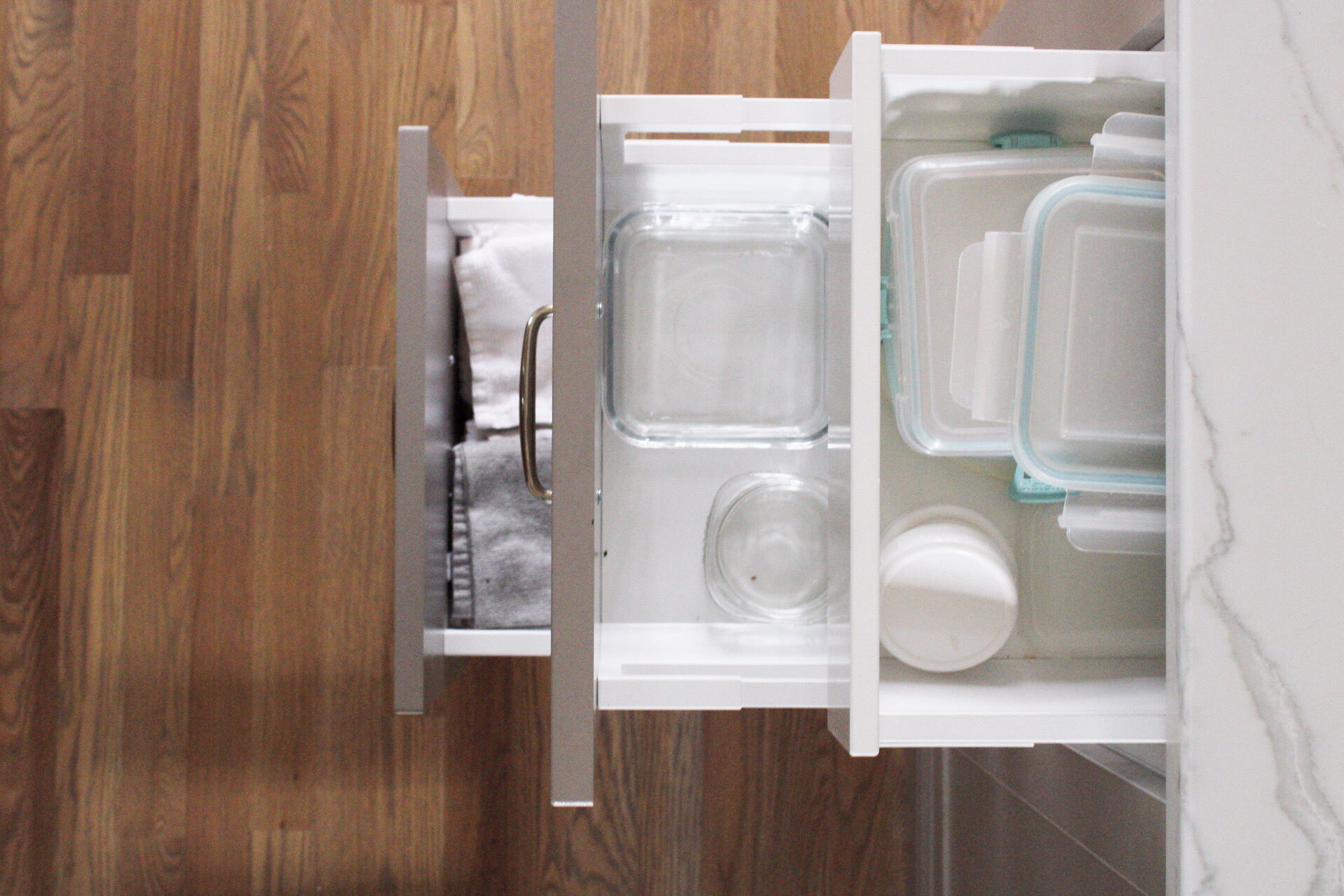 Next to the trashcan, and conveniently right across from the refrigerator is where I store all of my glass storage containers. The hidden drawer is perfect for holding all of the lids. I feel like I have finally solved the storage container disaster that many kitchens have. I do wish this drawer was slightly wider, and would recommend doing so if you have the space. However, I wanted to keep the sink centered in the island which forced this size of cabinet for this spot.
The Pantry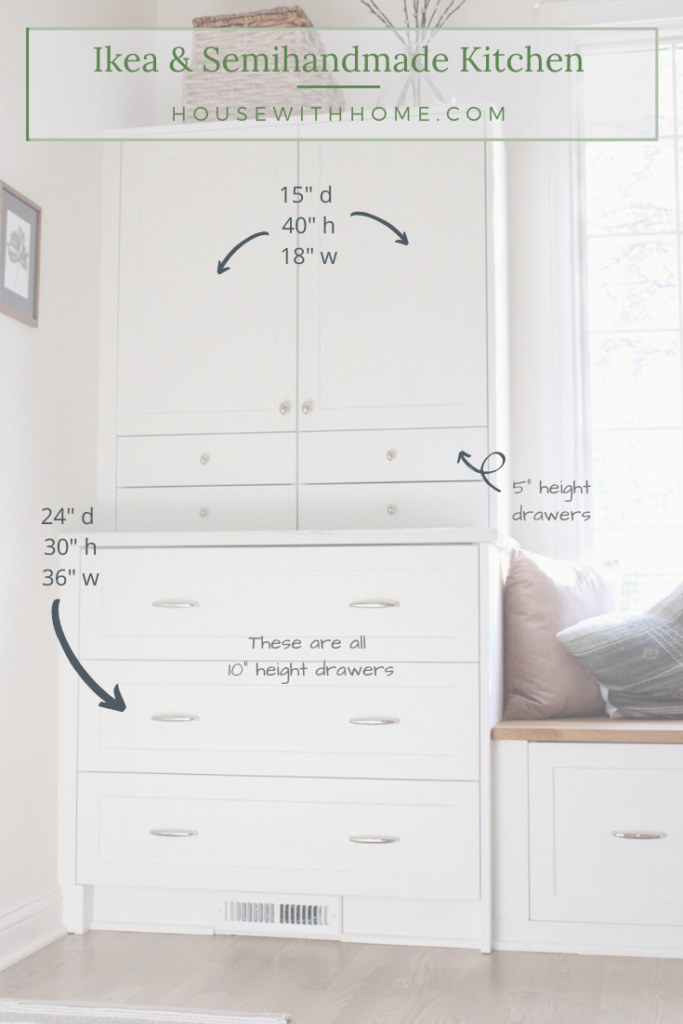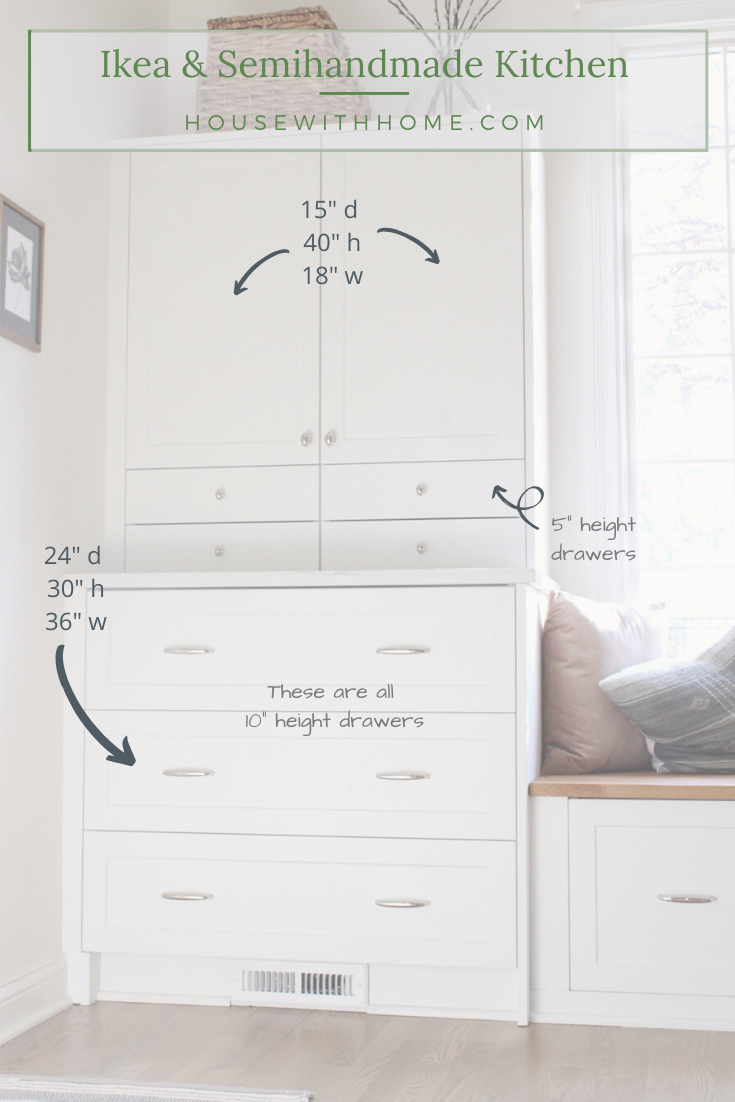 This is our primary pantry for the kitchen, and it holds so much food while still looking good. I love the small counter created by stacking the 15″ depth top on the 24″ depth base. It's a great spot to rest ingredients when I am gathering them for a recipe or putting things away.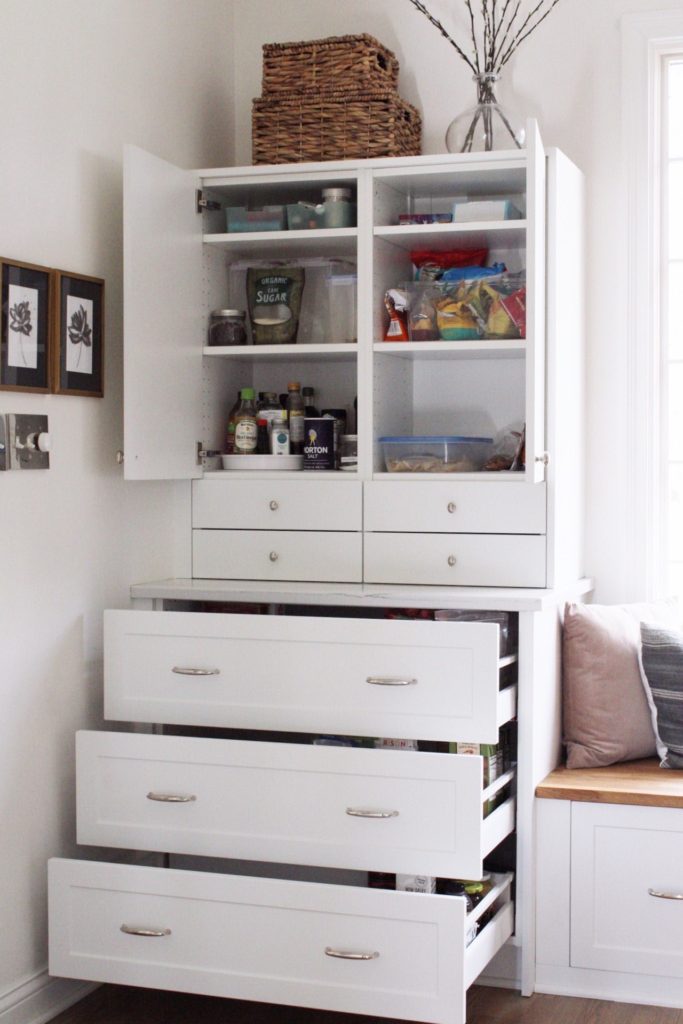 The left upper section is where I keep all of my baking supplies. On the right I keep all of the chips and sweets I want out of reach of the toddler. The drawers hold the rest of my pantry staples including rice, pastas, canned foods, cereal, etc. Currently, we are in the middle of social distancing for the Covid-19 pandemic and I haven't been grocery shopping as frequently as normal. Things are looking a little sparse. However, I love to cook and I keep a well stocked pantry. On a normal week I only grocery shop once a week, so this thing gets filled up. But even doing that, I almost always have a half empty bottom drawer. This size and configuration really functions so well.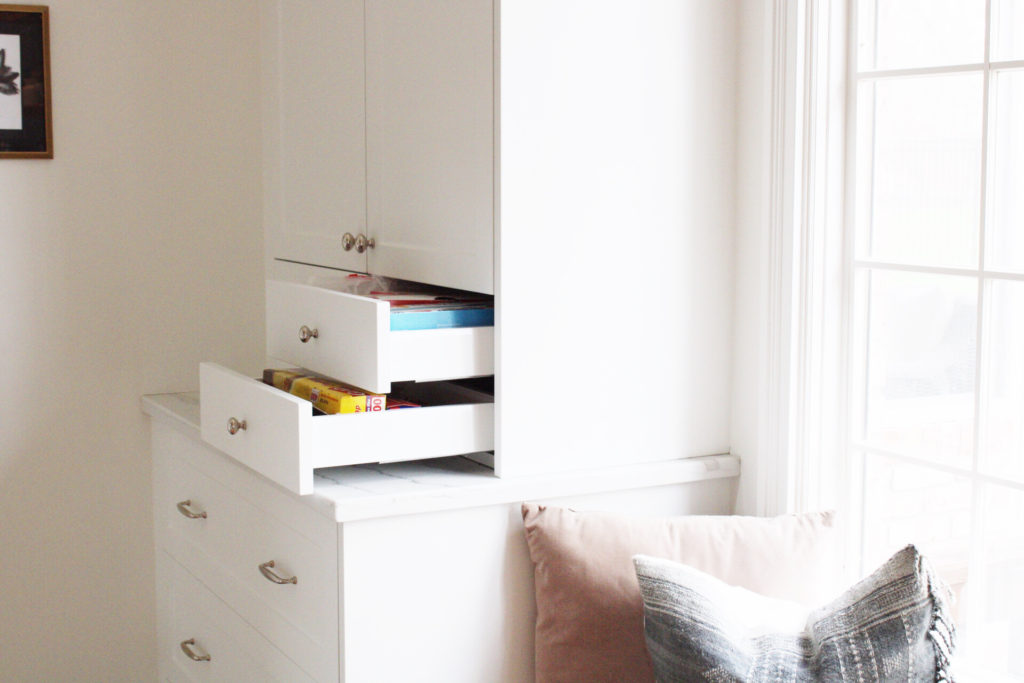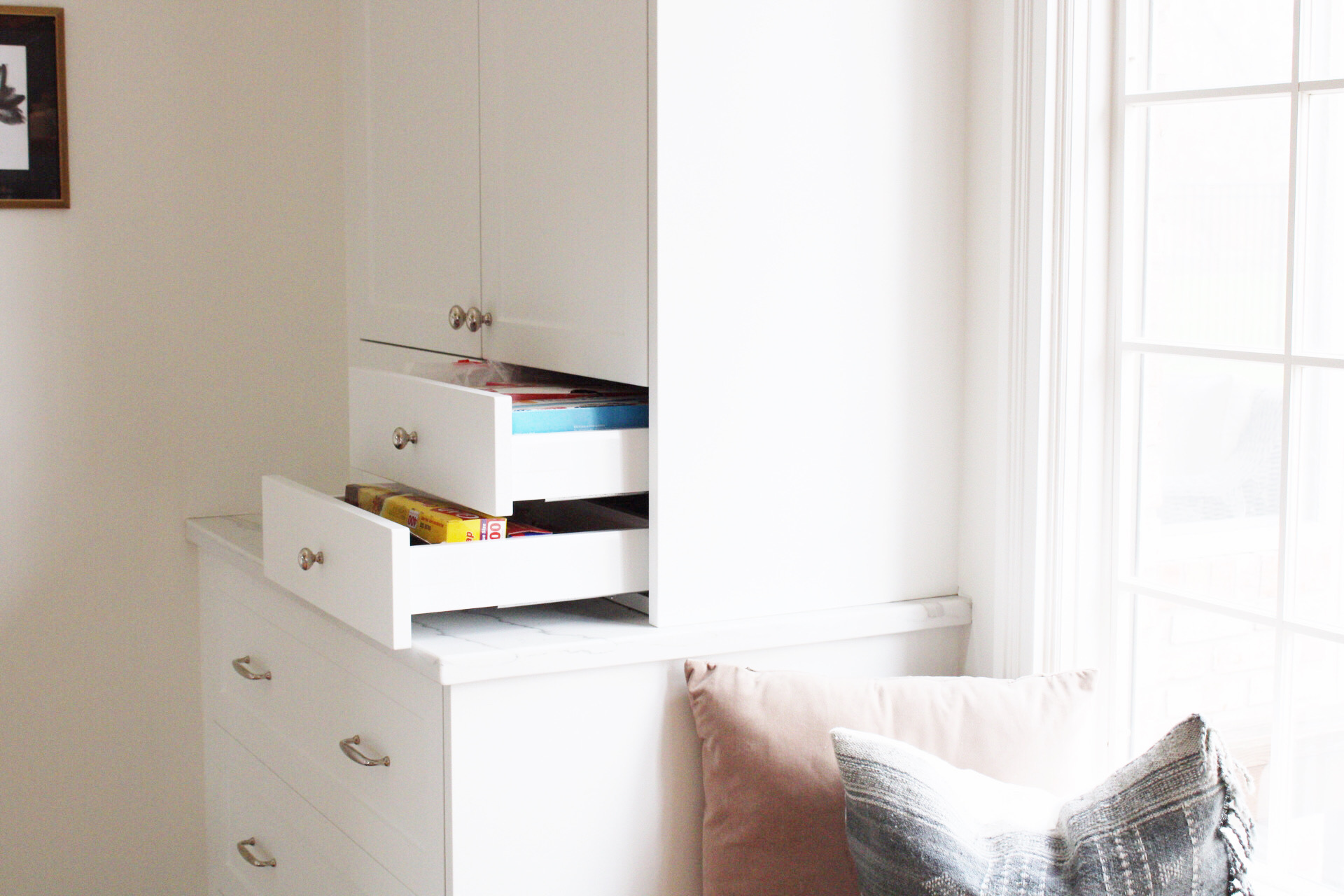 These small drawers were originally chosen because I loved the look of them, but they are so functional. Two of them hold baby food pouches and granola bars. I try to really cut back on using plastic bags and plastic wrap, but the the other two small drawers are perfect for storing them.
The Bench Seat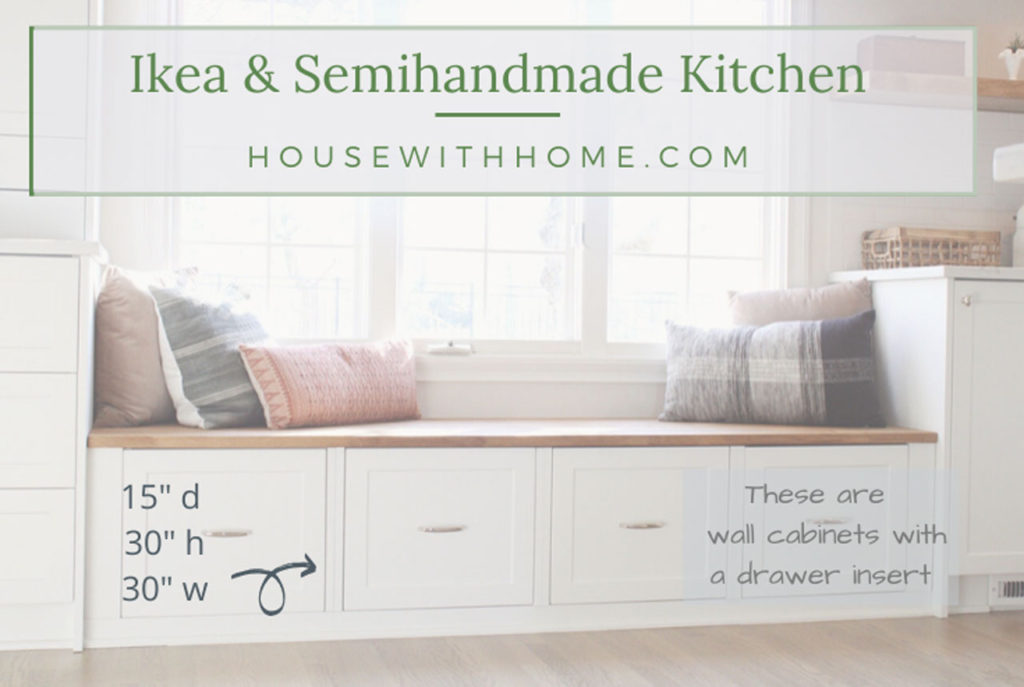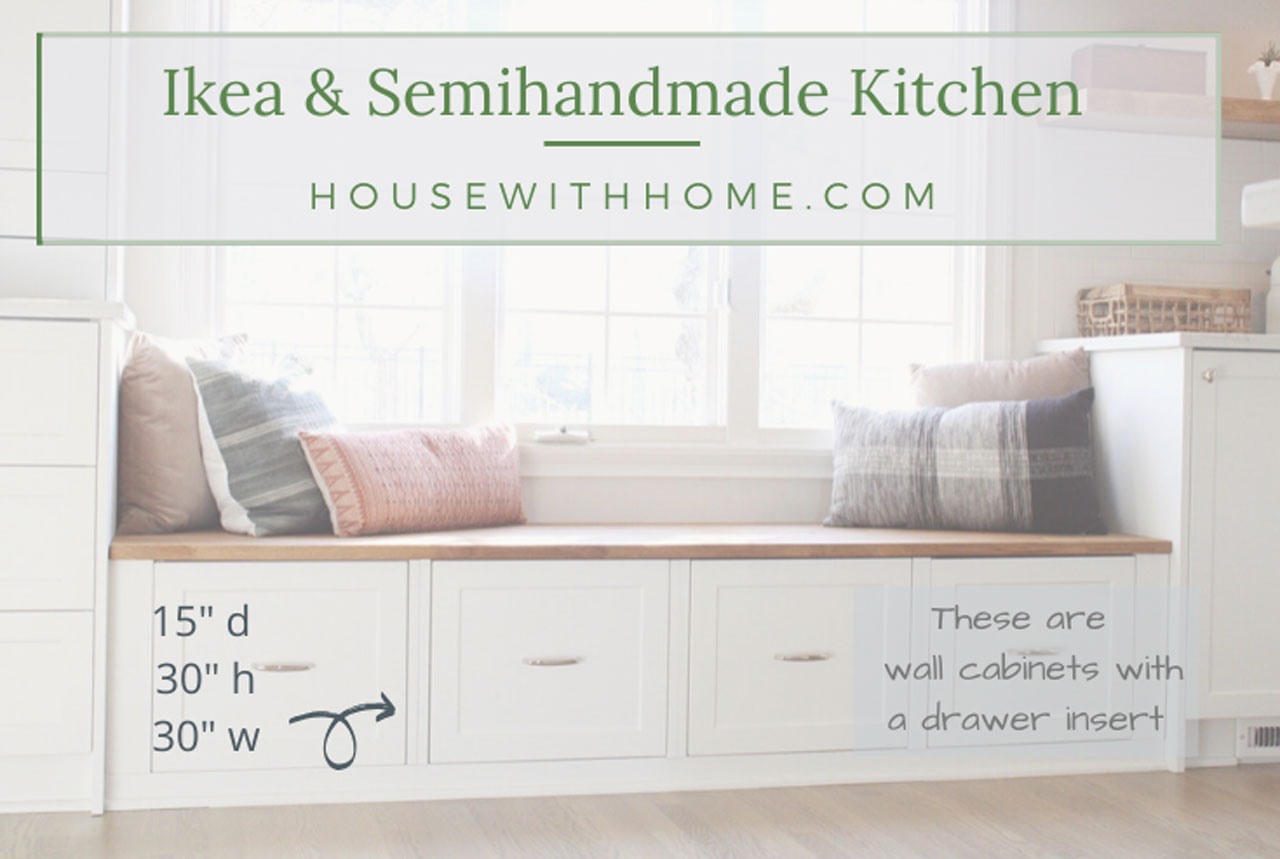 Again, more drawers. If you haven't caught on yet, I am a huge fan of drawers in a kitchen.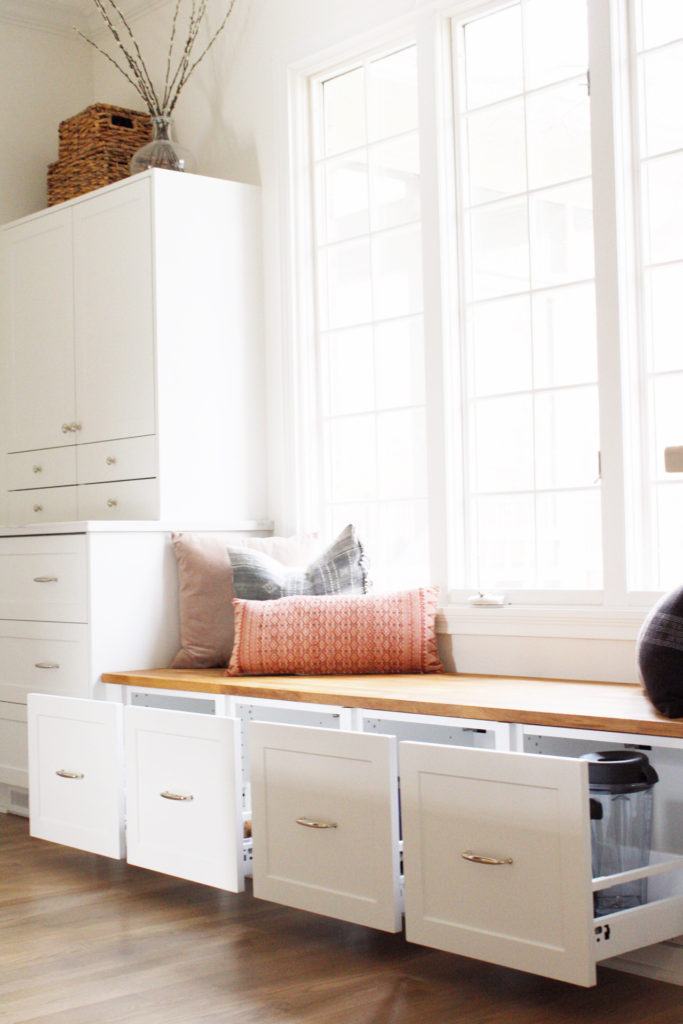 These store my blender, big baskets to hold onions and potatoes, and lunchboxes. 
The Coffee Corner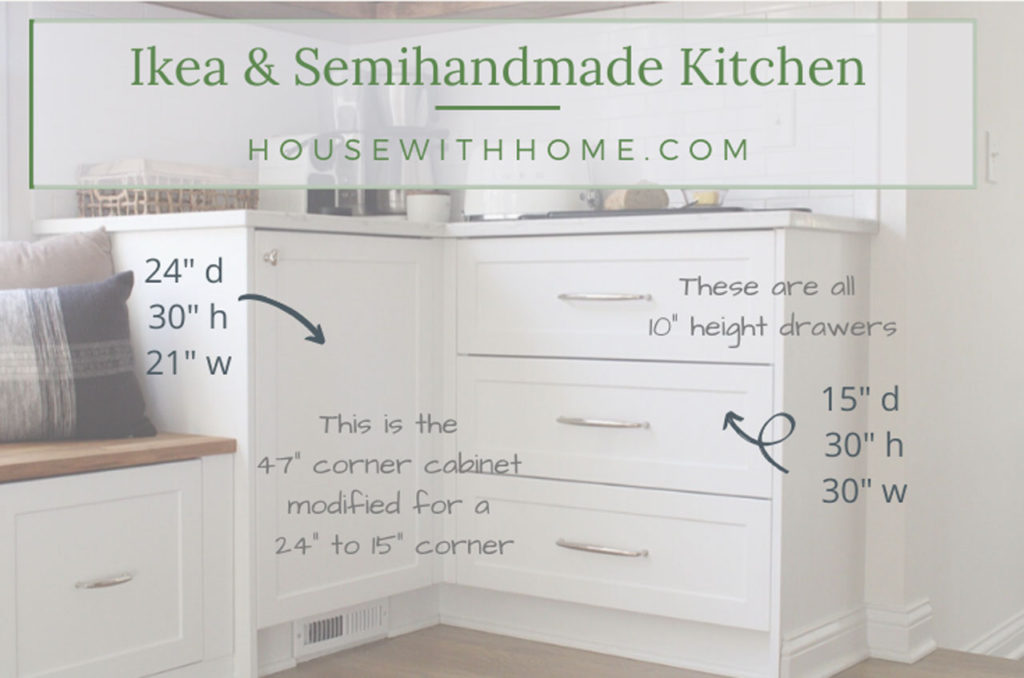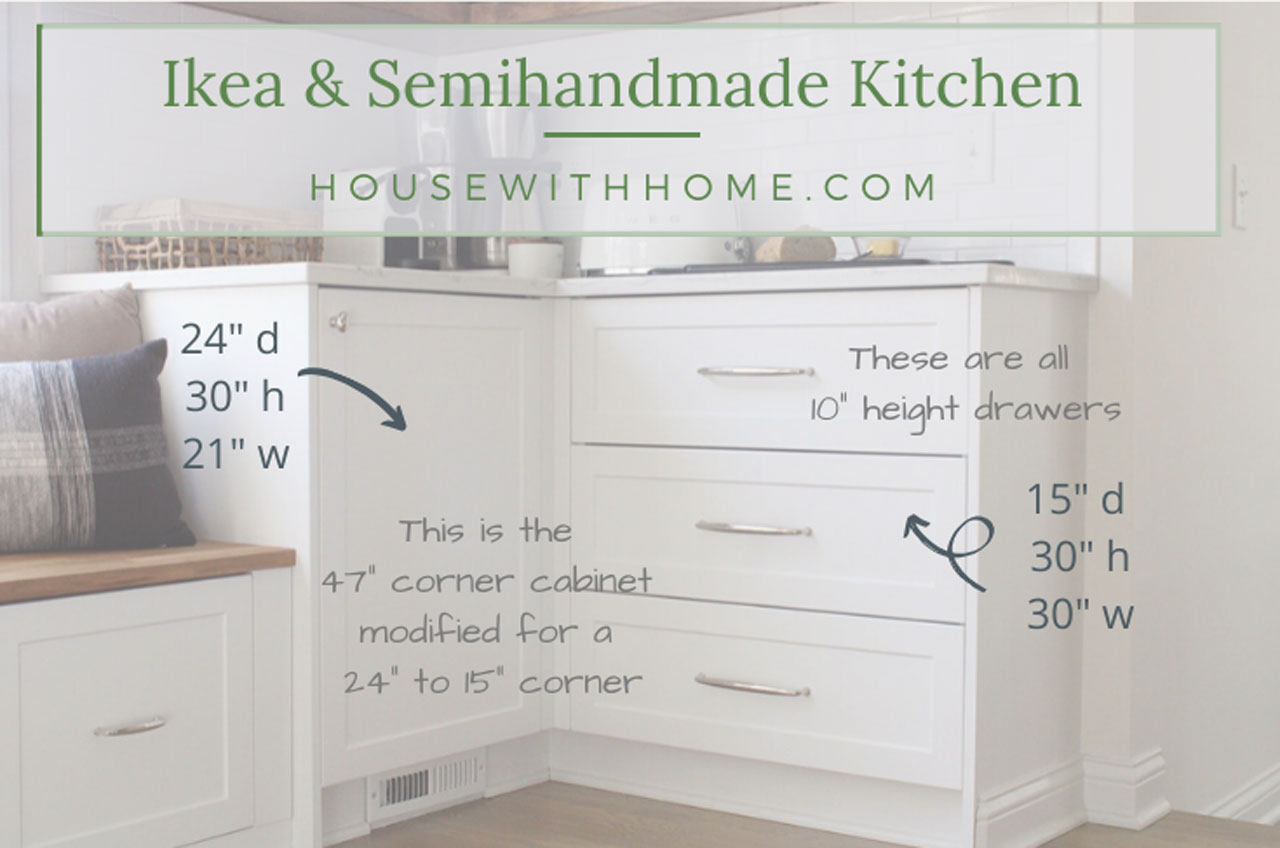 The corner cabinet is perfect for storing my larger appliances. My instant pot, breadmaker, and stand mixer all fit perfectly. The top drawer is where I store all of the coffee, filters, tea and mugs. Below that is where I keep and bread or baked goods to set out for breakfasts near the toaster.
Choosing you Ikea Cabinet Sizes
I do truly believe the prettier you make things in your home, whatever that is to YOU, the more joy it will bring you and the better it will serve you. What matters most is how you best use your space. There would be nothing more frustrating than spending you time and money designing, purchasing, and installing a new and beautiful kitchen to only realize that nothing fits where you want it. Be sure to plan your Ikea kitchen to look beautiful but to also be customized to your "working" needs.