15 Holiday Gift Ideas for Little Boys
I have 3 boys and along the way I have figured out some fool-proof gift ideas for little boys. Honestly, the number of gift guides and the consumerism that is being thrown at us this time of year can really make me cringe. I really hate the idea of over buying and waste. Which is why in all of my content, I only share the tried and true things I have bought, or those I have meticulously researched and considered.
In an attempt to help other's looking for the perfect gift for boys (and probably little girls, too). I wanted to share my favorite toys that we use daily, and have for many years. I spent a lot of time thinking through our most loved items and giving a description of why I love them for our family. My hope is this effort is helpful and isn't just another set of things being thrown at you to buy. For reference, my boys are currently 5, 3, and a baby.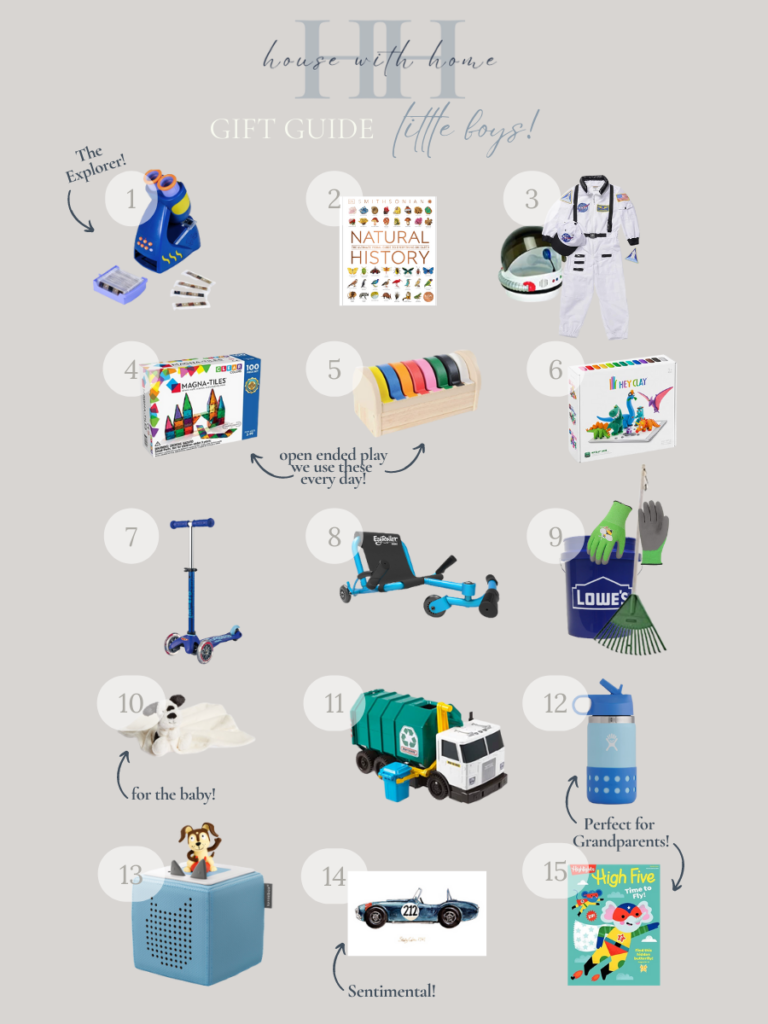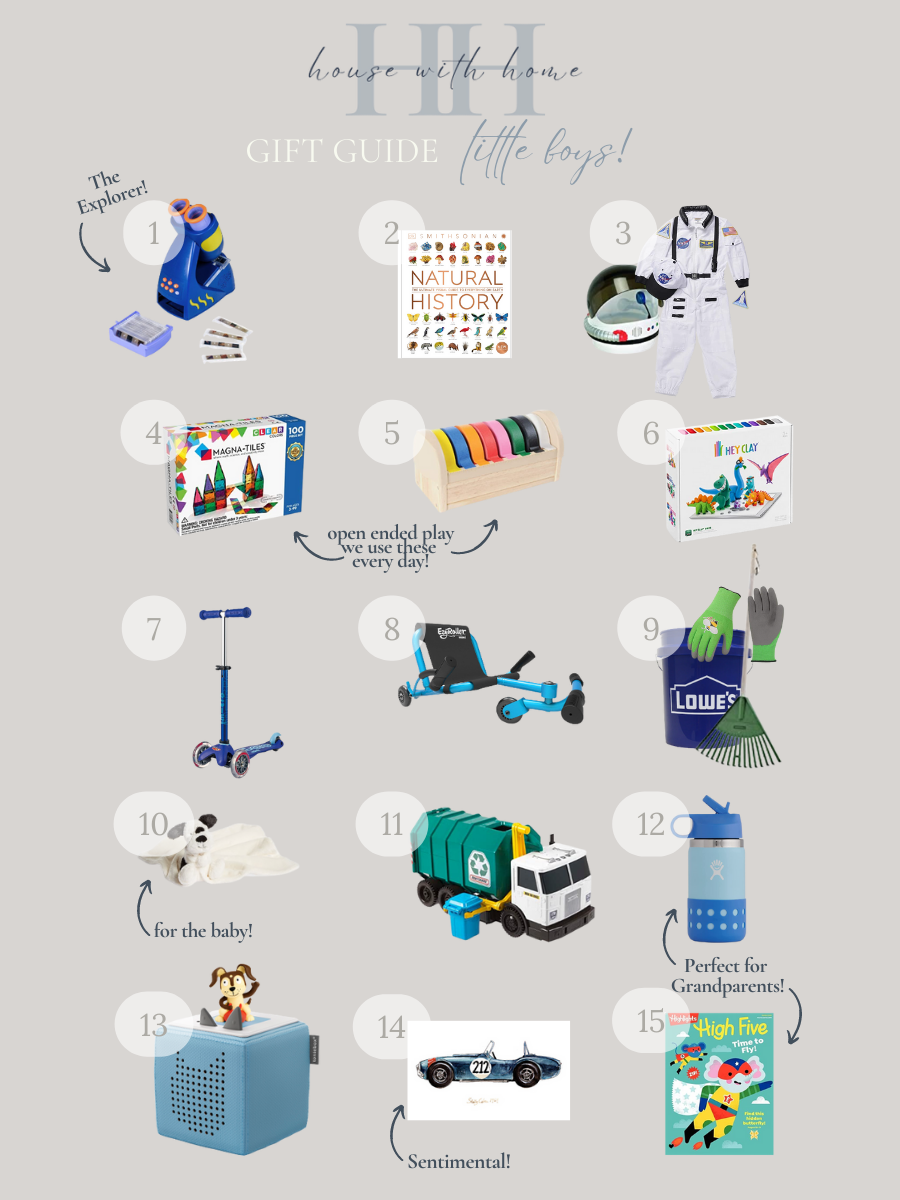 This post contains product links that may contain affiliate links. When you use the link to make a  purchase, I may make a small commission. This is not an additional cost for you, but helps me to produce this blog and content for you to enjoy.  My full disclosure is here.  Thank you!
1) Microscope

This was on my 5 year old son's wish list this year. I think this one will be just "big kid" enough for him with the more advanced slides, but also appropriate for a non-reader. It is narrated by Bindi Irwin!
2) Encyclopedia

From ages 4-5 (and going strong) this has been a favorite book in our house. My oldest loves to have it read to him, but also looks at it endlessly on his own. Anytime he is curious about an animal, plant, rock, or germ he asks to look it up in here. We talk about how we think it is spelled and use the index in the back to practice reading the words. This really solidified his letter recognition, taught him how to read numbers over 1,000, and has taught me more than I cared to know about worms and fungus.
3) Space Suits

This was their Halloween costume and since October, they have been worn daily. Thankfully, when they depart for space they make sure to tell me they love me and they will be home soon. I was extremely impressed with the quality of these for the price.
4) Magnatiles

I could talk about my love for magnatiles for hours. No exaggeration that my boys spend a minimum of 1 -2 hours building with these each day. At any time, my house is covered in roads, bridges, parking garages, space ships, homes for their animals, and the north pole – all built out of these. I have found that this is a "more is better" toy, it makes such an easy gift idea because it doesn't add a new "category" of toy that I have to maintain. We started getting them for gifts at 2 years old and have gotten them for every birthday and Christmas since.
I have shared before, but I store them in a giant wheeled basket that they can move around the house to build with. This also helped with the novelty of picking them up at the end of the day. I have yet to find a better gift idea for little boys! And girls too, as these are always a huge hit on playdates. I am an engineer and creator so these are my favorite!
5) Tape Dispenser

Trust me on this one. It will change how your kids play in the best way. This was first given at 3 years old and made my toddler feel so independent. He has used it to build all kinds of things out of cardboard, to tape his cars together for a train, to make a mustache, to make pretend band-aids, the imagination and creativity this opened up has been so fun to see! And maybe a touch messy to clean up, but it's worth it.
6) Hey Clay

This uses an app on your phone/ tablet to walk them through how to make each of the different characters. It was a good entry into using "mom's ipad" and teaching boundaries on what's expected (don't exit the app!) and how to use the interface. This has also been great for growing independent direction following skills. We are on our 3rd kit we love them so much.
7) Scooter

These are so well loved that "scooter walks" are a fundamental part of our weekly routine. A great way to burn off some energy that even the youngest toddlers can pick up on. I pack these in the car often to take for when a scooter opportunity arises. We have even taken them on vacation!
8) EZ Roller

This is such a fun toy for them to zip around on! There was virtually no learning curve, which made it a big hit for toddlers.
9) Outdoor Play

Random, but trust me. My boys each have these things and it entertains them outside year round. So much pretend play, and occasionally even a little helpful! They pick up sticks, leaves, rocks, etc and carry them around the yard. We drilled holes in the bottom of the buckets to keep them from collecting water and becoming dangerous- so be sure to monitor them!
10) Soother

Jellycat makes the cuddliest stuffed animals. Each of my boys have a had a soother animal and they have held up to many washes and lots of snuggles and play.
11) Trash Truck, every little boy's dream!

We love this toy so much we have 2 of them in our house. They love to make "trash" and drive around the house picking it up, dumping it, etc.
12) Water Cup

This is a great non- toy gift. I have shared our cup strategy before: each person in our house has water cup they use exclusively. This drastically cuts down on the cups scattered around our house. We have had these cups for 3 years and they are still working so well!
13) Tonie Box

This (and magnatiles) are easily our most loved toys. We took these with us on our car trip this summer and made the 15 hr drive each way without screens because of these music/ story players. I love that the Tonie characters that play specific music or stories are big in size so they are easy to keep track of. Our favorites are the paw patrol pups, The LMNOpeas, and the astronaut. We are giving a few of the holiday characters in their advent calendar this year!
14) Sentimental Art

Tara Neal, the artist behind these beautiful prints is so talented. She has hundreds of ready made illustrations of vehicles and airplanes. But she can also custom create a piece of a special family car, truck, etc. Think grandpa's antique car! She illustrated our Pop Pop's airplanes to hang in my son's room, and they are cherished by the whole family.
15) Magazine Subscription

This is another great gift for a grandparent! We've had subscription for over a year now and all really get excited to find it in the mail.