A Classic Airplane Themed Boy's Bedroom Design
It's hard to believe I just designed my second bedroom for my son, his new classic airplane themed boy's bedroom! How is he big enough for a "big kid" room? But here I am teaching him how to make his bed, with his adorable airplane print sheets. Time is a thief.
When I started planning this room I really wanted to focus on a few key things. I wanted the design to be classic, to fit in with the overall design of our home. It is always important to me that each room flows with the next, even if it is a children's room. I also wanted it to have some elements of magical design and whimsy!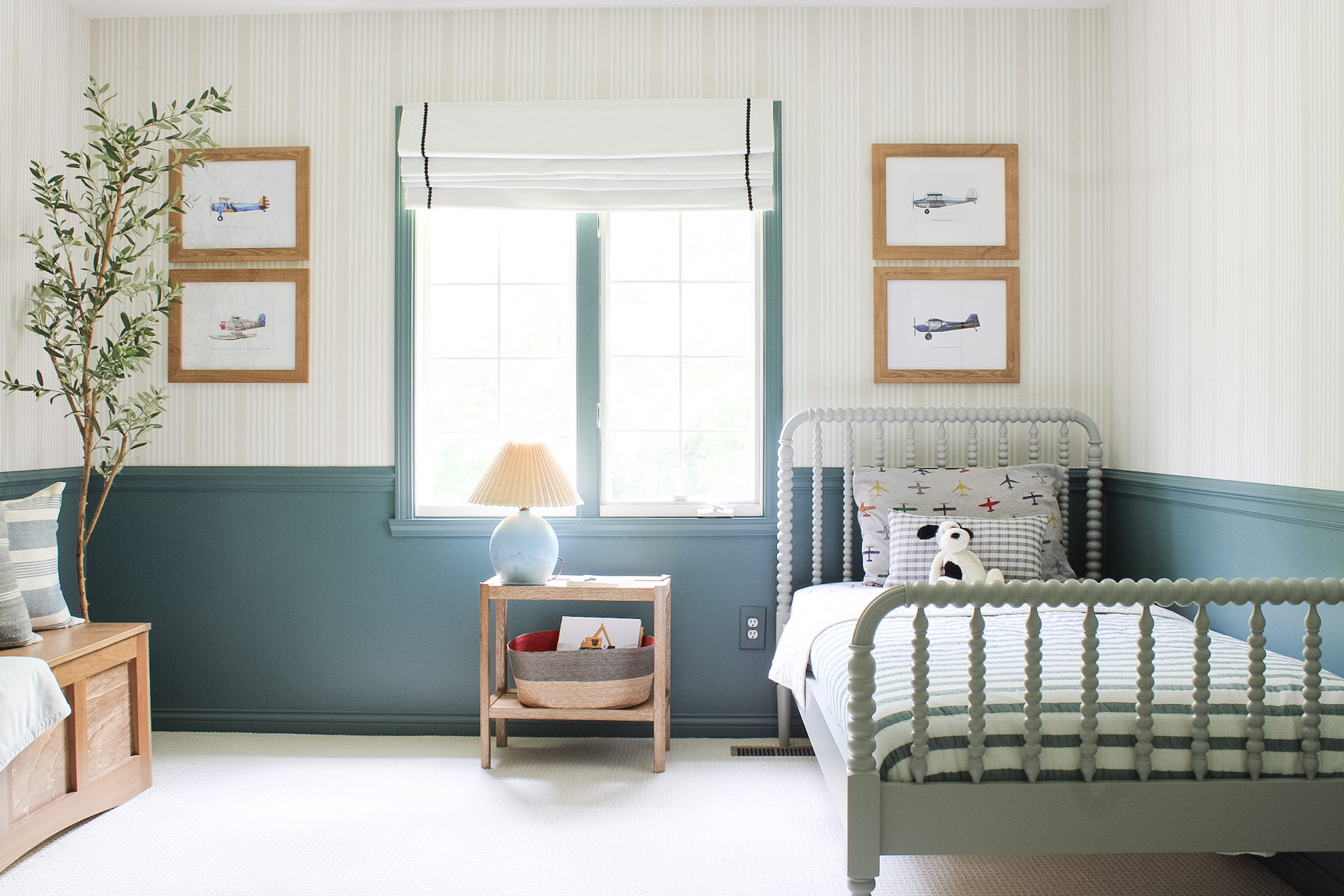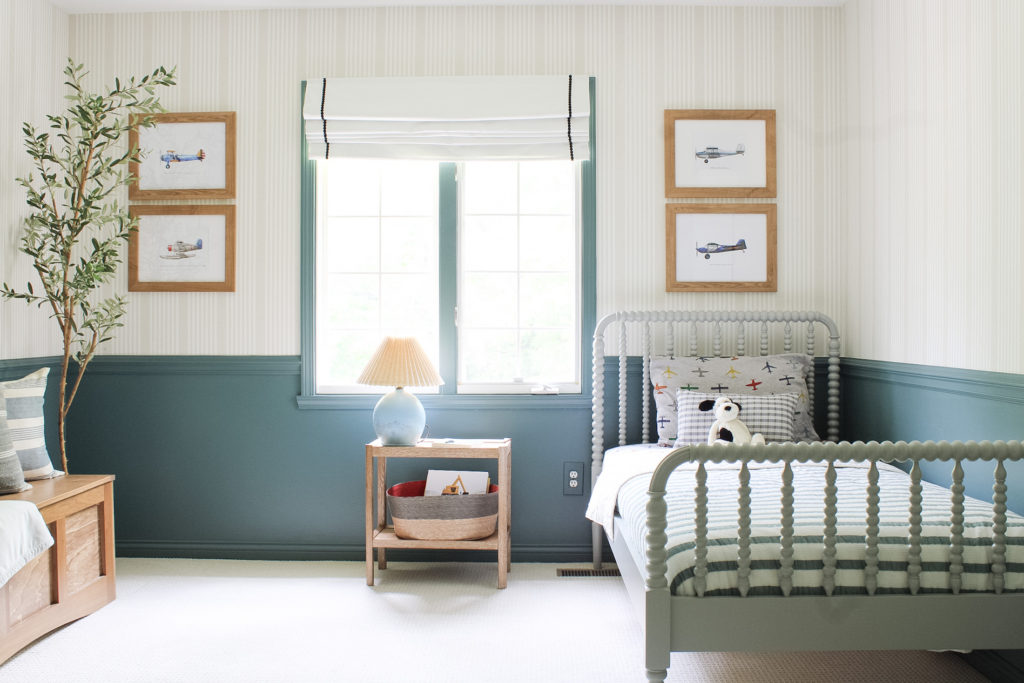 Classic Boy's Bedroom Design that would Last
It was also really important that the room would grow from toddler to teen years. In order to accomplish this I focused on building a classic and age-less foundation. Then, I would layer in things that will likely evolve as his interests and preferences change, like airplane decor, artwork, and sheets.
The lower half of the wall's are painted Sherwin Williams Riverway. This is a very sentimental color for our family. It was the color of the exterior of our first home together, and I knew I wanted to bring a nod to it into this home. It is a much more saturated color than I typically use, but it worked really well in the design of this room. This is a design element that would be really easy to change out in the future for a different design direction. Just a can of paint and some time to change up the look, while keeping the classic wallpaper.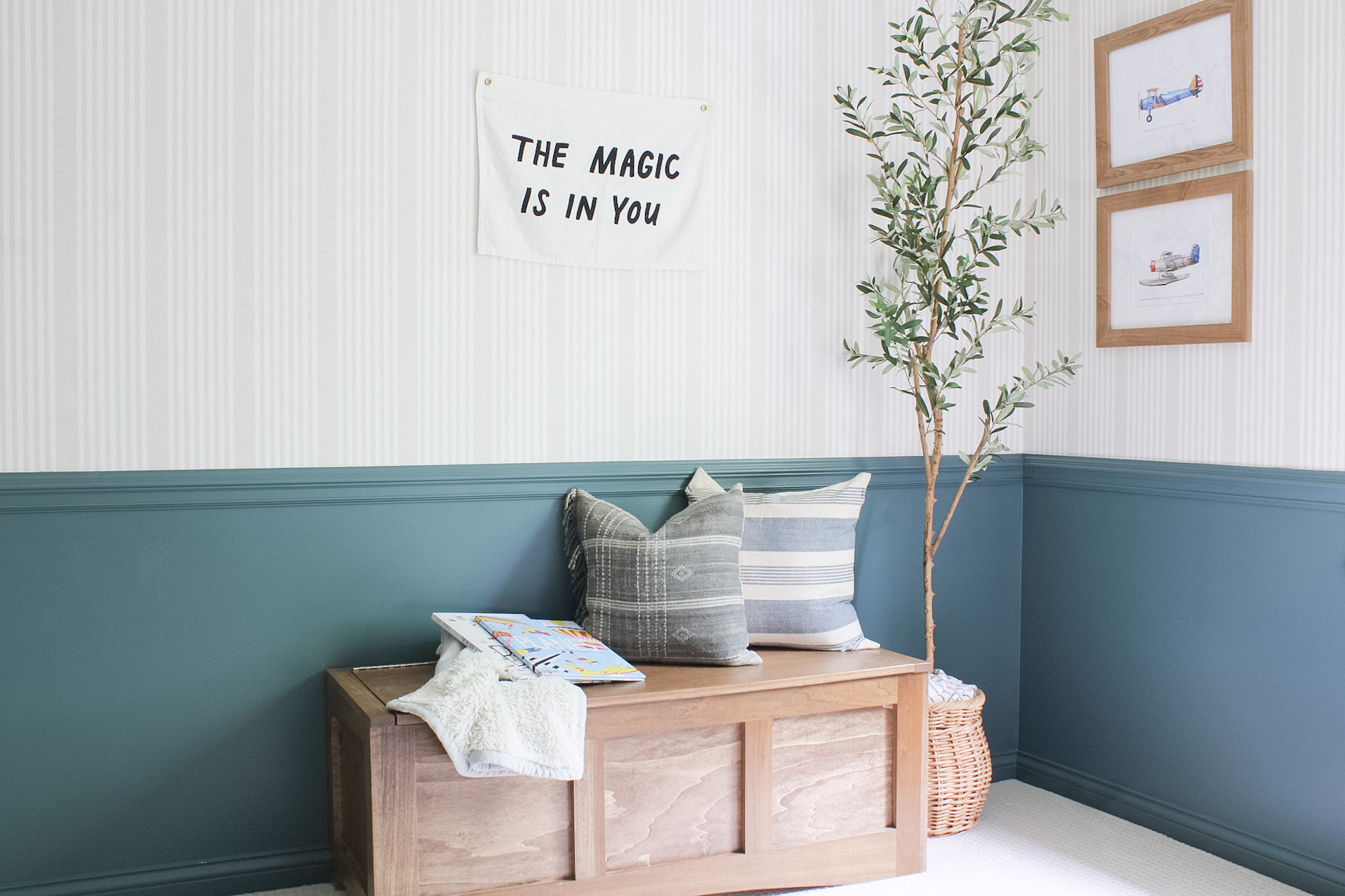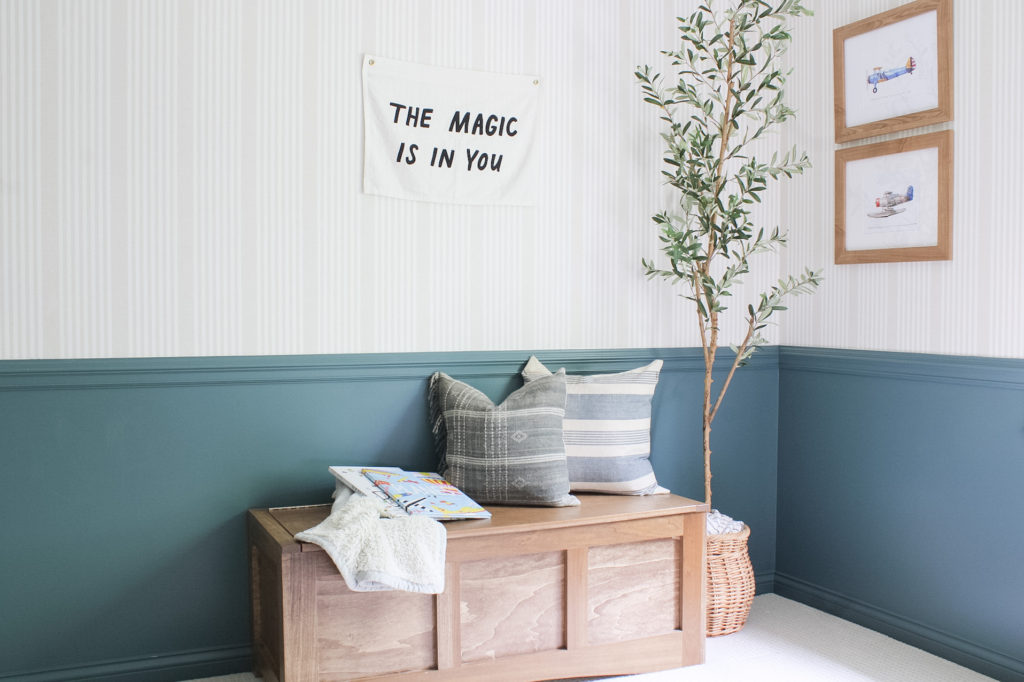 The wallpaper I selected really adds a warmth to the room. The subtle stripe feels checks the "classic" box, but also adds a lot of texture and interest. I love how it could work for any type of bedroom regardless of gender or age. It was a really good price point and as a newbie installer, it was a reasonably easy project.
Jenny Lind Bed
A "Jenny Lind" style bed was a must have for this room. I grew up sharing my bedroom with my little sister and we both had wood twin Jenny Lind furniture items. The intent is that one day this room may transition to a shared room for both boys, with these beds framing either side of the window. This will leave the center or the room open for play.
There are all kinds of Jenny Lind options at different price points, but ultimately I settled on the Crate & Kids brand Jenny Lind in Gray. The quality of this bed is exceptional, the paint color is a a perfect muted grey in a great low sheen finish. I hope this will become an heirloom piece we can hand down in our family! I also love how this quilt works with the colors in the room and it met my requirements to keep the bedding organic but not overpriced.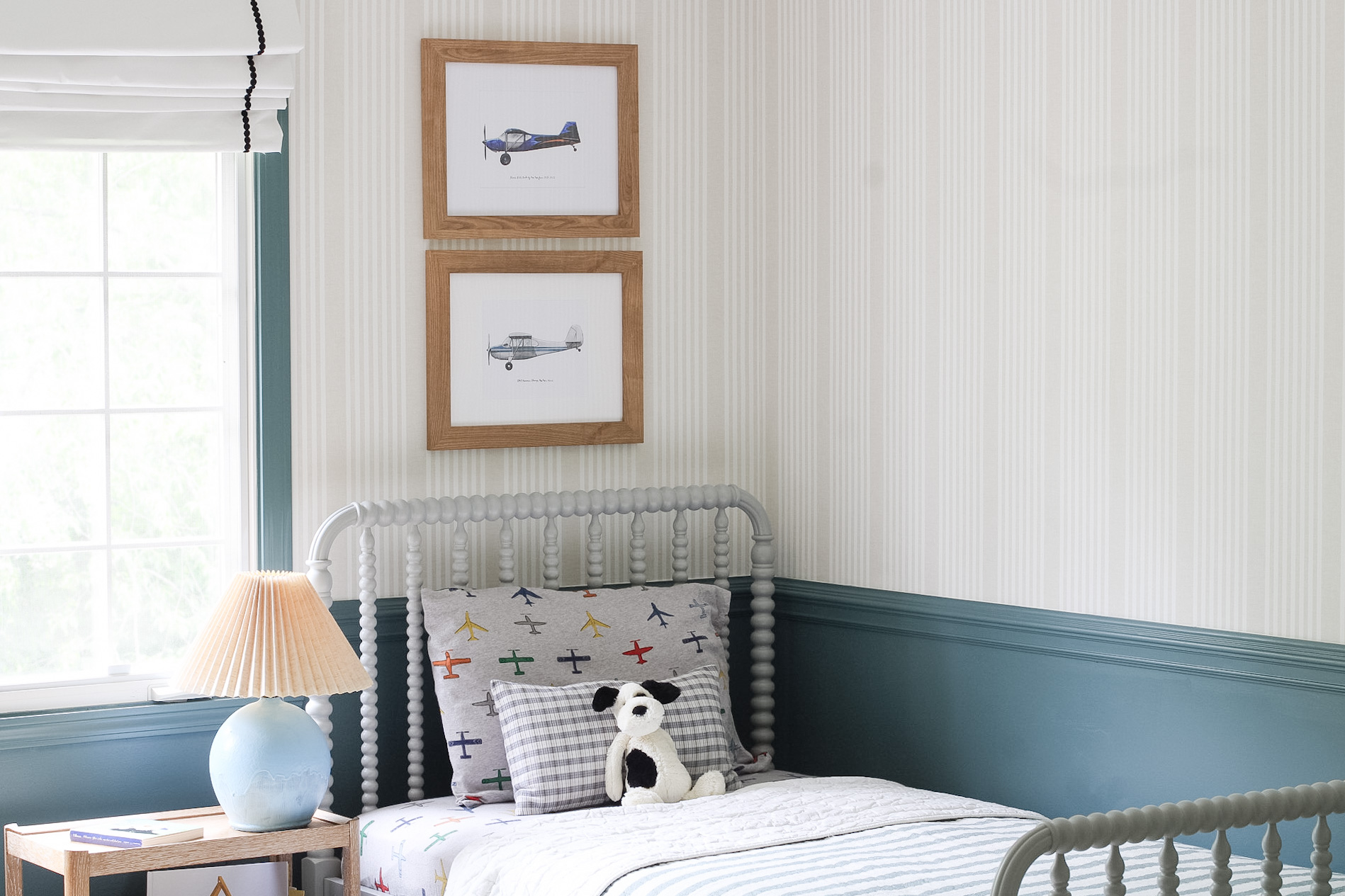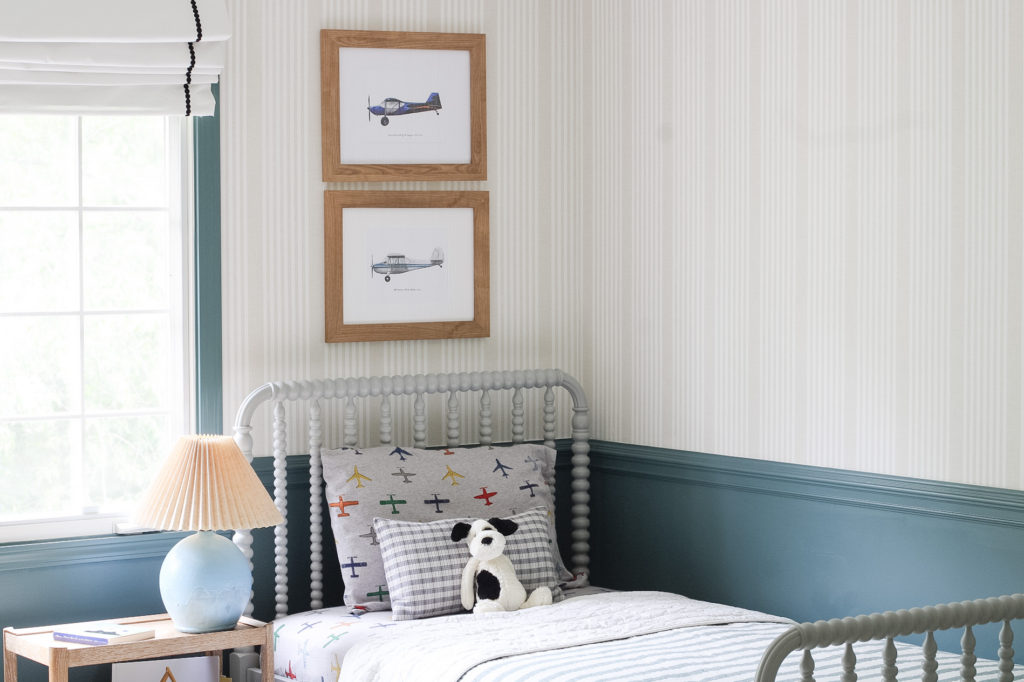 Adding Airplane Whimsy to the Design
The next layer was the "theme". I personally am not a fan of a themed room design, but in a children's room I like having a nod to one. I wanted the room to feel mature to grow with him, but also be a space he was excited about. So vintage airplanes were an easy addition. I love the subtle color addition that these airplane sheets brought into the room.
Ikea Billy Bookcase Hack
My buddy is a little collector so I wanted to give him a place to store away his treasures and memories from his adventures. We moved one of these Billy Bookcases into his room, that was a originally a part of our office space before we completely overhauled the Office. I added this inexpensive removable wallpaper to the back of it to add a little whimsy. Another cute way to do this would be to use wall decals in the back of the bookcase. I love a good Ikea Hack!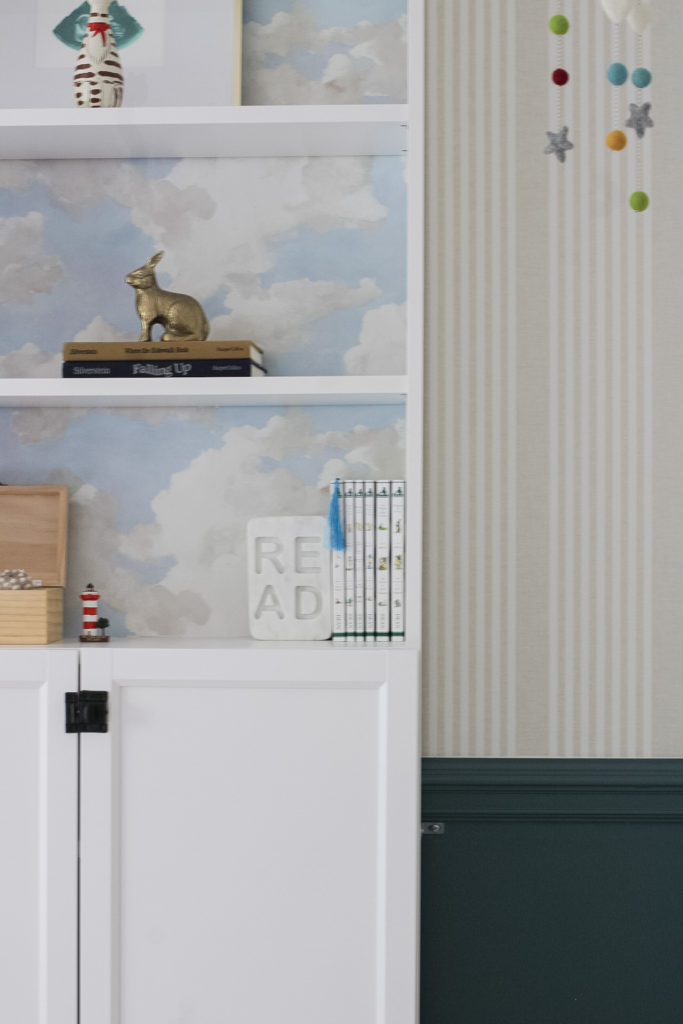 DIY Lamp Makeover
I also DIYed a second hand lamp to help bring in a little more of the lighter blue color. This was such an easy and inexpensive project. Which is good for a little boy's room where lamps are very susceptible to getting broken. I like having a lamp and a night light in a children's room to have cozy lighting for reading books.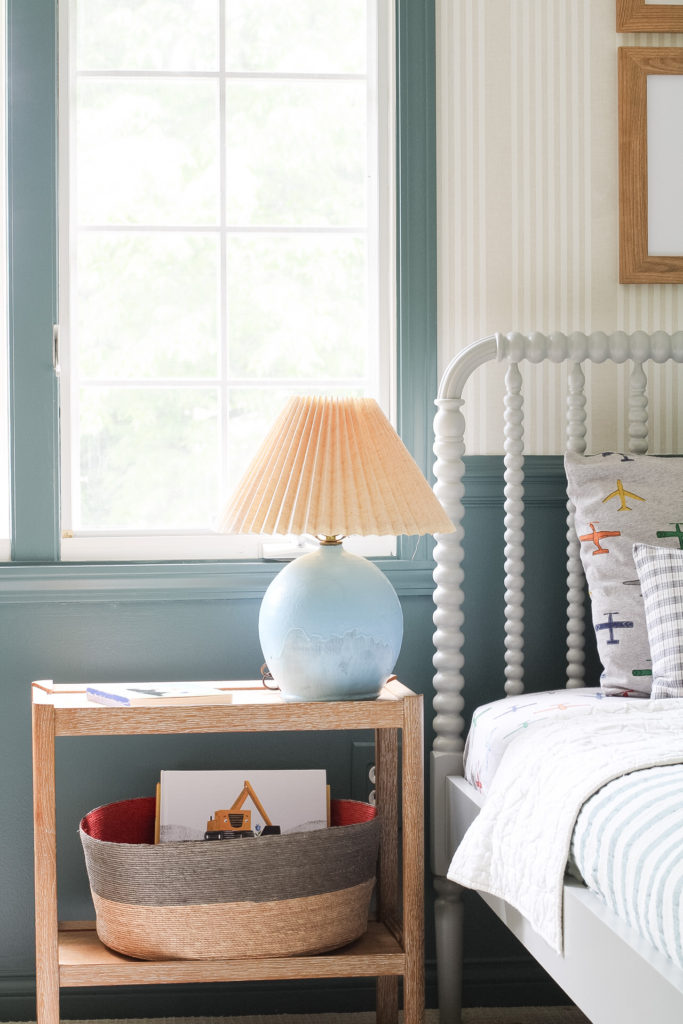 Airplane Themed Boy's Bedroom Art
I found these gorgeous vintage airplane drawings from Tara Neal, and they inspired the airplane themed boy's bedroom design. She has numerous airplanes and other vehicles in her Etsy Shop, FlightsbyNumber. I ended up ordering two of her stock prints. I then commissioned her to draw two very special airplanes for us – our Pop Pop's planes! Her artwork is the perfect touch for a classic boy's bedroom. You can use the code: HOUSEWITHHOME for a 15% discount.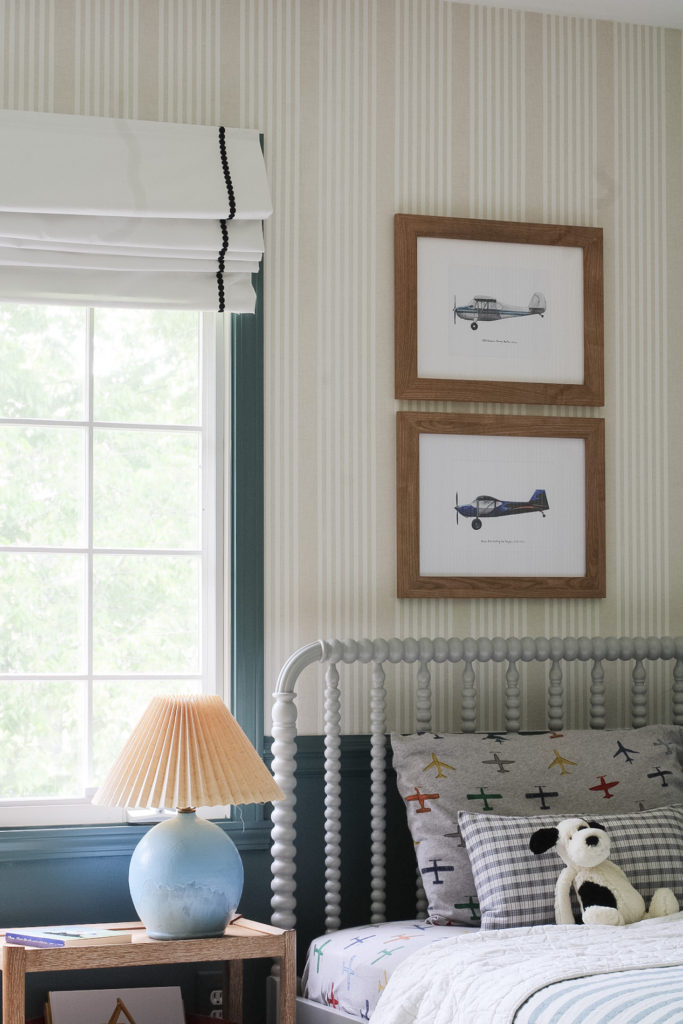 A Ceiling Fan that Combines Form and Function
Another must have in the room was a ceiling fan. I searched through a lot of ceiling fans to find an option that fit the aesthetic of the room, since it is prominent in the center of the room! I love how Hunter Fan's Cranbrook has a grey light fixture and natural wood blades that compliment the furniture in the room. My other favorite part of this upgrade is the Hunter Fan's Cranbrook operates on a remote control. What little boy doesn't love using on of those? And it allows him to have responsibility and control over turning it on/off/ adjusting speed. Which is great for this momma who doesn't have to come fix it for him at 2 am! I couldn't be happier with keeping a ceiling fan in the room, with the help of this Hunter fan.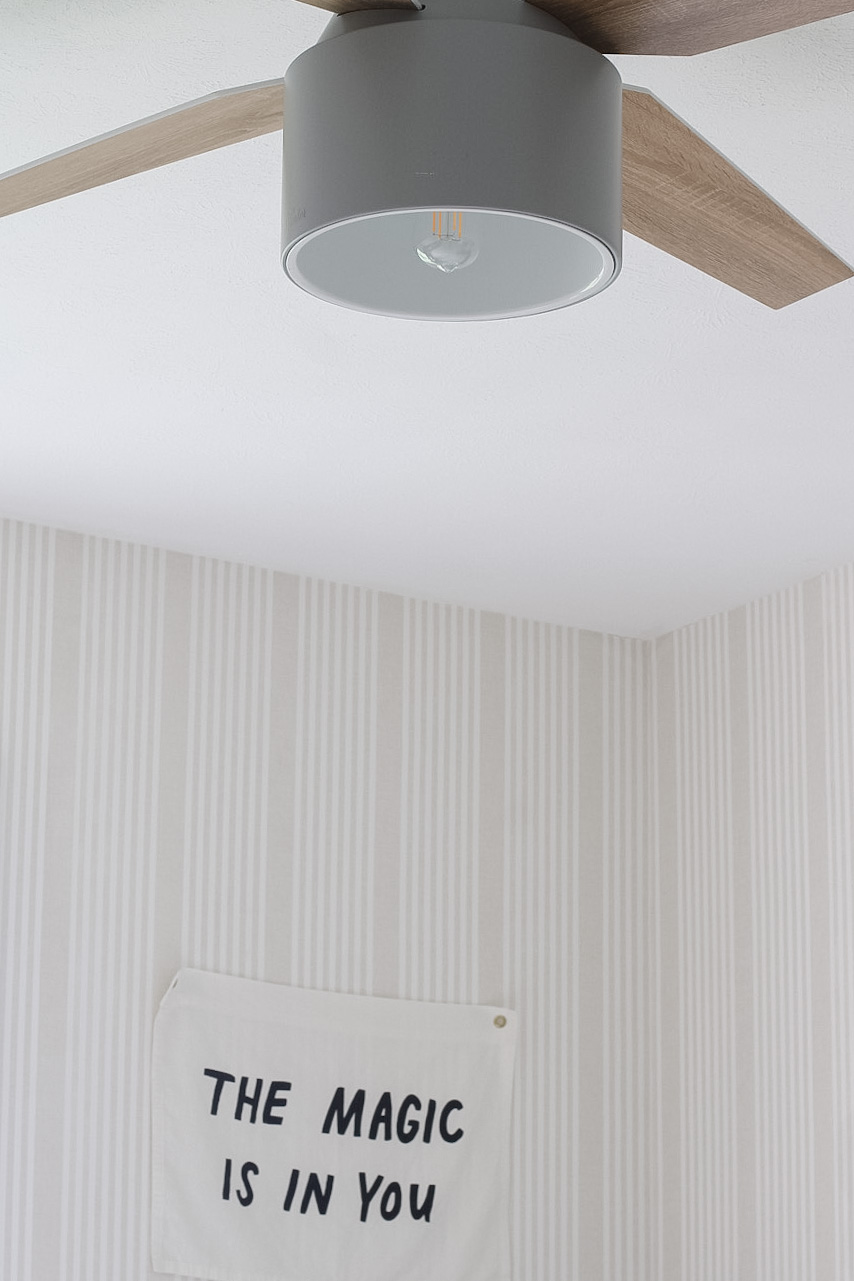 Classic Boy's Bedroom Sources
This post contains product links that may contain affiliate links. When you use the link to make a purchase, I may make a small commission. This is not an additional cost for you, but helps me to produce this blog and content for you to enjoy. My full disclosure is here. Thank you!

Paint Color is Sherwin Williams Riverway in Valspar Signature paint in a Satin Finish.
Classic Boy's Bedroom Sources
Other Boy's Room Inspiration