7 Projects in my Home you won't believe are Ikea Hacks
If you have been around for a while, It is no surprise that I love a good Ikea hack! These projects allow me to stretch my creativity and design while also leaving room in the budget for other splurge-y items. I personally view Ikea as a great solution for an affordable and functional building block for home projects that I can't afford to have custom built. I am confident there are several more Ikea Hack projects on the horizon for me!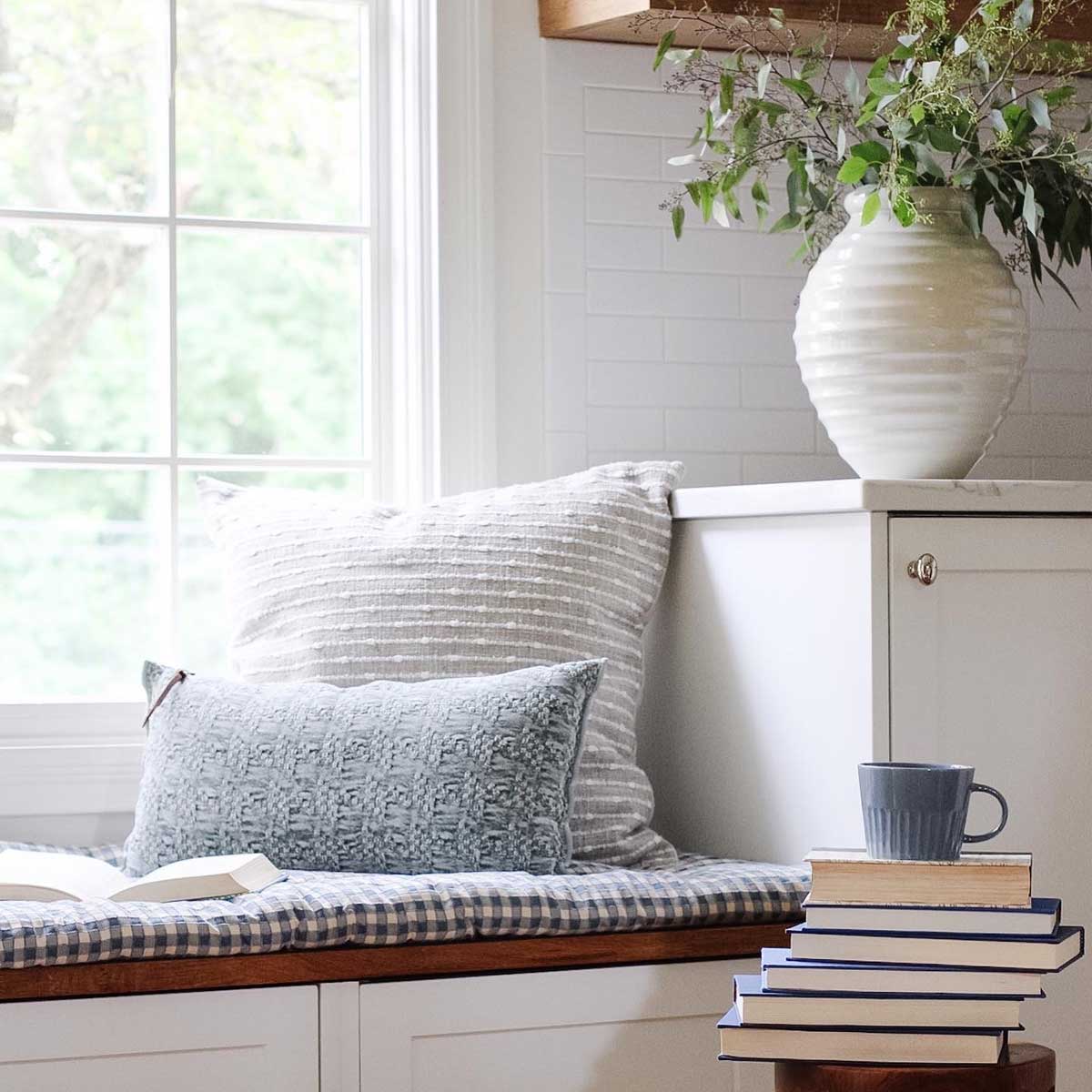 This post may contain product links that may contain affiliate links. When you use the link to make a  purchase, I may make a small commission. This is not an additional cost for you, but helps me to produce this blog and content for you to enjoy.  My full disclosure is here.  Thank you! 
Ikea Kitchen Cabinet Hack
This is my first big Ikea hack in this home. We had used Ikea cabinets in our families duplex a few years prior and I knew I would one day install Ikea kitchen cabinets in my next home. I loved figuring out how to use the Ikea filler panels and figuring out the perfect layout and cabinet sizes to make a beautiful and functional kitchen. For the kitchen I used Ikea Sektion cabinets and used a company called Semihandmade to source white and greige shaker door and drawer fronts. The crown moulding and vent hood were constructed and the painted in a coat of white paint to match the doors. I have had this kitchen for almost 5 years, and it is still in perfect condition. I have no doubt they will last for a long time.
Mudroom Using Ikea Cabinets
Our home's mudroom was the next project we tackled that featured an Ikea hack. One of the reasons I love using Ikea Sektion Cabinets on my projects, is they are such great quality, especially for the price point. I was so impressed with them in our kitchen, using them in the mudroom was a no-brainer.
The Ikea cabinets formed the foundation of this design, and then I added lots of custom details to help layer the design. For this Ikea Hack, I used Ikea Sektion cabinets and Ikea Axstad White door and drawer fronts. The vertical shiplap, ladder and rail to reach the top shelf, brass knobs and handles, varying countertop depths, and quartz countertops with a ledge for displaying mail added so much charm and functionality to the room. Be sure to check out the special special detail we created to store our dog's food and water bowls!
A Home Office with a unique Ikea Hack
Our Ikea home office was built out of necessity during the work from home days of the pandemic. I of course, took a small need and turned it into a massive basement renovation. This room would not have been complete with an over the top Ikea hack using Sektion Cabinets and Axstad Matte Blue doors for the desk storage space. My favorite detail of this project were the custom metal screens I had fabricated. They make a huge difference in transforming these ikea products.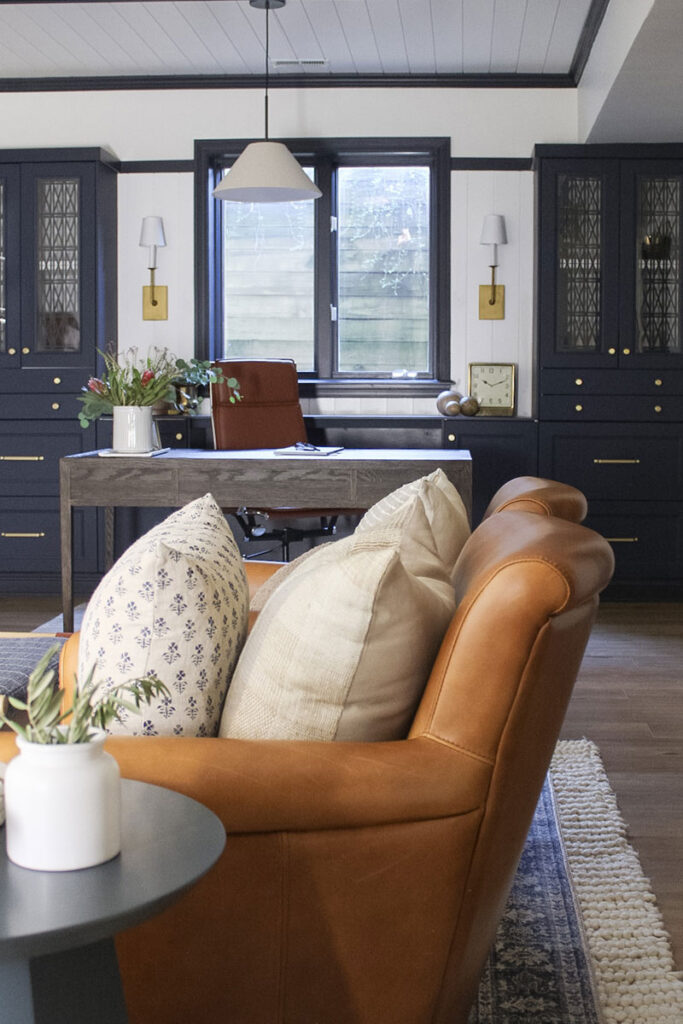 Ikea Godmorgon Bathroom Vanity Hack
When it comes to Ikea cabinets I am a huge advocate for Ikea's Sektion Cabinets. However, when it came to my Boys' Bathroom project had a few constraints that pushed me into using their Godmorgon vanity line, as it is more of a perfect fit for small spaces. I actually really wanted to use it as a "research" project to be able to truly speak from experience on the godmorgon product line. I used custom real wood drawer fronts and wooden legs to make this standard vanity have the feel of a piece of furniture.
An Easy way to update an Ikea Billy Bookcase
This is a super east Ikea hack that will only take you a few hours! The Ikea Billy bookcase can't be beat when it comes to affordable storage for your home. But it is iconic and therefore very recognizable as "IKEA". There is nothing wrong with that, but a few small adjustments can really update it and make it feel more special.
For this, I just added peel and stick wallpaper to the back of the bookcase and changed out the hardware! Two simple changes and the bookcase became a charming addition to my son's airplane bedroom.
A Grasscloth Console table that's and Ikea Hack
This project was inspire by this high priced console. This is one my favorite diy projects because it was really affordable and made huge impact. You would never guess this table is not the original inspiration piece. However, this hack took a lot of time an diligence. Using the Ikea Lack tv console tables as the foundation took a lot of "hacking" to get the lower shelf lined to look just like the inspo console table. Using the ikea lack table allowed me to not build the frame completely from scratch, but I do think that might have been simpler for the shape I was going for. I think this process of applying grasscloth to ikea pieces of furniture is one that has endless possibilities, especially if you aren't altering the piece of Ikea furniture and just jump into the wallpapering!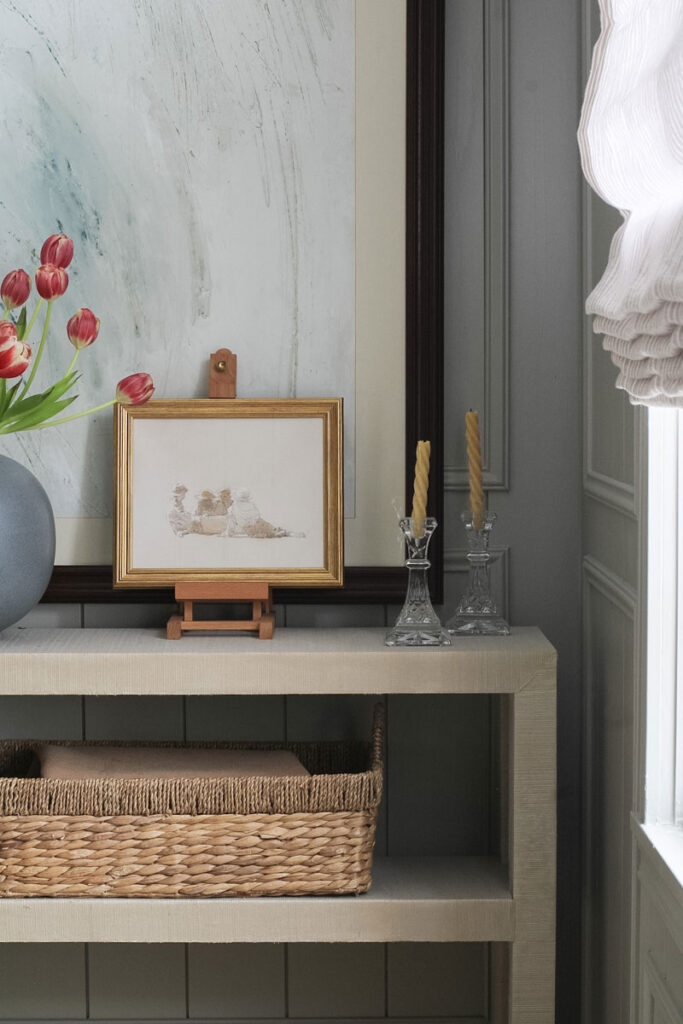 Ikea Sofa Hack
This is one of my favorite and most practical Ikea Hacks! The hack here, is purchasing higher quality slipcovers from a company that makes them specifically for Ikea sofas. Unfortunately, Ikea is currently not carrying the exact sofa I have in my living room, but they have many other great options. One great thing about these "aftermarket" slipcovers, is that they are a great way to refresh a secondhand Ikea sofa.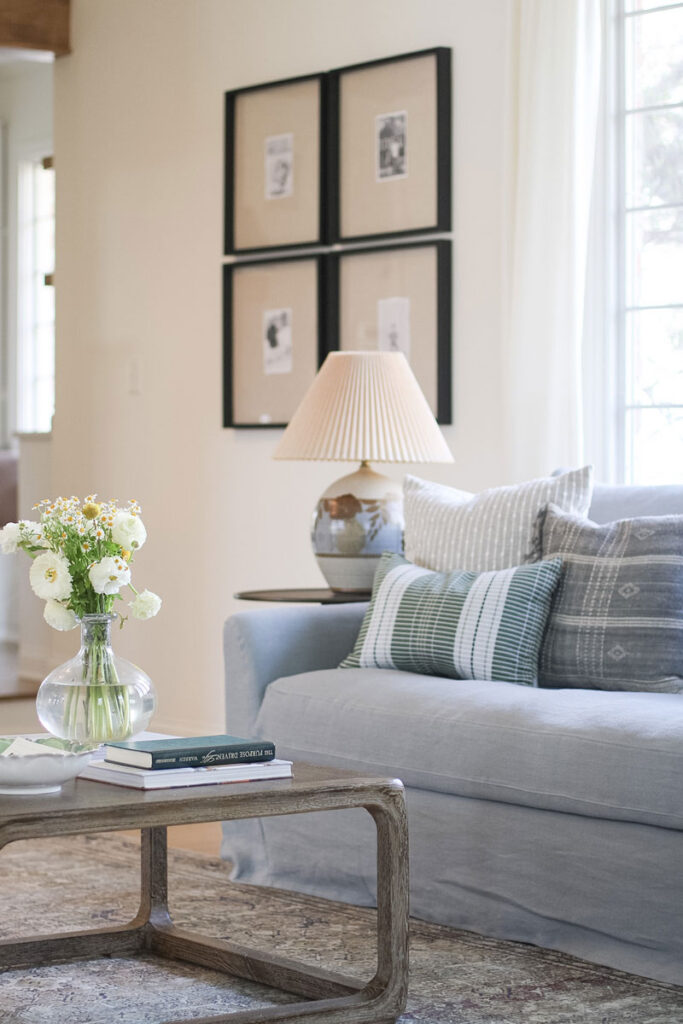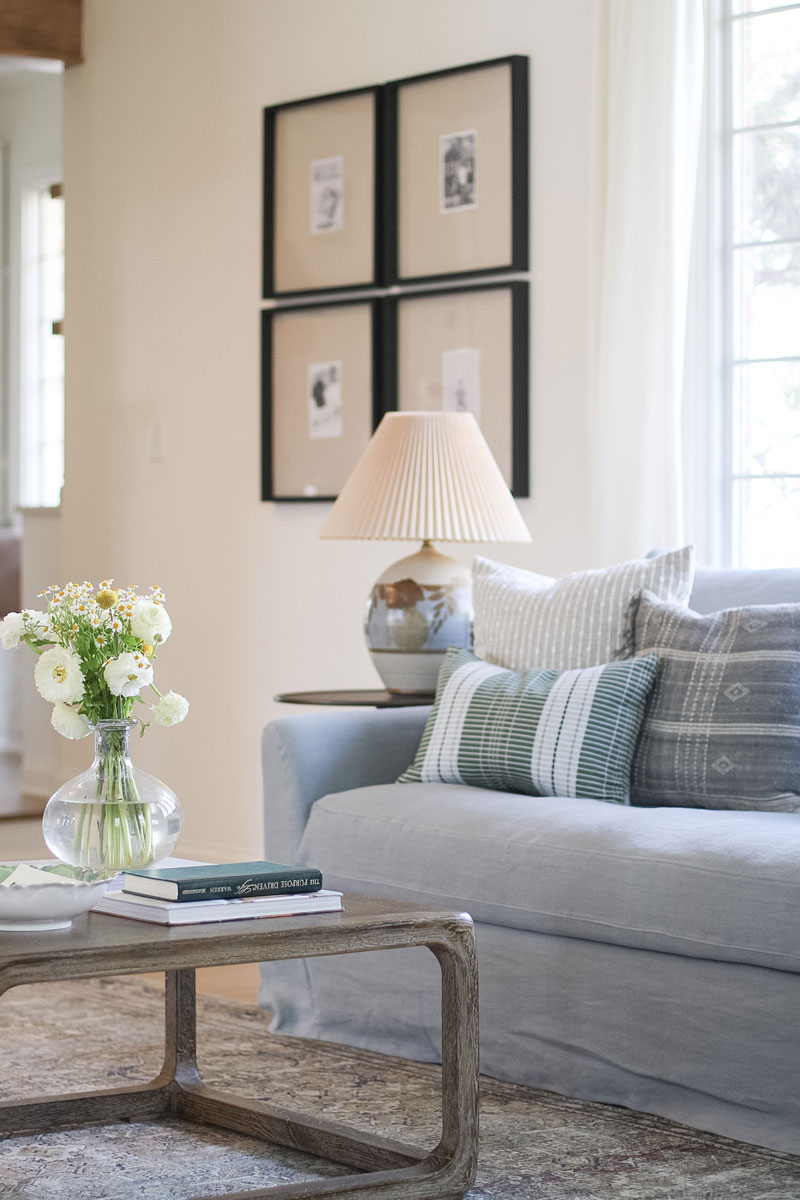 Bonus! The Ikea Bed Hack is just a styling method
This last "Ikea Hack" I have in my home, really isn't even a hack! It's more of a dupe. I loved the hearst bedframe from Amber Interiors. However, I could not justify the price tag for a guest bedroom that rarely sees guests. The Ikea Hauga bed was a great look-alike mimicing the upholstered frame, the low profile and the shallow scallop curved headboard. The best part of this bed is that it had storage drawers underneath!
One of my keys to mixing in Ikea items and keeping an overall higher-end aesthetic to a room is to style the room with a mix of higher-end custom pieces and vintage/ thrifted / heirloom items that help remove any feeling of "ikea store". I mixed the Ikea bed with designer pillows, simple white sheets, and a beautiful rug. The art work is a mix of pieces from my mom, and a few art prints I put in thrifted brass frames.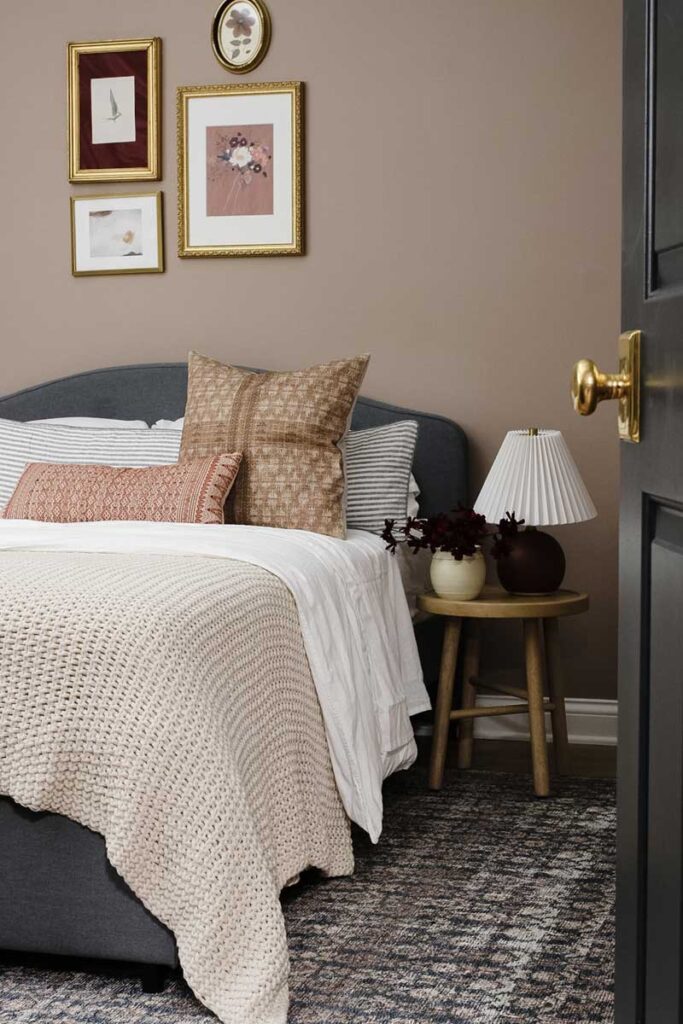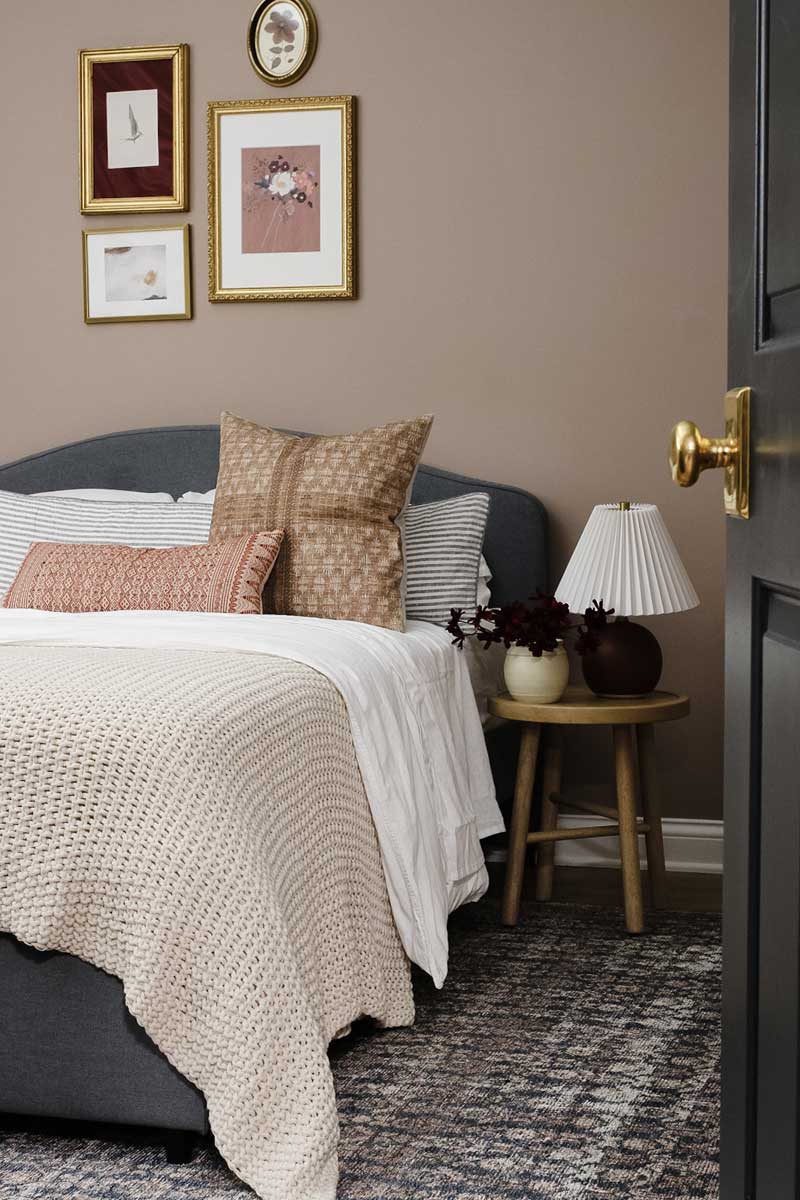 The Key to a good Ikea Hack
When ever I am working with Ikea for a room, especially when it is an architectural element like cabinets or shelving, there are a few guides I always follow to elevate the piece so it doesn't scream "I'm from Ikea".
Change the hardware! Please
If it is a cabinet, either godmorgon or sektion, cover the sides with a matching panel. Do not leave the white cabinet frame exposed.
If you are painting the ikea furniture, take the time to do so properly! my friend Erin has a really good tutorial on painting furniture including Ikea pieces.
Do not style and Ikea piece with more things from Ikea. This seems obvious, but Ikea's marketing is really good. When you walk through their showroom it is really easy to think everything all styled together is necessary.