Elevated Casual Dining Room | One Room Challenge Spring 2021 Reveal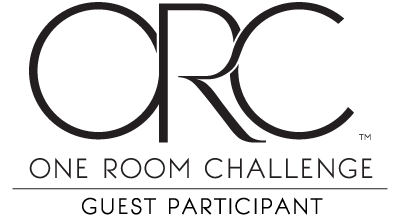 We finished up the last touches of our classic, elevated casual dining room, with time to spare! This whole room came out even better than I had dreamed. Other than my dislike for using a paint sprayer, this room makeover was a relatively easy one compared to last fall's Basement Home Office. Before I share the reveal, let's revisit the list of things we did in this room!
Project Checklist
Have sconces hardwired to frame the china cabinet
Find large scale art for dining room/ entry/ walkway wall (upcycled a beautiful frame and added a Juniper Print Shop Art print)
Design, install, and paint millwork (all of the details here)
Paint columns and ceiling
Design and order window treatment
Install new chandelier
New chairs (still waiting on these to arrive!)
Find a small furniture piece for "bar/serving cabinet" (I made a grasscloth covered table!)
Styling for china cabinet and bar/serving cabinet
Source a Vintage Rug
The Dining Room Before
The original dining room had not been touched since we moved in. It was just a holding space of furniture from a previous house, and the painted walls and broken blinds came from a previous owner. It took me nearly two years of living in this home and inheriting an heirloom china cabinet from my husband's Grammy, to inspire the makeover. It's a space that is open to the entire main floor, and it's our primary eating area. So I wanted to build on the idea of an Elevated Casual Dining room. It definitely feels like a fancy place to eat Mac & Cheese while also being a casual spot to host a holiday dinner (I so hope those return this year).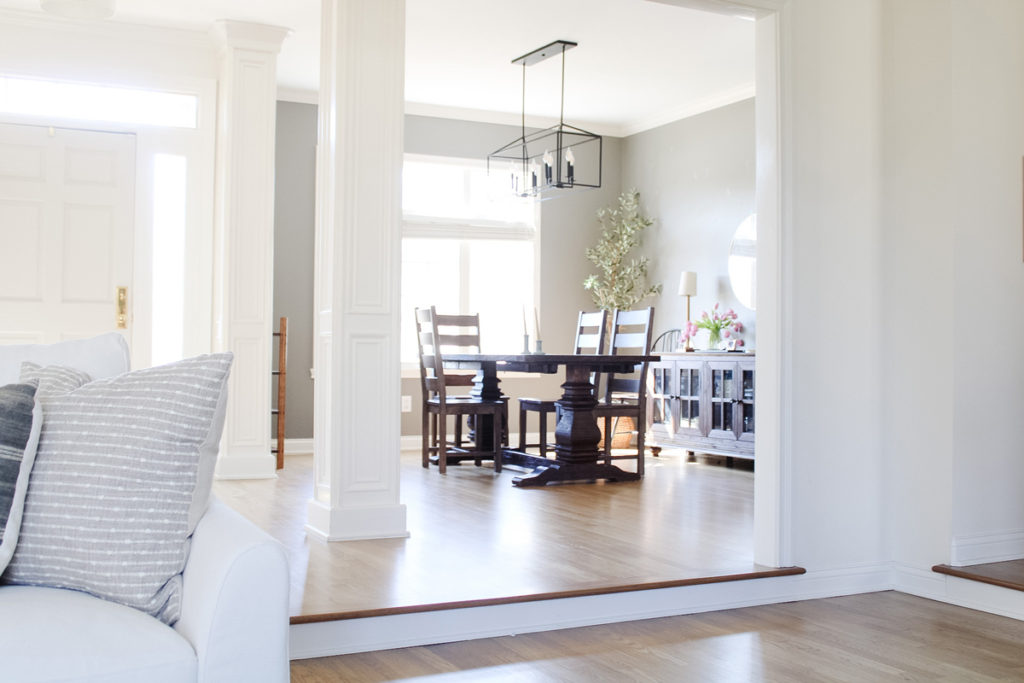 You can read more about the Before of the Dining Room, Here.
The Dining Room Reveal
Overall, my design was focused on creating an elevated casual, classic dining room. As I work through my home designing each room, I really try to keep two pillars as the foundation: 'What is the story or memory I want to design around? and What is the feeling I want my family and friends to have when they spend time here?
The Dining Room Story: The China Cabinet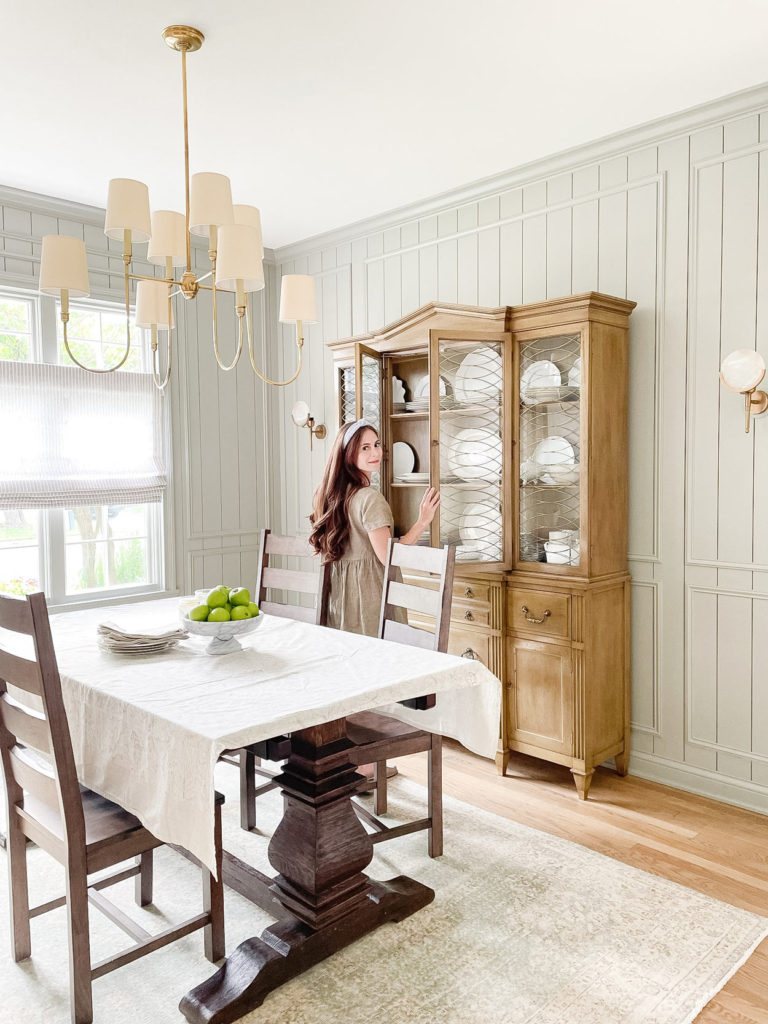 Over the past years, this room has been "designed" many times. I never executed any of them because they never felt right. Then we inherited my husband's Grammy's china cabinet and the whole design came to me instantly. I truly design based on a feeling and all of the rooms in my homes always center around an item or story I want to weave into the design. It is no wonder the many iterations of this room's design never motivated me, because this piece and the stories of Great Grammy were the missing piece.
This china cabinet already holds so many beautiful family heirlooms. My own grandma's embroidered napkins, a piece of my wedding china Kris had engraved for us, the hobnail milk glass that held the centerpiece flowers at our wedding, and my mom's Christmas china. All nestled into a piece of furniture that has been in the family for over 60 years.
The Dining Room Feeling: Casual Family Dinners and Elevated Celebrations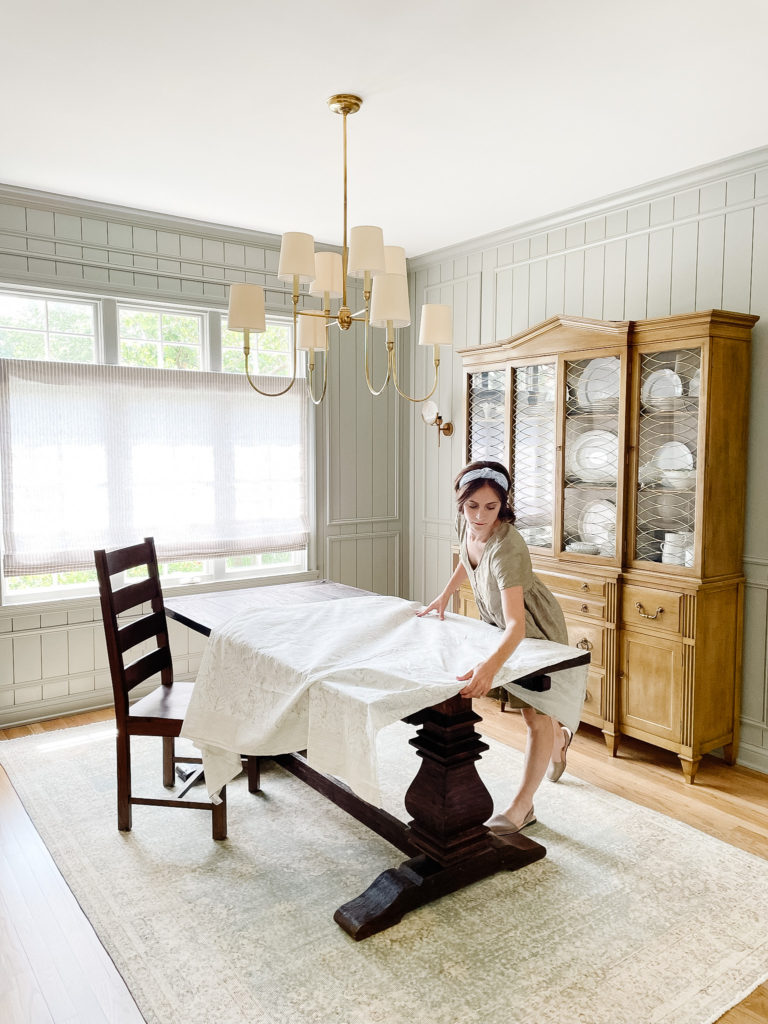 I want this room to feel like "home". I hope for it to be the background of my boys' memories of taco Tuesdays and birthday celebrations. The everyday and the BIG days. Because of it's location in our home, central to the entire main floor and entrance, I wanted it to have a classic elegance. But, when you nestle in with your coffee, sippy cup, or glass of wine I hope it feels just a little worn and cozy to encourage belly laughs, elaborate craft projects, and stories told long after dessert under the warm glow of these lights. Maybe even while listening to someone practice the piano in the adjacent Piano Room.
The Details of the Dining Room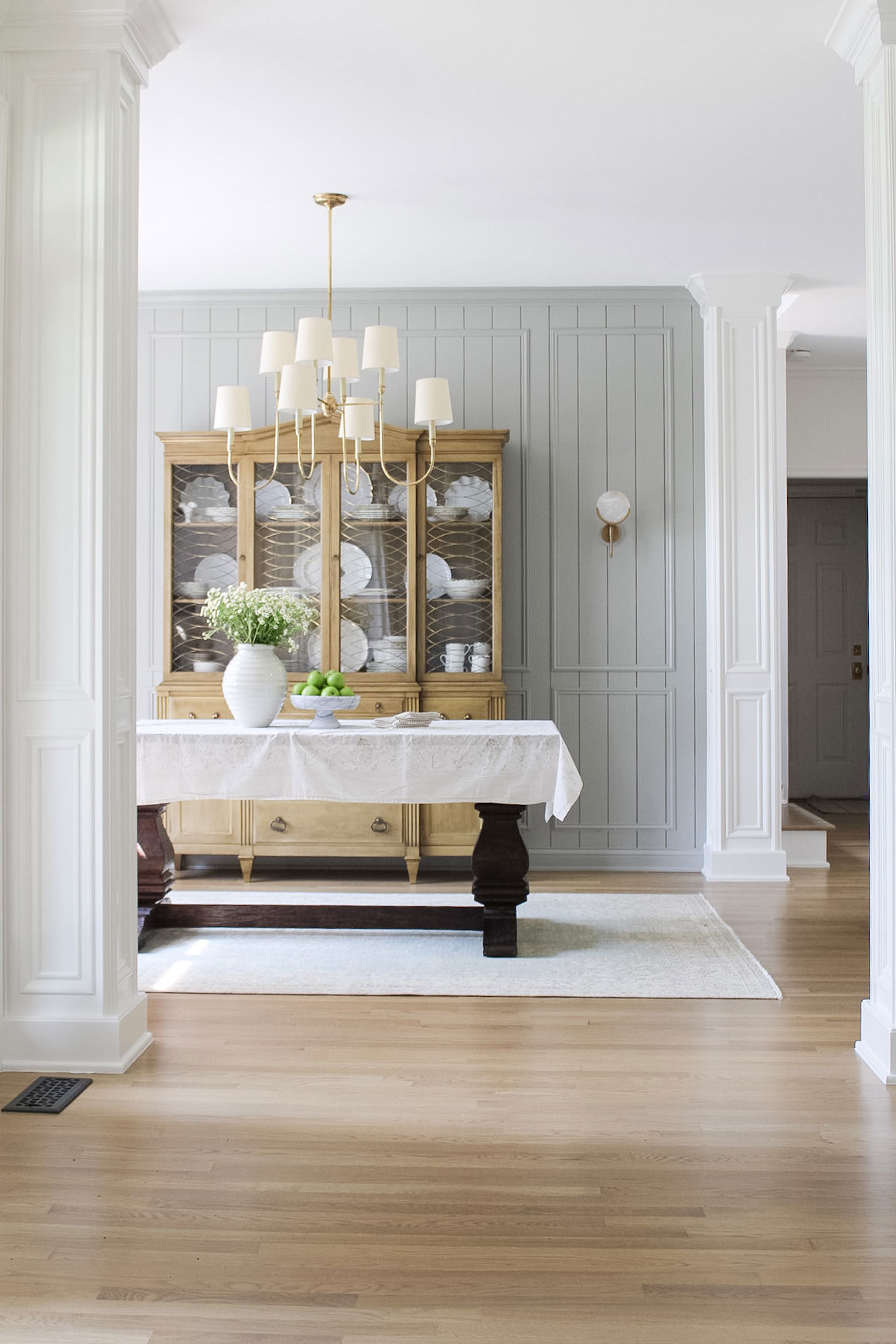 Nickel Gap & Picture Frame Layered Moulding
Tucked away in my design archives (my brain) I have had the idea to merge the vertical nickel gap and box trim elements I have carried through the rooms in this home. I had only seen one example of something similar, so installing this felt like a big risk.
It was by far the most time consuming part of the project. Installing all of the vertical trim and then layering it with the picture moulding followed by finishing with caulk, filling in the nail holes, sanding, priming and then paint spraying took the most effort ( I share more about it here).
I have no doubt, it was worth the effort and the design risk to install this treatment. Sometimes (ok, almost always) it's important to invest in the architecture along with the furnishings. For this space, it helped accentuate the quaintness of the dining nook.
Wall Color
The wall color is Farrow & Ball Lamp Room Grey. It is the most beautiful grey color. It works really well with the adjacent Piano Room's Blue (Sherwin Williams Debonair). The dining room gets a lot of evening light with it's western exposure that pulls out a beautiful muted green undertone. It truly is such a perfect color that still feels "neutral" to me. Truly this room feels like a cozy hug. That's cheesy, and I know it, but its the best way to describe this color on these walls.
Alabaster Sconces
Installing the sconces was another part of the project that took a little longer than expected. There is an entire post on the alternatives I considered here. I am so happy with the ones I installed, even if they were a little more effort to install since they are from the UK. The alabaster disks help bring a natural patina to the room. In the same sight line is both the marble living room fireplace and our kitchen countertops, which all bring in the textural earthly element. The curved brass frame really compliments the brass wire detail on the china cabinet, without distracting from it.
Chandelier, Roman Shade, & Vintage Rug
One of the biggest impact changes was adding in this chandelier. Because the floorplan is open, the dining room light is one of the most prominent pieces on the entire main floor. It is visible from every room, including the formal entry. For this reason I wanted to invest in something beautiful, well made, and that would set the Casual Classic vibe of our home.
The vintage rug works so well with the vintage charm of the heirloom china hutch.
I also love the mix of the tailored roman shade in a more relaxed, textural stripe fabric. Hanging it under the upper transom windows helps add a casualness, almost like a cafe curtain, to the room.
Console Table
The console table ended up being one of my favorite parts of the room. I wanted something textural like grasscloth to fill this narrow spot. I fell in love with a very pricey table, and decided to DIY my own version of it (more here.) It is the perfect spot to store napkins, a pretty candle, and some flowers to make the dining room feel extra cozy.
Dining Room Table & Chairs
One of the biggest sticking points for me in the design of this room was the table. The one we have is the perfect size for the space and with the leaves it fits both our small room and a lot of people. I just truly dislike the textured, crumb catching table top with messy little kids. However, we eat dinner (and sometimes breakfast and lunch) daily at this table. The kids also spend a lot of time crafting and creating here. I was having a hard time spending a lot of money on a new table during this stage of our life. So I decided to invest in new dining chairs to help break up all of the dark wood. The new chairs also have a much lower back, which will help open up the room. Unfortunately, they did not arrive in time for the reveal. That is why you will still see the original, tall backed, matching chairs in some photos!
Thank you for taking the time to read this post and follow along with me during this makeover. Now that the One Room Challenge is over, I guess I should return to spending time making dinners to enjoy in the new dining room!
Be sure to follow along on my Instagram, where I share highlights of the "live action" of this project!
One Room Challenge 2021 Dining Room
Be sure to follow along with the other featured and guest designers here!
Catchup on all of my posts from this seasons challenge below!