Beautiful and Affordable Family Friendly Rugs
With a house full of hardwood flooring, a good rug is a must have. Rugs are practical for protecting floors and necessary to add a layer of warmth to a room. Selecting a good rug is also important for helping to create defined areas of your home. I am sure you already know all of these things, but sometimes rugs are kind of the "last thought" when setting up a room.
When it comes to picking rugs for our house, I prioritize the stage of life I am currently in. We have a house full of little boys and a sweet dog. Finding rugs that are durable, easy to vacuum and clean, and mostly affordable in case of the worst case scenario. I still have two boys to potty train so replacing a rug and it not bankrupting me (or making me lose my mind) is important.
Loloi Rugs
These are my go to rugs for our home. I primarily have the flatweave printed vintage-look rugs through out. They are nearly water proof and camouflage everything. The pattern and color variation really work with so many room designs. Because they are on the thinner side, a good rug pad is beneficial. You also can't beat the price for the size of them. Large size rugs can be so expensive, and the price point compared to size, quality and aesthetic just can't be beat. Loloi rugs are usually the first place I look when rug shopping.
This large loloi rug was my first Loloi purchase nearly 3 years ago. I have the 9 x 12 size in our living room space and it still looks as good as it did when I bought it. The colors vary from being more warm toned to more cool toned depending on how you orient it. This is such a great rug because as it really plays well with so many colors.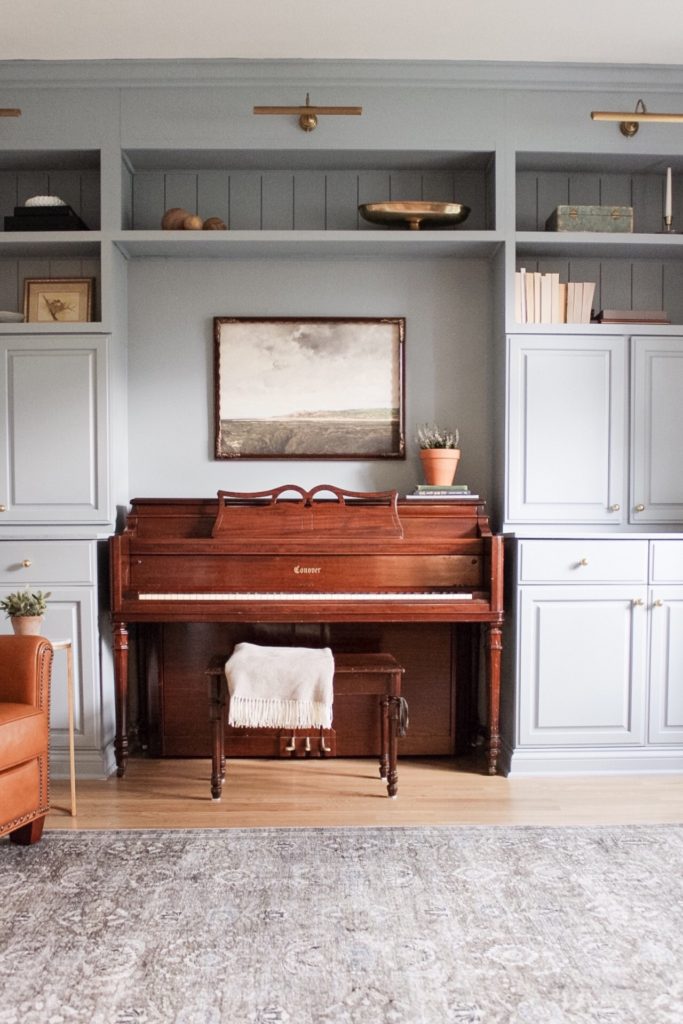 This smaller Loloi rug is the same printed flat weave style that I love. This room is a combination Piano room and kids craft room, so durability was key. The thinner printed style of it make vacuuming up playdough and glitter a breeze! This one has more of a blue and green colorway to it.
This Loloi rug I recently used in our basement guest room is part of the Loloi X Amber Interiors collection. It has a little more texture to the rugs than the printed ones I have previously used, which is perfect for a bedroom space. Overall, it is still a lower pile rug which makes transitioning the vacuum from the hard floors to the rug such a breeze.
I used another 9 x 12 Loloi rug as part of the basement den project. The blues of this rug really compliment the blue trim and cabinets that are part of the home office space. I have it layered over a plush wool rug to give the space a little extra coziness.
Vintage Rugs
Nothing beats the patina of a true vintage rug, and I have made the splurge to slowly add a few to my home. They truly are durable, many times these rugs are many decades old. However, they aren't as replaceable because they are truly one of a kind rugs. Sometimes I just fall in love with one and know it will truly just make the room and am willing to make the splurge and take on the risk of having things that are a little more "precious" in my home, even with with small kids occupying these spaces.
I love to source mine from Kristyn at Violet Vintage Rugs. I trust that her rugs are well cleaned, the condition is well described, and the colors are always accurately represented. She always has a great inventory, but will also help you find exactly the color or size you need.
In the dining room, this Violet Vintage Rug was one of the foundational pieces of my design. As a family (with toddlers!) we still eat every dinner together here. This rug is holding up so well to any spot cleaning we need.
One trick is that I keep these beautiful leather mats stacked on the console in the dining room. They go under the boy's chairs at each meal to protect the floor and make cleanup a breeze. Because the mats themselves are beautiful, I don't begrudge having to put them out.
This cute little square vintage rug lives in our mudroom. The great thing about vintage rugs are the endless odd sizes. They are often times really affordable in the smaller sizes and are a great way to really add a great layer to a room at a really practical price point.
Indoor Outdoor Rugs
My other go-to category for rugs is a good indoor-outdoor option. I love using this type of rug at all of our exterior entrances to our home. They are often so easy to clean and really durable. The only caution, is to be careful they don't look plastic-y. There are many beautiful rug makers that do an excellent job at creating these in a way that you would never know they could sustain being outdoors.
I have this indoor/ outdoor runner in our back hallway leading to the mudroom. This is really helpful since we live in a climate with lots of snow and rain that create a lot of muddy shoes!
Favorite Rug Sources
This post contains product links that may contain affiliate links. When you use the link to make a purchase, I may make a small commission. This is not an additional cost for you, but helps me to produce this blog and content for you to enjoy. My full disclosure is here. Thank you!