Designing a Dining Room in an Entryway | One Room Challenge Spring 2021 Week 2
Add title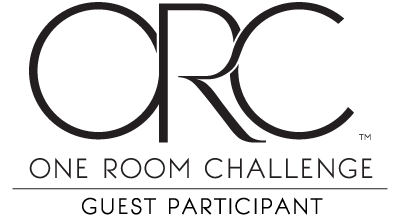 Our formal dining room is in our entryway so it is front in center in our home. It is also fully open to the living room, and kitchen so it is highly visible. I want it to feel special and make a statement, but also blend seamlessly with the classic and collected style of the remainder of the main floor. This room is also where we eat every single dinner. So it is important that the room look just a touch formal but mostly be inviting to set the background for so many of our family memories.
Original Dining Room Design Plan
Do you want to see the original dining room design? I am not going to share the entire One Room Challenge design board incase you stop reading after this paragraph. But I will share the key element of the original design, this wallpaper. The stunning wallpaper would have been paired with box moulding trim painted in the same color as our fire place in the adjacent family room, Anew Gray. I loved the taupe color of the wallpaper in a classic trellis pattern. It will definitely be used in another room in our home since it didn't make the cut in the dining room.
Funny enough, the original design I had for the room felt like an updated version of my husband's Grammy's dining room, where the hutch originally lived.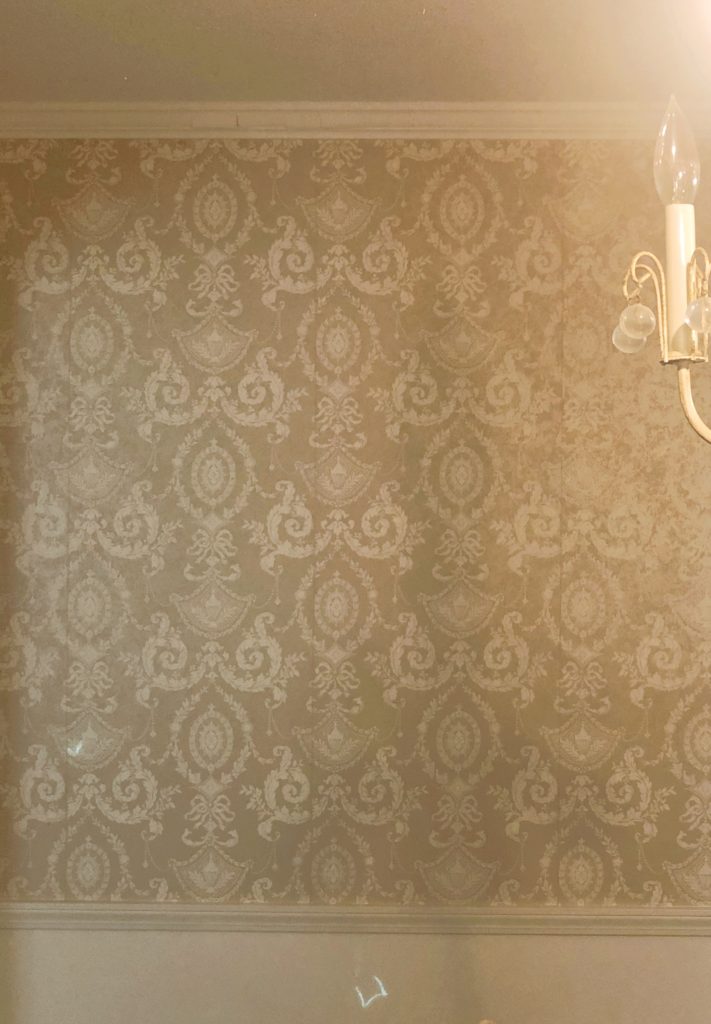 The scale, color, and repeated oval pattern really reminded me of the wallpaper I had selected.
However, when I envisioned the hutch on this wallpaper I was worried it would become too busy and maybe lean a touch too formal. It was stunning in Grammy's dining room, which was a separate space, unlike our dining room entryway combination. The wallpaper separately would have provided a beautiful layer for the dining room and main floor of our home. But with the busy open front of the china cabinet layered in front of it, I immediately knew it would be too busy for our home. If our dining room were more secluded, I think the combination would have been stunning and a beautiful nod to Grammy's dining room. But the reality is, I overall like a more paired down design that helps minimize visual clutter. Especially in this stage of life with toys always strewn around, less is more.
Dining Room that is in an Entryway Design Plan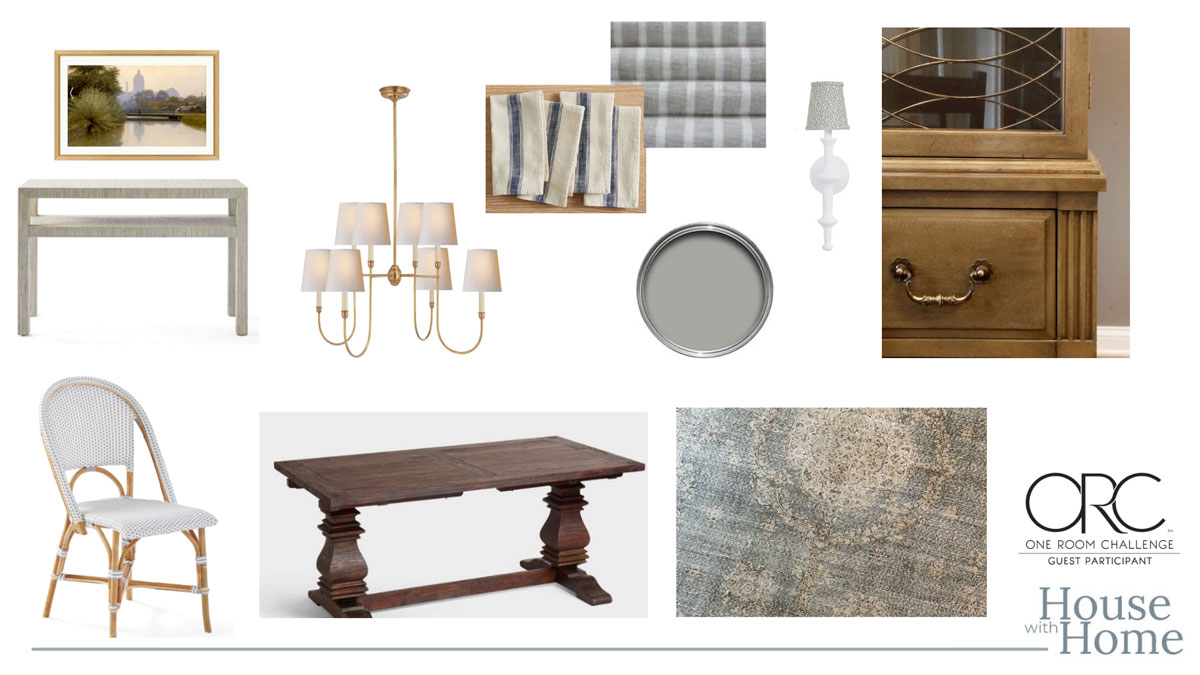 Overall, my inspiration for the room is now driven by Grammy's original dining room. The china cabinet will play a large part in bringing that to life. I want the dining room to feel both elegant and classic. But also, I want it to have a cozy almost patinaed feel to it like it's been used and loved. I hope this balance will make for a room that makes our family and guests we host feel special but not intimidating. Because the dining room is in an entryway, I am focusing on strong details to make is feel like it's on separate space.
Millwork Wall Treatment
This is why I decided to make a pivot and remove the wallpaper from the design. The way the dining room is tucked into it's own little corner niche, just demands some kind of special wall treatment. Since the wallpaper was now out of the design, I wanted to bring in some kind of millwork. I always reiterate how I like to have continuity in my design among all the rooms. This house had a lot of original classic box moulding trim in it (thank you, 1990's) that we have continued through the hallways, fireplace, and bedrooms. We also have added a significant amount of vertical nickel gap in the kitchen, piano room built-ins, a bedroom, mud room, and basement office. I decided to combine the two for the dining room, and can't wait for it to come to life.
Paint Colors
I am planning to paint the walls a grey with a hint of blue. From several vantage points looking into the dining nook you see the room along with our fireplace and kitchen island. Both the fireplace marble and island quartz have blue – grey veins in them that I want to compliment. This is another thread I am running through out the house, using blue. The piano room and it's beloved blue cabinets also sit right of this room, and will pair nicely with the colors I am considering.
Lighting
I am planning to switch out the light fixture to something circular in overall shape to help break up the linear elements in the room. I am am also having sconces wired for either side of the china cabinet. Which sconces I select is a part of my design I am really trying to nail down. Because of the striking features of the china cabinet, I don't want to detract from them or make the wall feel too over done. I am searching for sconces that feel simple, and either compliments the cabinet or contrasts it by providing a less traditional form. The idea of a plaster finish sconce is one I am entertaining. I like that it doesn't compete the beautiful brass details of the cabinet they will flank. I also like texture they will add to the room. So the plaster finish sconces are a strong contender. I also like the idea of a simple brass sconce with no shade, simply a candle bulb. Because the chandelier over the table will have numerous shades, I don't want the room to become too shady (couldn't resist the joke). I will share a roundup of all of the fixtures I considered in one of the upcoming weeks posts.
Dining Room Table and Chairs
I mentioned last week about how I am keeping our original table for now. It is the perfect dimensions, and has leaves that extend it perfectly when we need it. However, it is a real pain to wipe clean because of the deep groves and textured design of it. I would love to get a new table, but the reality is we have small kids who use this table for crafts, playdough, and diners. It needs to be hardworking and low maintenance. Swapping out the chairs for these beautiful chairs will really help to lighten up the room. I love their timeless design, and hopefully, durability for kids with the plastic weave of them.
Accessories
I ordered a beautiful roman shade for the room in a soft greige striped linen that will added a softness to the room. There will be a DIY console table that I am hopeful will turn out ok and save the budget. I am still uncertain about the artwork for the room. I also ordered this stunning vintage rug from Violet Vintage Rugs. The art I have in my mood board is a painted by Richard Gruelle, "Canal Morning Effect", and is a painting of the Indianapolis "skyline" . Over 100 years after it was painted, I would sit in nearly this exact spot on my morning commute. I have wanted to incorporate it into my home many times, but haven't found the spot just yet. Maybe the dining room will be the perfect place.
Coming Up this Week
Moving Cabinet in (and sharing details of it)
sconces wired by electrician
Planning wall millwork
Picking paint color for walls
Be sure to follow along on my Instagram!
Project Checklist
Have sconces hardwired to frame buffet
Have a library light added to highlight artwork
Find Large scale art for dining room/ entry/ walkway wall.
Design, install, and paint millwork
Design and order window treatment
Install new chandelier, sconces, and art light
Clean table and get new chairs
Sell existing light, chairs, and buffet
find a small furniture piece for "bar/serving cabinet"
Styling for china cabinet and bar/serving cabinet
Decide if I want/ need a rug and find one if so.
One Room Challenge 2021 Dining Room
Be sure to follow along with the other featured and guest designers here!
Catch all of my posts from this seasons challenge below!