One Room Challenge Fall 2020: Basement Office & Den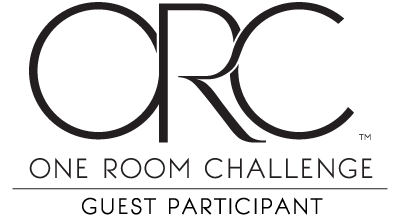 I can't believe I am actually doing this. The One Room Challenge, that is. I am in no way surprised I am planning another large renovation. That is just in my blood at this point. This is my first time participating, and I am so excited. But also equally as nervous about getting it all done in 6 weeks. Since I am redoing my husband's office I really have to get it done because he is not going to want to be nomad in our house for too long. So here is the plan to redo his office in our basement so he can stop using Jerry Seinfeld's apartment as his zoom background.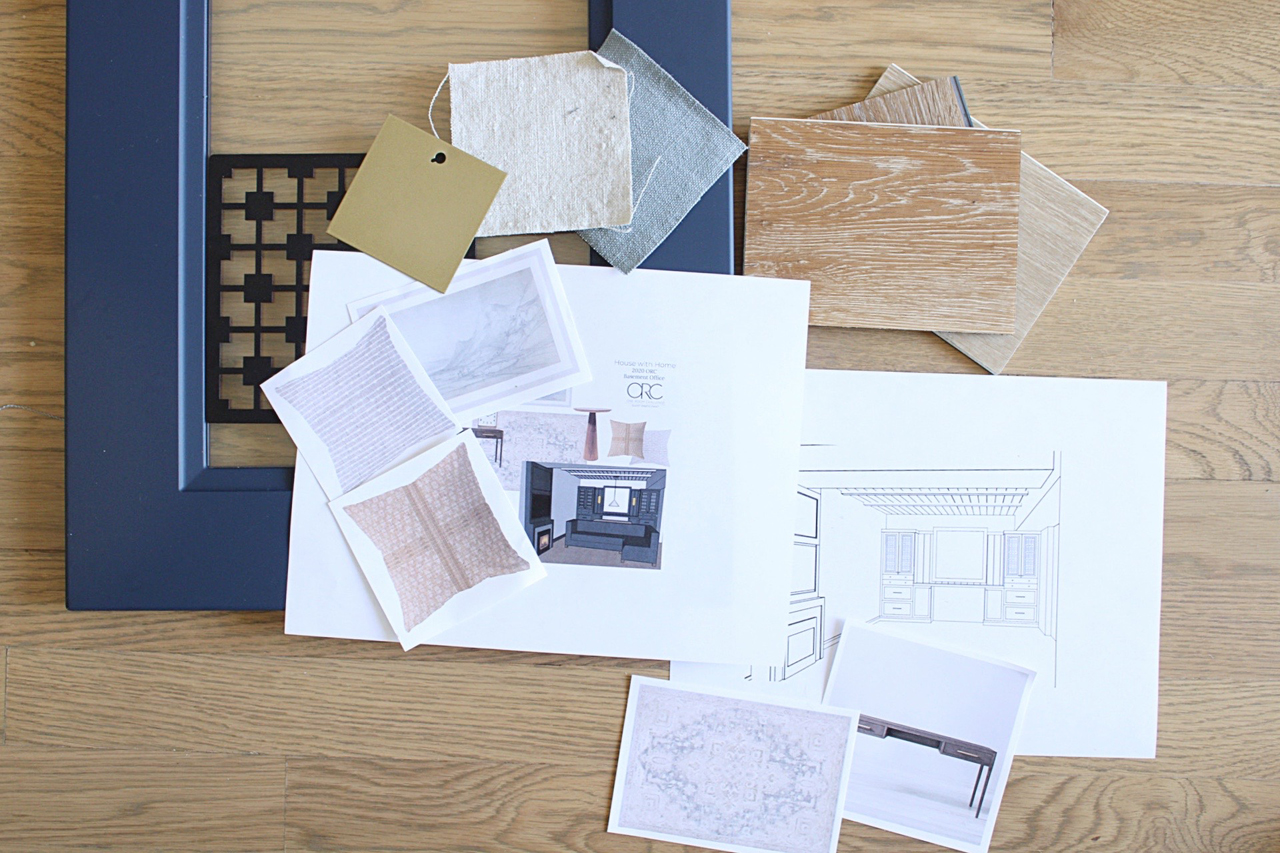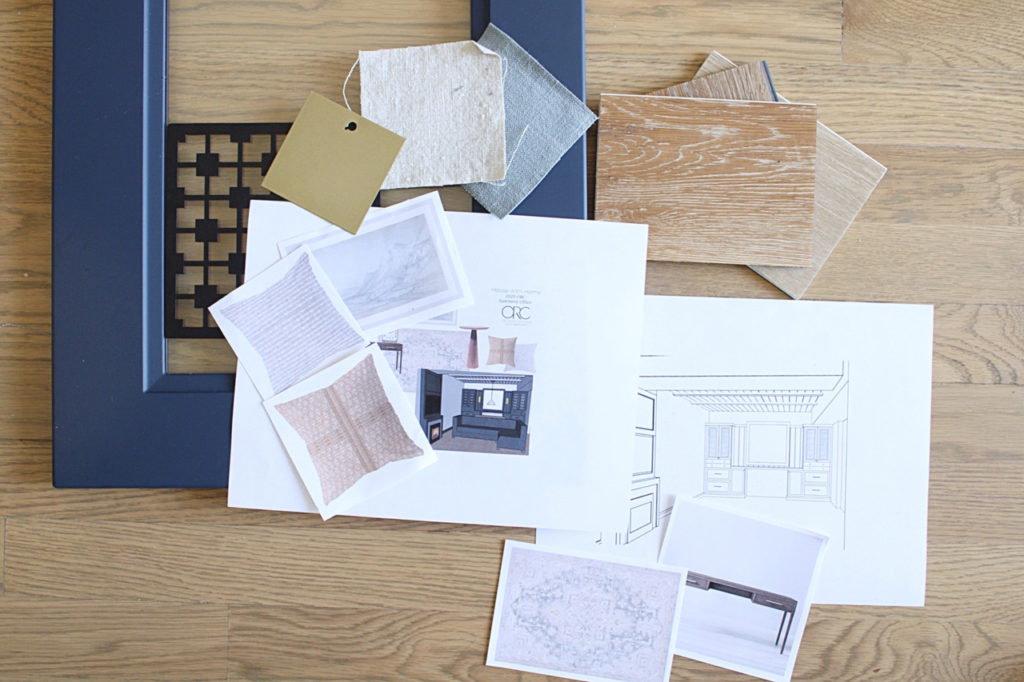 Project Goals
I am a long time fan of the "Lazy Genius Podcast" by Kendra Adachi and I just finished her new book "The Lazy Genius". One of her major points is to "Name What Matters". So here I am, sharing with you my "what matters" as I dive into this challenge.
Give my husband, Kris, a functional and cozy work space that doesn't scream "I'm in my basement" on his Zoom calls. Not that there is anything wrong with that, he has spent the past 7 months working in this space with not a single complaint. This space is not a necessity, and honestly we are fortunate to have the means to redo it. But my husband, Kris, is an insanely hard worker and has helped me make this home into "my vision" and now I want to give him something special for him. As tough as this pandemic has been, one of the blessings for our family has been having him home with us everyday. He deserves a spot
Use this experience to be well thought-out, prepared, and decisive to make the 6 week rush to the finish line efficient. 6 weeks of hard work and macaroni and cheese for dinner so that we can get this project finished. Rather than letting it loom over us while we tinker on it for months or years (looking at you, mudroom) we can finish it up and have it be beautiful and usable for our family.
Use the time to spend time with Kris. This one sounds a little silly because honestly he is one of the very few adults I have spent any time with the past 7 months. But, working on this project feels like a bit of novelty that we could both use. Pre-kids we spent a lot of time hanging out working on projects together for very concentrated amounts of time. Although this is going to require us to work a lot of evenings and naptimes, we will be working together and I am excited for that.
Setting realistic expectations. We are still in the middle of a pandemic. This project has a big checklist to get done in 6 weeks. I have two toddlers. My husband works full time, from home, and I am destroying his office. This is our reality and we are going to do our best to get it all done. And if we don't IT WILL BE OK (saying this more for myself than anyone else).
Use this opportunity to grow my community. I want to share and be helpful to those who take their very important time to follow along. With this, I also want to meet and develop relationships with other "Challengers" (can I call us that?). I have already had such a wonderful time meeting and growing relationships with my brand sponsors and other friends in this space. This "work talk" is one thing I really miss about working a corporate job, and am really looking forward to using this opportunity to build new friendships.
Basement Before
Up until March of 2020 when the Covid19 pandemic happened, this basement really did not get a lot of use. It has one main area, a small side room, our guest bedroom, and a full bathroom. This design will focus primarily on the main area which is currently serving as my husband's home office. I also want to build in a small den area for us to utilize. Our main floor family room is our only other gathering space in our home, and I think a small den with a TV would be really nice for our family.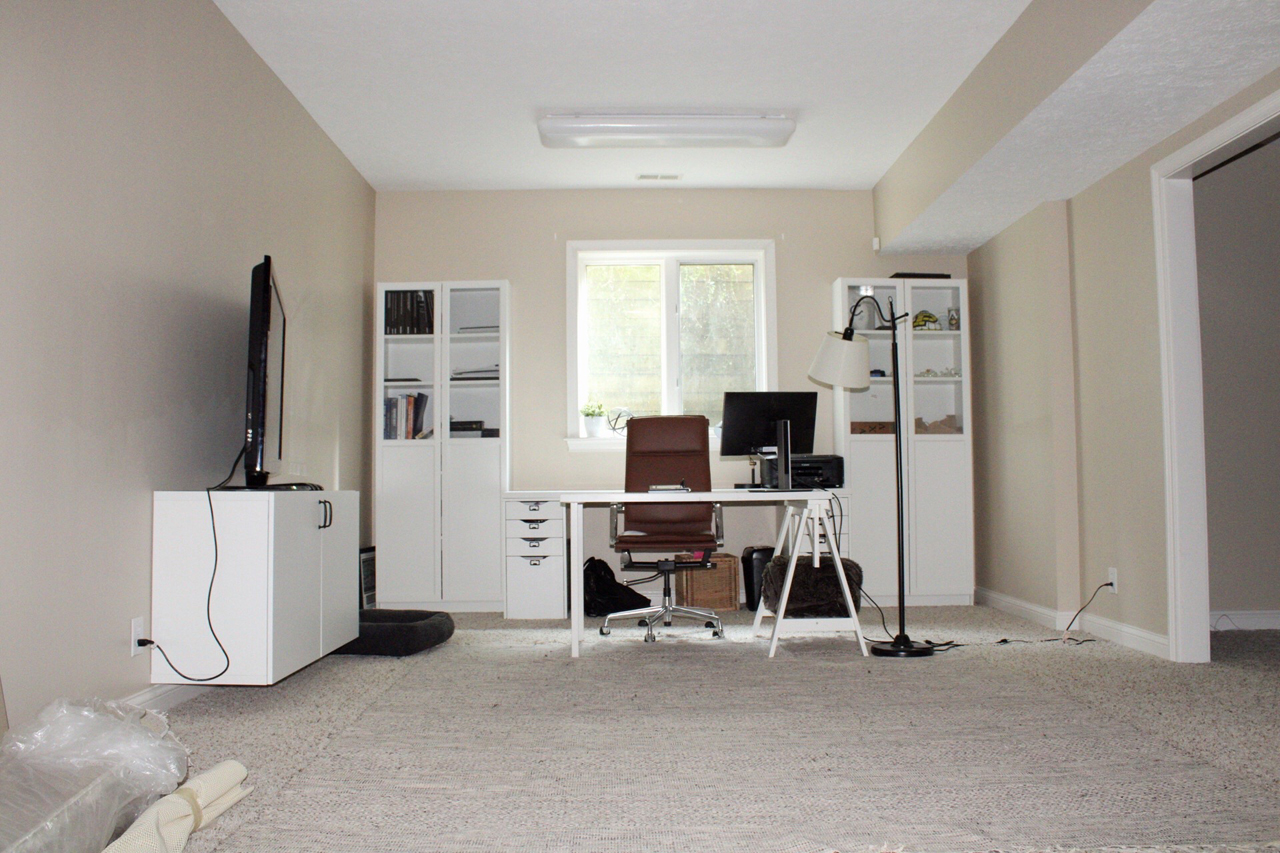 This is not the worst makeshift pandemic office, we are fortunate to have a desk chair and a desk. The big window is also a nice perk! But, it really isn't living up to it's potential. This back wall will get new Ikea cabinets that I am hacking with some really great upgrades. If you have been following me prior to this you know that Ikea cabinets are my thing, so I couldn't leave them out of my first ORC.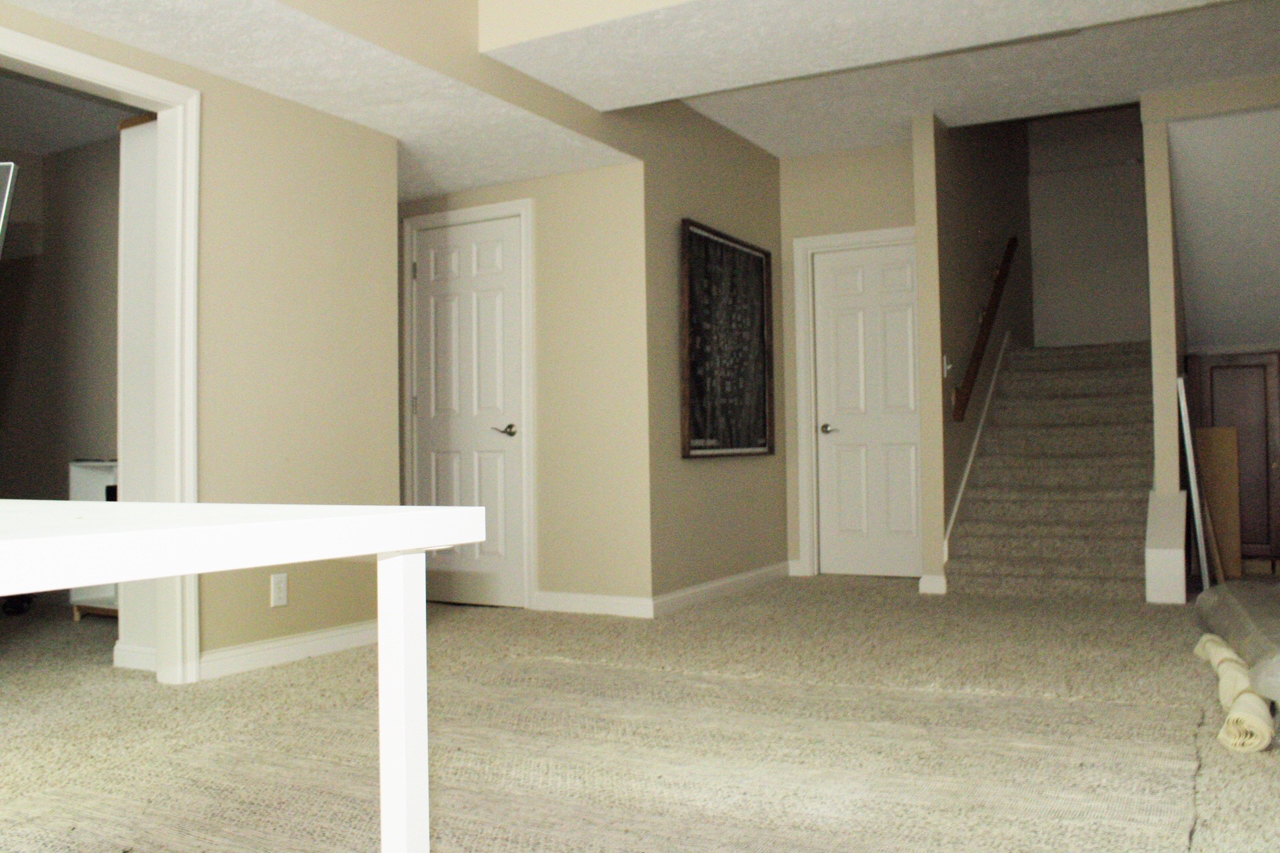 Here is the view looking back toward the stairs from the desk area. I turned the horrid fluorescent lights off to get this image, but it is pretty grainy. Honestly, I feel like it just proves the point of how dull this space is. Kind of like a filter for emphasis. To the left is a small room that currently houses the Peloton and will become the work-out room. To the right we will be building an electric fireplace surround to add a central focus to the den area and help define it as its own space. This will also help conceal the access door to our crawl space.
This is the view of the small work-out room off of the main space. This room will get new flooring and paint as part of the ORC, but will otherwise stay out of the challenge. I wish I had time to tackle it as part of this, but three rooms is probably two too many! So I will stick to just designing and redoing the main room with the office and den area.
Project Checklist
Covering existing textured ceiling with paneling and beams
Removing the textured ceiling from the soffits
Removing existing carpet and replacing with insanely beautiful Luxury Vinyl Tile flooring (and stairs because we have lost our minds)
All new paint
Installing a "built- in" desk area
Changing fluorescent lighting to beautiful new fixtures
Hiding existing crawlspace access door with hidden door
Building an electric fireplace surround with recessed area for TV
Mixing existing items we owned, new items, DIY, and vintage for rugs, desk, art, and accessories
Project Design
Because this project is so big and has so many big architectural details, I have taken a lot of time to draw up plans and get every detail squared away. Hopefully this will save us time hashing out how to build or install something in the weeks to come. Some details, like the sofa for this space, are things that are still in flux. We are planning to try out our existing family room sectional in this space for some time, but in the future this may get switched out. Artwork and smaller details are still being ordered, so some of these details may change. I am linking the sources to everything below that have already settled on. I am focusing on the office and den area, but we will be updating the flooring throughout the entire basement so that is it cohesive. Depending on how timing is working, I plan to paint the side room which will become our "home gym".
A few of the following product links may contain affiliate links. When you use the link to make a purchase, I may make a small commission. This is not an additional cost for you, but helps me to produce this blog and content for you to enjoy. My full disclosure is here. Thank you!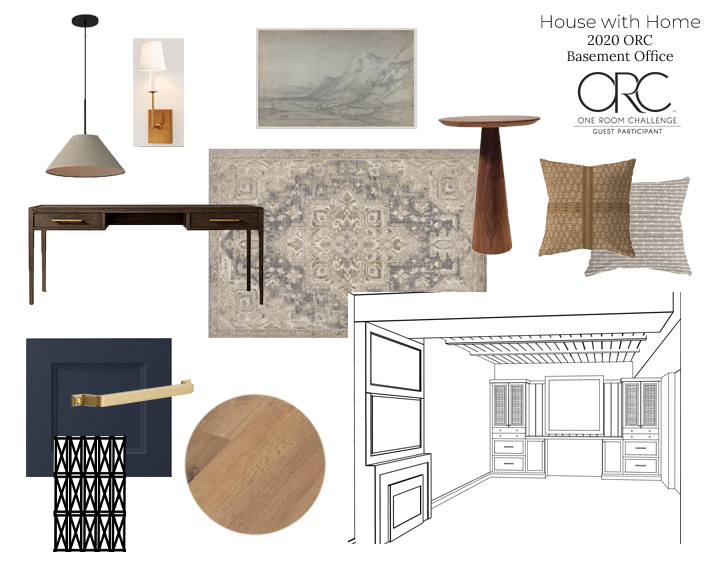 | luxury vinyl tile flooring |custom cabinet screens in iron |Pendant light | Desk | cabinet hardware handles (in aged brass) | cabinet hardware knobs (in aged brass) | wall sconces | side table | Rug | Art Print | Pillows
Looking Ahead to this Week
I am so excited to take on this challenge and hopefully end up with a beautiful room and some new friends in the end! I am extremely fortunate to be working with the following sponsors on this project. They are such amazing products that I am so excited to share with you.
Providing the Luxury Vinyl Tile that I can not wait to share. It's so beautiful and going to completely change the space. Good-bye shag carpet!
Creating custom door screens for the desk area. Working with them to create this custom product has been so much fun.
Thank you so much for taking the time to read this post, and hopefully invest a little more time in the coming weeks following along! It could be really inspirational or turn out to be really good "reality TV".