Dining Room Make Over | One Room Challenge Spring 2021 Week 1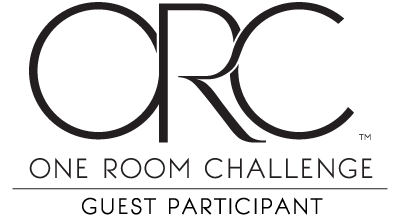 I am so excited to participate in my second One Room Challenge as I tackle our dining room! To be honest, I have barely mentioned that I was participating this year. I signed up in February, made an entire mood board, and then felt really uninspired by the design I had created. That coupled with delays on some of the items I had ordered left me feeling hesitant that the room would even come together.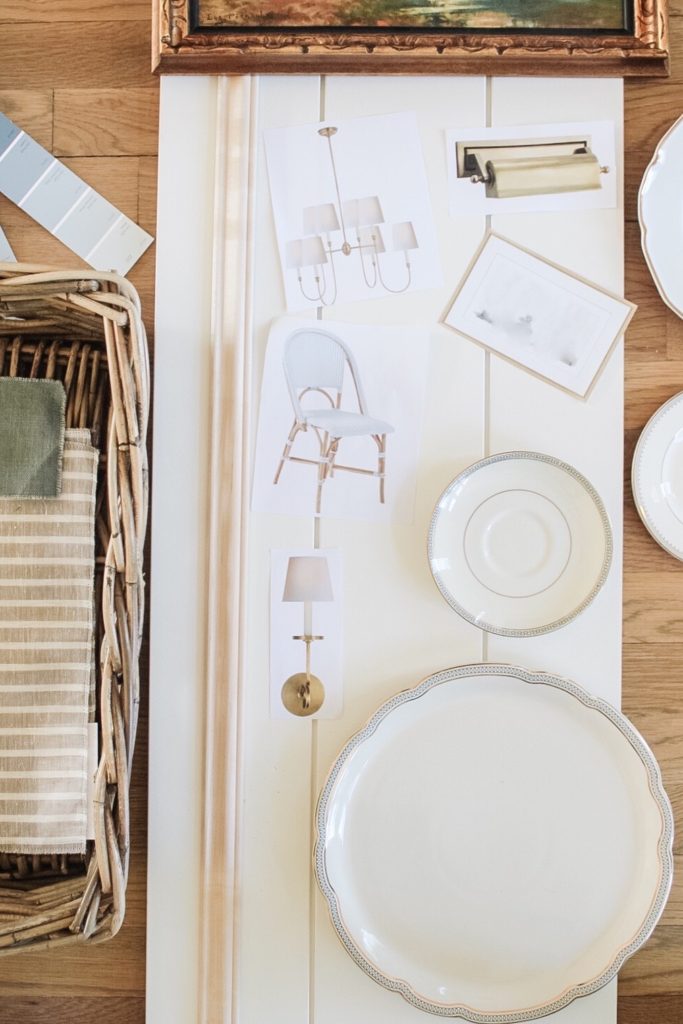 Then we inherited my husband's grandmother's pristine china cabinet and I instantly became inspired all over again. We are getting the piece just in time for the challenge and it is going to be the centerpiece of the whole design. It actually changed my whole design plan and I know this is how the room was meant to be. This is exactly the energy I love to design a room around, when something just falls into place and inspires the entire thing.
One Room Challenge Project Goals
I love to start my project with a little goal setting and manifesto. Just a reminder and the fuel to help me remember why I am doing the project. Especially when it involves doing a space for added motivation, like the One Room Challenge.
Create a cozy and functional dining room that will form the backdrop of countless birthdays, taco Tuesday's, celebrations, and game nights for my family.
After nearly 3 years living in this home, to finally update the dining room to make a statement when you walk into our home. I want to use the 8 weeks to be decisive and efficient in getting the "bones of the room done" and accepting that many design elements may not arrive in time or may need to evolve over time. This is one room that I am not willing to sacrifice my vision (even if it's a little blurry) to rush it for a reveal.
It's important I do not let the project keep me from enjoying relaxing on my screened-in porch. I truly love a good DIY project for expending my creative energy, but it is also overlapping with our spring/ summer. This is my time for reading on the porch and watching the boys play on the swing set. I am going to be cognizant of not letting this project interfere with that time.
Inspire, share, and be helpful to those who take their very important time to follow along. I formed a lot of new friends with the other One Room Challenge Participants last round, and I can't wait to do so again.
Dining Room Before
The dining room has not been touched in the nearly 3 years we have lived here. It is a dark pit that feels sloppy and uninspiring.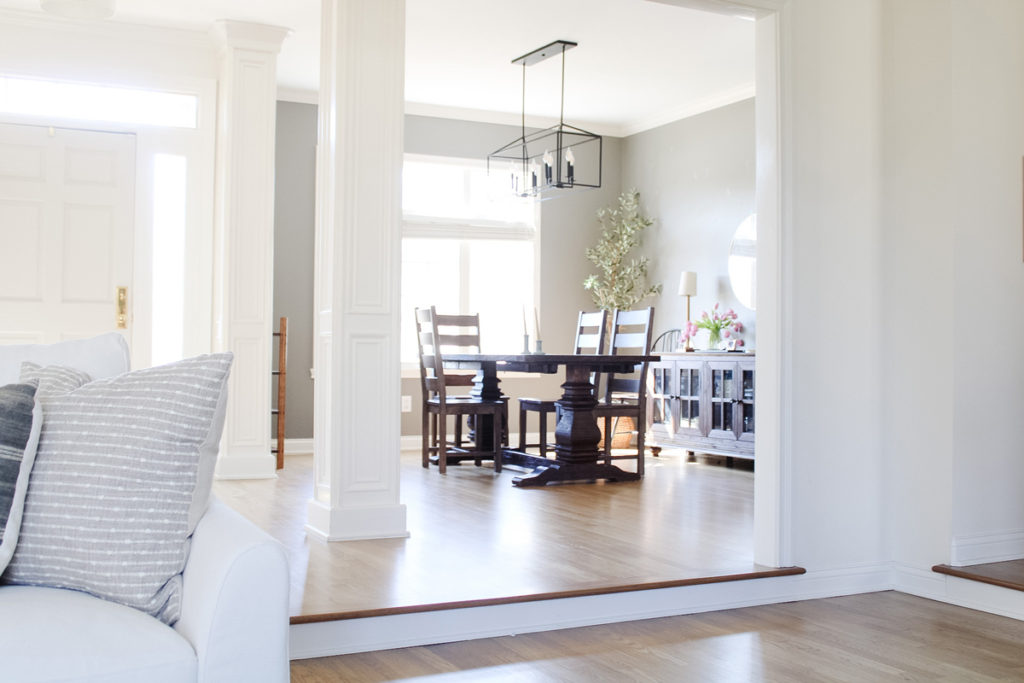 The window blind is honestly an embarrassment. It is broken, crooked, and corded so its very unsafe for our small kids. If nothing else is accomplished in this room, changing out this blind would leave me content.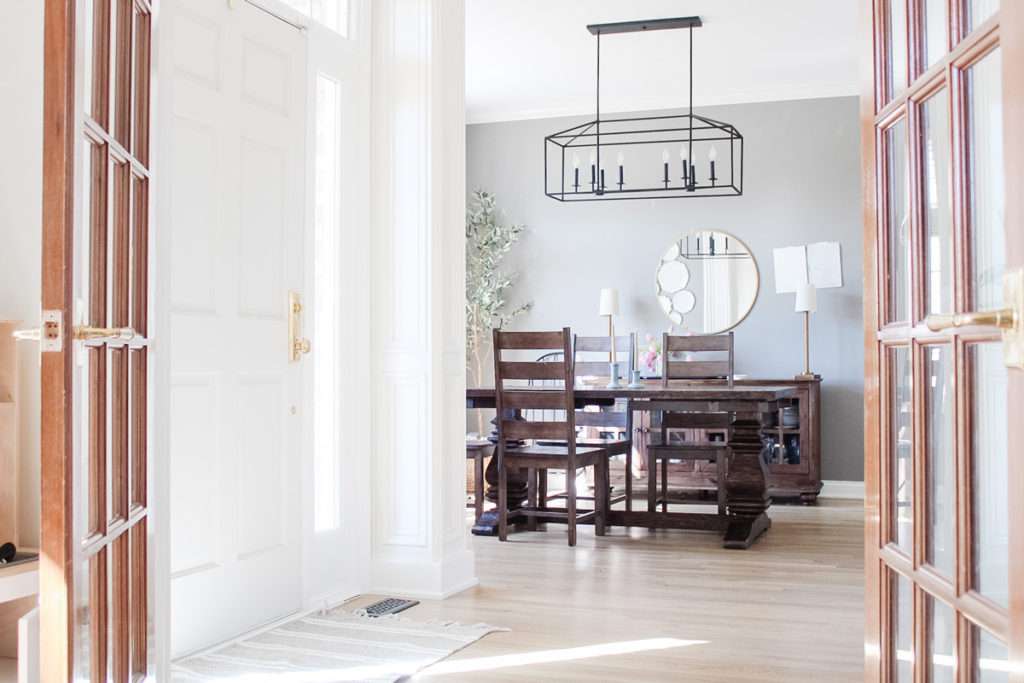 The dining room is also very boxy. It's framed in by square columns, a rectangular table, high linear back chairs, and the lantern style light. The wall color is actually really pretty (paint cans from previous owner tell me it is SW Gauntlet Gray), but it's just to dark for the rest of the home. It also does not help that our dining set is all the same dark wood tone and provides absolutely no contrast. The combination of all of our main floor rooms being open to one another and the columns have really been a puzzle for me to figure out how to paint this corner. I really want it to stand alone as a statement but also it has to flow with the rest of the rooms.
Design Plan
I am going to make you wait until next week to share all of the details of the design plan! It will be a very full post. I will share my original design plan and more about the changes I made and why this evolution makes me so excited for this room. Finally updating our dining room is going to transform our entire main floor! But for now, you can get an idea of all the fun to come in the checklist below.
Project Checklist
Have sconces hardwired to frame buffet
Have a library light added to highlight artwork
Find Large scale art for dining room/ entry/ walkway wall.
Design, install, and paint millwork
Design and order window treatment
Install new chandelier, sconces, and art light
Clean table and get new chairs
Sell existing light, chairs, and buffet
find a small furniture piece for "bar/serving cabinet"
Styling for china cabinet and bar/serving cabinet
Decide if I want/ need a rug and find one if so.
This season's project is much more tame than my ambitious basement renovation we undertook for the fall ORC. However, this room is really going to drastically change the overall feel of our main floor. Here is to hoping my products come in on time to finish!
One Room Challenge 2021 Dining Room
Be sure to follow along with the other featured and guest designers here!
Catchup on all of my posts from this seasons challenge below!
How much does an Ikea Cabinet Bench Seat Cost?
I talk in depth about understating the pricing for Ikea Kitchen Cabinets in my post "How much does an Ikea Kitchen Really Cost?". This information will be helpful if you are trying to determine is this is an affordable option with out going through the effort to fully design and estimate the cost off your item list.