How Much Does an Ikea Kitchen Really Cost?
"Are IKEA cabinets a good price?"
"Are IKEA cabinets a good price?" is the most commonly asked question I get. This is a really hard question to break down because "a good price" is a really subjective measurement. In my professional opinion, if you are wanting to cut costs on your kitchen remodel, using Ikea cabinets is a great way to do that. They are typically a "good price" compared to custom cabinets if you are strictly wanting the "lowest financial cost". They are a "good price" when you compare them to their competitors. Compared to stock cabinet/ big box stores cabinet lines, Ikea Sektion cabinets are the best quality, accessible, and most flexible for design.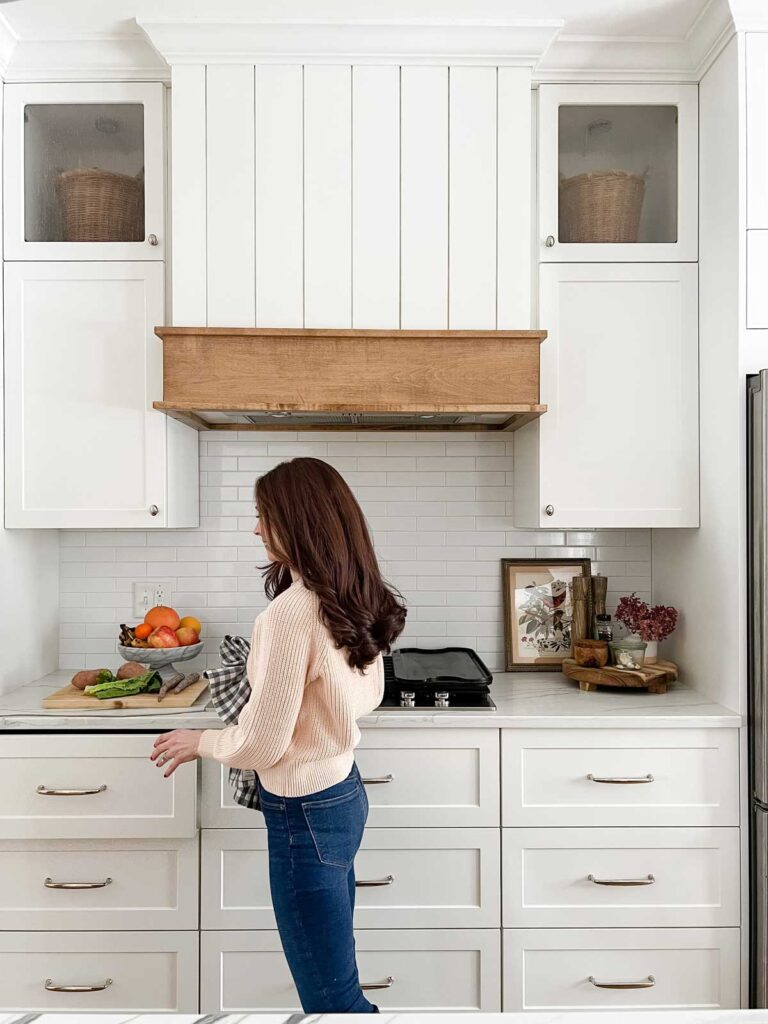 Is an IKEA kitchen that much cheaper?
There is a common misconception that using Ikea kitchen cabinets is going to give you a "cheap" kitchen. To me the word cheap screams "poor quality" and that is not the case with Ikea Cabinets. Ikea cabinets are actually a great value, providing the highest quality product in the price range of cabinets that are not custom. If you are looking for the cheapest cabinets for the cheapest kitchen, then Ikea is not the option for you. But if you are wanting to save money on cabinets and also concerned with the aesthetic and quality, then Ikea cabinets are a good price and investment compared to other big box store cabinet lines. I often reference the 5 reasons I love using Ikea cabinets and the balance of the reasonable price to the other factors is a key factor.
What costs to consider with an Ikea Kitchen?
The "costs" of an Ikea kitchen are not just the financial implications. But also, the time and effort associated with going this route. I think it is important to truly understand if an Ikea Kitchen is worth it for your individual circumstances. In an attempt to help keep this post as simple as possible, I am focusing on the financial costs of an Ikea Kitchen. This can help you compare it to other alternatives you might be considering.
Cost of Design Plans
I believe this is a crucial part of the kitchen process. Kitchens, be it an Ikea kitchen or not, are expensive. They are also an integral part of the function of your home life. There are so many hidden design and technical standards, aesthetic details, and functional details that can easily be missed.
I love how accessible Ikea's cabinets are to Ikea customers, but that doesn't mean every customer should design their own kitchen. Hiring a kitchen designer like me, especially one who is familiar with the intricacies of the Ikea kitchen cabinet system, can save you major headaches in ordering, installation, and the overall design of your kitchen renovation investment. A designer will also save you a lot of time in understanding all the components of the Ikea system. A well-designed project will minimize (and hopefully eliminate) most errors. It will improve communication with installers and trades. And Lastly, it will maximize what you can get in your budget. These factors combined will ensure you have a kitchen you love for many years.
Cost of Ikea Cabinets
The cost of the cabinets in your kitchen is one of the bigger ticket line items. This is why I love using Ikea cabinets to help reduce this cost. One of the benefits of the Ikea Kitchen Cabinet system is that is is sold in individual parts. This makes it highly customizable. I know this is a kitschy statement, but I often compare Ikea Cabinets to the "legos" of kitchen design. At the core, they are a really basic system that you can build on to fit in to whatever range your budget is. This is why it is not uncommon to see Ikea kitchens in an AIRBNB or in an Architectural Digest featured kitchen.
Want a basic break down of the Ikea cabinet system? Download my free resource here!
The Ikea cabinet box and components will generally make up one quarter to one third of the overall cost of your Ikea cabinet budget. These are what I call the bones of the Ikea system. No matter how elevated you go with the design details, this is the framework you need.
These include:
the basic boxes
installation parts like rails, brackets, and feet
shelves
Ikea's premium soft-close hardware (door hinges and drawer hardware assemblies)
The remaining 2/3 – 1/2 of your Ikea cabinet cost will be comprised of the door/ drawer fronts, panels, filler, and trim. There are a variety of ways to co this to meet whatever your kitchen design goals are. If you are strictly trying to keep costs as low as possible, sticking with the Ikea door front options is a great option. However, utilizing an aftermarket door provider is a great way to increase the options for door style, finish, and custom doors.
Installation Cost for Ikea Cabinets
This cost is another significant portion of your overall kitchen renovation. If you can find an Ikea installer, generally you will spend less on cabinet install for an Ikea kitchen than other cabinet installation. This is due to the streamlined process that Ikea kitchen cabinet system utilizes. However, some cabinet installers are intimidated by the Ikea cabinetry unknowns. If they have never installed them before they may quote you higher due to uncertainty. This is why having a well detailed design plan and supplemental information about how the Ikea system works is crucial. It is beneficial in both the install process and helping lower the cost for the installer to do the work.
Additional Costs to Consider for your Ikea Kitchen
These are other big ticket categories that you will need to consider for your total kitchen cost. These are items that can surprisingly also be sourced through Ikea.
kitchen appliances
sinks
faucets
countertops
drawer and door knob and handle hardware
kitchen lighting
Truly, some of these offerings are really a great option for both value and aesthetics. However, my rule of thumb, is that if my cabinets are Ikea, I select the majority of the other design elements from other sources. This keeps a kitchen from looking like an Ikea showroom (even if they are impressive). I like to balance these items out to be a mix of high end (and more expensive) options and more middle of the price range options. This is to help create a beautiful, layered and finished design. Things like quartz countertops, solid hardware, and focal lighting like pendants over an island are where I like to invest more of the kitchen renovation budget.
Other kitchen costs to consider for your Ikea Kitchen Renovation
demolition
structural changes
relocation of appliances and lighting and associated plumbing and electrical work
flooring material and installation
tile and installation
Real Data on Ikea Kitchen Cabinet Pricing
I know this is the information you are really searching for! 7 years ago when I was considering an Ikea kitchen, I looked everywhere for this same information on the cost of an Ikea kitchen remodel. Information was sparse, especially if you are looking to use an aftermarket/ third party door company. The only way to get a price, seems to be to design your entire kitchen first. Only then can you a submit for a quote from the company or manually build a cart for each Ikea cabinet, aftermarket door, panel, etc. That is a significant amount of time to invest before even knowing the price points.
This is why I have compiled this data that I have diligently collected over 5 years of designing Ikea kitchens. I want to help provide you with some real data that you can put into your budget to see if an Ikea Kitchen can help you to achieve your dream Kitchen. It is real costs that will allow you to extrapolate and estimate what you might be looking at for you own Ikea kitchen. This information helps to determine if the affordability of Ikea kitchen cabinets match what you, personally, deem as "affordable" according to your own beliefs and budget. You can go from there to design your Ikea kitchen, or hire a designer to do it for you, and then get your exact cabinet price.
Linear Foot Price Range for Ikea Cabinets
These price ranges were determined from 10 of my most recent and applicable Ikea kitchen designs (designed by House with Home Studio). These kitchens utilized aftermarket/ Third Party doors from Both Semihandmade & Nieu Cabinets. Typically, my projects have a range of $230 a linear foot to upwards of $375 per linear foot of cabinetry installed.
These price ranges are for estimation purposes only, and may not be representative of your final kitchen cabinet costs.
Estimating if Ikea kitchen cabinets are within you budget
To use this for estimating if Ikea kitchen cabinets are within you budget, here is the best way to use this data:
do a rough calculation of the linear feet that will be lined with cabinets. If you are doing base cabinets, that is one linear foot section.
If the wall will also have upper cabinets, you need to count that length again, and a third time if you intend to do stacked cabinets.
For a tall, pantry wall of cabinets you will need to take the length and triple it. Do this over all walls that you plan to put cabinets.
Also include the approximate length of any island cabinets you might have. You may not know where you are putting appliances, exactly how long of a run of cabinets you will have, etc.
Just getting a general idea of the approximate linear feet you may have will help you estimate an approximate price range so you can judge if it is reasonable for you. You can then multiply this by the linear foot price range.
It is important for me to share that these numbers are very project specific. These kitchen clients each had specific goals and constraints that impacted the final cost of their cabinets. The biggest kitchen is not necessarily the most expensive. There are endless combinations of factors that will impact the overall price of using the Ikea cabinet system. Generally, I see the following factors as the biggest influencers on your overall cabinet price.
Door Style Used
There are many aftermarket door providers that make beautiful options to accommodate almost any aesthetic style. These doors range in price depending on the brand you use and the door style you select. On the lower price point is the Semihandmade DIY paintable doors, however you will spend money on paint and supplies or a painter to finish them for you. On the higher end are the real wood veneer options. In the middle are the prefinished door fronts from Semihandmade or going with a custom painted or stock prefinished color from Nieu cabinets.
Quantity of panels and filler
Understating how Ikea's cabinet system works with panels and filler is crucial to designing a beautiful Ikea kitchen. But it is also important to help minimize over or under purchasing these pieces. Knowing best practices for how best to use the panels can allow you to adjust your design in ways to minimize the use of the panels and provide a more custom feeling design overall.
Certain design elements need large scale panels to cover the cabinet frames. An ikea kitchen Island will require these to wrap around the cabinets and form the surround. Alternatively, you can create a surround out of material like shiplap and moldings and paint it to color match your cabinet fronts, this is how I built our Ikea kitchen island. Countertop hutches will also require large panels to cover the exposed side(s). This is also the case if your kitchen is open and doesn't have walls to terminate cabinet runs into. This is one way new build homes generally have an advantage to lowering the linear foot cost, as there can ideally be a back-and-forth with the framing to minimize these necessary panels. Refrigerator size panels are also a big ticket panel item, but one that I never recommend not using, even in a tight budget.
Custom Details and Doors
One of the biggest benefits of using an aftermarket door company that specializes in Ikea doors is the ability to create custom sized doors, special details, and appliance fronts that replicate doors. These options are great additions to making an Ikea kitchen into a custom design. However, these additions can push your design in to a higher linear foot cost.
Ikea Sektion cabinets and their corresponding door and drawer fronts only come in specific sizes. For example, If you are using a tall cabinet (80″ or 90″ in height) to house a wall oven and you have 37″ of cabinet height above it that is not occupied: If you stick with standard sized doors your option would be a 30″ door + 5″ drawer + 2″ of a filler strip. But, if you are using custom doors you can specify a custom 37″ height door eliminating this issue.
Custom details offerings vary depending on the aftermarket brand you are working with. These can be glass-ready door fronts with varying mullion (grid styles) or custom side panels that mimic the shaker details of the door style. Some aftermarket providers even offer custom drilling of toe-kick vent holes or drillings that will accept slide in doors. These companies can also provide custom door fronts that are to the specific dimensions needed for your panel-ready or integrated appliances.
Quantity of Cabinets
The number of cabinets is an obvious contributor to increasing the overall cost of an Ikea Kitchen. One area that is often overlooked, however is stacked upper cabinets. 9 foot ceilings are common in many kitchens and often times a design warrants two rows of upper cabinets. This then triples the lft cost along a wall, increasing the price. This is a design I have in my ikea kitchen and love for its grand appearance and functional storage. However, pantry walls, countertop hutches, and stacked rows of upper cabinets generally move you in a higher linear foot price point.
Internal Fittings
Drawers and pullouts add cost and function! If you plan to have a kitchen with numerous drawers including internal pullouts, you will be higher on the scale for linear foot cost. Personally, I think Ikea's hidden and nesting drawer system is one of the biggest perks of using an Ikea cabinet system. This feature is not matched (or even offered) on nearly all competing cabinet lines, especially at the price point that Ikea cabinets fall into. This is an area I believe function on the long term of your kitchen far out weights the slight increase in overall cost.
A lot has changed in the past 5 years (ahem, pandemic) and it significantly changed pricing of both Ikea's cabinet system and aftermarket door providers. This has also impacted the price range. It is important to use this information as a source of understanding about the price range an Ikea kitchen falls in, while understanding your specific kitchen could have unique variables that will alter the overall Ikea cabinet price. An Ikea kitchen can be done on a tight budget, but other things will sacrifice (functionality or a lower price point door). It can also be done in a $100,000 kitchen remodel. I have designed both! So this information is simply that; data to help you determine if an Ikea kitchen is right for the size of your kitchen .
Want more information about specific projects and their price ranges? Download my Ikea kitchen cabinet pricing data sheet.
Ways to Keep the price of an Ikea Kitchen Down
Typically, my top priorities in planning an Ikea Kitchen design are Beauty, Function, and staying in budget. I am willing to "spend" a little more to achieve the aesthetic design intent or the functional goals. Especially knowing these features will elevate the overall space and still be more affordable because they are built on a more affordable foundation, thanks to using the Ikea cabinet frames. However, if keeping your Ikea kitchen cost as affordable as possible is your top goal, here are a few of my top tips to keep the overall Ikea kitchen remodel cost low.
Use more doors than Drawers. Functionally, drawers are always a priority, especially with Ikea's unique nesting hidden drawer feature. However, drawers are the pricier feature and swapping out a few of the drawers to doors can help reduce overall cost.
Utilize Ikea's door front offering instead of a boutique aftermarket door company. The beauty and customization that an aftermarket door company offer are what really make an elevated Ikea Kitchen design. However, this is an additional cost markup that can run you an additional 20-50% markup on the panel/filler/front cost. An easy way to bring your cost down is to use the Ikea standard fronts. I chose to do this both my Ikea mudroom using the Ikea Axstad white fronts and home office using the Ikea Axstad Blue fronts to help keep costs down, and was still able to create a beautiful design.
Install the Kitchen yourself. This one is not for everyone, but is less intimidating than you might think! Ikea's kitchen system is unique to their system and really helps eliminate some of the more complicated challenges of kitchen cabinet installation. For my personal Ikea Kitchen, my husband installed all of the cabinet frames, doors, panels, and hardware. We then used our budget to hire out structural, drywall, plumbing, electrical, and finish trim carpentry.
Utilize a professional designer. Even with a tight budget, a professional designer can save you significant time and money on costly errors.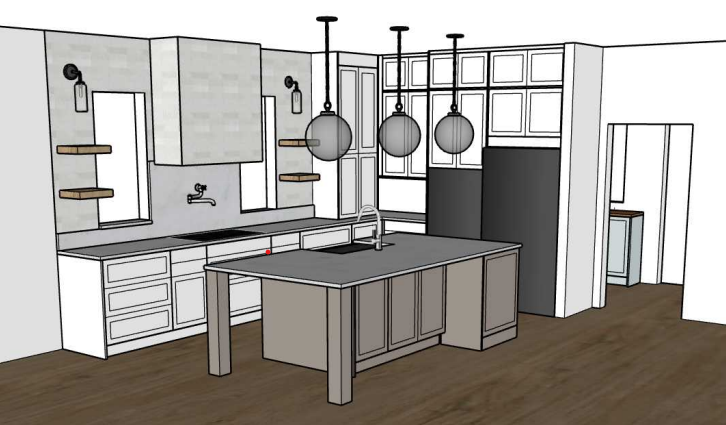 Is an IKEA kitchen remodel worth it?
I study and appreciate custom cabinetry and truly believe there are homes and situations where custom cabinets are the only option. However, we don't all have those homes. If this is you, you shouldn't be choosing between saving for a decade to afford a beautiful new kitchen or spending more than you should for poor quality stock or semi-custom options.
This is why I am passionate about homeowners knowing the real information about the Ikea kitchen system. Understanding that it is not the cheapest option on the market, that is a good thing. But the cost-benefit ratio of the affordability, functionality, and quality is what sets them apart from other cabinets in this price point. By using Ikea cabinets, your dream kitchen may be more attainable than you thought. A kitchen that if designed thoughtfully can be within a reasonable budget, meet you aesthetic dreams, and serve your family as the heart of your home for many years ahead.