Maximizing Storage in a Mudroom Using Ikea Cabinets
The Mudroom Design combined budget friendly Ikea cabinets, functional planning, and beautiful custom details including a wood ladder. We have been enjoying our new mudroom for over a year now. I am truly loving the added organization the cabinets and design are adding to our home. If you want more of the backstory on this space and how it evolved into the mudroom, here is the design plan.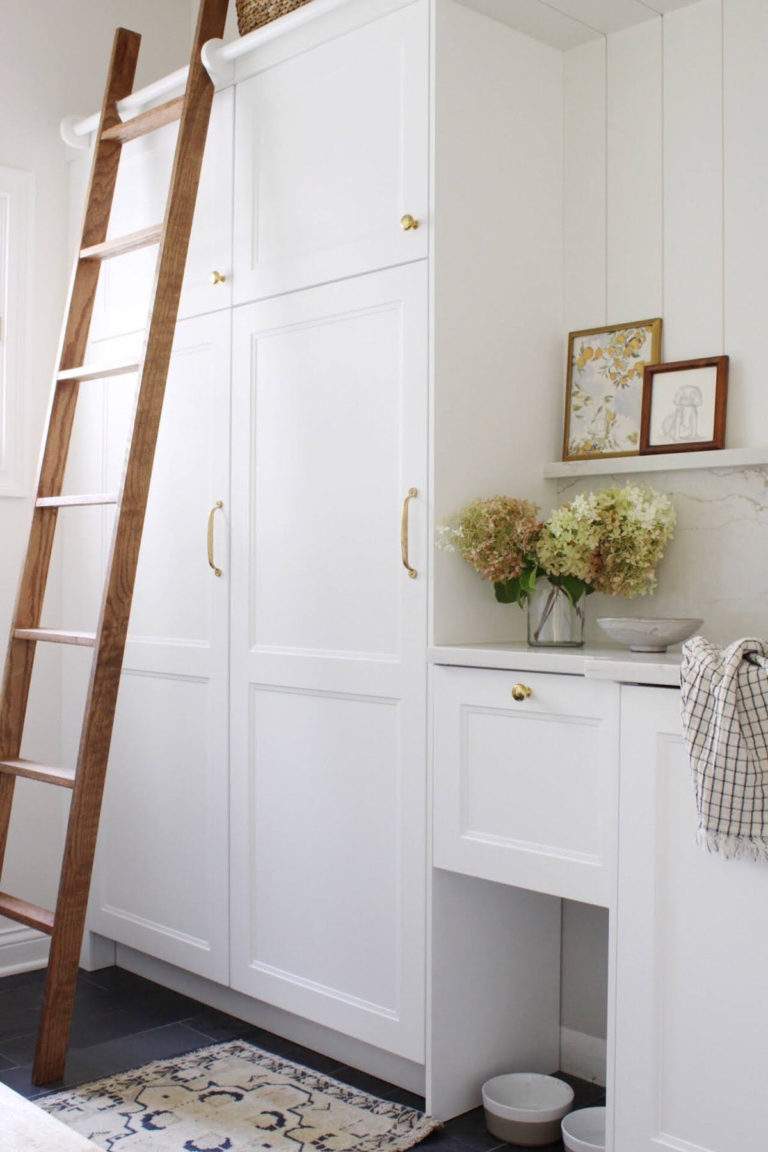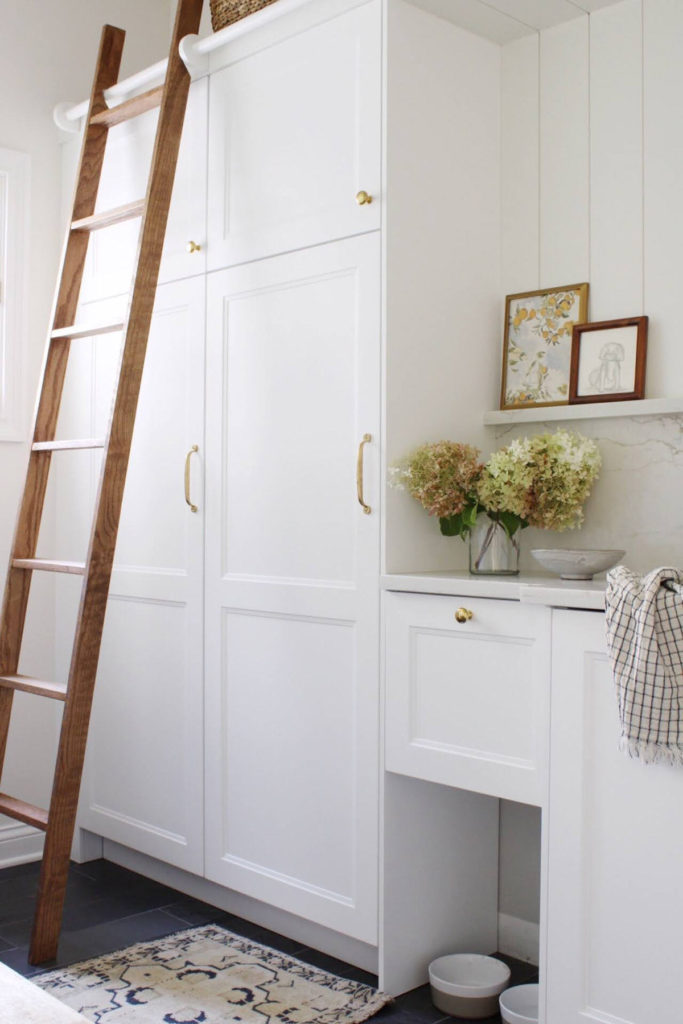 The Mudroom Countertop Wall
The cabinets are the Ikea Sektion 15″ depth base cabinets. We framed out a small 3″ faux wall behind the first section of cabinets when you walk in, to be 18″ deep. This added a little extra countertop and allowed a few extra inches for us to install a sink and a beautiful brass faucet. Rather than using 24″ depth cabinets, the 18″ depth allowed for a little extra walk way space in the entrance of the room. I personally love how the countertop depth varies, giving the cabinets a little more of a custom feel.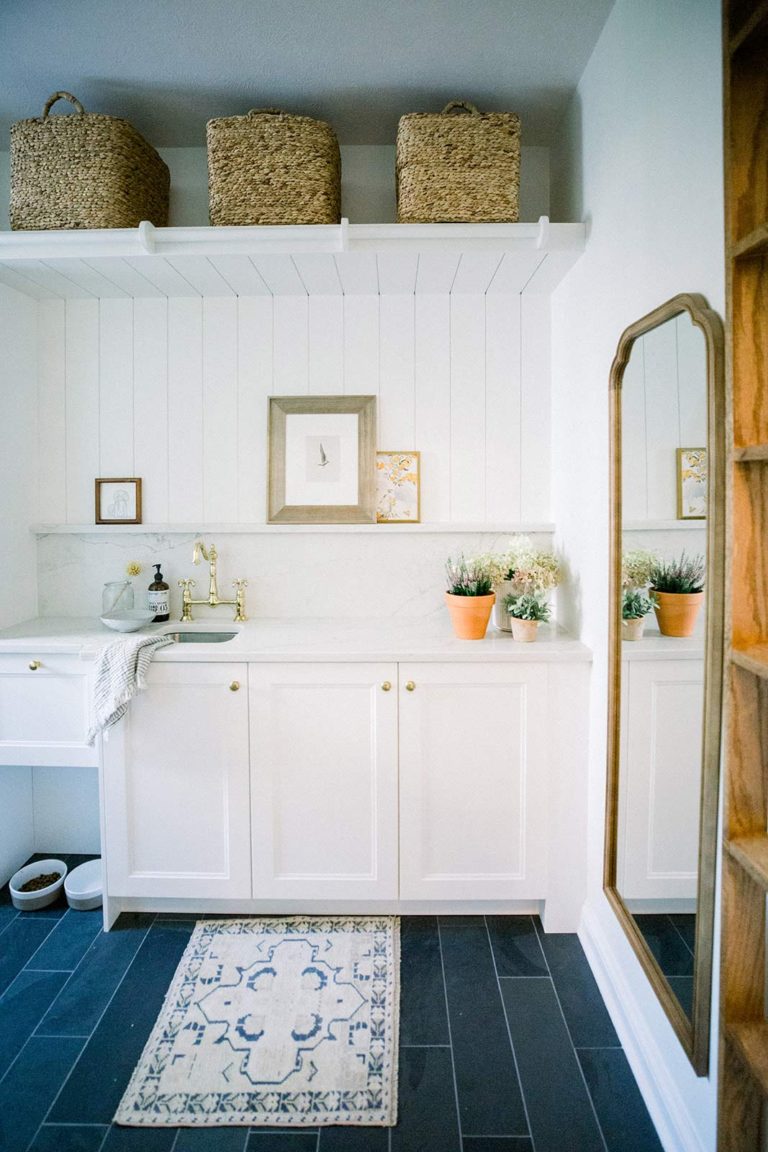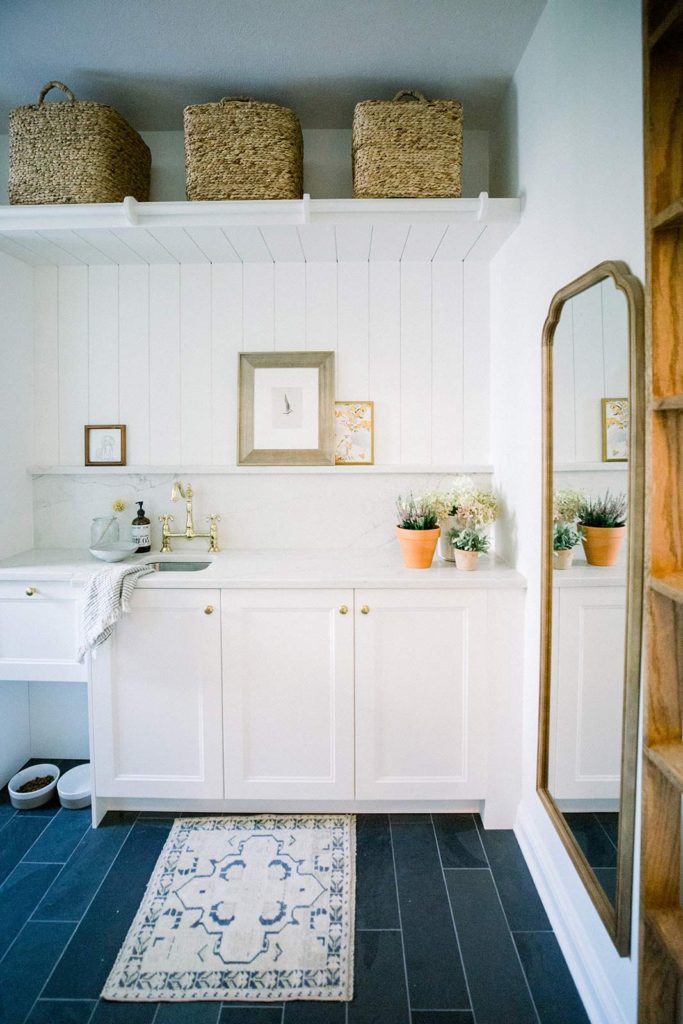 Planning For Function
These cabinets all have pullout drawers in them that are perfect for the kids to each have a spot to put their shoes, hats, and sunglasses. Even as toddlers they each know exactly where to go to pull out their things for us to help them put on, or to put them away when we get home. One of the cabinets has a pullout for us to organize incoming mail and a little trashcan. The other one stores things like masks, sunglasses, sunscreen, and has a little section for things that "need returned".
Dog Food Storage Cabinet
There is even a spot on this wall for the dog! I designed this handy pullout to store food and treats. The open space under it is perfect for the water bowls so we don't trip over them and spill anything. Ikea Sektion cabinets are installed using a rail system, it was easy to float this 15″ high drawer cabinet off the ground.
Quartz Shelf for Photos
One of my favorite features of the room is the slab backsplash with the small ledge. It's the perfect spot to lean invites and family photos. During the Holidays this is where I display all of my Christmas cards we get.
DIY Mudroom Ladder
We also added this wooden rail across the top and built a simple ladder to be able to access the baskets on the top shelf. I love the function and added charm this gives to the room! Because our boys are still little climbers, we made a spot to hang the ladder against the wall. This way they can't scale it when it's not in use. You can see more about how we built this on my IG highlights here. Mudroom Ladder Highlight
The Mudroom Tall Cabinets
I used two Ikea 80″ height cabinets to maximize storage towards the back of the narrow room.
One of the tall pantry cabinets is dedicated to all of the cleaning supplies. We made sure to add an outlet inside to plug in and hang our dyson stick vacuum. There is also a spot to hang my favorite mop. The top of these cabinets are perfect for storing cleaning supplies high up out of reach of the kids.
The other tall pantry cabinet is perfect for the adult shoe storage, gloves, hats and scarves. We are a no shoes in the house family so we keep almost all of our shoes in the mudroom, rather than our upstairs closet.
Mudroom Coat Hook Wall
On the opposite side I opted to keep the coat rack open, rather than doing locker style cabinets. As much as the closed cabinet storage is an aesthetic preference, I really had to think about the function and square footage of this room. Because it is so narrow, I did not want doors swung open while kids are trying to pass in and out of the room that would block the traffic flow. This is also why I kept the underside of the bench open – no drawers blocking the narrow walkway. This layout also makes it easy for guests to have a spot to hang their coats when they visit. Above the open hook area I used a small shelf that is perfect for additional storage. Above that I did two large cabinets that are perfect for overflow storage, things like my gardening tools, etc.
Mudroom Sources and Details
This mudroom is a small space that we really squeezed in all the functionality we could. But because it was so small and I used affordable cabinets, we were really able to add in some beautiful custom details and finishes to make it feel special. I love spending time in this space, and I truly believe that because it is a beautiful room with well thought out function, we are so much more motivated to keep it clean.
When I was designing the room I knew it would be a high-traffic area, so I wanted a tile that would be dark to resist visible stains. I love the texture and color that this natural slate adds to the room. It has held up exactly as I hoped.
Mudroom Sources
This post contains product links that may contain affiliate links. When you use the link to make a purchase, I may make a small commission. This is not an additional cost for you, but helps me to produce this blog and content for you to enjoy. My full disclosure is here. Thank you!

Paint Color is Benjamin Moore White Dove in Valspar Signature paint in a Eggshell Finish.
Cabinets are Ikea Sektion with Axstad fronts