A Review of the Affordable Ikea Farlov Sofa and How I Customized it with a Bemz Slipcover
Before I purchased the two Ikea Farlov sofas in our living room, I spent 2 years researching the perfect sofa. Now that I have lived with Ikea Farlov sofa with our Bemz slipcovers for almost 2 years, I can honestly say my research and evaluation paid off. They have proven to be the perfect solution for the look, budget, comfort, and family friendly furniture for our hardworking living room.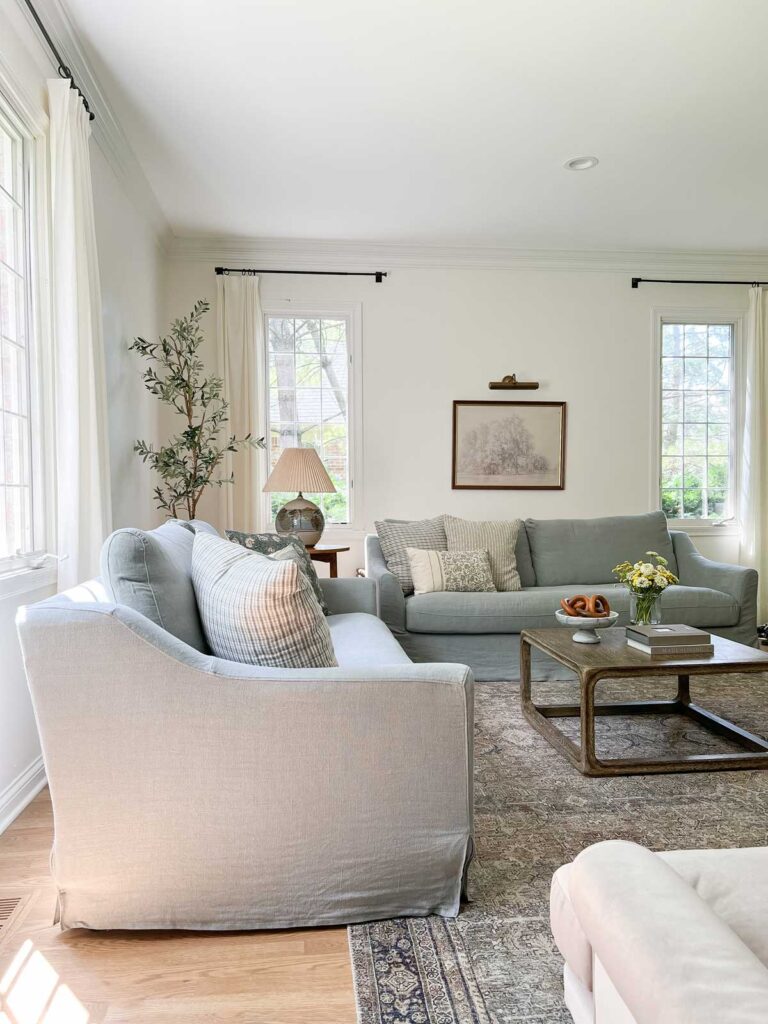 Why Did I pick the Ikea Farlov Sofa?
Several factors were considered that ended up helping me decide the Ikea Farlov sofa was the perfect choice for our family. I can confidently say, this combination has been a great match for this criteria.
The Overall Aesthetics
Aesthetically the Ikea Farlov sofa checked the boxes of having a slope arm, a slipcover, and a bench cushion. I really wanted the classic look of a slope arm sofa for the family room. This style allows the sofa to feel more visually open to the room. I also really wanted a linen or linen look skirted or slipcovered option.
Size of the Ikea Farlov Sofa
The Ikea Farlov sofa is a very deep sofa with a seat cushion comparable in size to a twin bed. Our room is a really odd size. It is long and narrow and has a window that isn't centered on the opposing wall opening. For this reason I really needed deep sofas to help fill the space.
The bonus is that the deep sofas allow for me to really cuddle up with my boys. This type of sofa works well for our family preference. I am short and like to sit with my legs up on the sofa. My husband is extremely tall, so a deep sofa is great for his long legs.
Budget Friendly & Durable
The Ikea Farlov sofa is a great budget friendly option. This was an important factor for me, especially when buying 2 sofas at one time. Of course, being budget friendly doesn't matter if it's not satisfying other criteria.
This sofa is also backed by the Ikea 10 year limited warranty, which is a really significant benefit for something in this price point. Their warranty also explains the testing they perform on the durability of these items. You don't have to look too hard to find someone personally or on a blog who has had an Ikea sofa for many years. I can attest that over the past 2 years my boys have jumped on and off them daily and I haven't noticed any change in them.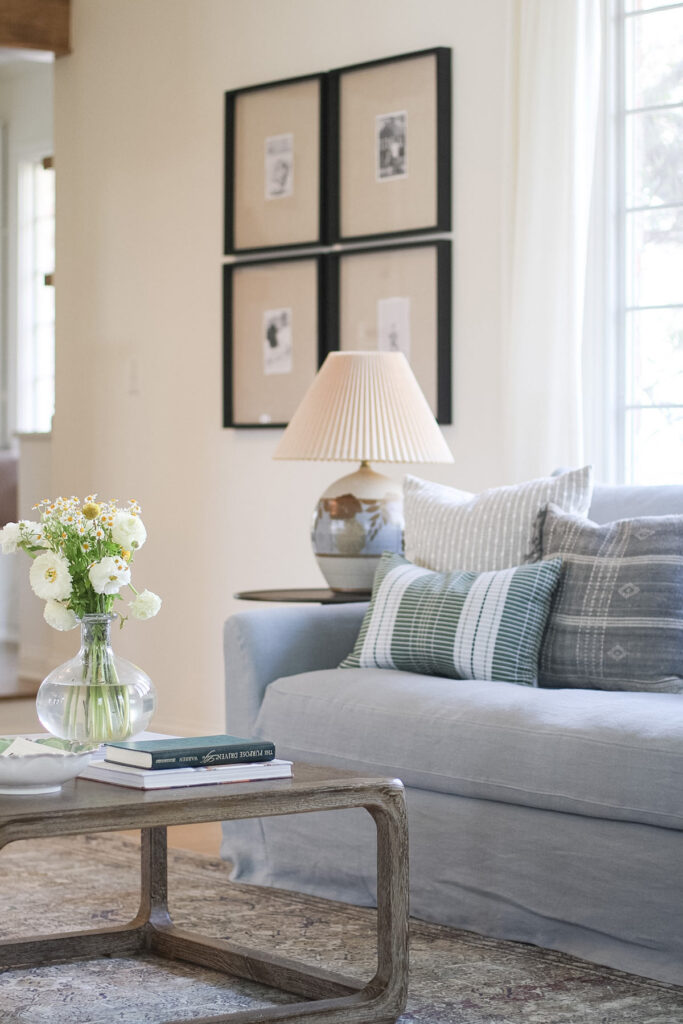 Why Did I go with Bemz Slipcover?
When I initially did my research on a slope arm sofa, a linen slipcover was a must-have for me. So before I even purchased the Ikea Farlov sofa, I did a lot of research on alternative slipcovers and decided to go with the Bemz product. I ordered numerous samples and did stain testing on them to make sure they would be resilient (which has proven to be true).
If you have been around my blog long enough, you know that I "upgrade" a lot of Ikea products. I really wanted the shape, size, and accessibility (bought these during the pandemic) but also didn't want them to be immediately recognized as Ikea. The Bemz slipcover was the perfect solution to giving me the linen slipcover look I loved on many higher end options, but at a great price point by coupling it with the Ikea Farlov.
What Bemz Slipcover do I have?
I originally thought I would go with a natural linen color, but immediately fell hard for the bluish grey color called "Pewter". I chose the "regular fit" option with the "long skirt". The color I have has unfortunately been discontinued, but the "Dusk" linen is a beautiful alternative if you are going for the blue linen aesthetic.
Ikea Farlov Review
I have been extremely happy with our Ikea Farlov Sofa and Bemz Slipcover. We have had them for almost two years. My test team includes two active boys and one little baby boy who have put them through the 'jump on and dirty hands tests' on the daily.
The Farlov Sofa itself has held up great. At first, the cushions were a little stiff, but after a few months they broke in and I find them really comfortable. The seat cushion does get a little lumpy in the middle if it has been sat on for too long, but a little fluffing resets it nicely. Because the seat cushion is comparable in size to a twin mattress, I am considering purchasing a mattress topper to go under the slipcovers and give the cushions a little more "oomph". But it's not lacking enough comfort-wise or aesthetic-wise that it has made my priority list.
Bemz Linen Slipcover Review
The Bemz slipcover has held up exceptionally well. The linen fabric spot cleans nicely for small stains that don't justify a full cover washing. I have removed the covers and washed in the washing machine 4 times so far, and they still look brand new. All stains have came out – including strawberry jelly, blood, and coffee.
Because the slipcovers are linen, they do stretch over time and get looking a little loose. I really only notice this on the seat cushion after many months of use. This is absolutely not something that bothers me at all. I like the lived-in look that linen provides, and know this is just how linen fabric wears. Once they are washed they tighten back up.
I was initially a little nervous about ordering these from a company that I had trouble finding very many reviews for. Especially ordering them in the peak of the pandemic when sourcing and shipping home goods was in its peak of being a mess. However, I was really surprised with how quickly they shipped.
I was even more impressed by how beautiful they were when I put them on my Ikea Farlov sofas. The fit is perfect, no wonky seams or dimensions. They look perfectly tailored to the sofas. The stitching quality looks good and has held up with no issues.
Is the Ikea Farlov Sofa Discontinued?
Well, I'm not sure. For the past few years the Ikea Farlov Sofa has been a bit of a unicorn to locate. I have seen them come in stock many times, to only sell out quickly.
There are a lot of rumors that "an Ikea employee told so and so it was discontinued". Maybe. But I personally don't take a lot of stock in what an Ikea floor employee says. So unless this information is coming directly from Ikea's corporate office, I am not convinced.
I have been an avid Ikea shopper for years. From my experience when they discontinue a product, they pull the Item numbers. The item number/ listing for the Ikea Farlov Sofa and slipcover options have remained on their site and on their showroom floors for years. Despite their stock issues with it. I personally think it is too popular of an item for them to pull and that they just really have supply/ material issues. Hopefully these issues are resolved so they can continue to provide more.
If you love the look of the Ikea Farlov sofa, but are unable to locate one, they do seem to have the Ikea Farlov loveseat and Ikea Farlov chair more readily available. I obviously love my Ikea Farlov Sofa and Bemz slipcover combination, but do think that many of my positive points would apply to another Ikea sofa paired with the coordinating Bemz slipcover.
Room Sources
This post contains product links that may contain affiliate links. When you use the link to make a  purchase, I may make a small commission. This is not an additional cost for you, but helps me to produce this blog and content for you to enjoy.  My full disclosure is here.  Thank you! 

Paint Color (walls) are Benjamin Moore "White Dove" in an eggshell finish
Sofas are the Ikea Farlov
Slipcovers are the Bemz Linen . My color is discontinued.