Walnut Ikea Cabinet Doors: A Review of Options
After sharing all about my walnut Ikea cabinet fronts on my Ikea bathroom vanity hack, one of the most common frequents questions I get is "what do you think about the Ikea walnut doors?". I wanted to break down this question, because there are a lot of things to consider when deciding on Ikea cabinet doors vs a custom cabinet door from an aftermarket company, especially when you are considering a walnut look.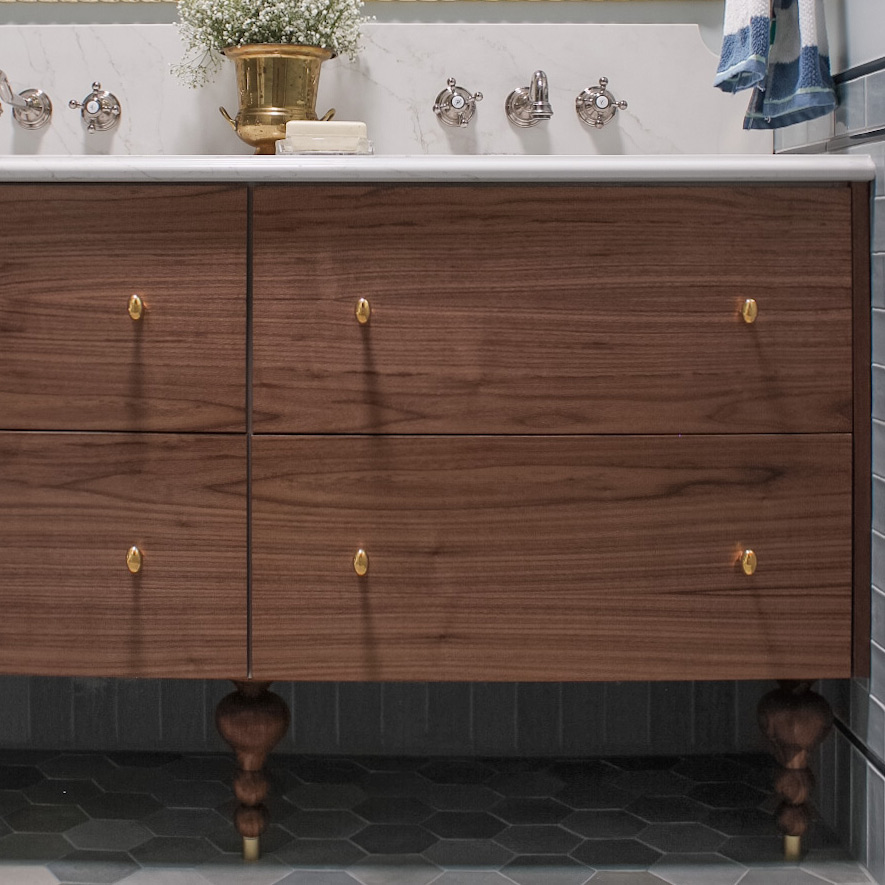 This post may contain product links that may contain affiliate links. When you use the link to make a  purchase, I may make a small commission. This is not an additional cost for you, but helps me to produce this blog and content for you to enjoy.  My full disclosure is here.  Thank you! 
What to consider for Walnut Ikea Cabinet Doors
Quality of the product
Cost of the product
Is it real wood, wood veneer or a walnut effect?
​If it is a walnut effect, or a printed faux wood, how realistic is it?
Understanding Ikea Cabinets
For my personal Ikea projects I use Ikea kitchen cabinets, the Sektion, 95% of the time. Overall, I think it is a much higher quality or product than other Ikea products. Not that other products are poor quality, but Ikea's Sektion exceeds the quality of most semi-custom cabinet lines, in my personal opinion.
I have used other Ikea cabinet and storage solutions like the Ikea Hemnes and the Ikea Billy. But for this discussion, we are primarily talking about the cabinets that have walnut/ wood effect door. This post will focus on the walnut and walnut effect door options for Ikea's Sektion and Godmorgon line.
Different Cabinet Lines From Ikea
However, for my own personal research purposes and a few other constraints, I used an Ikea godmorgon bathroom vanity cabinets in my boy's bathroom projects.
Godmorgan: Ikea's line of bathroom vanity cabinets. I used it for my bathroom.
Sektion: Ikea's line of kitchen cabinets, that I use as the basis for my designs
The Basics of How Ikea Cabinet Works
The Ikea godmorgon cabinets are sold as the cabinet and the doors in various finishes. You do not have the option to purchase the doors separately.
When using the Ikea Sektion line, the door front , drawer front, filler pieces, side panels, and cover panels are separate "series" that you purchase independently from the Sektion Ikea cabinet boxes. This is why there are many aftermarket door companies that offer their own "series" or doors, drawers, and filler/panels that you can use instead of the Ikea offerings.
Get my free download that breaks down the basics of the parts you need for an Ikea Sektion Cabinet Projects.
Walnut Options for the Ikea Godmorgon Cabinets
When it came to designing my Ikea godmorgon bathroom vanity, I took the time to evaluate all the options when it came to walnut ikea cabinet doors. I considered using the Ikea Brown Stained Ash Godmorgon door fronts but ultimately changed my mind after seeing them in the store. Instead, I went with a real walnut wood veneer option from Semihandmade to upgrade the overall look and quality of this cabinet.
Ikea's Brown Stained Ash Godmorgon Option
For the Ikea godmorgon vanity cabinet line, the walnut option is called "brown stained ash". The doors are particle board with plastic foil and edging printed in a walnut effect. The doors are smooth with no "texture" that helps make the printed walnut effect appear more realistic.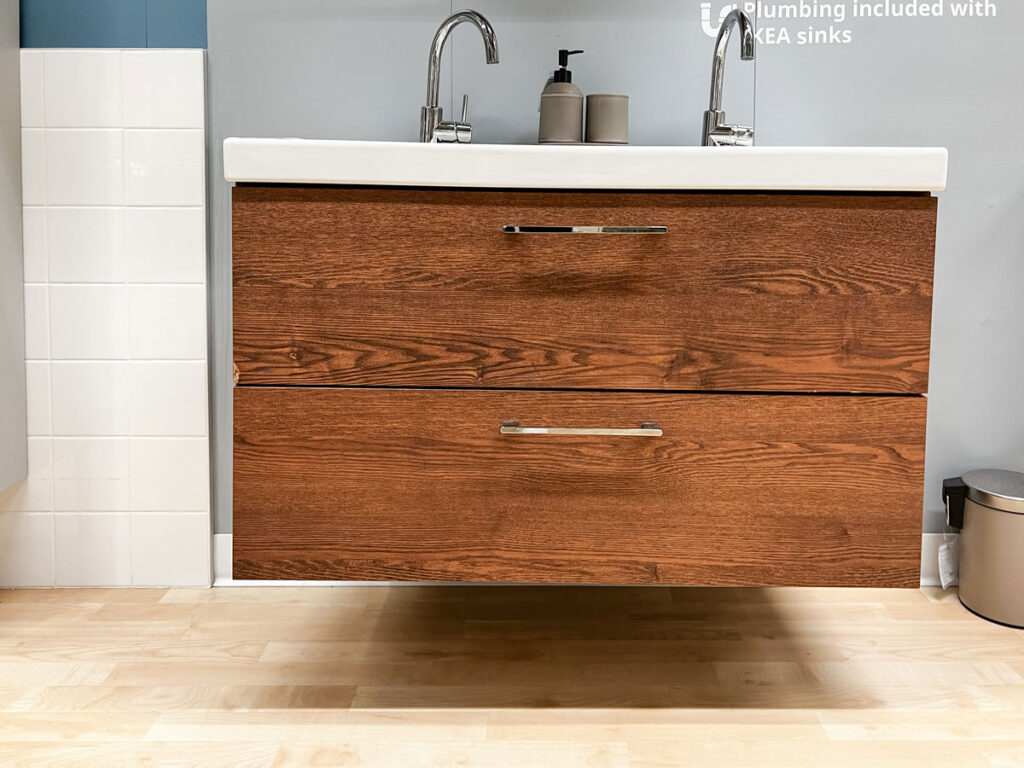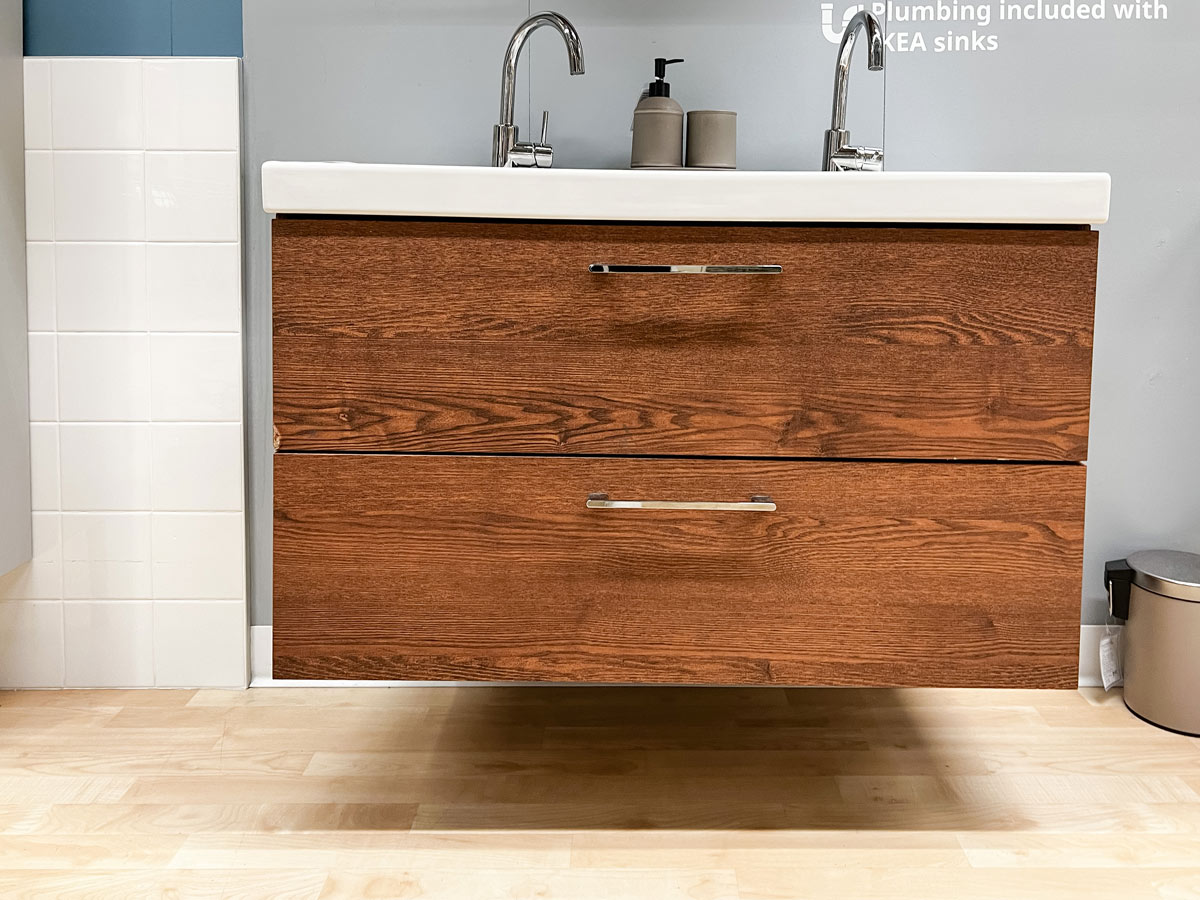 When I was planning my bathroom vanity I went into Ikea to take a look at this option. Here is what I observed:
The walnut effect looked and felt fake.
It was falling apart and peeling at the top edge.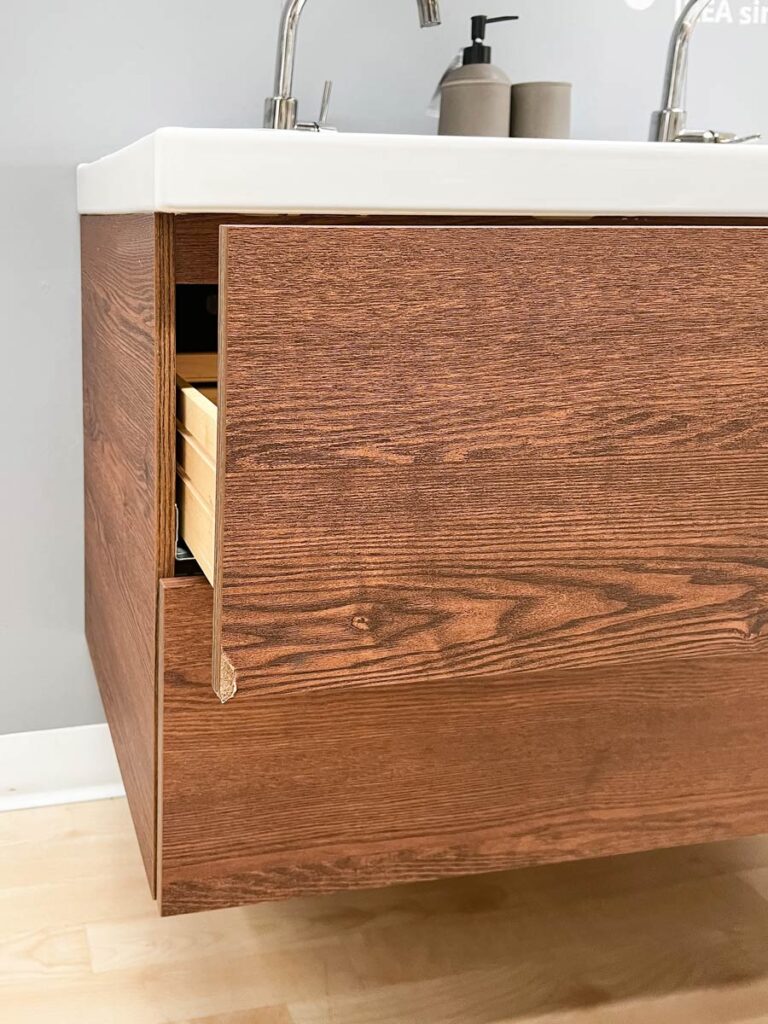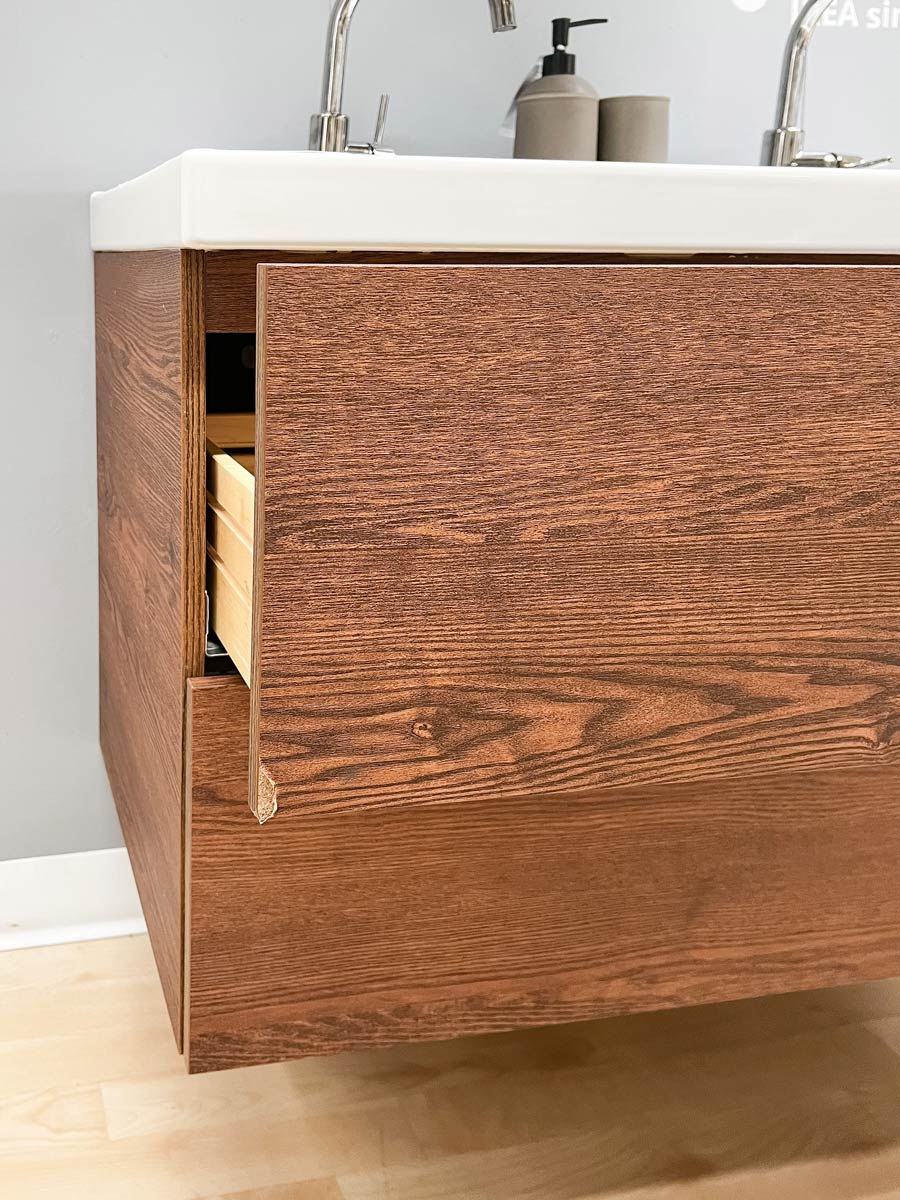 I know that a floor model gets a lot of wear and tear from the shear number of people touching it. However, this floor model also hasn't been exposed to water, and it already was falling apart. That was not a great indicator of the the quality of the doors. In my opinion, the Ikea supplied godmorgon walnut doors are not a great option.
Real Walnut Wood Veneer Drawer Fronts for the Godmorgon Vanity
Despite the disappointing finish of the Ikea Godmorgon walnut option, I still wanted to use a walnut drawer front on my bathroom vanity. I decided to use real walnut wood vaneer doors from Semihandmade for this project for a few reasons:
I have used their walnut doors on a client project and was impressed with the overall look
I have Semihandmade doors on my Ikea Kitchen and they have been extremely durable. Both my kitchen's white cabinets and greige island cabinets are from this company.
I wanted a real walnut product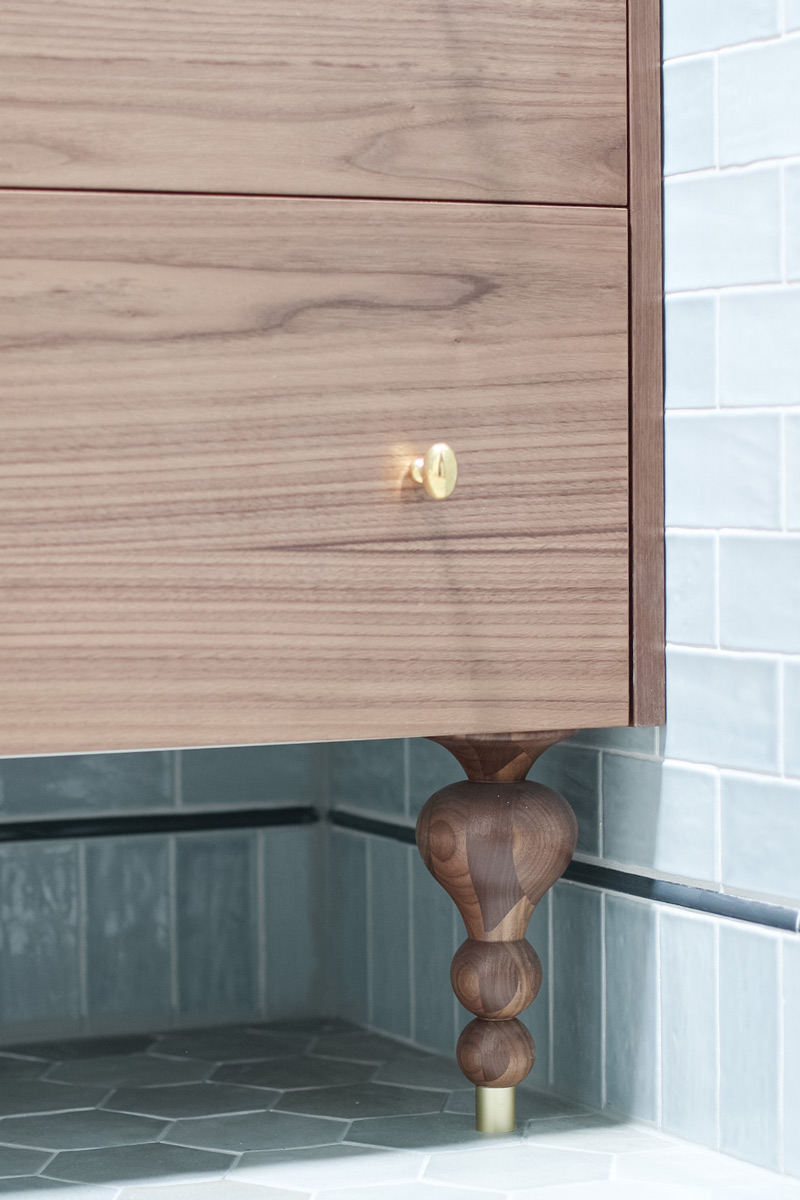 Semihandmade offers their walnut doors already sized and drilled for the various godmorgon size options. This made the process of using an aftermarket door really simple.
Walnut Options for Ikea Sektion Cabinets
When it comes to the Ikea Sektion cabinet line, there are many more options for a walnut wood look. Ikea has two front series that are a walnut effect and are an affordable and durable options. Personally, I have not used either of the Ikea walnut look door fronts. However, I have used several other Ikea doors fronts for the sektion cabinets in my own home and for clients and have been really impressed with the quality. I also have looked at these option in the store many times an they appear to be wearing without any issues. The Ikea walnut look options are a great value if you have a tight budget or a space where natural wood products maybe harder to clean than the wipeable foil coating of the Ikea Voxtorp or Enkoping options.
If you are wanting the tactile feel and look of a real wood veneer there are several aftermarket door companies that offer a classic walnut front. Usually these providers are a more costly approach than sticking with Ikea's door offerings. However, you are getting real wood veneers rather than foil.
Ikea VOXTORP Walnut Effect Series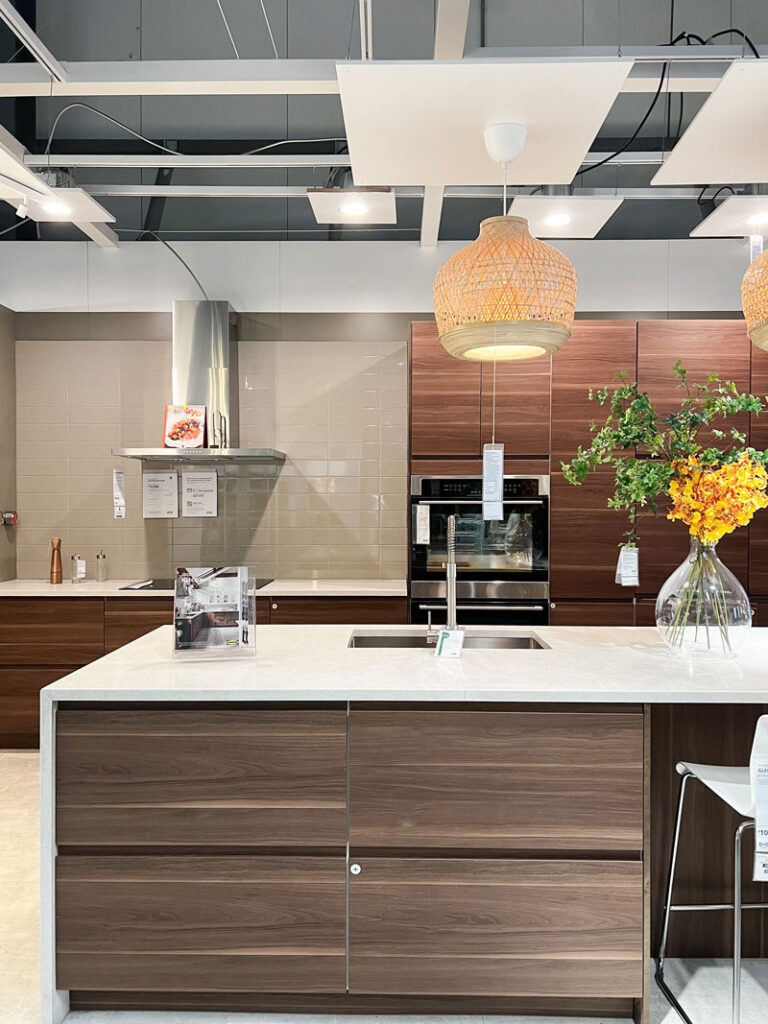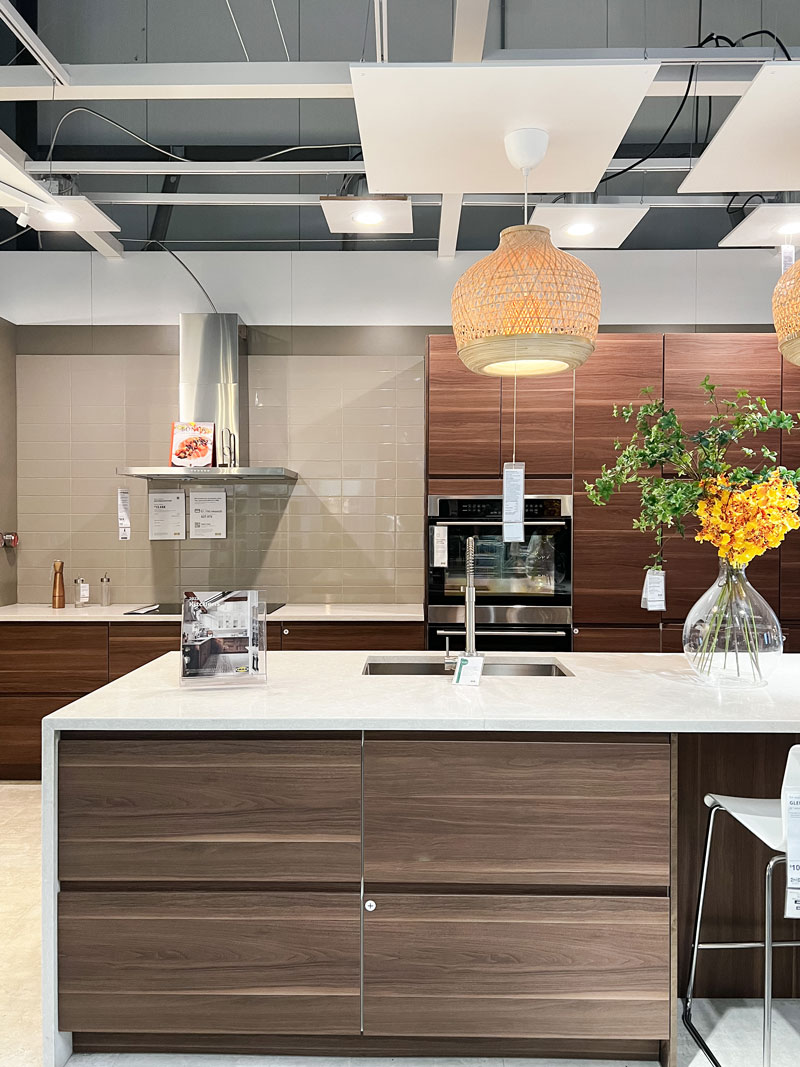 The Voxtorp series is a slab front walnut door, which is a more modern, clean look. They also have a built in "finger pull" along the edge, to eliminate the need for hardware.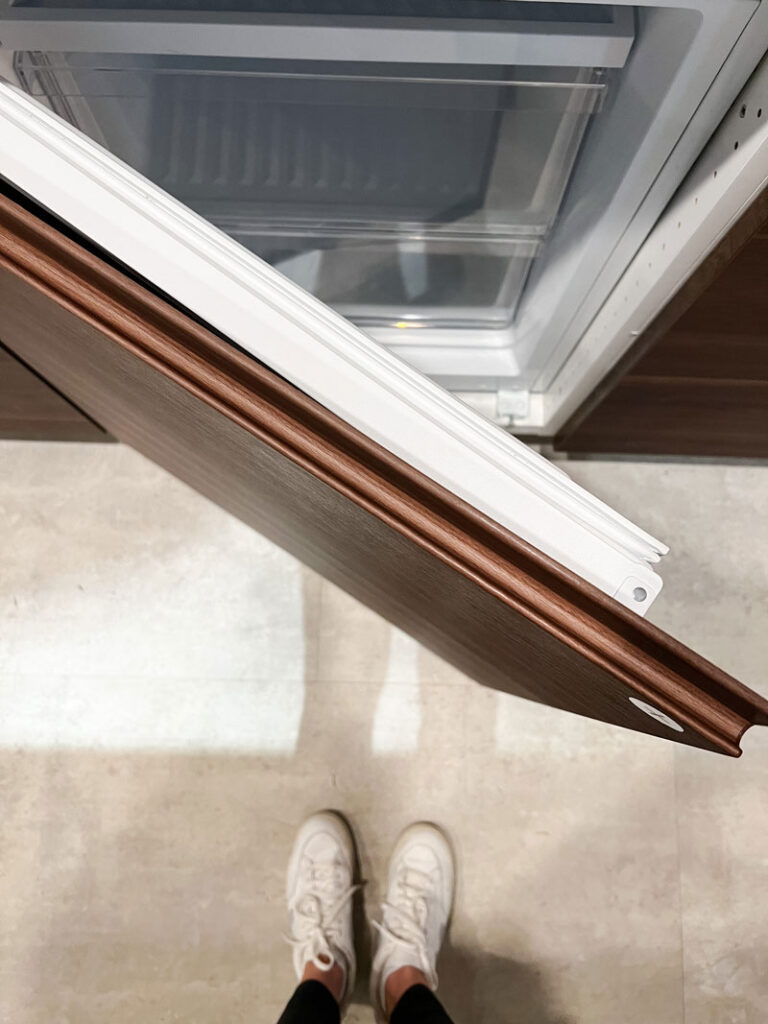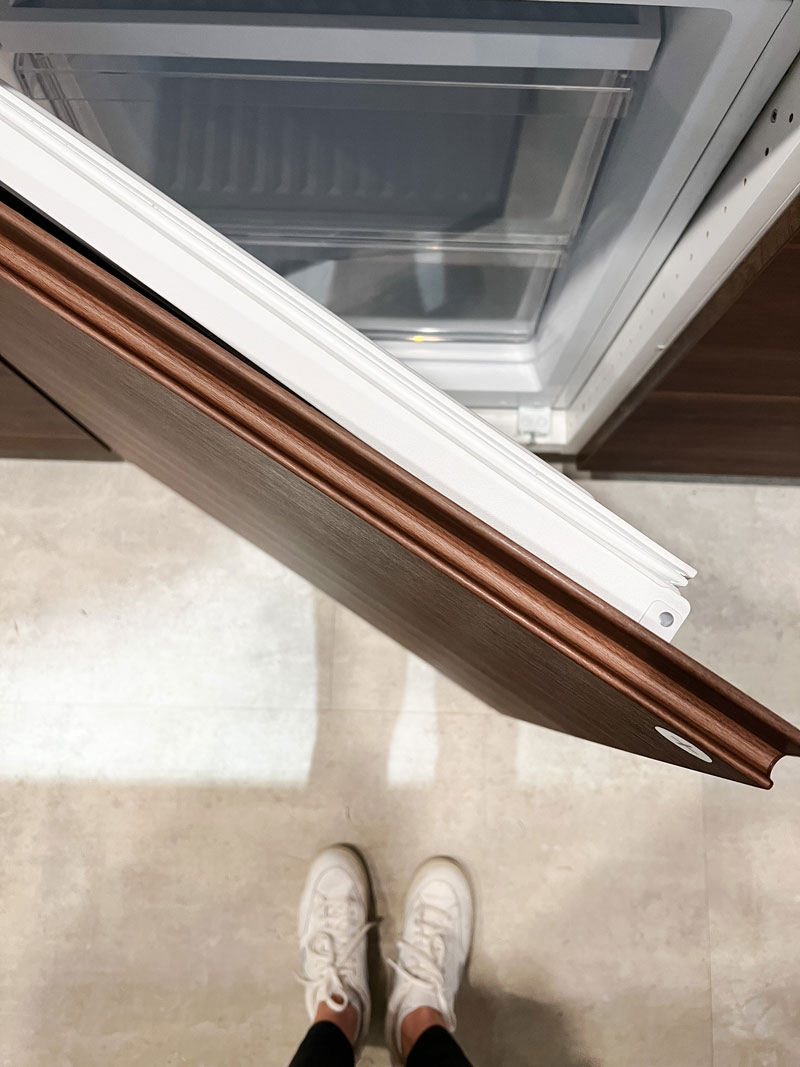 Personally, I think a slab front can work in a more classic or traditional design if the hardware style and finish are thoughtfully chosen. For example, not using a brushed brass, black, or chrome hardware in a modern or sharp shape. I used a slab front (but not the Voxtorp) on my bathroom vanity, but layered in a lot of classic details in the hardware, feet, and countertop. Of the Ikea products that have a walnut look, I think the Voxtorp's richer tone and varied wood grain pattern most mimics the richness of real walnut wood.
Ikea ENKOPING Walnut Effect Series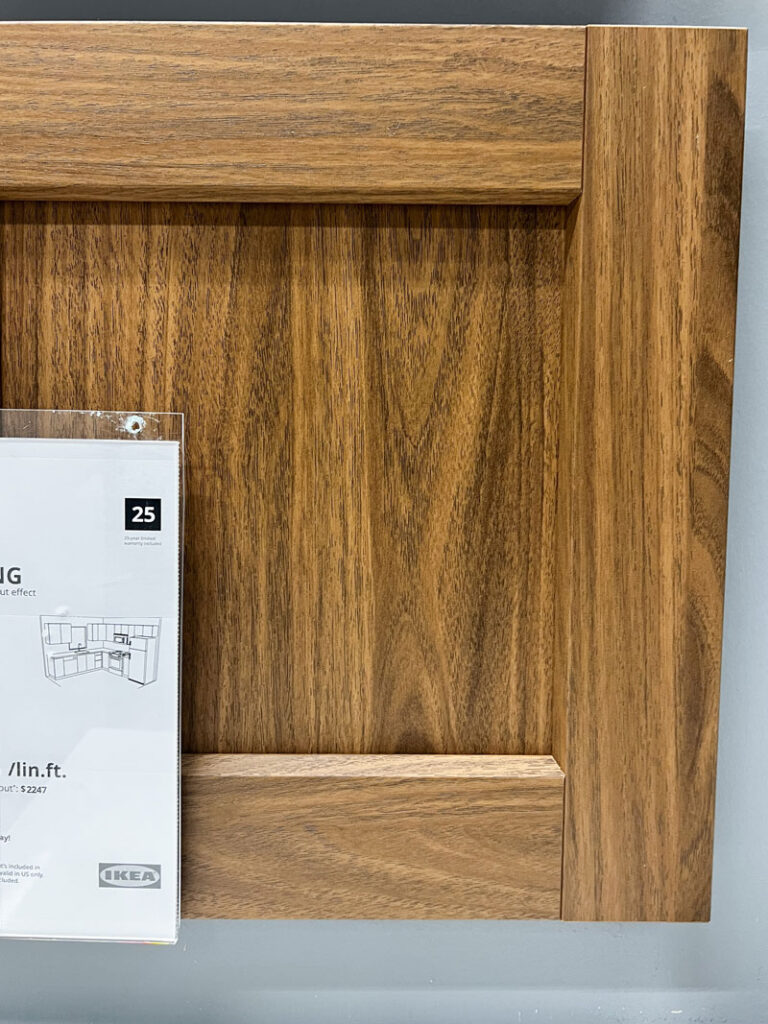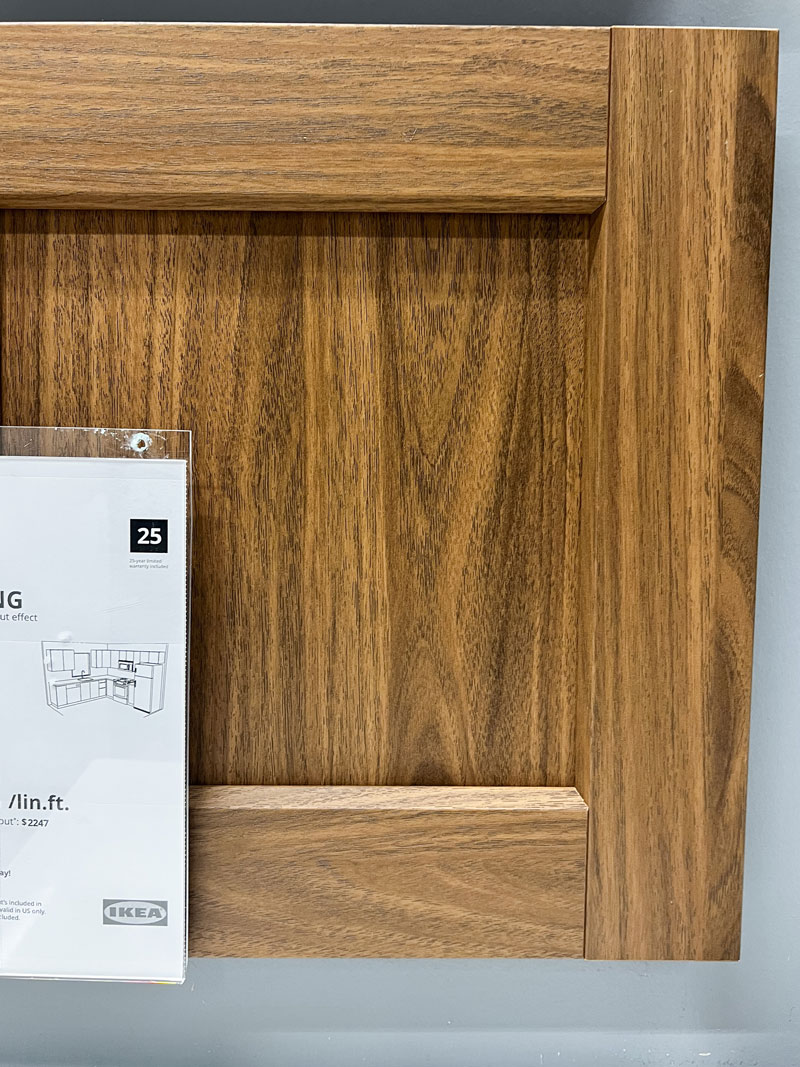 The Enkoping Series is Ikea's shaker style walnut door. Unfortunately, the shaker style Enkoping and slab style Voxtorp have a different faux walnut print/ tone so they can not me mixed with each other.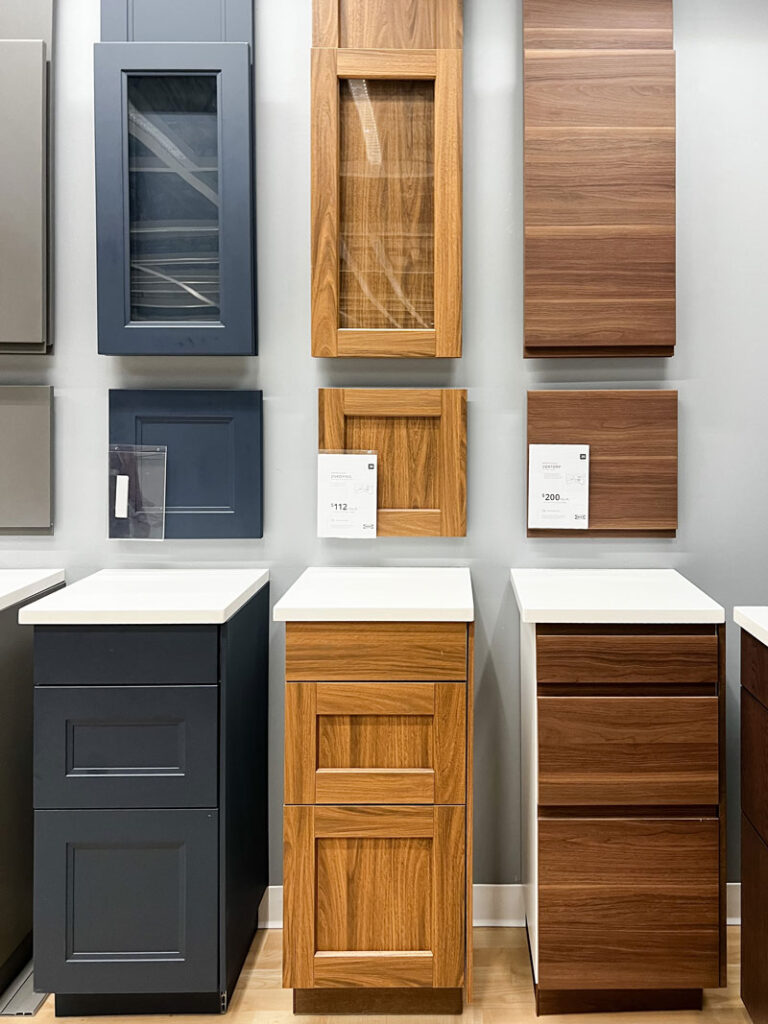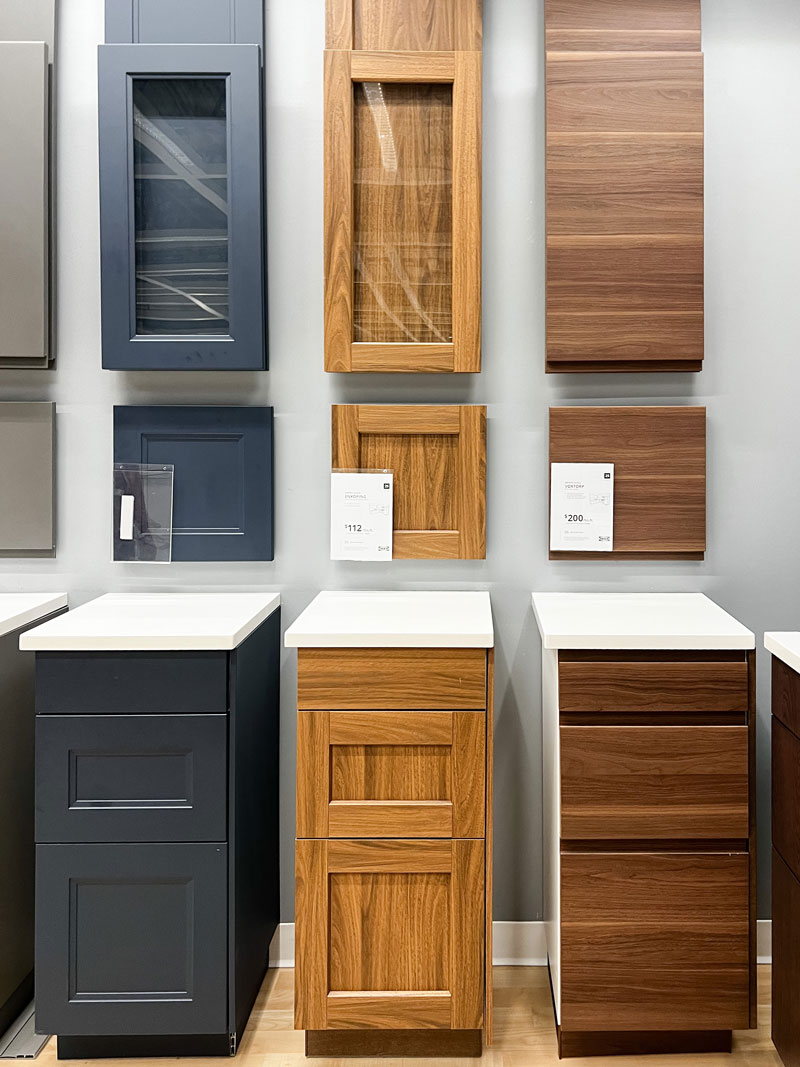 The Enkoping (on the left) is a lighter tone with more contrast in the grain. I love the classic shape of this door and the warmth of the wood tone.
Walnut Doors compatible with Ikea Sektion from other Companies
There are many companies that make "aftermarket" custom cabinet fronts for the Ikea Sektion cabinets, and several offer a real wood veneer option.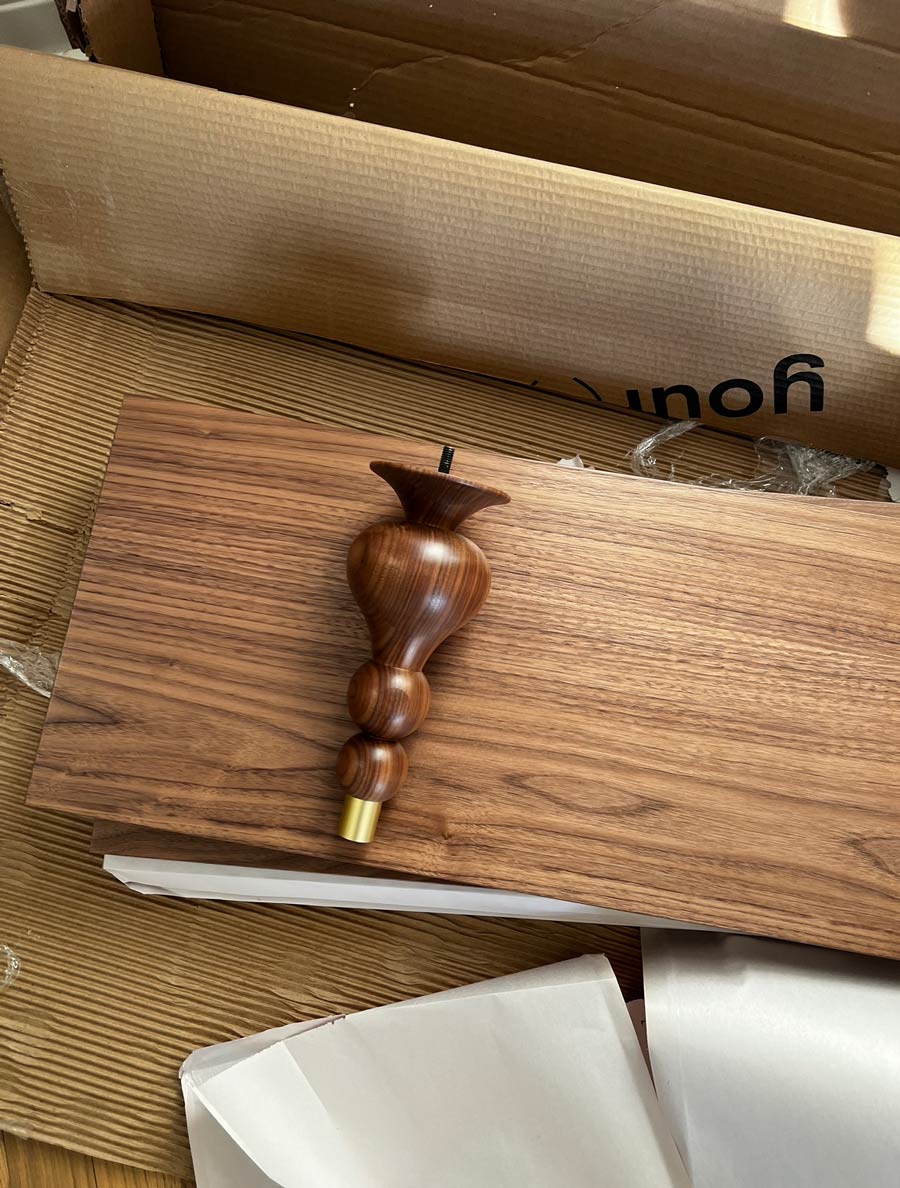 Semihandmade: I have used their walnut veneer doors and panels on both a client sektion project and my own Ikea Godmorgon vanity. I can attest to the beautiful finish and quality of this product. They also offer grain-matching to ensure the grain travels across the front of your cabinets, creating a very custom end result. For their Sektion fronts, they offer the grain pattern in both a horizontal or vertical orientation. Their walnut veneer fronts are only offered in a slab front option.
All Style Retrofit: This company offers two real walnut veneer options, a traditional Flat Cut Walnut and a Recon Rift Cut walnut with a less pronounced grain. They also offer a few other wood species in a veneer, which makes them a great option if you want the look and feel of a real wood door. At the time of posting this, I have not used their product. But I do have a few projects in the works with them and am really impressed with their customer service.
Walnut & Oak: This company offers a wide variety of natural wood products (walnut and oak as their name states) that come in a wide variety of door styles. I especially love their Linea style and am really wanting to use it on a project. I haven't used their product yet, so I can't vouch for the quality but have heard from other's in the Ikea cabinet community that they are a really good option with beautiful materials.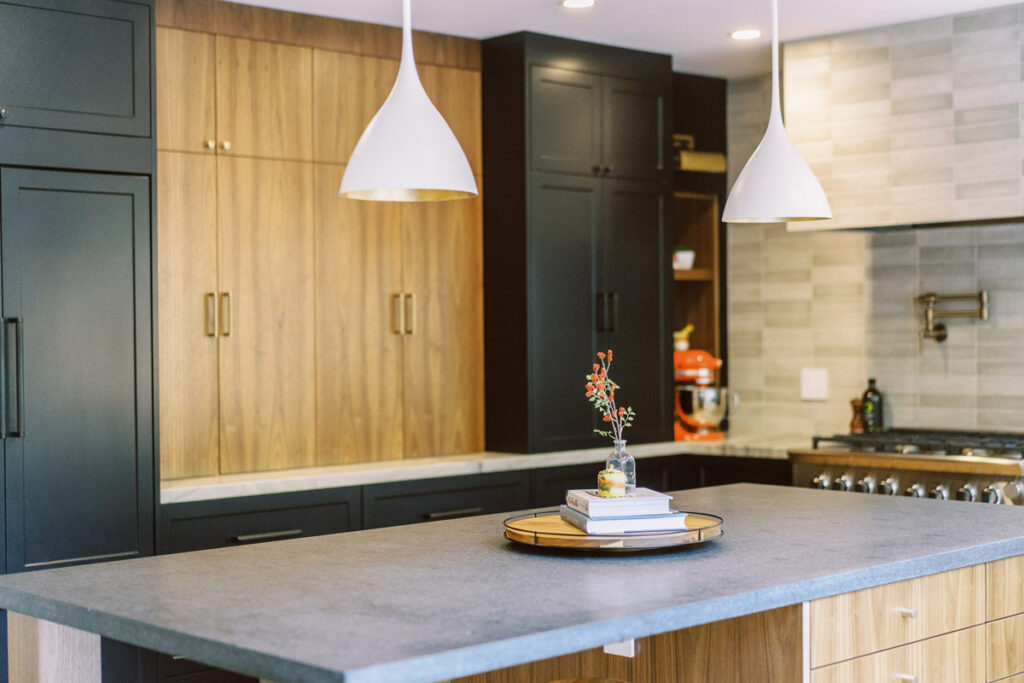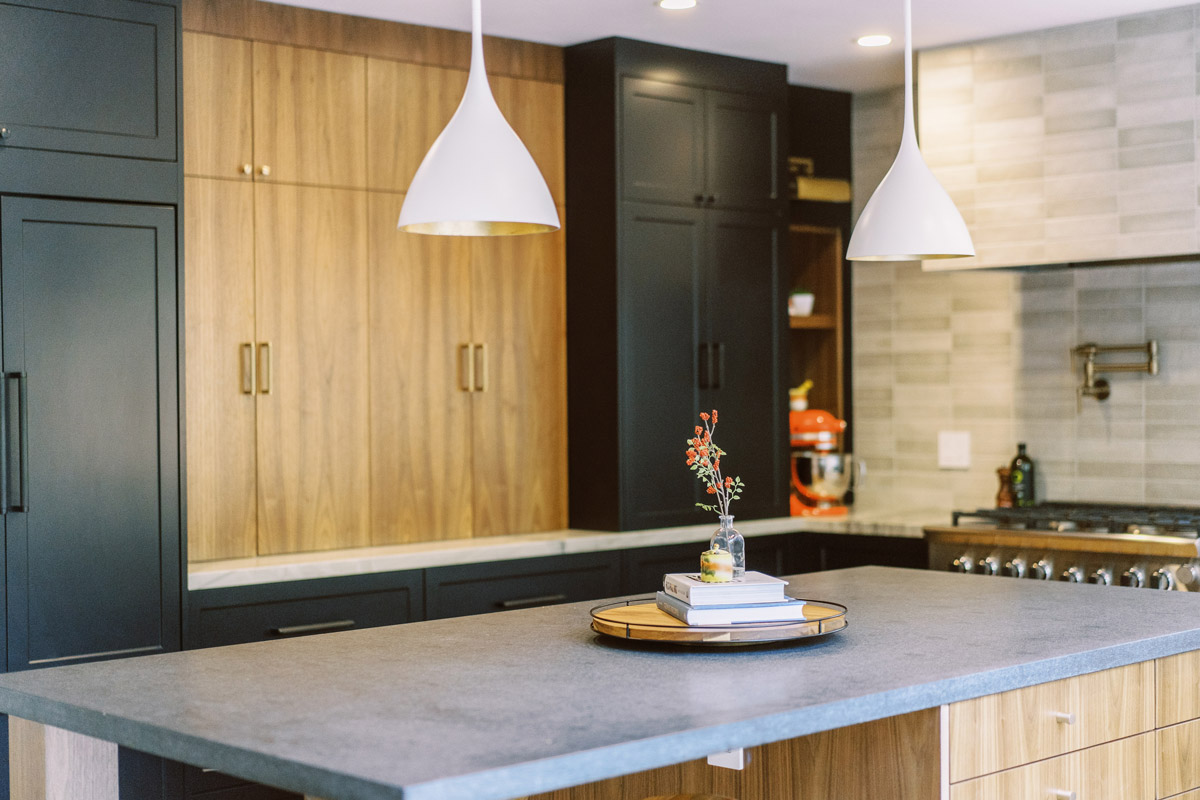 I designed this kitchen with Semihandmade walnut fronts. Image: Danielle Poff
Design Tips for using Walnut Door on Ikea Cabinets
Regardless of what door option you decide on, the addition of a walnut front cabinet can add a significant richness to a rooms design. I love the addition of walnut in spaces that have a lot of sunlight or white cabinets, as it really warms up the overall feel of the room. I also love using unlacquered or aged brass with walnut to further build on the materials richness.