How to repurpose a Swing Door to a Pocket Door
After this pocket door transformation, I now want to add them all over the house. This was a big value add for the cost invested. The best find was this door lock set that allowed me to reuse my traditional swing door! This helped reduce the extra cost of purchasing a new door when changing the door operation from swinging to pocket.
This post is sponsored by Emtek. All opinions expressed are my own.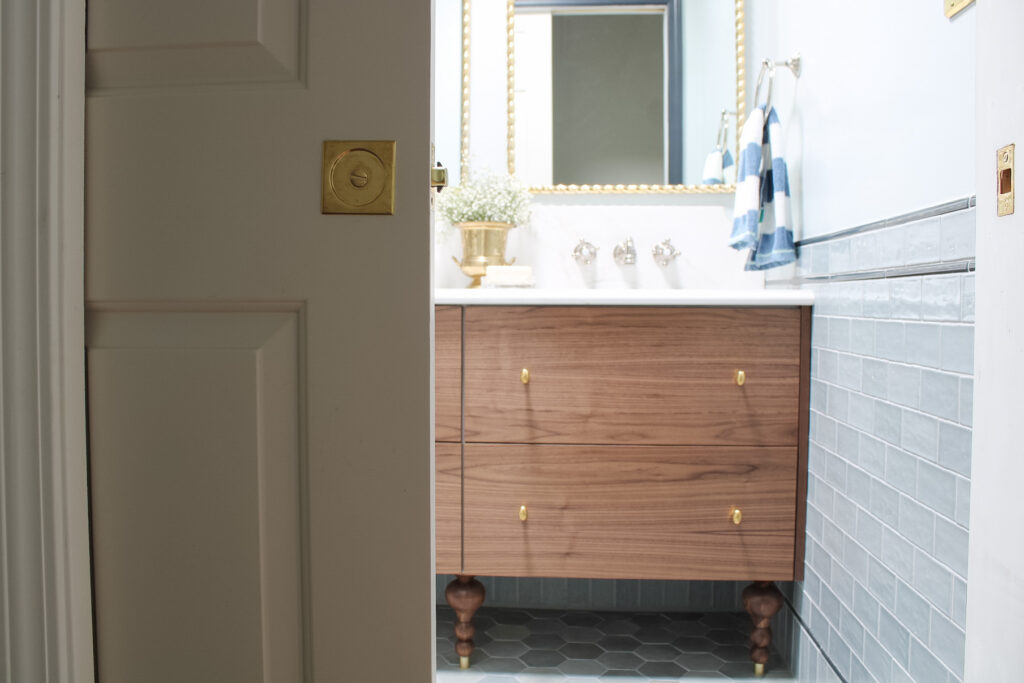 This post may contain product links that may contain affiliate links. When you use the link to make a  purchase, I may make a small commission. This is not an additional cost for you, but helps me to produce this blog and content for you to enjoy.  My full disclosure is here.  Thank you! 
Saving Space in a Small Bathroom using a Pocket Door
The boys' bathroom is very narrow and the existing swinging door took up valuable square feet of floor space. Changing it from a traditional door to a pocket door was a key part of the design plan (read more about it here). By sliding the door into the existing wall cavity, both the small space of the bathroom and hallway were unhindered by the door. Because the doorway is directly across from the boys' vanity, this allows me to stand in the hallway while helping them brush their teeth and not have a door blocking the hallway or bathroom. We now have enough room to give our boys a bath and have both parents in the room.
Pocket Door Hardware
The door hardware is what really simplified this project and helped save us hundreds of dollars by allowing us to convert our existing traditional swing door to a pocket door. Typically, pocket door hardware requires a side notched installation and the handle or plate may not cover the pre existing hole that was drilled for a traditional tubular knob door handles and lockset. Every contractor I had that came to look at this project instructed me I would need to purchase a new door for this reason. Sir, don't give me a challenge.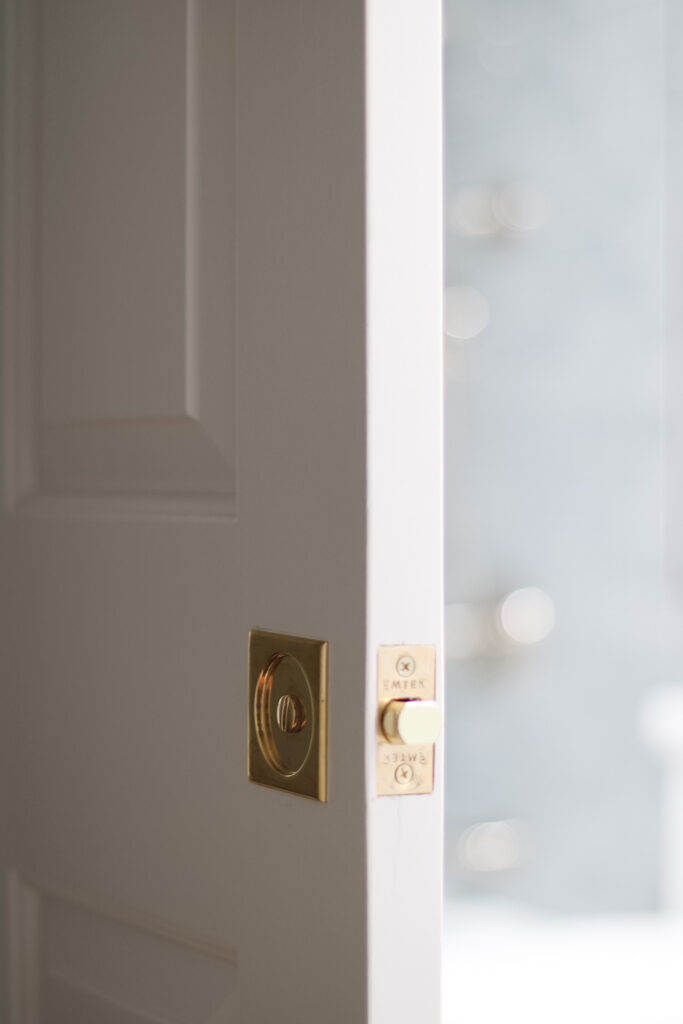 Our home had custom solid would 5 panel doors that would have been pricey and painful to source. I was not willing to compromise the continuity of our home by using another style, or even a "look a like". This is where Emtek's Pocket Door Tubular Locks solved my problem. It allowed me to reuse the existing swing door without making any new drillings or tricky adjustments to existing ones. This hardware works seamlessly with the existing standard door bore hole and door setup.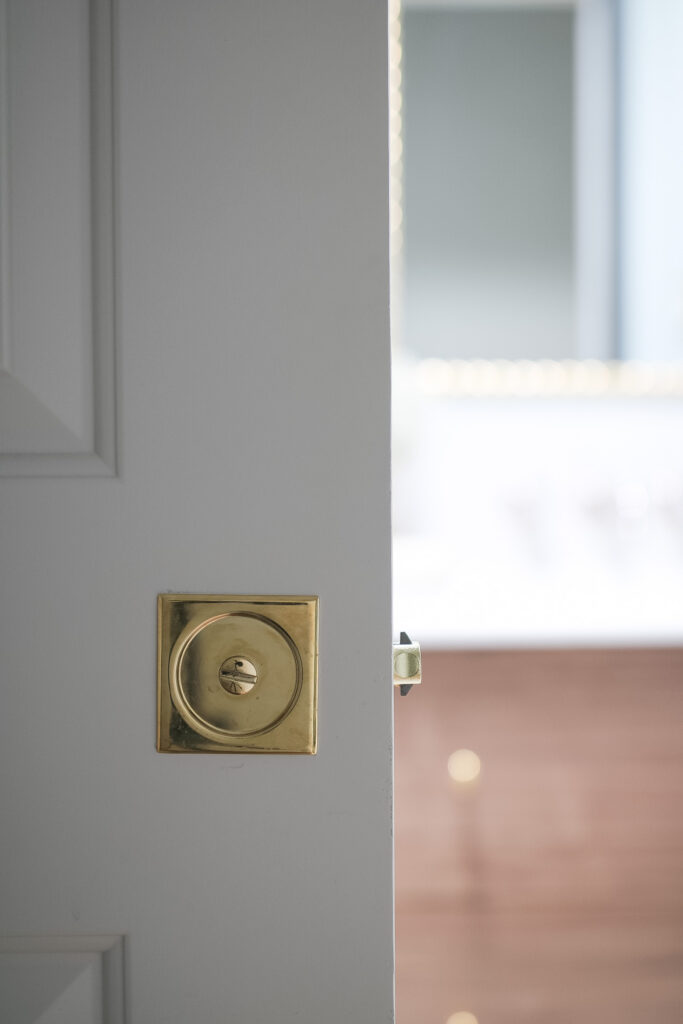 Not only did it solve this technical issue, but it is also beautiful. It comes in several options to fit your home's aesthetic and compliment your home's existing hardware. Or match it if you have existing Emtek door hardware like I do! The Emtek Pocket Door Tubular Lock comes in a round, square, rectangular, or their #8 shape which I swoon over every time I see it – major charm! They also come in 10 of Emtek's beautiful and durable finishes. For ours I utilized the Square Pocket Door Tubular Lock in the Unlacquered Brass Finish.
Planning for a Pocket Door
The ability to install a pocket door is dependent on the unique features of your home and space. Please be sure to do your own research, follow local building codes, and hire appropriate professionals where needed. This article is representative of my personal experience installing a pocket door, It is not intended as instructions for your specific project. More about my Terms & Conditions located here.
Framing for the Door
You will need to evaluate if your doorway is in a load-bearing wall. If so, you may need a structural engineer to be involved. You will likely need a new header at the top of the door to span both the existing door opening as well as the door frame cavity. Older homes will need to be evaluated to ensure your wall is plumb and level across so that the door. This will ensure the door will be able to open smoothly.
Relocating Utilities and HVAC
When planning to convert a swinging door to a pocket door, you will need to consider what is in the section of the wall the door will "slide into". Make sure you don't have any plumbing, air ducts, or electrical wires that will need to be relocated. The bathroom's light switch was in the section of the wall where we added the pocket door cavity. We had our contractors relocate it to an adjacent wall.
Consider Flooring Transitions
If you are changing the width of the door, you will likely need to adjust flooring. This also may need done to fix any cosmetic issues that occur for the changing in framing around the pocket door. We had to patch a small section of our hardwood floors.
Pocket Door Kit and Installation
Our contractor picked up the pocket door frame and track hardware from a local building supplier, but it appears to be the same as this one that is standard at Lowe's, Home Depot, Menards, etc. This pocket door frame system comes for standard size doors, ready to insert into your existing wall. The overhead track components should also be included, and ready to be attached to the top of the door you supply separately (or reuse). This allows the door to work with the pocket door slides that are built into the pocket door system. This is why the Emtek pocket door tubular lock was so crucial for this project. It allowed me to save money and reuse my old door.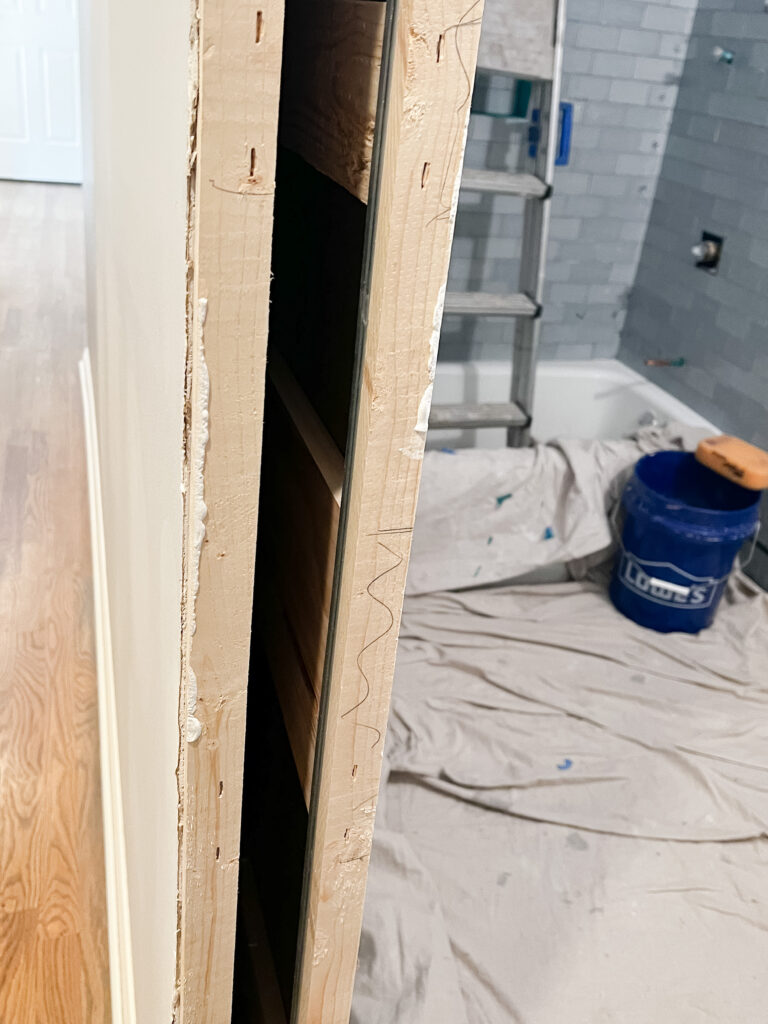 Hanging things on the Pocket Door Cavity Wall
Depending on what pocket door frame kit you use, you will likely have horizontal supports at various heights. You will want to keep record of the thickness and location of each of these. In the future, if you go to hang something on the wall on either side of the pocket door cavity you will likely want to try and screw into these. Regardless, you will want to be careful your screw length does does not exceed the framing depth. This will allow you to anchor what you are hanging. It will also help avoid scratching the pocket door or preventing the door from sliding into the framing.
The exception to this would be if you use a full steel frame, where the horizontal bracing is also steel. For our bathroom, I knew I wanted to hang hooks for towels at the top of the tile height. We intentionally added another 1x 6″ board into the pocket door frame to ensure I would have framing in place once the wall was closed back up. I also took a lot of photos with measurements on them for any future wall hanging on either side of the doorway.
Drywall Repairs, Painting, and Trim Work
The install only required opening up one side of the wall to install the frame. This occurred on the bathroom side for our project. The hallway side has some new drywall sections above the doorway from where the header was added. There were also several nail pops from the drywall screws that shifted during the work that had to be repaired.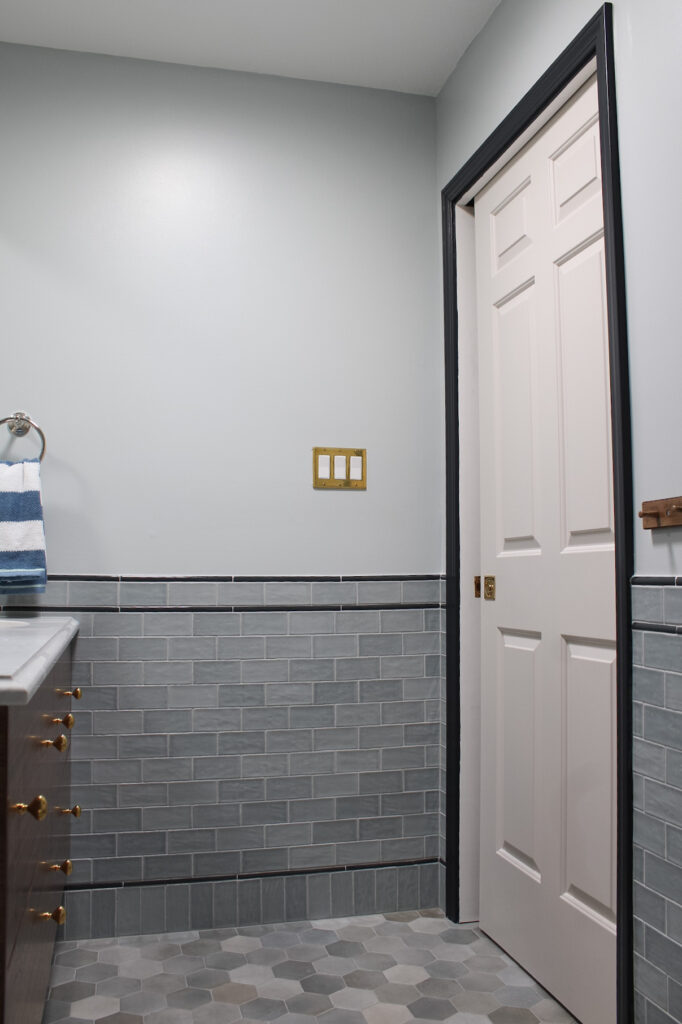 Both the interior of the bathroom and the hallway had new trim and casings added for the new pocket door. I also repainted the door in Sherwin Williams Limewash to match the other doors in our home. I updated the paint to this color and the door handle sets to the Emtek Unlacquered brass hardware on the main floor doors. Now I am changing out the second floor as I update each room. Pocket doors are a great solution for small spaces. Let me know if you add one to your home!