Everything you need to know about Adding a Sun Tunnel
When it came to our interior, windowless, boys' bathroom renovation the sun tunnel was the design decision with the biggest impact. Honestly, I was kind of a sceptic that it would really make a significant difference. Especially, when I had my heart set on a skylight. But, once it was installed I was stunned by the transformation it gave to the entire room. Sharing all of the details about why I added one and what I learned in the process.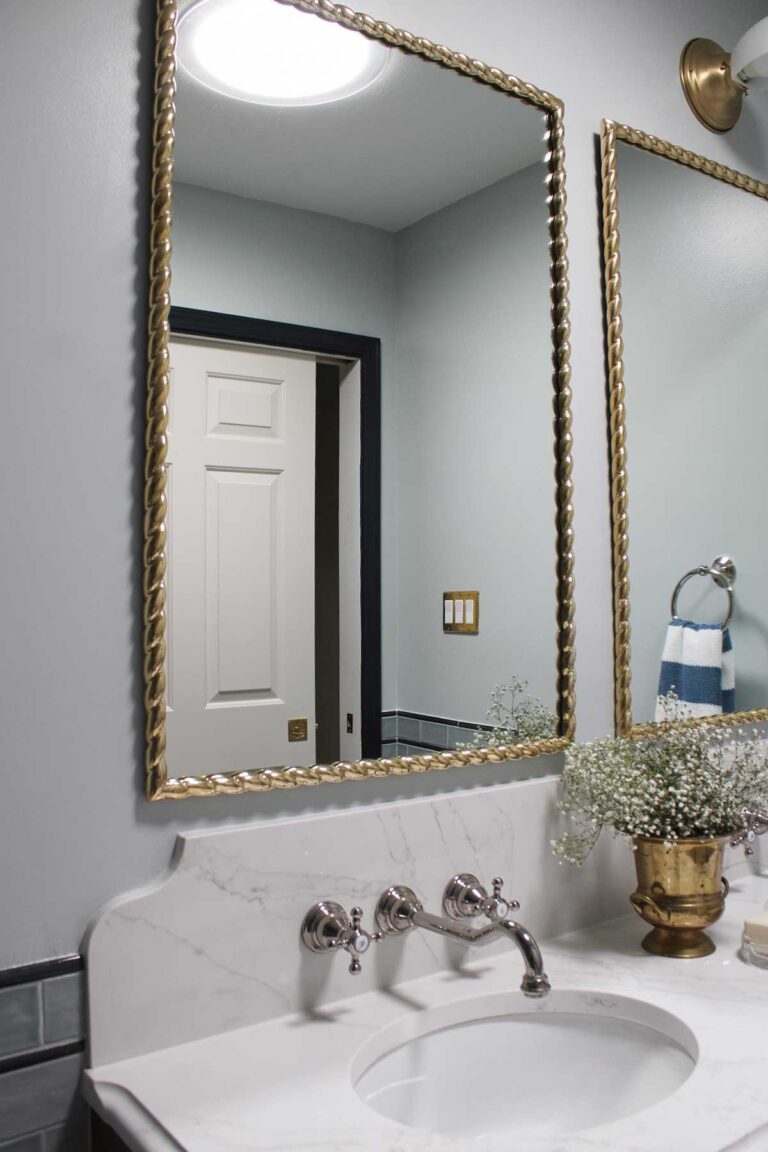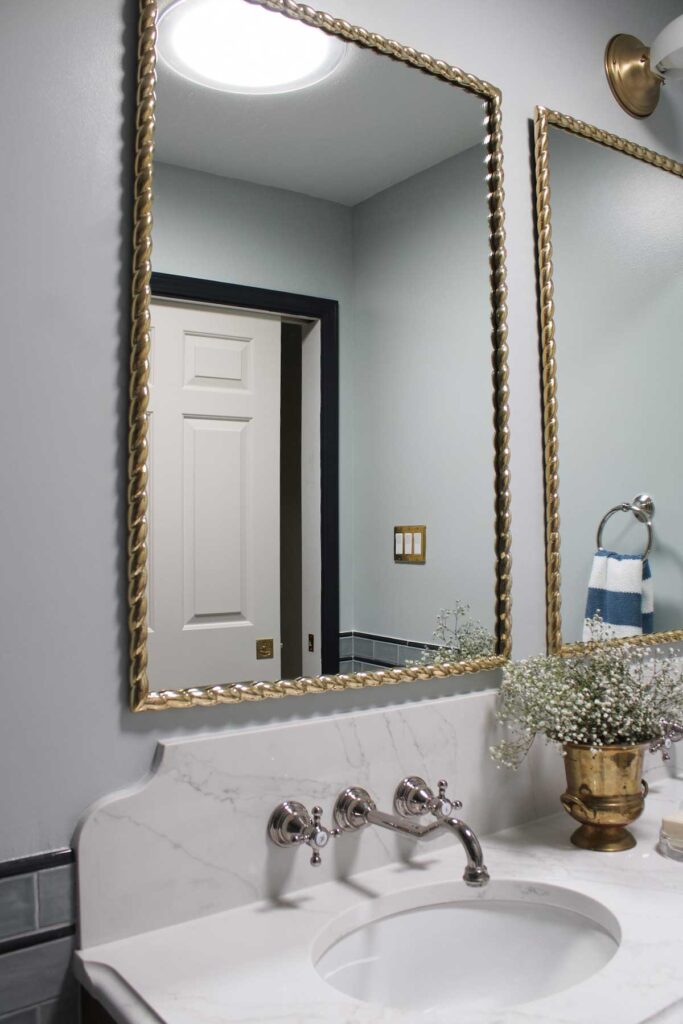 This post may contain product links that may contain affiliate links. When you use the link to make a  purchase, I may make a small commission. This is not an additional cost for you, but helps me to produce this blog and content for you to enjoy.  My full disclosure is here.  Thank you! 
What is a sun tunnel?
A sun tunnel, or the particular one we used, is a tubular skylight. It has a flat glass (what we used) or a domed exterior flashing that connects to a highly-reflective rigid tube. This tube extends through your attic space and a 10″ or 14″ (I used the 14″) diffuser is attached to the interior end of it in the ceiling of the desired room. Sunlight is reflected through the tube and adds an impressive amount of light to your room. This can be a perfect solution for adding natural light so an interior room.
Why install a Sun Tunnel vs a skylight
Initially, I planned to add a skylight to the boys' bathroom. We had Velux skylights installed in our first home's attic bathroom and I loved seeing the sun, clouds, and stars along with the obvious benefit of added sunlight. But after meeting with several installers, it was obvious that this was not the right decision for this room.
Why a Skylight Wasn't the Right Option for the Bathroom
Our attic space above the bathroom is nearly 15′ tall which would require extensive framing, insulation, and drywall work to reach from the bathroom ceiling to the roof. This work would create the lightwell that goes around the skylight. In the right application, a skylight is a reasonable cost investment. However, this extensive lightwell our project would have needed, would have been costly to install. Because the bathroom is already so small, this lightwell would have felt overwhelming to the room. It would have also been extremely hard to keep free of cobwebs (the things I consider). Ultimately, the cost and overall architecture of a skylight in this particular application eliminated it from my design plans.
Skylight Pros:
Can give a great view of the sky and provide natural daylight
Great for areas of your home with a sloped ceiling or minimal attic space
Can get skylights that open and bring fresh air into your room
Can create a more spacious feel in a smaller space
Skylight Cons:
If your attic space is tall, it can require extensive framing to build a lightwell
More expensive, more invasive, more install time than a sun tunnel installation
More "obvious" on the exterior roof line
Why a Sun Tunnel was a Great Solution
I was pitched Velux sun tunnels by several installers as a potential solution. I was initially really against the idea, but I am so glad I listened to the "why" it works well as an alternative to a skylight. A sun tunnel uses a rigid reflective tube that can span long distances and avoid obstructions. It also only requires a small hole in the ceiling and roof, helping to reduce both the construction effort and labor.
Sun Tunnel Pros:
Comparatively, one of the more inexpensive ways to add natural sun light to dark rooms and interior spaces
Can be a great solution when adding traditional windows or a skylight are structurally or cost prohibitive.
The low profile design of the flat roof glass and the interior diffuser bring in light with out becoming an intrusive design element.
The tunnel interior and exterior reflectors can shift off-alignment to allow it to be positioned on an ideal portion of your room and your room.
Because of the light bouncing in the highly reflective tube, It brings in a significant amount of light for a 10-14″ diameter opening.
Sun Tunnel Cons:
The light is diffused through the highly reflective tube, rather than being a direct view of the sky.
Can't be opened up for "fresh air"
There is not really a way to block the sunlight with a blind or curtain. Therefor, think about the location and be sure you are ok with the potential bright light all day in that space.
When I shared I was considering a sun tunnel on my Instagram, I had one trusted friend let me know they removed a sun tunnel from their home. She lives in Canada and the extreme cold was causing condensation to form on it and drip in their attic. However, I am not sure how it was installed, what brand it was, etc. I asked our local Certified Installer several questions regarding this scenario and they were confident we would not see this issue. I felt comfortable moving forward with the install despite this potential (and I am very risk adverse).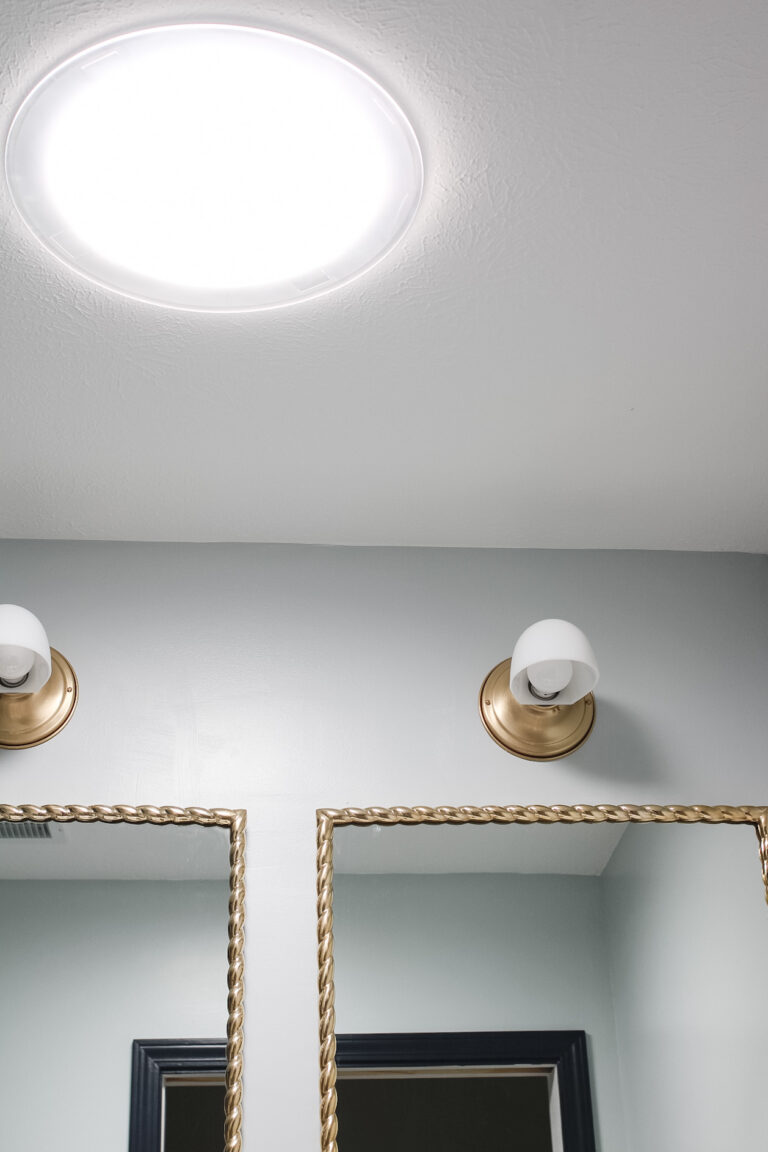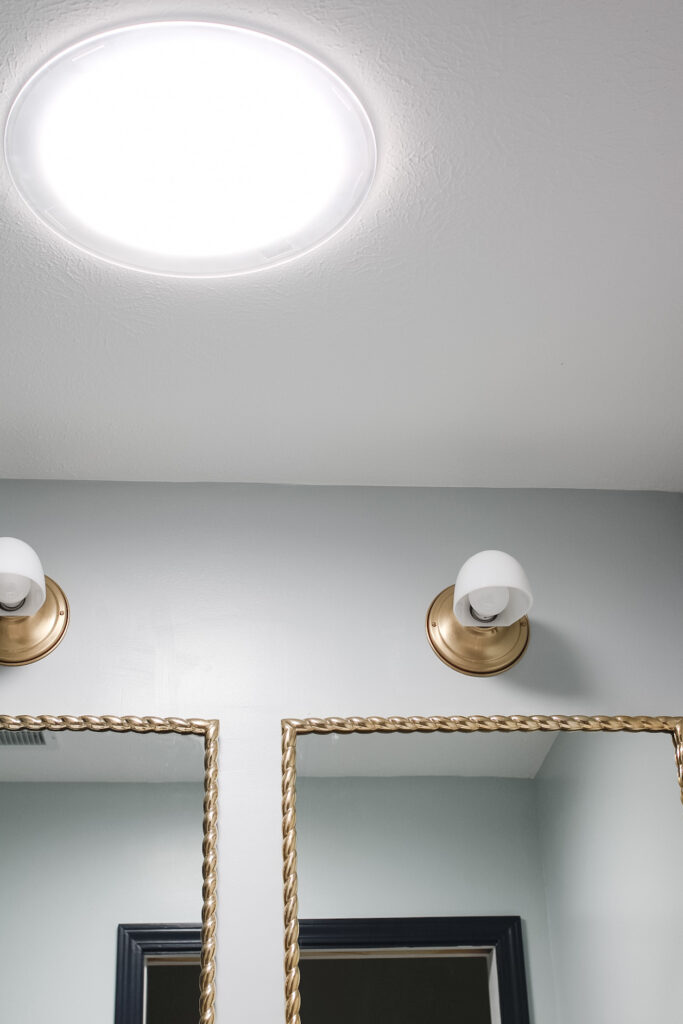 Things to Consider when Selecting a Sun Tunnel
There are several different types of sun tunnels and factors that will determine if it is right for your home.
We chose a flat glass exterior piece for its low-profile design rather than an acrylic dome to minimize the appearance of the sun tunnel on our homes roof.
There maybe challenges to the install depending on the type of roof you have and the ability to cut the hole for the tunnel. We have a traditional shingle roof, making the install simple.
We had a rigid tube sun tunnel installed due to the large span from the bathroom ceiling to the roof through our attic space. Shorter vertical distances from the ceiling to roof may allow for a flexible tube to be used.
Because our bathroom was central, we made sure to specify that we wanted the tunnel to outlet on the back side of our house so it wasn't visible on the street facing façade.
Work with your installer to ensure the roof placement will maximize the available sun light. Ours catches the morning sun rising, which gives us beautiful light!
What size sun tunnel?
We had this Velux 14″ sun tunnel installed for our project. This worked really well with the spacing of our ceiling joists and roof rafters. I believe they also make this in a 10″ diameter as well, which would be great depending on your spacing. A smaller size would also potentially allow you to shift the location within a joist bay to align it with other elements in the room. For example, our 14″ diameter sun tunnel is slightly off center on the vanity.
How much does it cost to install?
Velux gives a range on their website for sun tunnel cost of installation as $625-2,150. Our project cost $1500 for the product and labor. This also included a significant, 20-year tunnel warranty on both the product and labor.
Does a sun tunnel add more light?
A resounding YES! I was stunned by how much light this actually added to the room. Truthfully, I doubted the ability of it to make this kind of impact. My expectation was that we would add a little natural light to soften the room. The room was completely dark with the lights off because it was in an interior, windowless hallway and the room itself had no windows. After we installed the sun tunnel we do not have to turn a light on, ever. Even on a cloudy day or at dawn/ dusk the light is exceptional.
Federal Clean Energy Tax Credit for Sun Tunnel with a Solar Night Light
One of the best "extras" to deciding on a sun tunnel, is that if you live in the United States, you may qualify for a Federal Tax Credit for installing one. Because I chose to add the solar night light feature to our sun tunnel, it should qualify for the Residential Clean Energy Credit. I am not an accountant or your advisor, so please look into this before you count on it.
Regardless or the tax incentives, the addition of a sun tunnel is a great addition to adding a solar energy product to your home. The addition of the sun tunnel nearly eliminated the need to use our artificial light fixtures in the bathroom during the day. Also, the solar-powered night light has drastically reduced the need to turn them on at night. I love the cozy overhead glow that this night light provides (see photo below)!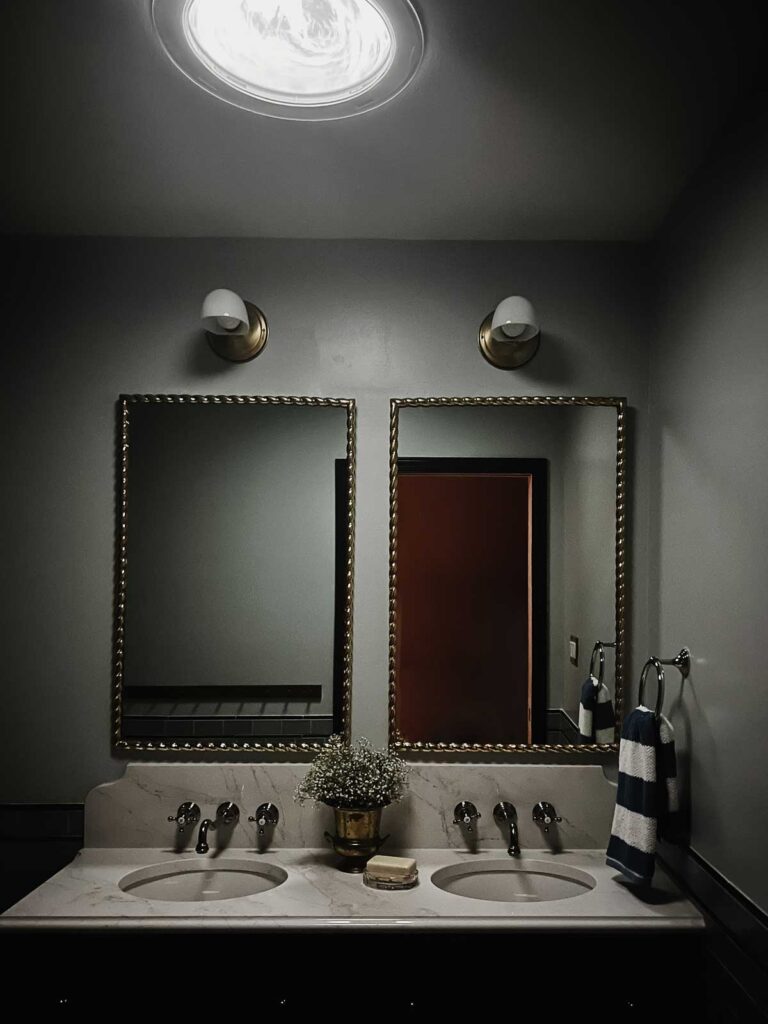 What to expect with the installation of a Sun Tunnel
I complained a lot about waiting to have this sun tunnel installed, because a midwest winter / spring are not the ideal time for this work. But once they came out to install the sun tunnel, it was a quick and easy job. It took them about a half day to get the work done. There was also very little (if any!) mess associated with the project. We used a Velux Certified Installer to ensure we were getting the best quality and most professional team to cut a hole in our roof (scary but worth it so far).
Before and After of installing the Velux Sun Tunnel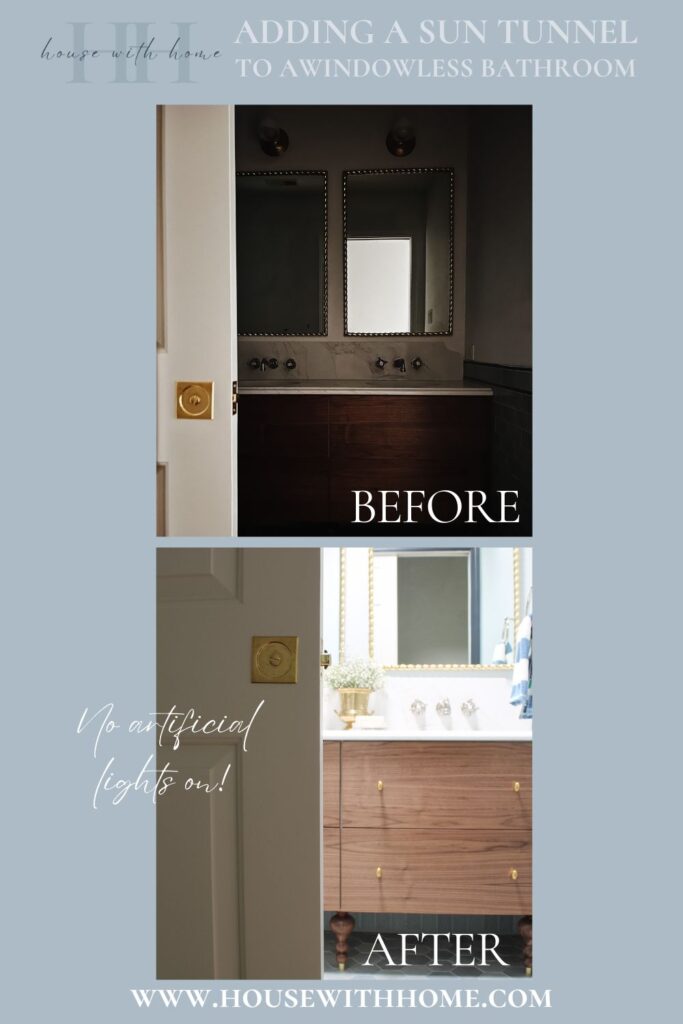 I am thrilled with the benefits of our sun tunnel install. For our space, it was a significantly cheaper option than installing a skylight. It turned out to be a really cost-effective way to add so much sunlight to our room. I will be sure to provide an update as we monitor the skylight, but as of now it has no negative issues!
Boys' Bathroom Sources