Before & After: Attic Master Bathroom
When we first purchased our charming fixer- upper, I initially dreamed that after a few years of living in the space we would gut and redo the master bathroom. As with many things in this house, it had other plans. It has always seemed to speak to me and tell me what it wanted. In this case it literally was crying over its unfortunate looks and was leaking into the bedroom below whenever we took a shower. You can only imagine the stress this caused on us – two new homeowners in the middle of planning a wedding- with a bathroom leaking into the bedroom below. Needless to say, this house has really taught us how to come together as a team.  Thankfully we were able to use the main floor full bathroom in the meantime and once we were married it freed up my creative energy to dream up her new look.
The Master Bathroom Before
The original space really had nothing to offer. Ugly and poorly laid out, no more words needed. The pictures don't even do justice to the crumbling, tiles you could pick out like puzzle pieces or the shower that felt like you were in a stand up tanning booth.  Truly a 1990's bathroom nightmare.
The brick fireplace chimney wasn't going anywhere and rather than try to hide it, I wanted to highlight the interest and texture it added to the room. This is why I love an old home, how cool is it to have an exposed chimney?!  This element, although unique, proved to be the biggest challenge in the space plan for the room.
The Master Bathroom After
This peaked ceiling begged for skylight in the shower space. It added in much needed natural light to help brighten up the small space. The sunlight bouncing off the white tile is the best part of showering in here. It wakes you up better than a cup of coffee. I chose light, bright, affordable and timeless finishings while being mindful that they would fit in with the homes vintage age, but with a more current appeal. I chose the penny tile as a nod to the traditional marble or hex mosaics that were popular in the original homes in this neighborhood.
The upstairs bedrooms in this home are a "jack-and-jill"style. There was a hallway on one end and the bathroom on the opposite. This spaces made a great nook for me to use as a dressing area. I could stay out of my husband's way when he was fixing his hair (or maybe it was the other way around).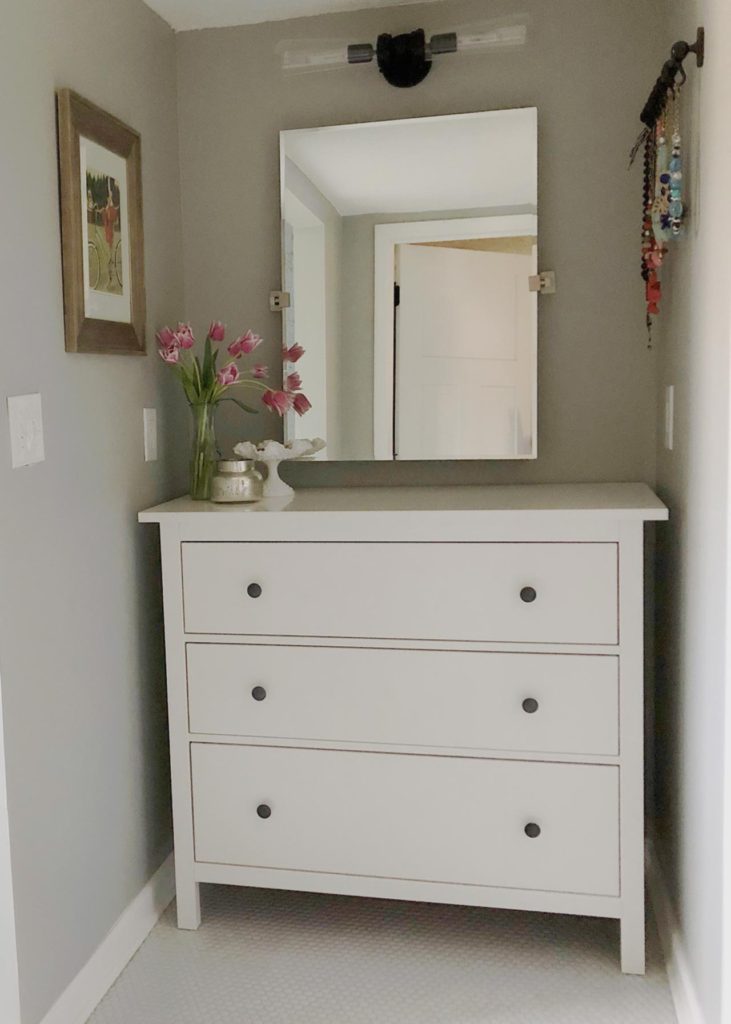 In this old home, finding a way to fit in extra storage has been a focus of all design decisions. We were able to utilize the space under the roof line. Adding in a large shelf for towels and a laundry basket made this space functional.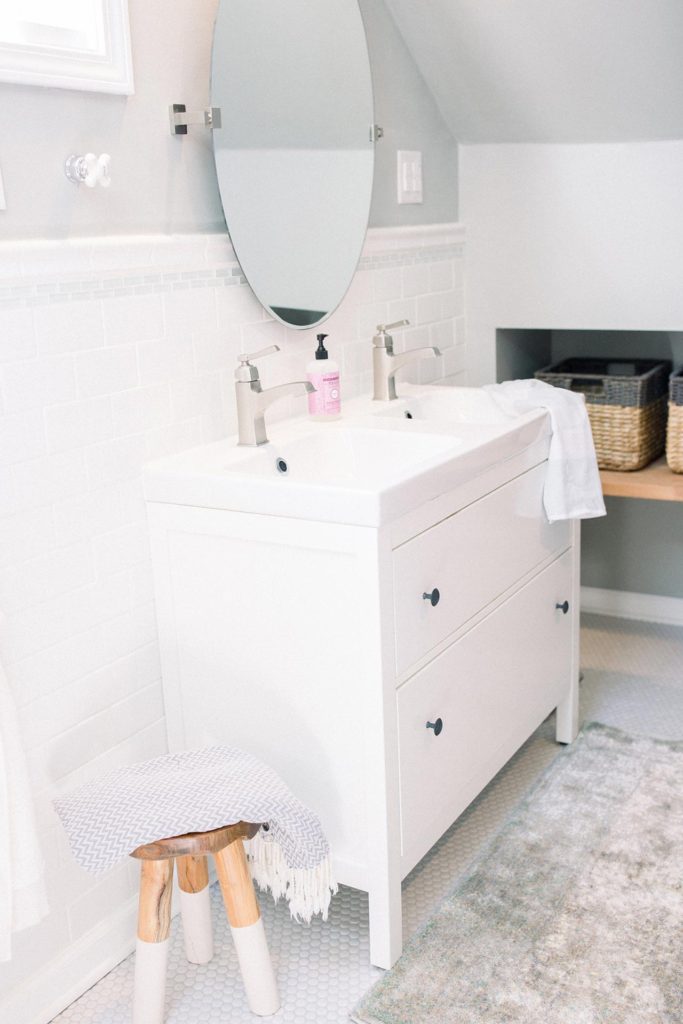 A well lived and beautiful life
When your home is a total fixer it is so easy to prioritize the public spaces ahead of taking on a master bedroom or master bathroom renovation that guests won't frequently see. This is such a shame. These are the spaces in which you spend so much important time. Where you set your mood for the day or wind down for the evening. My philosophy with home design is that it should improve your life.  Ugly, nonfunctional spaces set the tone for ugly, nonfunctional living. This house forced us into a renovation on a space we likely would have saved for last. However, in doing so has improved every single day we have lived here. I have countless memories of sleepily taking a morning shower drenched in the sunlight while my new baby slept just in his bouncer nearby. So many wonderful evenings brushing my teeth side by side with my husband where he says "I love this room". That is what home design is really about- setting the stage for a well lived and beautiful life.
For source details please check out Shop My Home.