The Best Stain Mix for White Oak Hardwood Floors
One thing was certain when we planned our renovation – we would keep the existing white oak hardwood floors and carry it through the main floor. The existing entry was a very shiny red toned stained hardwood. The kitchen was a large scale greige tile, and the family room and piano room were carpeted. It made for a very choppy floorplan, especially since it was relatively open to start with. I knew I wanted this to all be consistent, and my love for real wood flooring was the obvious choice for the new floors.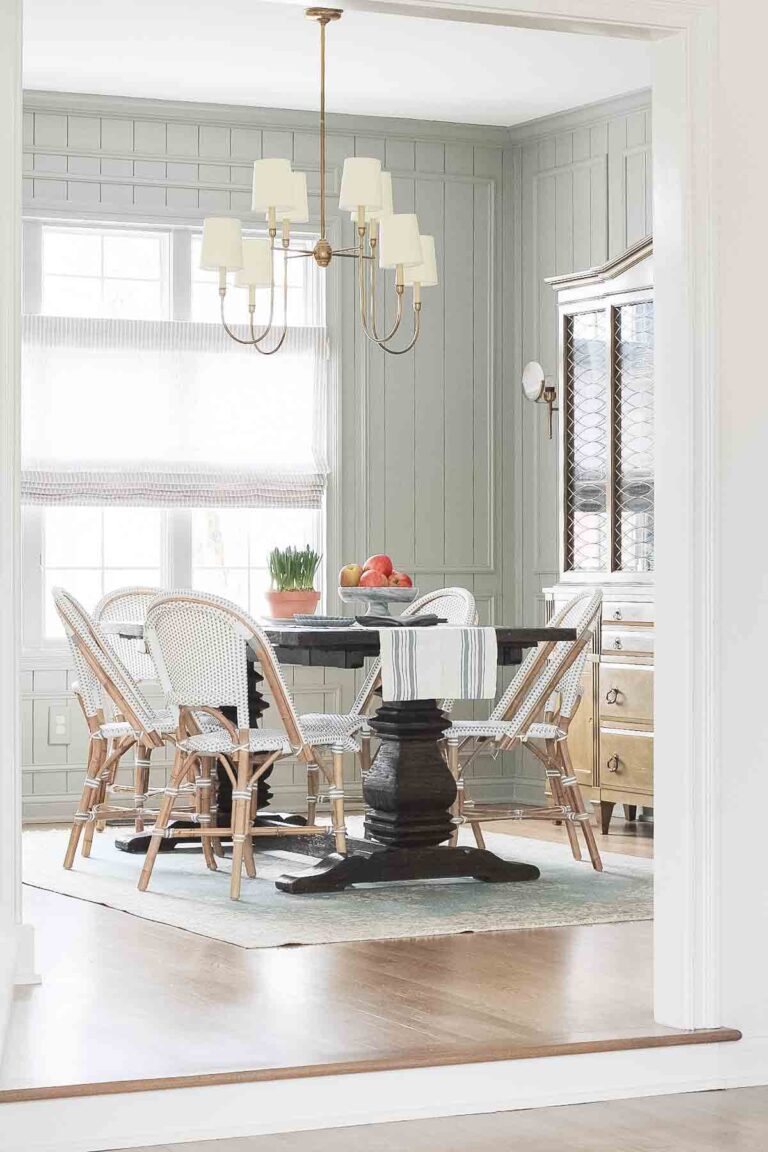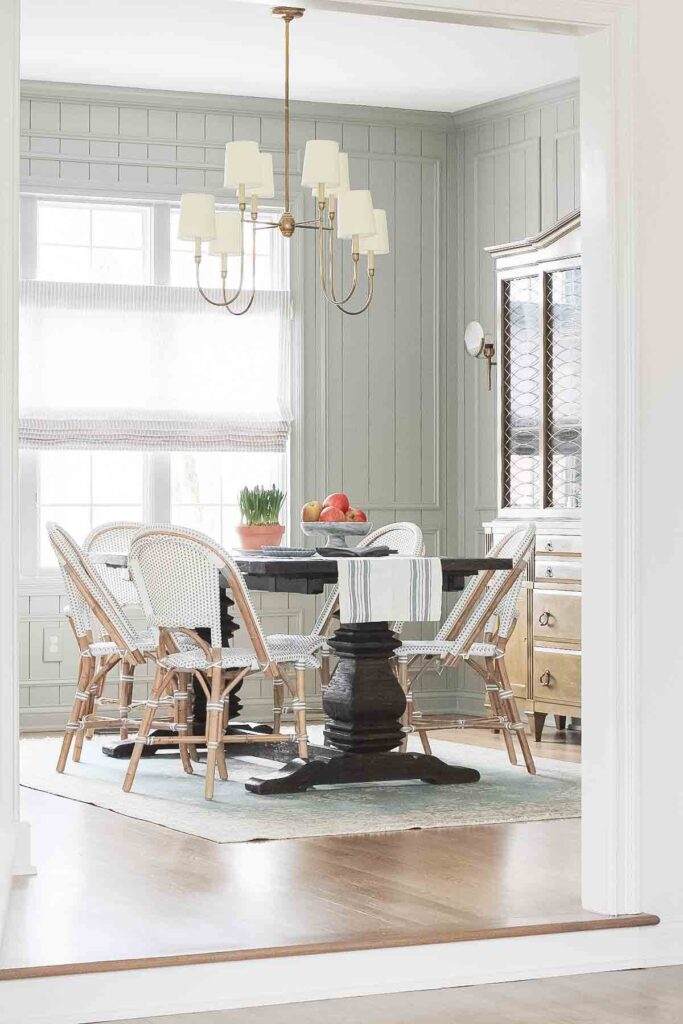 This post contains product links that may contain affiliate links. When you use the link to make a  purchase, I may make a small commission. This is not an additional cost for you, but helps me to produce this blog and content for you to enjoy.  My full disclosure is here.  Thank you! 
Why We Chose White Oak Hardwood Floors
Our first home, a 1920's cape cod style cottage, had gorgeous original white oak hardwood floors in the most charming 1″ plank. So we were not unfamiliar with the pro's and con's of true real wood hardwood flooring.
The pros:
I love the ability to easily mop up stains from dirty pet paws and kid spills that smooth floors like hardwoods provide.
They can be refinished many times. If and when they get damaged in high-traffic areas from time and daily wear or if years from now we want to change the finish, refinishing will make that possible.
Because existing sections of our home had white oak wood flooring, we were able to save on material cost.
We love what we know. Our previous home was entirely original 1920's hardwood flooring and I loved it. Even with decades worth of wear, it was full of character and had stood the test of time.
Personally, I embrace a little wear and tear on hardwood flooring. I love the character oak flooring accumulates overtime.
I love the aesthetic and warmth of white oak hardwood floors and having them consistent throughout the house helps with the overall visual flow.
The Con's:
True hardwood flooring is a pricier option. For us, this was offset by the fact a good portion of the existing flooring was hardwood that would just need refinished.
The install process is time consuming and messy. Because they are not prefinished it takes time to cut and install them, sand them, stain them, and put the protective coat on. There is also a small down time where the material has to acclimate to your homes conditions before they can be installed. The one pro to this is being able to make a custom finish to your floors. We were able to test stains in multiple rooms. We also have the ability to change the stain in the future if we ever refinish them.
Hardwood floors are not recommended for basements. Although our basement has no moisture issues, the nature of a Midwest basement makes them susceptible to water issues. If this were to ever happen, it would destroy our wood flooring. For that reason I chose this beautiful Luxury vinyl Plank that compliments our hardwoods perfectly. This post shares all about selecting and installing the Luxury Vinyl Plank for our basement.
Refinishing Existing White Oak Hardwood Floors
Our hardwood floor installer was able to determine the wood species of the existing hardwoods. We have white oak hardwood flooring, which would be my best option for real wood floors. White oak hardwood is slightly harder than red oak. Also, for the traditional look finish I wanted, white oak would provide a more neutral base with less red undertones. Both red and white oak wood species give a timeless look and are my first choice for flooring.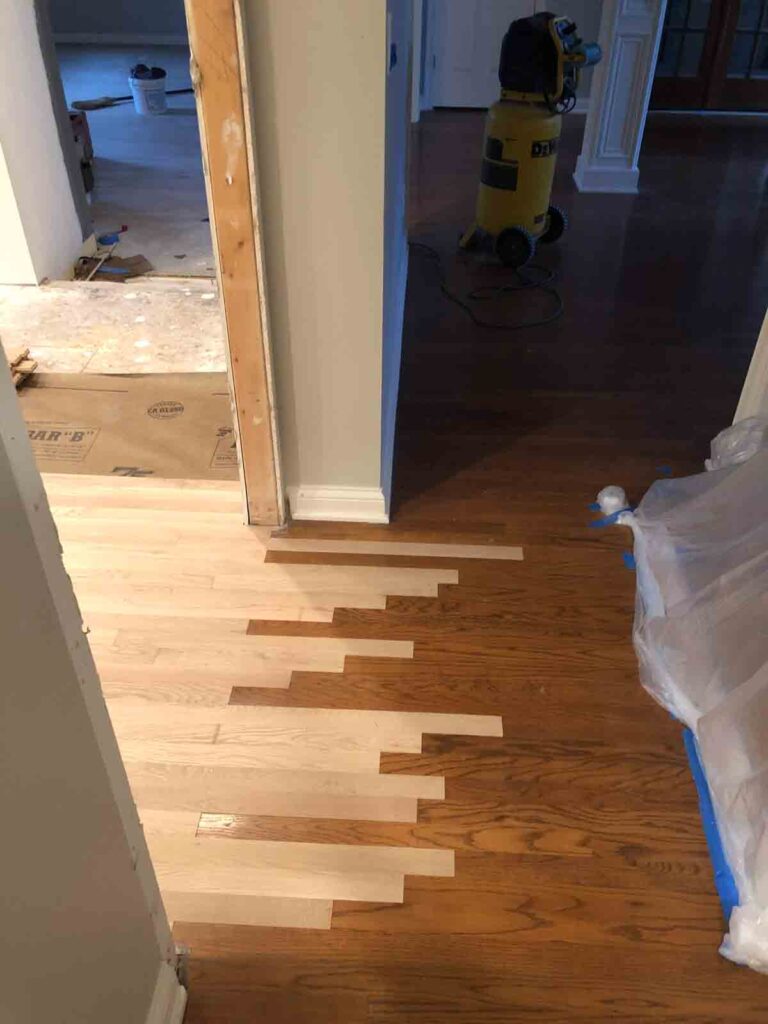 Our installer was able to seamlessly blend the new 2.5″ hardwood planks in with our existing white oak wood floors. He then sanded everything down and stained it all. The planks are random lengths throughout the floor.
The one regret I have was not implicitly requesting that the shoe molding AND baseboards be removed before the install. In the sunken family room, the existing baseboard was left on and then the flooring was installed up to it. This gives a slightly shorter baseboard height than the rest of the house.
Choosing the Stain Finish
I had a very clear vision of what I wanted the flooring finish to be. A light, almost natural finish that had a more ashy undertone than red or yellow was my vision. The other thing I was cautious of was avoiding grey tones or look grey. However, we ended up adding a touch of grey stain into the mix to counter any yellow tones. In recent years grey floor stain has had it's "moment" but I feel that a mid-tone or natural wood finish can help create a timeless look and will also withstand looking "trendy".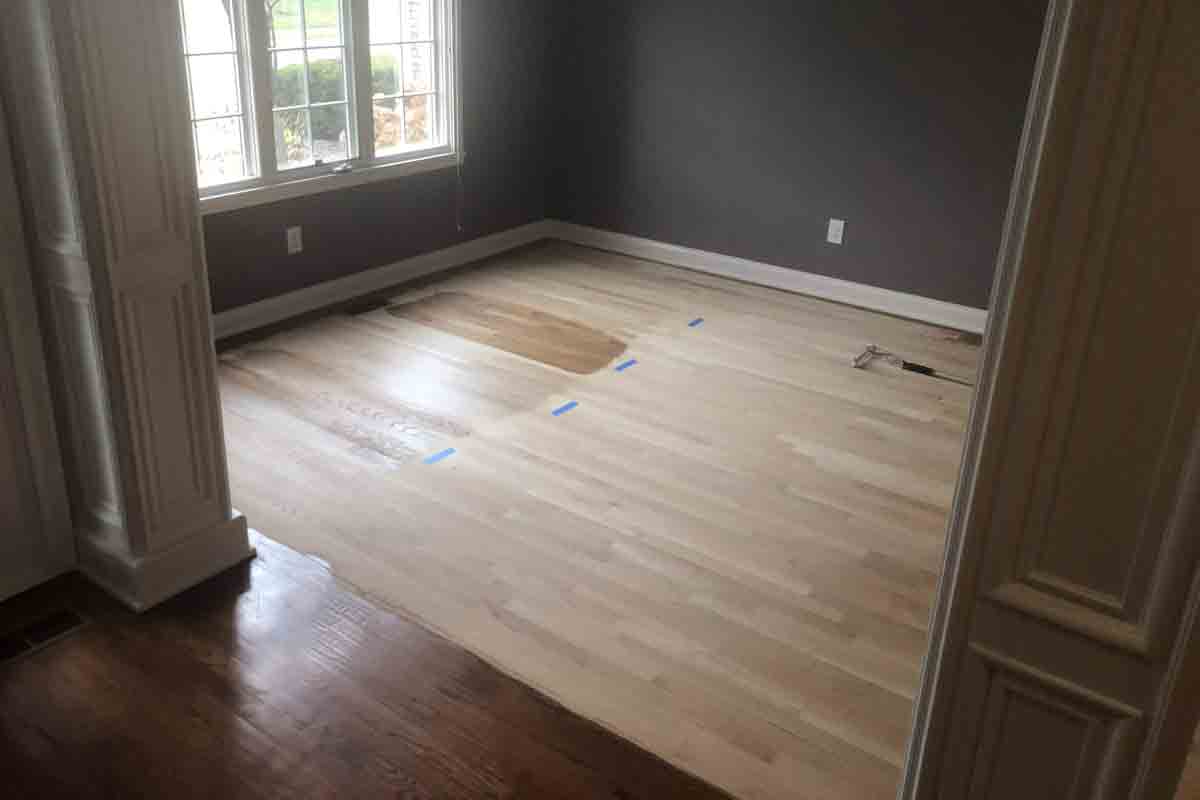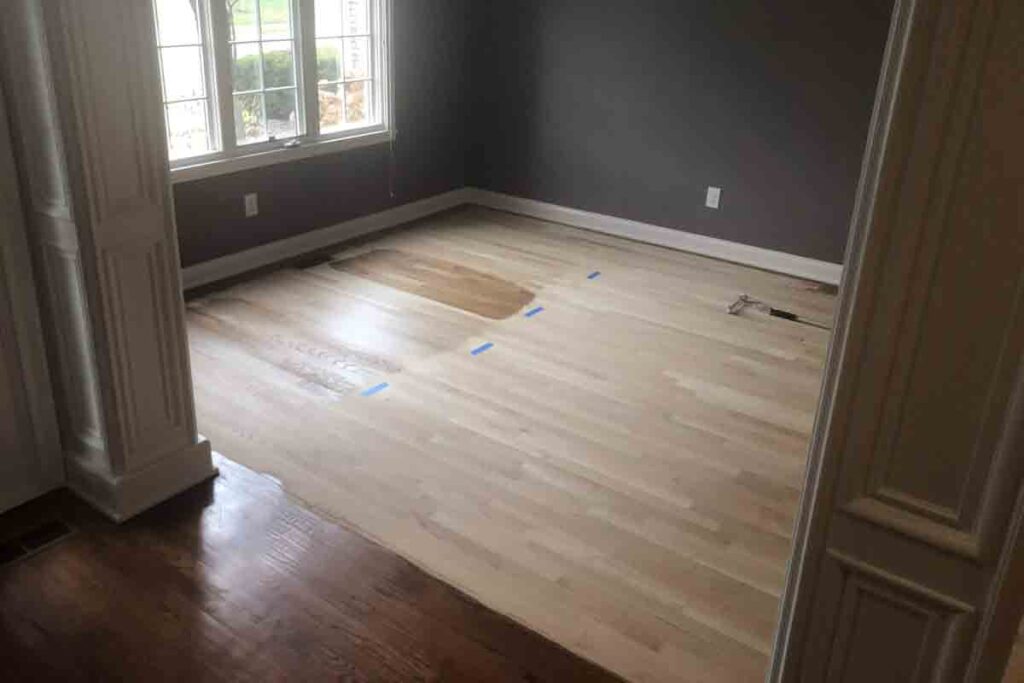 It took a lot of stain combinations and a very patient husband and contractor. The mix we ended up with was 60% Minwax weathered oak, 20% Minwax gray, 20% clear/neutral base. We went with a matte and slip resistant top coat from Bona. This has been great for our toddler and my klutzy self. I also prefer a matte look on wood floors aesthetically, as it masks more dings and dust. If you try this stain combination in your own home, be sure to test it on your installed hardwoods and in several locations. It's even more helpful if you have the final wall paint on your walls, as that can alter the tone of the flooring. You may need to adjust the formula to get the traditional wood stained white oak flooring finish you want.
Yes, we added Hardwood Floors in the Kitchen
I am asked often about the decision to put hardwood flooring in the kitchen. Honestly, I really didn't overthink this one. Which is shocking for me, I know. Aesthetically, I wanted a continuous floor through the main floor, and since that was hardwood, that is what the kitchen received. The floors are sealed for water resistance. For everyday kitchen moisture, I am confident they are a great choice. After 4 years of use, I haven't had any noticeable water damage to them. I have 3 small boys and am not always the best at mopping things up promptly. Despite that they seem to be standing the test of time. I did make one exception to the flooring on the main floor and had tile installed in the mudroom.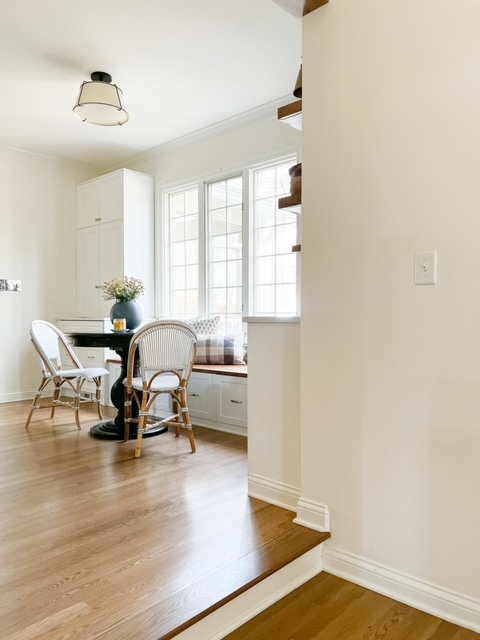 How the Hardwood Floors are holding up
At the time I am writing this, it has been 4 years since we installed and refinished white oak wood floors. I love our solid hardwood floors so much. My overall design aesthetic has evolved significantly since we did them, and they have transitioned perfectly. This stain finish is a great neutral wood backdrop that works with many design styles. The floors are still in great condition, even in high traffic areas like our kitchen.
How I clean my White Oak Hardwood Floors
I vacuum once a week and give them a good mop. I love using this refillable mop and soap for an easy natural clean.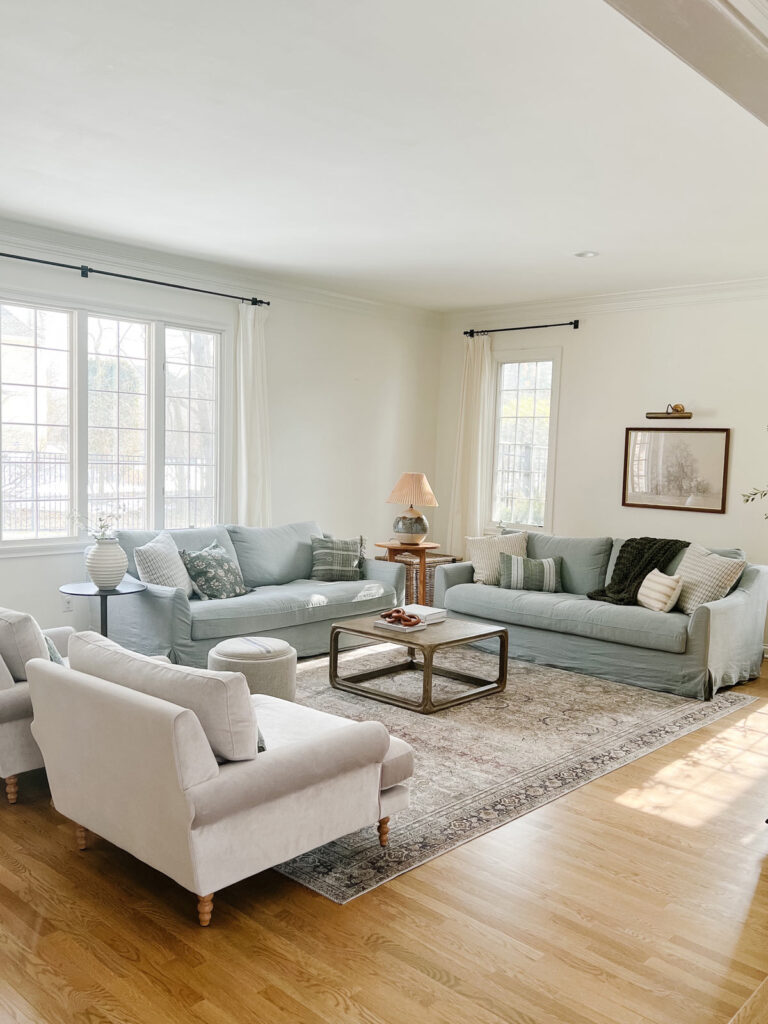 My Flooring Decisions for our Home
So are you on team Pro- Hardwood Flooring? There are so many beautiful and practical options for wood-look flooring available to fit any home and family needs. What works for us, may be not be the right fit you. I share more about the carpet we have in our home and where we chose to install it in this post. Our basement Luxury Vinyl Plank information is in this post. If you are looking for some great rug choices to cover your hardwood floors, be sure to check out this post.
What stain did you use for your classic finished white oak floors?
The mix we ended up with was 60% Minwax weathered oak, 20% Minwax gray, 20% clear/neutral base. We chose a clear matte finish from Bona.
Hopefully, this will provide some insight on our experience with choosing our flooring and help you to make an informed decision for your home.