Carpet Selection for a Stylish Home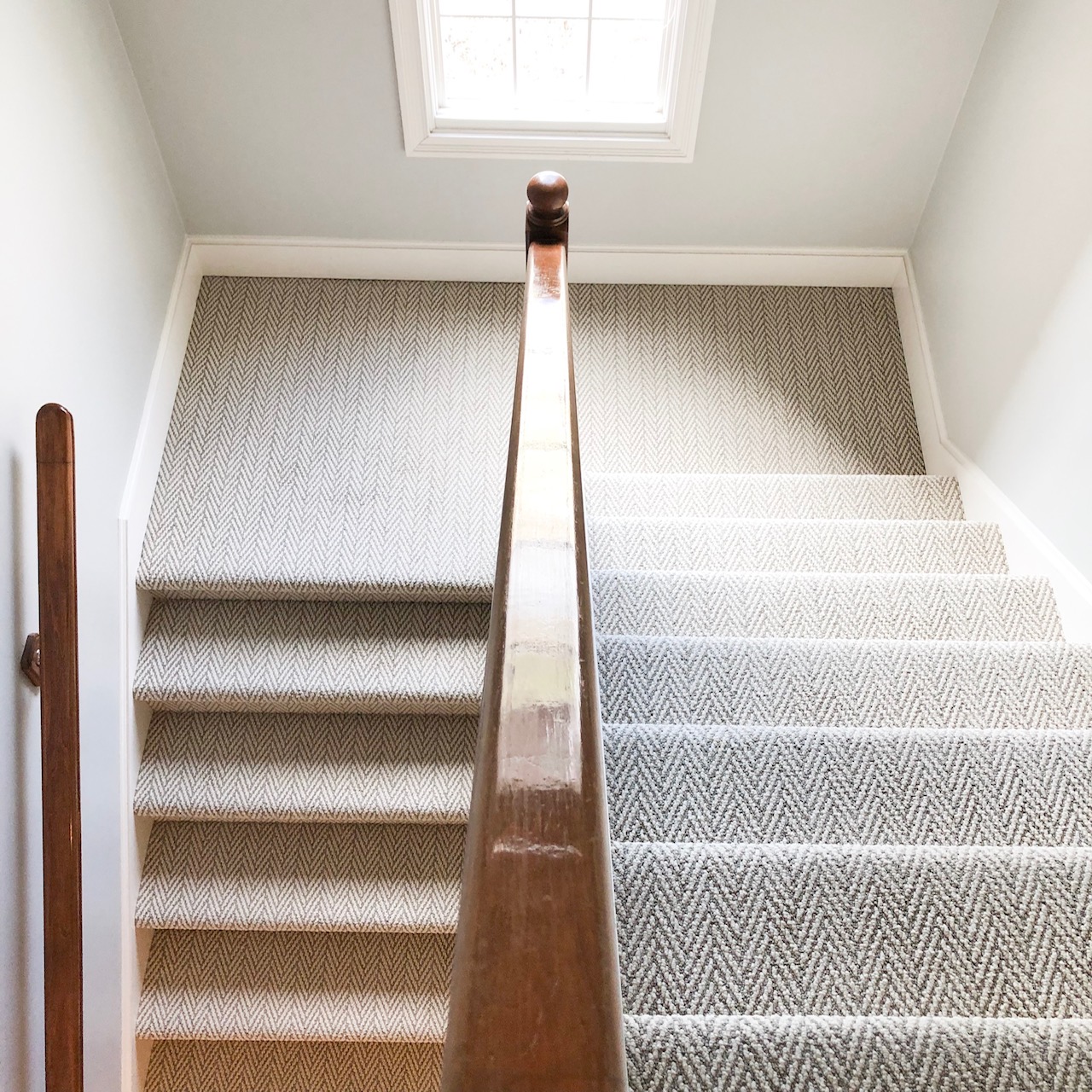 One of the priority items on our renovation list was to upgrade the flooring in our new home. It was a balance between price & functionality to determine where we would install hardwoods vs where we would replace with carpet. The existing carpet was original to the home and was over 25 years past its prime. I have bad allergies and a germ phobia so new flooring was a non negotiable.
Ultimately, we ended up deciding to install hardwood flooring on the entire main floor. This left a limited budget for the second floor, where all of  the bedrooms and our play room are located. We decided to replace the existing bedroom and playroom carpeting with new carpet and pads. The second floor hallway was replaced with hardwood flooring to match the main floor.
Second Floor Carpet Selection
Why did we chose to do the hallway in the wood flooring, while replacing the bedrooms in carpet? My thought process was that this allows us to upgrade the bedrooms to wood flooring on an individual basis as we redesign the rooms and as budget allows. The hallway feels clean and has  the aesthetic that only wood floors can provide. Each bedroom is comfortable with cozy carpeting for kids to play on. If one room gets shabby or severely stained and we decide on new carpet for that room, we won't end up with a patchwork of carpets down the hallway.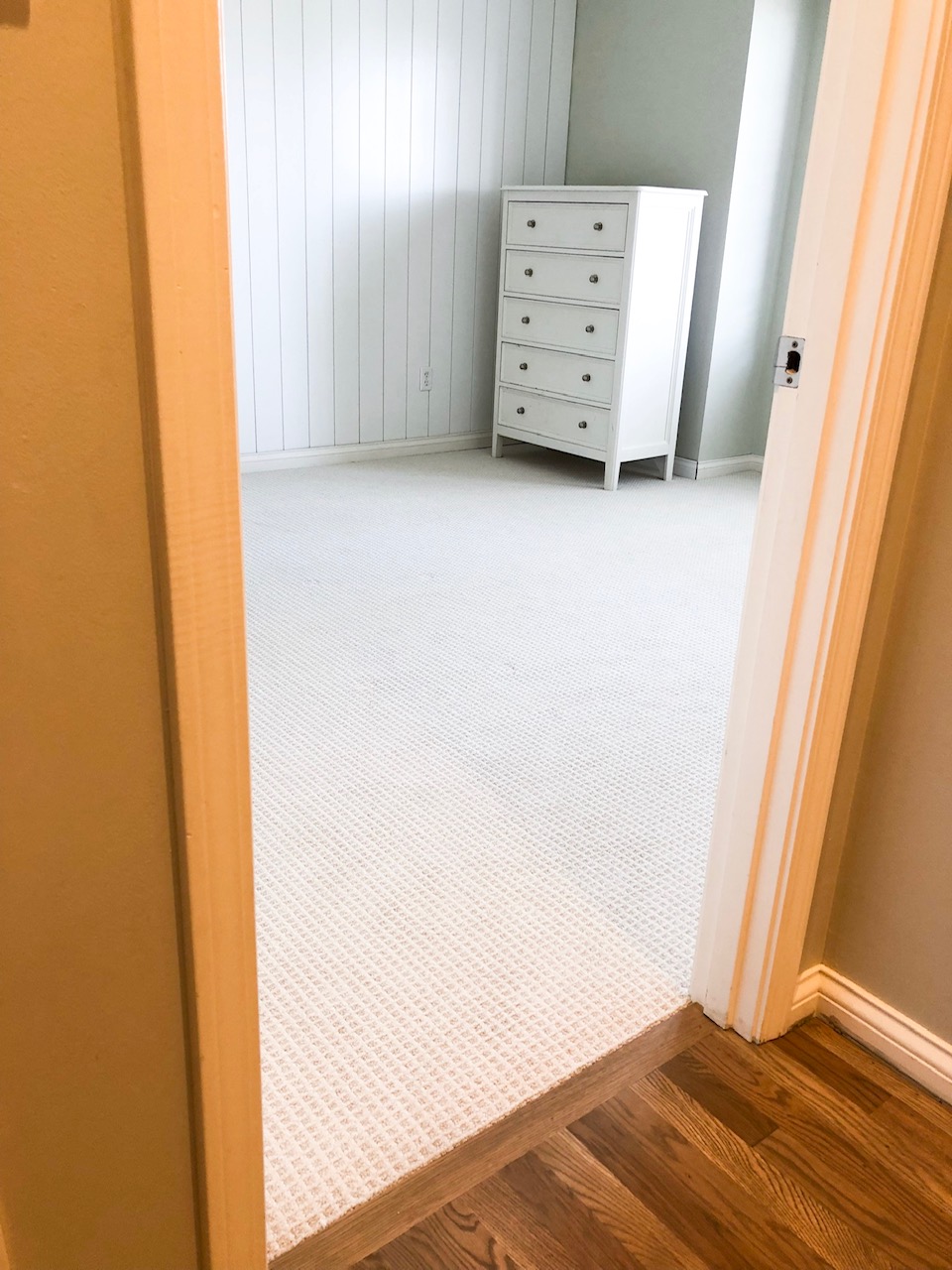 I selected this carpet for the bedrooms in the notable neutral color. It has a flat, almost rug like pile that is very rug- like. Because of it's neutral color and profile it will layer nicely with rugs and provide a great backdrop. I was initially concerned about the pattern being wonky if it was installed crooked, but we really stressed the importance of the pattern being straight with the installers and they did an excellent job. So far it has provided enough pattern to distract from any spots, but everything has came up easily with a little scrub. The dog is the responsible party for any needed spot cleaning. Good thing he is cute.
Stairwell Carpet Selection
Initially, we had our hardwood flooring contractor give us a quote to install hardwood treads in the stairwell. As much as that was the look I wanted, functionally I knew we need some form of carpet. We have a toddler now and hope to fill this home with more new climbers. It was hard to justify the cost of the new treads, plus the cost to install a custom runner up the stairs to satisfy both needs. It just was not practical for this stage of life we are in. So the plan was to install a carpet for now. Hopefully, when we have responsible walking children we can swap it out for hardwood treads. But, I am still a major clutz, so leaving them carpeted maybe the safest bet.
I chose this carpet in the Misty Dawn color. It feels more like a rug pattern than a carpet, and makes the stairwell appear more like it has a runner than a traditional carpet. I hope the pattern will help to hide any dirt (yuck- why I hate carpet) and wear well over the long run. The color is a nice neutral blend of a gray-taupe and cream that will remain timeless for it's hopefully limited lifespan.
Takeaways for Selecting Carpeting
If carpet is what satisfies your budget and functional needs in your home, then rock it. Making a thoughtful design choice is the difference between a carpeted room feeling style-less or feeling cozy and well planned.
Choose the best carpet pad you can afford in your budget- this where the cush factor is. It impacts how your finished product will look and feel. I am also told it helps with the longevity of your carpet looking good.
Select a textural pattern that feels more like a rug than traditional carpet. Something with a low pile, looped pattern makes it great for layering rugs on top. This can help protect the carpet from staining and infuse more style into the room.
Keeping it neutral so that it provides a back drop for the room rather than becoming an independent design element.
Adding a different carpet pattern to stairs helps it feel more like a decorative rug runner than a continuation of the primary flooring carpet. Keep the pattern in the same color scheme and style as the surrounding carpets.
Declare a "no shoes on the carpet" rule and stick to it. Nothing makes carpet look worse than stains. If only I could get my dog to wear shoes.
Best of luck in your carpet selection!
Like something you see?  Check out  "Shop My Home"