How to Customize your Ikea Cabinets to Look High-End 
The primary reason Ikea kitchen cabinets are becoming mainstream, is that they provide affordable products that are high quality and can serve as a foundation for customizing to create a high-end look. This allows you to upgrade a basic Ikea kitchen into an expensive-looking kitchen that reflects your own personal style. In the world of Ikea cabinetry,  the term "ikea hack" no longer signifies a cheap effort to make something better. It truly means building on the high quality, affordable, and accessible Ikea Sektion cabinet system to make a functional and custom dream kitchen.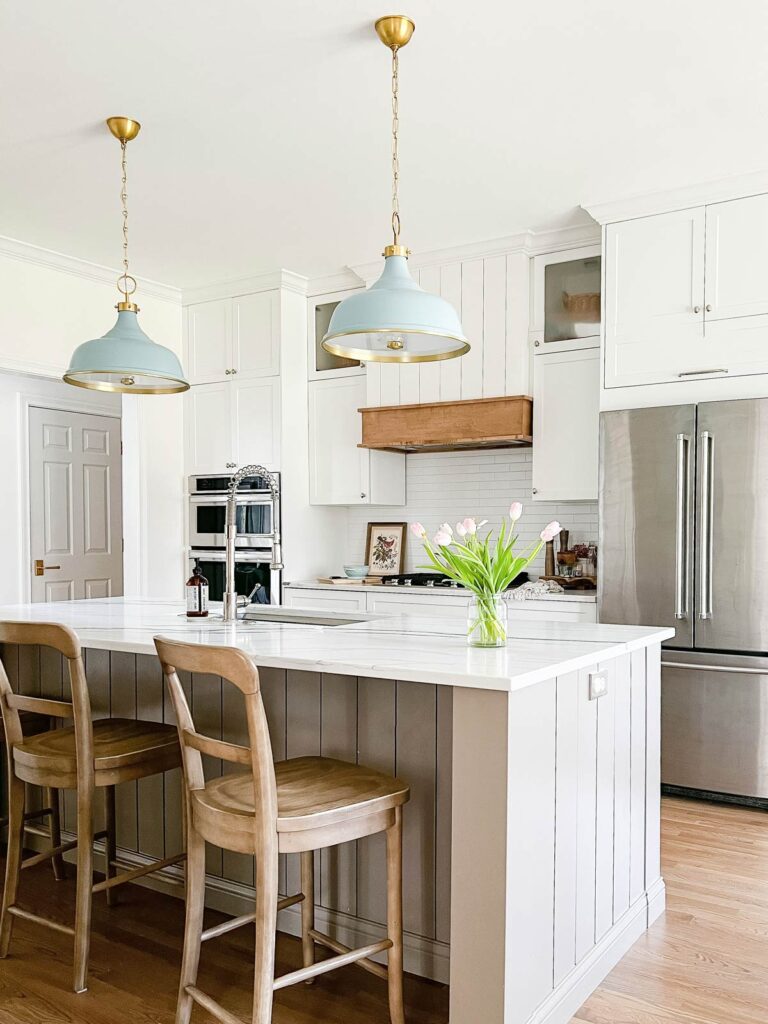 I have been exclusively designing Ikea kitchens for many years, including my own personal Ikea kitchen. Many kitchen design and installs later, I have amassed a list of my favorite ways to customize your Ikea Cabinets to look high-end. Depending on what your kitchen or cabinet project goals are; budget, ease of install, function, and/or overall aesthetics, the following list of upgrades can transform the Ikea cabinet system from standard to custom.
Use Custom Doors and Drawer Fronts
The Ikea Kitchen Cabinet system is unique in that it is sold in individual parts making it highly customizable. For this reason you can purchase only what parts you need of the Ikea Sektion system. Selecting only the cabinet frames, drawer and door hardware, and install components (this helpful guide explains more) and then purchase the door and drawer fronts and matching panels and filler from a third party/ aftermarket door provider.
Want a basic break down of the Ikea cabinet system? Download my free resource here!
I often say Ikea Cabinets are the "legos" of kitchen design. The ability to purchase the basic, high quality pieces and then customize them to your design aesthetic is what makes the system so versatile. It is not uncommon to see Ikea kitchens in many high-end designer kitchens. Unless you open the cabinetry to reveal Ikea's signature pullout drawers, you would have no indication the kitchen was built on the Ikea Sektion cabinet framework. 
An impactful and simple way to elevate your Ikea kitchen is to swap out the Ikea doors with an aftermarket provider. I personally have used many of the popular options from  Semihandmade Doors and Nieu Cabinet doors in my Ikea Kitchen Designs. I have been really happy with the results of both. There are also so many other great providers than can offer a wide variety of styles. There are classic walnut Ikea cabinet doors,  traditional door styles like a painted beaded shaker, more modern looking slab fronts, or a contemporary fluted style. Depending on which provider you work with you can get standard prefinished colors, paint them yourself with a special "paint ready" door, or have them pre-painted in any color you wish. 
Use an Ikea Kitchen Designer to Maximize Customization
I believe careful planning is a crucial part of the overall interior design process. Whether you are planning an Ikea kitchen or other large cabinet project, getting the details right provides the foundation for the rest of the room. Regardless of the cabinet system you use, there are so many design and technical standards, aesthetic details, and functional details that can easily be missed.
I love how accessible Ikea's cabinets are to Ikea customers. But that doesn't mean every customer should design their own kitchen. The Ikea kitchen system does have a learning curve. Especially if you have never designed or installed a kitchen or large cabinet project prior. The Ikea kitchen planner tool has improved significantly in recent years. But is still cumbersome to learn. Personally, I don't love how Ikea and their planner specifies panels and filler in certain instances, which can really make or break the design. Using a designer can ensure a well thought-out placement of panels and filler.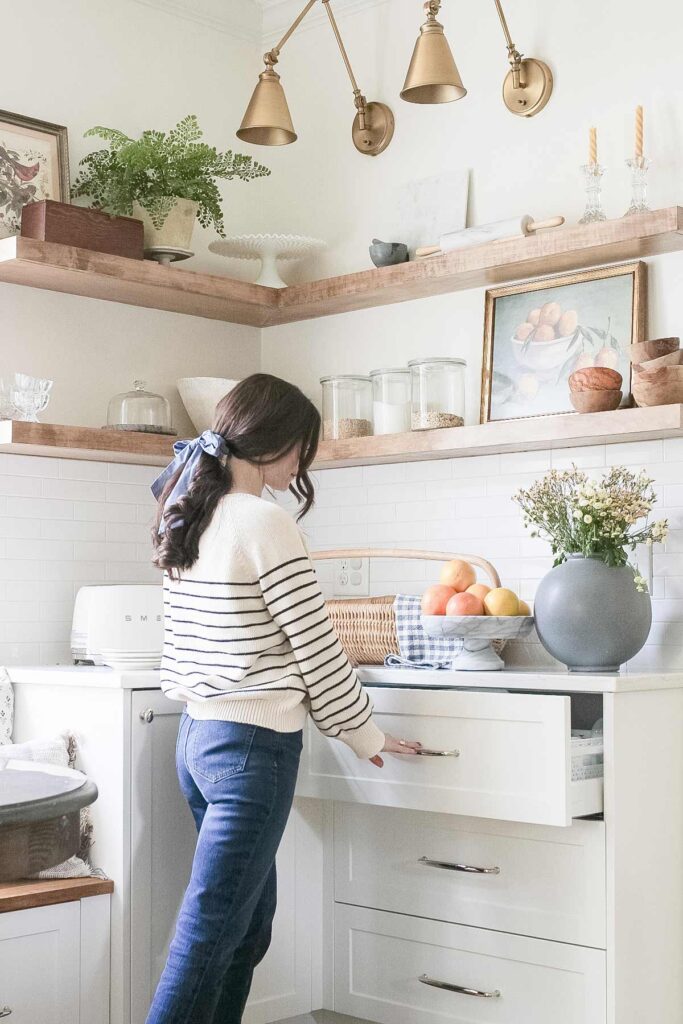 Hiring an Ikea kitchen designer like me, especially one who is familiar with the intricacies of the Ikea kitchen cabinet system, can keep your from making costly mistakes in ordering and installation.  A designer will also save you a lot of time in understanding all the components of the Ikea system. They can eliminate most or all errors, and provide detailed plans to improve communication with installers and trades. And Lastly, it will maximize what you can get in your budget. Interior designers, especially an Ikea kitchen designer will know the best way to achieve your functional and design goals. They will be able to achieve this within the limitations of the Ikea cabinet system and your budget.  An interior designer can ensure you get the high-end look you are hoping for.
Adding in a layer of Custom Millwork, Trim, and Feet
The addition and well-designed placement of custom details can really elevate an Ikea cabinet Design. 
Add Crown and Decorative Molding to Ikea Cabinets
Thinking through cabinet placement so that crown molding can be added can finish the cabinets off in make the overall impact feel built-in.
Don't Overlook Kitchen Island Details
If you are adding a kitchen island to your design, you can frame the base cabinets to create a variety of island styles. Either the cabinet surrounds or added framing can be wrapped in custom sized panels or millwork. This is what I did for my personal Ikea kitchen island.
Custom Ikea Cabinet Base Details
Adding custom feet of wooden legs, and/or furniture style baseboard instead of a recessed toe-kick to your lower cabinets or Ikea kitchen island can really elevate the entire design and make them feel like a furniture piece. One trend I am loving (and hope to update in our kitchen) is using decorative brass air vent covers where needed in the base molding.
Use the Vent Hood Surround as a Focal Point
The vent hood is often times a focal point for the design of a kitchen. This is an area where you can really set the aesthetic style of your design. You can certainly utilize an Ikea cabinet and a vent hood insert for a simple and classic approach. Building a beautiful range alcove, a custom millwork hood surround, a plaster covered range hood, or a simple stainless steel vent hood are all ways to customize an Ikea kitchen to reflect your design style.
Adding in custom open shelving
 Some aftermarket door providers also offer custom floating shelves. Sourcing these separately is a great way to add an additional layer of depth, function, and customization to your Ikea cabinetry project. For my own kitchen, we created a custom wood cabinet interior for the inside of the coffee bar. For this client's kitchen I designed integrated shelving sourced from the door provider, Semihandmade.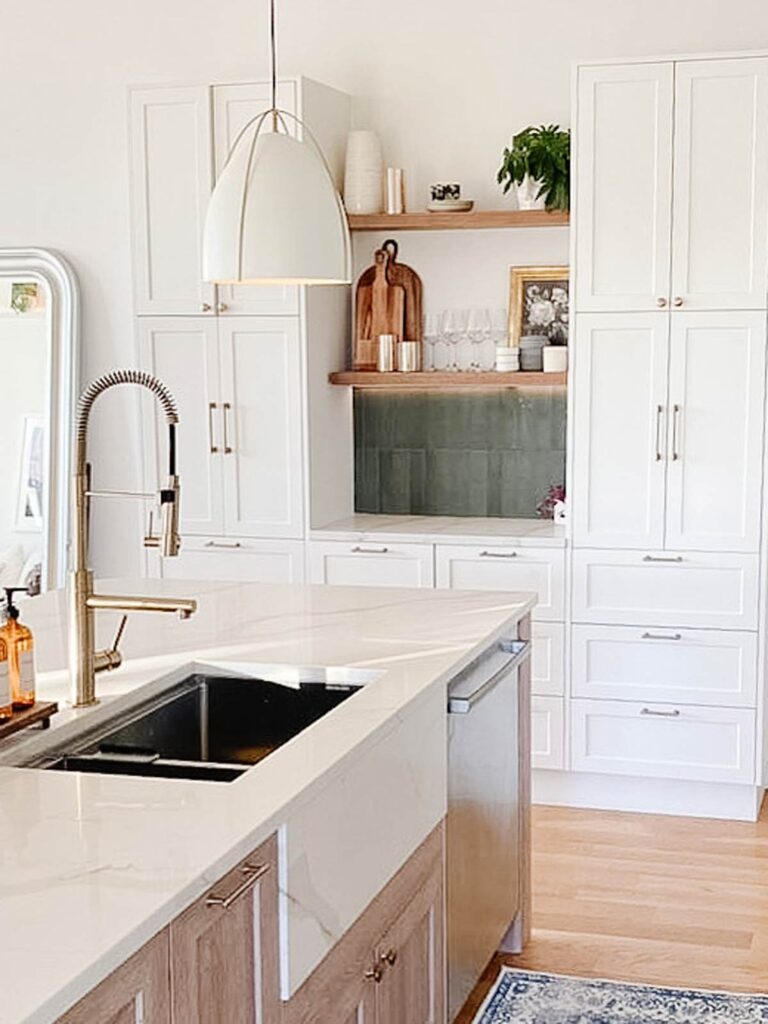 Using Appliance Panels
 Using panel ready appliances and ordering properly sized fronts that match your cabinet doors provides a significant impact in making your kitchen feel custom. These panels can be sized from the appliance specification or technical sheets. This is why using a kitchen designer is so helpful. They can then be ordered from the aftermarket/ third party door providers. 
Where to Source Custom Details for your Ikea Cabinets
Some aftermarket door providers can create these custom molding details and panels for you and finish them to match the door and drawer fronts. If your aftermarket door provider does not provide this service, you can color match your doors and paint these details yourself (or your installer may do this if requested) to match. This is what I did in my own kitchen for my island surround, pantry cabinet, vent hood details, and crown moulding. 
Designer Fixtures and Details
If you have ever been to an Ikea showroom and seen the full scale kitchen build outs, it is easy to get sucked into just purchasing all the Ikea products. Truly, some of these Ikea offerings are a great option for both value and aesthetics. However, pairing them with the Ikea cabinets creates a flat design that screams "Ikea".  Personally, I believe the key to designing an Ikea kitchen or cabinet project that feels high-end is to layer the design with products from a variety of sources. One-stop shopping your kitchen design from Ikea is not ideal. This means purchasing all (or most) of the following elements from sources that are not Ikea. 
kitchen appliances
sinks
faucets
countertops (natural stone or quartz)
drawer and door knob and handle hardware
light fixtures
I like to balance these items out to be a mix of high end and and more middle of the price range options. This will create a beautiful, layered and finished design. Things like natural stone, butcherblock, or quality quartz countertops, solid hardware, and focal lighting like pendant lights are where I invest more of the kitchen renovation budget. Tile work, stone slab backsplashes, and stone front sinks are easy ways to add a custom look to the overall design. This also allows the opportunity to layer in other unique details like metal cabinet screens, a library ladder, a beautiful pot or towel rail, or specialty cabinet hardware that elevate the overall design. 
Be Creative with How You Stack and Combine the Various Cabinet Sizes
A functional way to create a custom look to your Ikea cabinetry is stacking the cabinets to provide dimension in the design. If you have tall ceilings this could be utilizing 2 rows of upper cabinets, even better if you add a library or pantry ladder, similar to what I did in my mudroom.
Mixing different cabinet depths between the 15″ deep and 24″ deep base cabinets is great way to add visual interest to the overall design. One of my favorite ways to add a custom element to the room is to stack wall cabinets on the countertop to create beautiful hutches. I also love creating an appliance garage or hidden coffee cabinet. You can also cut down the standard sizes of the Ikea Sektion cabinets to fit in specific constraints and then order custom sized doors from the aftermarket door providers to accommodate the resize.  In my kitchen, I used shorter height wall cabinets to create a built-in banquette seating. This detail alone elevated the entire design of my Ikea kitchen. These are all functional additions that make your final kitchen feel even more luxurious.
Ikea Cabinets for More than Just the Kitchen
One of my favorite ways to elevate Ikea cabinets is to use them in a variety of different purposes and spaces. Here are some great ideas for using Ikea cabinets to create a high-end, functional, and beautiful space.
Create a functional command center for a busy parent in the family room, den or home office.  
A basement snack bar or wine bar​
A full wall of storage cabinets in a hallway, loft space, or mudroom.
As a mom of 3 little boys, my favorite idea for this storage is using them in playroom playroom. Large side cabinets would be perfect for storing away toys and craft supplies. Paired with a lower countertop area for crafts or building legos. 
Bathroom Vanity: Ikea Sektion cabinets make a great foundation for creating a beautiful bathroom. I have also customized an Ikea Godmorgan Vanity Cabinet.
A laundry Room
Built-in Media Center
A charming window seat in a children's bedroom 
Ikea Cabinets are an Affordable and Customizable Foundation
Ikea Sektion Cabinets are a great solution. Especially when the overall budget needs reduced, but an elevated aesthetic and quality still matter. Using the Ikea Sektion Cabinets as a foundation and building off of the affordability allows room in your budget for adding custom details and designer selections providing an "almost custom" look. Couple this with a designer (like me!) and you can create a truly beautiful, functional, affordable, and long-lasting cabinet project. 
Curious about how much an Ikea Kitchen Costs?