Hardware Ideas for White Shaker Cabinets (knobs and pulls) 
Hardware Ideas for white shaker cabinets are abundant! There are so many beautiful options and finishes to choose from. A white shaker front is a popular choice, but that doesn't mean your design has to feel "common". The great thing about these classic cabinet doors is that the look of you kitchen can be transformed depending on the kitchen hardware you select. The right hardware is one of the most impactful design elements of an entire kitchen renovation or new kitchen design.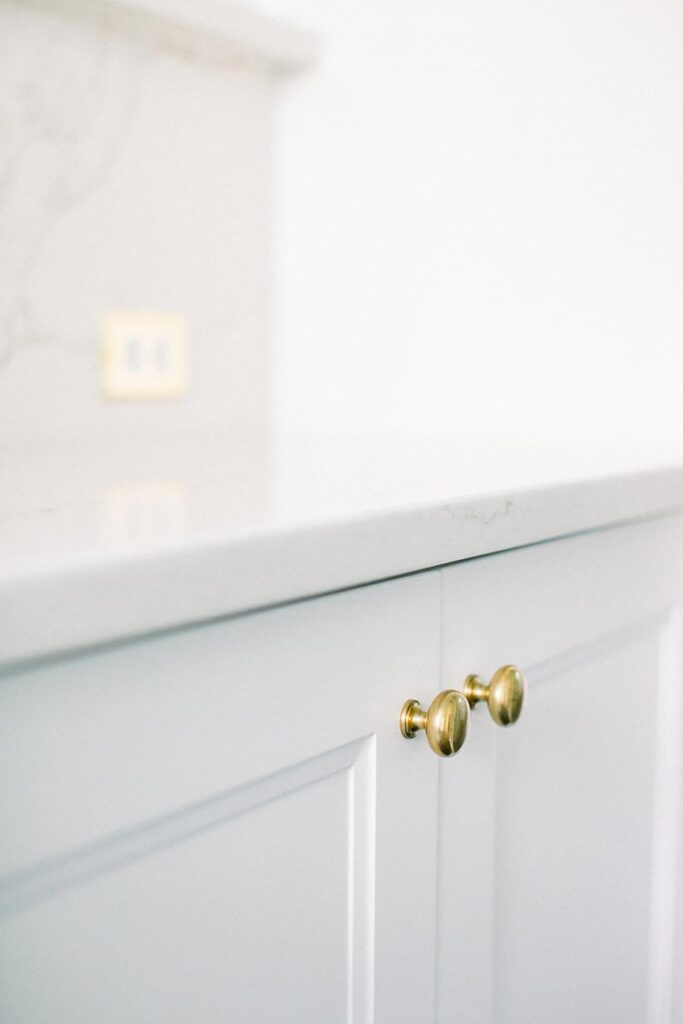 The beauty of a white kitchen cabinets is that they are a classic choice that can work with a variety of design styles. This makes selecting the hardware and extra important choice in the overall design of your cabinet project. The finish, style, and quality of the hardware may seem like a small details, but will have a large impact in the cabinets aesthetic design. It's important to spend the time designing a cohesive hardware plan for your project to keep it from falling flat.
This post may contain product links that may contain affiliate links. When you use the link to make a  purchase, I may make a small commission. This is not an additional cost for you, but helps me to produce this blog and content for you to enjoy.  My full disclosure is here.  Thank you! 
Choosing your cabinet hardware color (metal finish)
The most impactful feature of cabinet hardware is the metal finish you select. I have designed many white shaker cabinet projects, including my own White Shaker Cabinet Ikea kitchen and White shaker cabinet mudroom. White shaker cabinets are a great foundation that will provide a bright, classic design. Layering the hardware in an intentional way can completely alter the design of your space. I am sharing in detail my favorite hardware styles to pair with a white shaker cabinet fronts.
Using Polished Nickel Hardware ideas for White Shaker Cabinets
The combination of a crisp white shaker cabinet and polished nickel hardware is a timeless look. I even used this in my own kitchen where I used Ikea kitchen cabinets with Semihandmade white shaker fronts and a beautiful polished nickel hardware collection from RH. Similar to chrome hardware in that it is a polished "silver" finish, however polished nickel contains more of a golden undertone to it. This makes is a great pairing for white shaker cabinets because it's added warmth can still give the crisp classic shiny silver look, but the warmer undertones can prevent the combination from feeling too sterile. I also love pairing polished nickel hardware with an antique or unlacquered brass light fixture, accent hardware, or plumbing fixtures.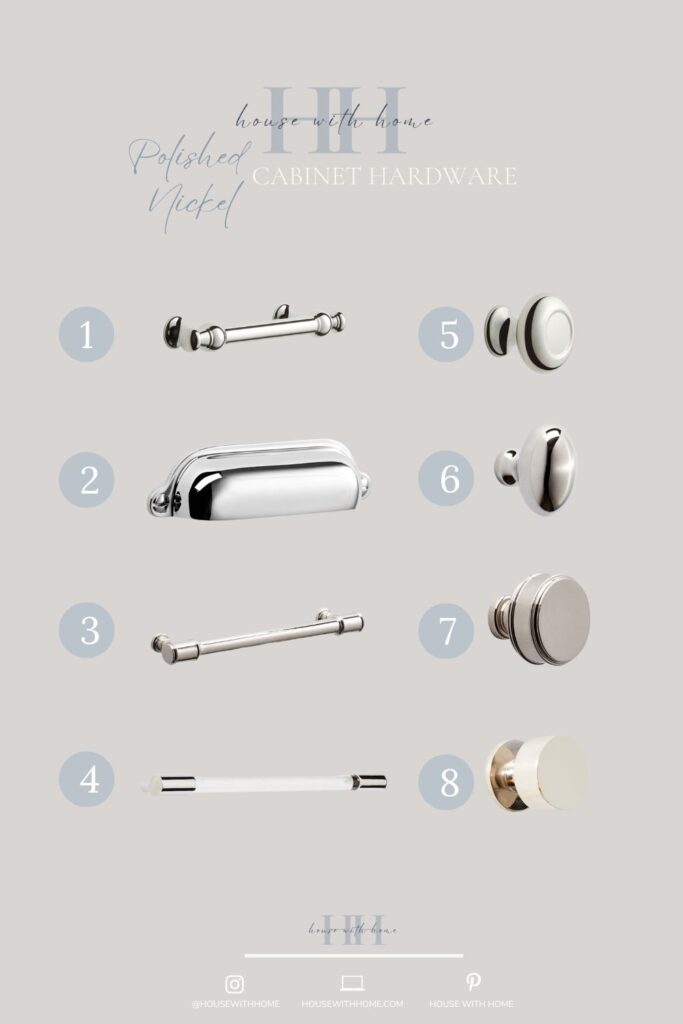 1 | 2 | 3 | 4 | 5 | 6 | 7 | 8 |
If you are wanting a bright, classic kitchen that will remain timeless then pairing your white shaker cabinets with polished nickel hardware is a great choice for your kitchen design.
Antique Brass Hardware Ideas for White Shaker Cabinets
The combination of a warm antique brass, polished brass, or unlacquered brass with the fresh white shaker cabinets is one my personal favorite combinations. I love the warmth and depth this contrasting finish adds to the brightness of the cabinets. I used this combination in my mudroom where I use Ikea's Axstad white shaker kitchen cabinets to build in storage. For this design I used my favorite unlacquered brass knobs and handles and they have developed a beautiful patina over a few years of use. The depth of color an spotty aged finish add a lot of visual interest to the crisp white cabinets. If you are wanting to warm up a bright white kitchen and add an aged/ lived in feel, aged or unlacquered brass hardware is a great design choice for you white cabinetry.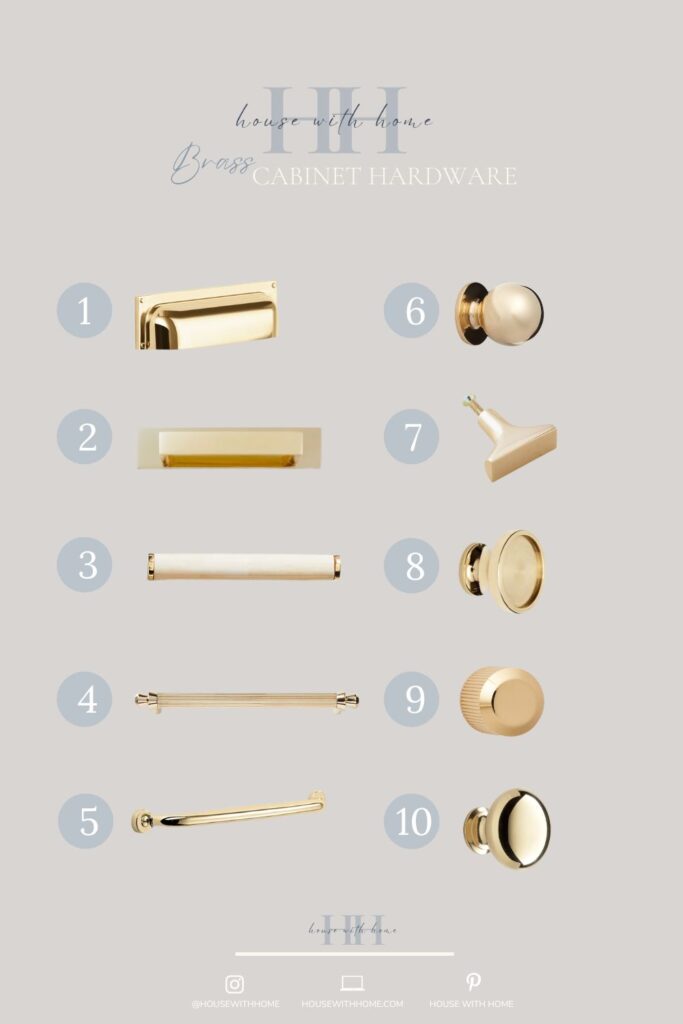 1 | 2 | 3 | 4 | 5 | 6 | 7 | 8 | 9 | 10
Matte Black Hardware Ideas for White Shaker Cabinets
Matte black or a dark oil-rubbed bronze can be a great choice for white cabinets. It is a great high contrast option that really allows the hardware to make a strong statement in the overall cabinet design. If your black hardware has a matte finish and simple flat bar pulls it can work really well for a modern kitchen design. If a more modern look is not what you have in mind, selecting the matte black finish on hardware with more traditional details like a cup pull can give a more farmhouse kitchen look.
1 | 2 | 3 | 4 | 5 | 6 | 7 | 8 |
Different styles of Hardware for White Shaker Cabinets
There are many other beautiful cabinets hardware finishes that can be great options. This list is a few of my favorite alternatives that I also like using:
Porcelain Knobs look great on a white shaker cabinet in a utility space like a laundry room or mudroom
Wood knobs painted the same color as the white shaker cabinet doors look great mixed with a metal finish knob in a cottage or European styled kitchen.
Bronze hardware add a lot of warmth to white shaker cabinets in a kitchen that has a lot of white details, like white walls, a white subway tile backsplash, and white marble countertops.
Hardware type and style for white shaker cabinets
Other than the finish selection for your hardware, you will also need to do select the hardware type and style. This will be determined based on cabinet function, personal preference, and interior design/ architectural standards for placement. Getting these small details correct make a huge impact on the overall kitchen having an elevated design.
Read more about my hardware selections for my white shaker cabinets. 
Combine a variety of hardware styles for a more curated design
Because white shaker cabinets are a very neutral canvas, they need variety in the hardware placement to keep the design from feeling flat or uninteresting. One of the easiest ways to do that is to use a combination of hardware styles. I prefer to use a variety of knobs, handles, and even latches depending on the overall cabinet design, kitchen design style, and functional needs. I may use cabinet knobs on single doors on lower cabinets and double or single doors on upper cabinets. Then combine this with handles or bin pulls on drawers. If the design is more traditional, cottagey, or farmhouse adding in cabinet latches on double cabinet doors on a pantry wall add visual interest.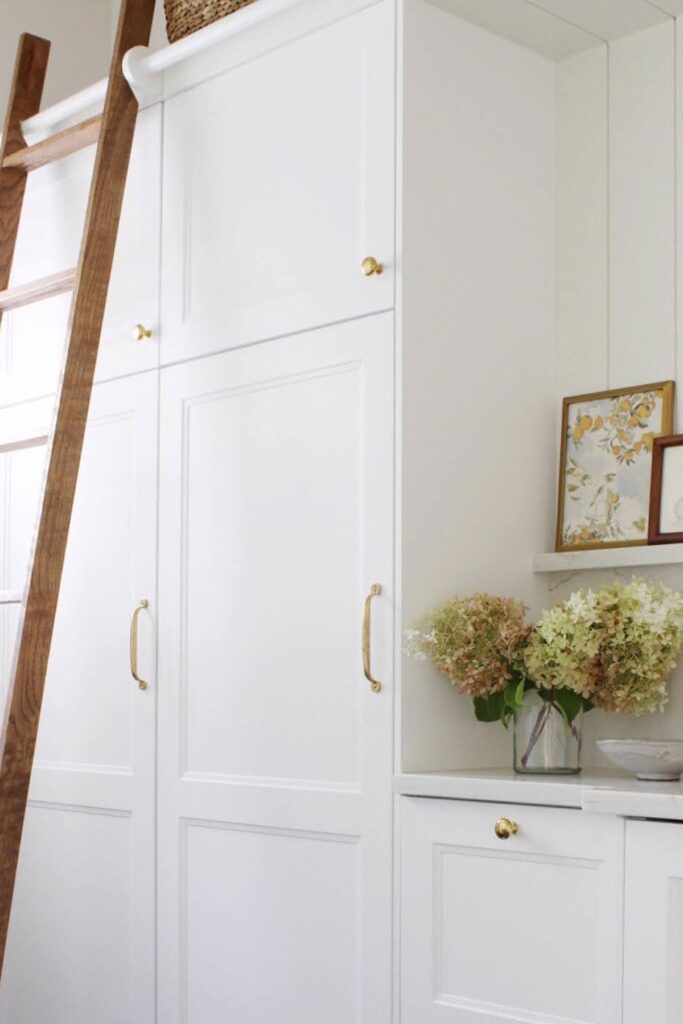 ​Adjust the hardware size depending on cabinet front size
Another way to ensure you hardware design enhances your white shaker cabinets doors is to vary the size of your hardware. Using 4″, 6″, 8″ and larger 10-12″ appliance pulls that work in scale to each drawer face helps to balance the hardware to front. The size of pull will depend on if you are using a single handle or double handle on the front. What is important is to consider varying this length if needed. You would not want a single 6″ pull on both an 18″ wide and 36″ wide drawer front, because the balance of the hardware to the white space of the drawer would read off balance.
Explore a variety of hardware shapes to add interest to white shaker cabinet doors
There are so many options from elaborate twists to simple clean lines when it comes to the specific styling of cabinet hardware. I love using a traditional egg shaped knob in place of a simple round knobs. Clean lined cup pulls are another alternative to a simple cabinet handles that can add a lot of visual interest. Another way to add visual interest to your hardware is using a backplate to add an additional layer.
How do you make white shaker cabinets look modern?
​If this is your design aesthetic I would use either a matte black finish or a brushed brass finish for the hardware. Selecting simple clean lines on your handles and using a more squared or rectangular choice. If you are switching existing hardware, this is a great place to use the back plates to hide the predrilled holes if they do not match up.
​
How do you make white shaker cabinets look timeless?
​This is the foundational design aesthetic in my personal designs, so it is one I know well. I think both unlacquered brass and polished nickel are great choices for building on the classic look of white shaker cabinets. They can be combined various ways in the same space or on the cabinetry in different rooms of the home to provide a collected and effortless design.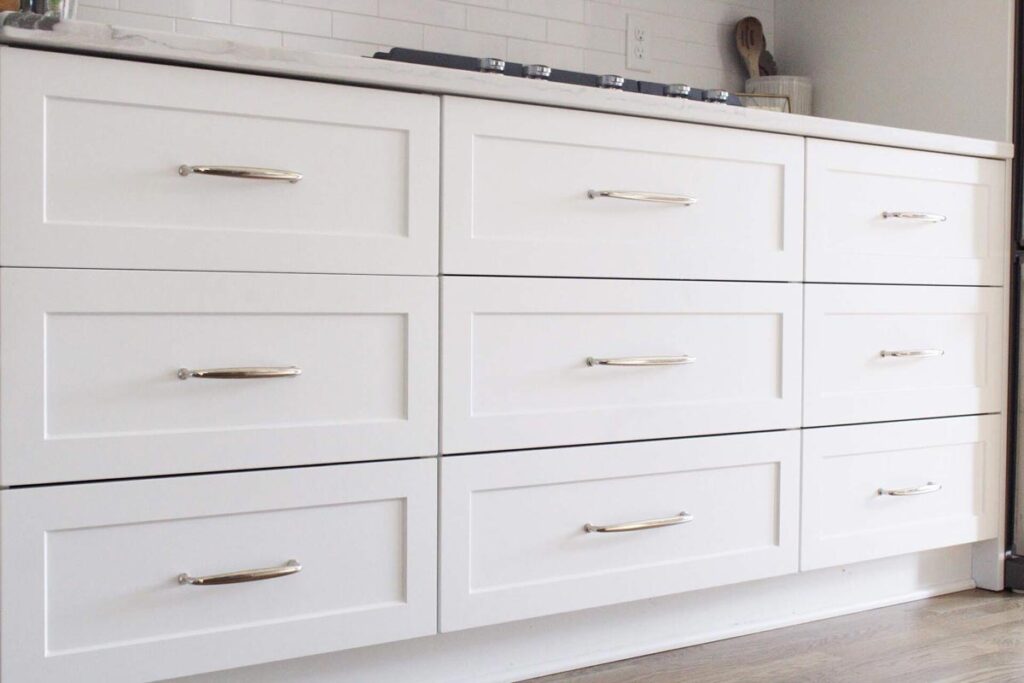 My favorite Sources for Cabinet Hardware for white shaker cabinets
In most of my designs I prioritize the quality of the hardware in the overall budget. Hardware is an element that is also functional and utilitarian. It needs to be strong and feel good in the hands that touch it, something that can be achieved by choosing high quality brands that use solid brass as their hardware foundation. Another key thing to think about is the longevity of the company and the hardware style. If you think you may need to add additional hardware in the future, you want to choice a brand and style that will still exist in the future and will have consistency in their finishes. Here are the brands that I have use or specified personally.
Rejuvenation
Restoration Hardware
Emtek
CB2 (their lines do "retire" quickly/ can be trendier, but the overall finish is consistent among styles)