A List of Dining Room Sconces | One Room Challenge Spring 2021 Week 3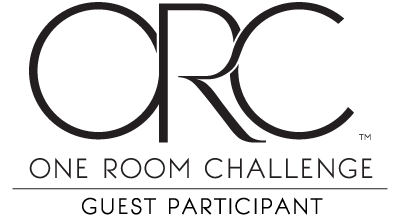 This week was all about making some final decisions on the lighting, in particular the wall sconces. I have had the chandelier picked out for a very long time. It was love at first sight when I first found it and it. But now I need to figure out exactly what sconces I want for secondary lighting for the room.
Wall Sconces
Last week before we began installing the paneling on the walls, we had an electrician come out and install a switch and boxes for the wall sconces. I really wanted to layer in lighting in the dining room to help create a cozy ambience to the room. Currently we have two buffet lamps in here and I love to have them on early morning/ late night to illuminate this corner of our home. Having the sconces hardwired was surprisingly easier and more affordable than I would have expected. It took him under 2 hours to do the work. One benefit for us is that we don't have to fix any drywall repairs, because we are installing the paneling right over this wall.
My Criteria for Picking Sconces
I went through a long list of sconces and narrowed it down to these 9. Next, I sat with these options for a while until I confidently made a decision. Don't let me fool you into thinking that was easy. I always set up my criteria of what I am looking for and then narrow it down from there. Here is my criteria I had for the dining room sconces, and how chose which one I loved.
Budget: I always set a budget for the item. As with any item on my criteria list, something may need to give a little to meet all of the criteria. But having a general idea really helps keep me be realistic about what type of item I am looking at. By now I know which brands to just avoid, given certain budget ranges. Sometimes it's just better to not fall in love with something that is too pricey that just clutters up the decision making. I really wanted to keep the price under $200 per sconce. As you will see on my list of sconces below, some of these are WELL over that price point. If an item meets other criteria, I don't immediately remove it from my list. I keep it around for inspiration because it helps give me insight on what and why I am really drawn to something. If the most expensive option is the one I end up choosing, it's because it truly was the right one for my design. Then I can try and find a cheaper dupe. Or I can study what I love most about it and use that as another search criteria for sourcing something similar
Compliments the China Cabinet: I really want the sconces to compliment the China Cabinet (see a sneak peak in last weeks post) but not steal the show. The cabinet is really going to be the center piece of the design and this wall, so the sconces needed to both blend in and stand their own next to the hutch. I explain a little more about this below!
The Long List of Sconces I Considered
While I'm being honest, this list was once MUCH larger. But I will save you the decisions fatigue and share just my finalists. Each of these would have been beautiful in our dining room.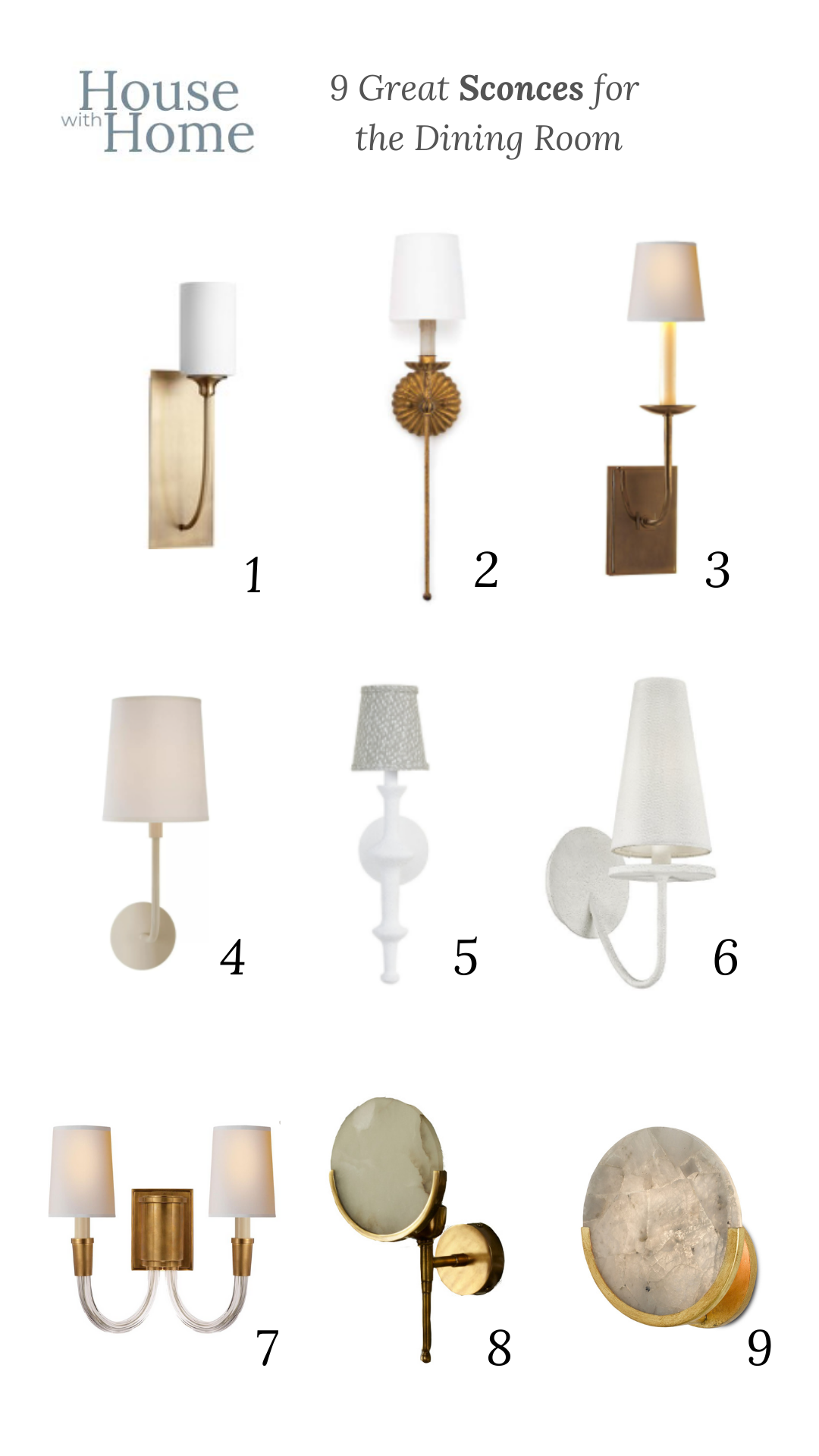 1 / 2 / 3 / 4 / 5 / 6 / 7 / 8 / 9
Sconces 1-3 Antiques Brass Sconces
This was the initial direction I was leaning when choosing the sconces. The antique brass will tie in nicely with the chandelier (see more here) I am installing. The china cabinet also has a beautiful brass wire detail on the glass doors that both scones 1 and 3 would compliment. Sconce 1 had a great price point and I loved the slightly more modern lines of it, but it was a slightly more "gold" brass. Option 3 is stunning, it is made from the same company the makes the chandelier so I liked knowing the brass finishes would be the same. I also love that the slim profile won't distract from the paneling it will sit on. Option 2 is stunning (but pricey). The clove/ flower detail matches a hardware detail on the china cabinet (hint, hint).
Sconces 4-6 Sconces with a Patina
I loved the idea of a plaster finish sconce to help add texture for the otherwise classic details of the room. This combination is something I am working hard at translating through our entire home. This wall is in the same sight line as the kitchen, so the white would really work nice with our crisp white kitchen cabinets. Sconce 4 has a very simple shape that would really let the china cabinet be the statement on that wall. I love the texture of the pleated shades on sconce 5 along with the shape of the sconce tail that compliments a brass lamp we also inherited from Kris' Grammy. Sconce 5 is a great price and has a simple understated look that I love.
Sconces 7-9
I then ended up obsessing over the idea of adding in a glowy element using stone/ alabaster/ acrylic. Like options 4-6 above, these will work to add in a layer of texture to the room. Because the walls are going to be a medium shade of blue- grey, I was drawn to the idea of these sconces that would almost chameleon with the walls. Sconce 7 is striking on its own, but the swooping acrylic will allow the wall color to peek through a bit more than the other options. I loved how both sconce 8 and 9 have a U-shaped brass detail that mimics the shape in the brass wire front of the china cabinet. The stone disks also add to the glowy look and compliment the wall color really well. Sconce 9 is the pricier version of the two. Sconce 8 had caught my eye months ago but I wrote is up immediately when I noticed it was from a UK brand. However, Jen Dulac just used them in her dining room and clue-ed me in that they ship to the states!
Final Decision On the Sconces
What sconce is your favorite? Which one do you think I picked for the room? Be sure check back in the next few weeks when I share all the details. I am so excited to show you them when they are installed.
Update on Wall Trim and Moulding
If you have been following along with me on my IG, you know we have been busy at work installing the trim on the walls.
Kris spent a few naptimes/ evenings this week installing the vertical panels and box trim. I then followed up spending many hours (5!) caulking and filling nail holes for all of the trim. A tedious step, but one that makes a significant different in the finished look of the millwork. I plan to spend some time this weekend getting it all painted. First, I need to give myself a pep talk about using my paint sprayer. It always gives me a hard time. Check back in next week when I plan to share all the details on the walls.
Coming Up this Week
Make final decisions on artwork and order
Finish installing wall millwork
Paint millwork/ walls!
Order supplies for DIY "bar/ serving table"
Be sure to follow along on my Instagram, where I share the "live action" of this project!
Project Checklist
Have sconces hardwired to frame buffet
Have a library light added to highlight artwork
Find Large scale art for dining room/ entry/ walkway wall.
Design, install, and paint millwork —-making progress!
Design and order window treatment
Install new chandelier, sconces, and art light
Clean table and get new chairs
Sell existing light, chairs, and buffet
find a small furniture piece for "bar/serving cabinet" —now have a plan for this, it will be a DIY!
Styling for china cabinet and bar/serving cabinet
Decide if I want/ need a rug and find one if so.
One Room Challenge 2021 Dining Room
Be sure to follow along with the other featured and guest designers here!
Catchup on all of my posts from this seasons challenge below!
This post contains product links that may contain affiliate links. When you use the link to make a purchase, I may make a small commission. This is not an additional cost for you, but helps me to produce this blog and content for you to enjoy. My full disclosure is here. Thank you!