Favorite Brass Faucets under $400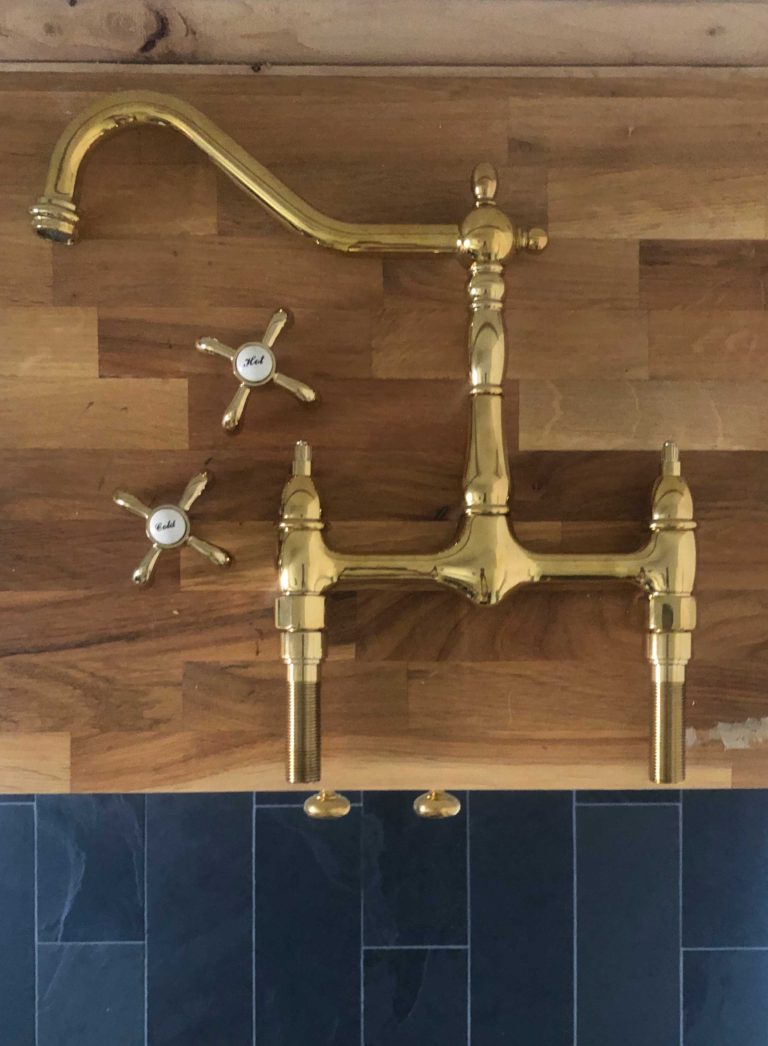 This week I shared the beautiful new brass faucet I am installing in our mudroom. When I am planning a space, I always determine what criteria is going to matter most for each item. This helps set up some boundaries from me mindlessly searching for the "perfect" item and gives me a clear reminder of what exactly I am searching for. For the mudroom sink faucet my criteria was:
It needed to be a brass faucet or polished nickel faucet
These are the primary finishes I am using on my hardware and plumbing fixtures in my home. For me, it is important to keep this consistent through out the entire house. I want it to feel cohesive and not choppy. It is easy to be tempted to try new finishes, but I personally think a home feels less chaotic if the entire home (not just the rooms) are limited to only a few finishes. For me its brass, polished nickel, and matte black in my light fixtures.
It needed to be affordable
Affordability is different for every homeowner and every room. Faucets are not cheap, and often times you get what you paid for. They are light weight or filled with plastic interior fittings that will fail over time. For this space, the faucet will not get "heavy duty" use like a sink or primary bathroom might. It will mostly be for filling the dogs water bowl. For this reason, I was willing to take a bit of a risk on the price point of the brass faucet I chose. It has not been installed yet, but out of the box I am presently surprised with the look and quality. For reference, the one I am installing is made by Kingston Brass, as are many of the suggestions I am sharing in the round up below. I am also including several from Signature Hardware, who is on of my go to suppliers for affordable, beautiful, and good quality faucets. I have used many of their products and can vouch for their quality and customer service.
It had to be beautiful
Although this is "just a mudroom" it is also a space that is open to our main floor. It is also a space that will be highly functional, and there for won't be layered with a lot of accessories to create a beautiful aesthetic. That is why I am focusing on the required items like the hardware, faucet, and wall mirror being a beautiful as possible. This will help create a space that looks nice with out having to add more stuff to it, since it will already be prone to clutter with shoes, coats, and all the other practical items that get stored in a mudroom.
Options I considered
I compiled a list of all of the options I was considering for our mudroom, including the one I chose and the one I used and love in our kitchen. If you are searching for a faucet with the same criteria as I was, hopefully this will help. The majority of these are polished brass, since that is what I recently used and you guys were inquiring about it. You all have great taste! I also included a few polished nickel options since it is my favorite finish. All of these are under $360 and most of them are around $200.
1 | 2 | 3 | 4 | 5 | 6 | 7 |8 | 9| 10