How to Create Piano Room Built-in Cabinets
The piano room was one of my first bold design choices in this home. The blue paint choice was what led me down the path of blue being a prominent color in this home's palette. It is such a beautiful contrast to the rich red-toned wood of the piano.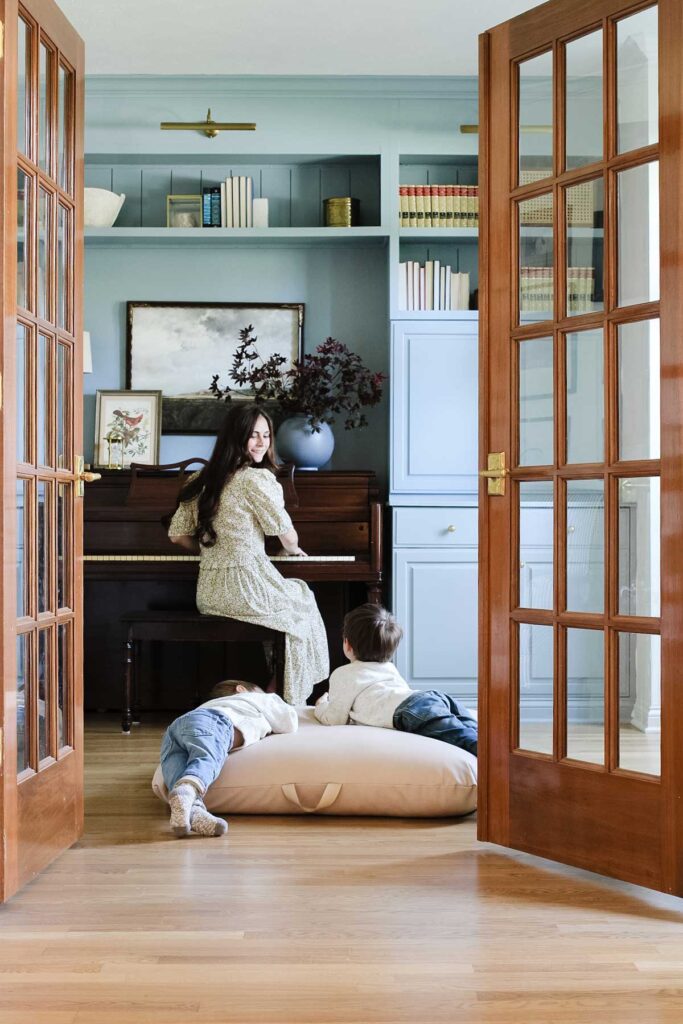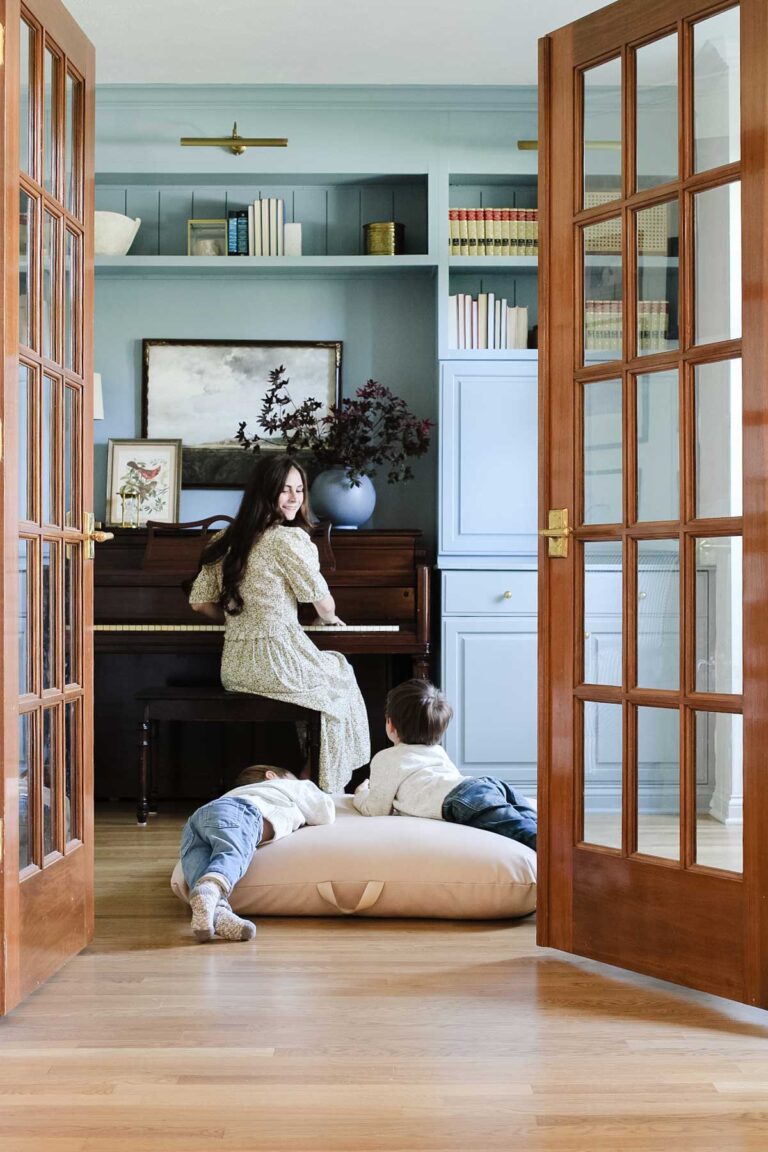 How we use the Piano Room for our Family
We inherited this piano, an heirloom from my great grandmother and this small "office" in our home was the perfect location for it. However, this room is fairly small and needs to serve as a multipurpose space. The room holds all of our craft supplies, musical instruments, and some of the building toys that my boys play with daily. It is also visible in our entry, so keeping the space tidy is a priority.
I love that the french doors of the family room allow the room to open up into the main living spaces of our home. I can really see this room evolving as our family grows. It could become an office, a homework room, or simply a Piano Room with cozy chairs to read in. No matter what it becomes, the piano and built-in cabinets will provide a beautiful backdrop.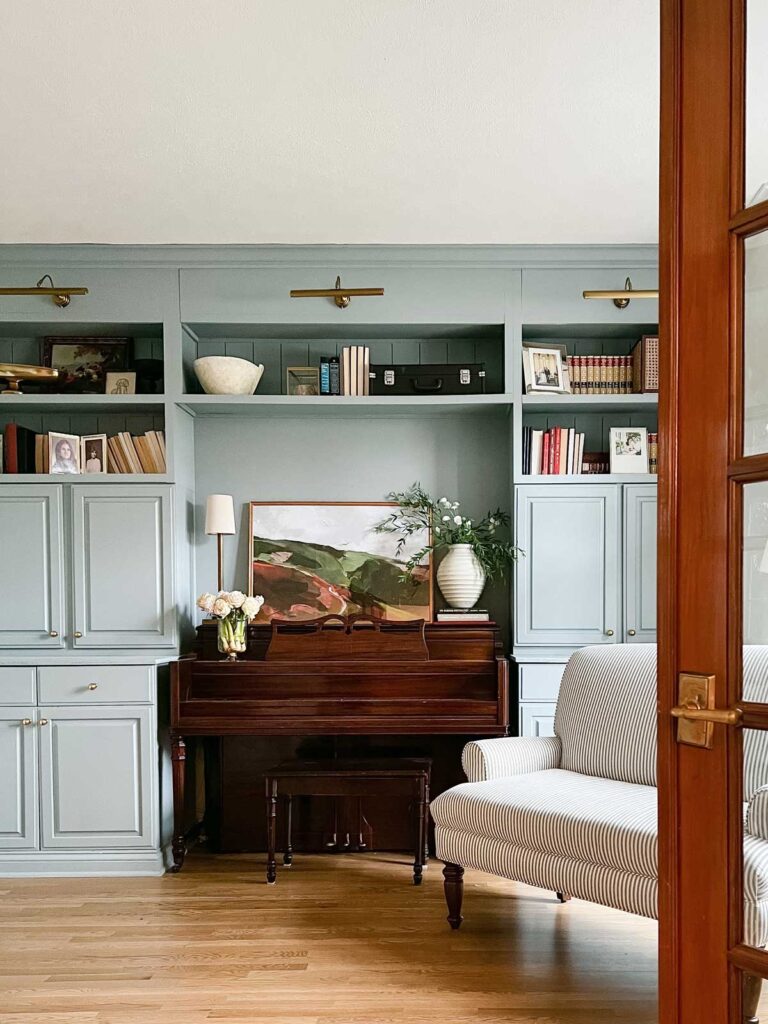 Why I Decided on Piano Room Built-in Cabinets
In order to keep the piano room looking beautiful, I knew we needed a good storage solution. This meant I needed to utilize every inch of the wall. I loved the idea of the open shelves to provide a cozy, library mood. The lower cabinets would provide adequate storage to hide away toys, craft supplies, and games. Adding these cabinets really helped to make the piano feel grander and to add a focal point to this room.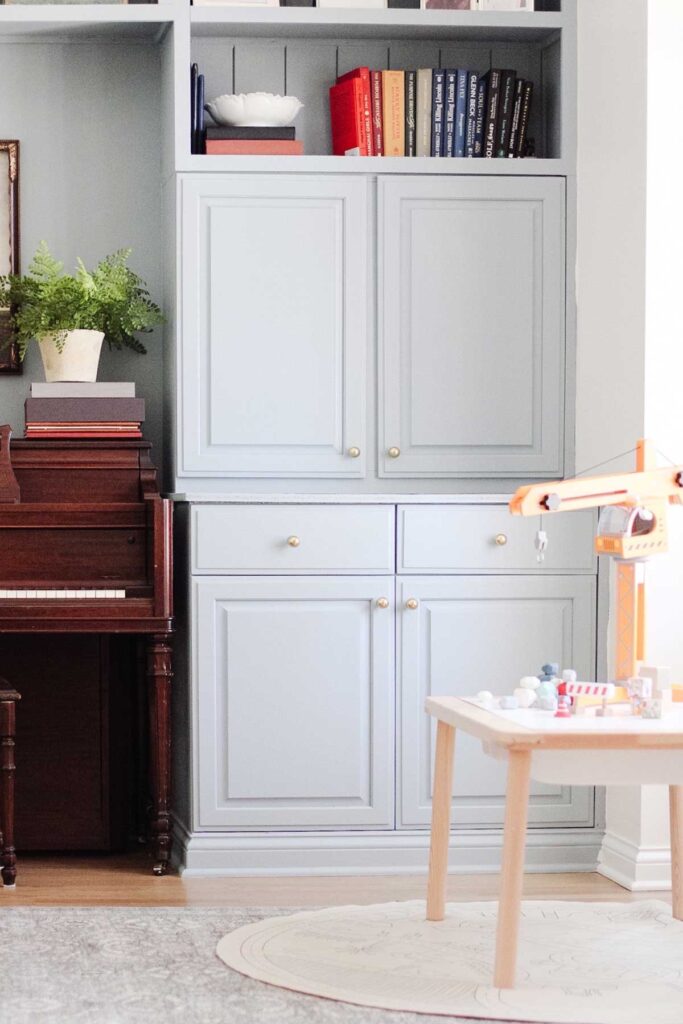 What Cabinets I used for the Piano Room
I am usually all about using Ikea cabinets for a built-in project. However, we had saved the original kitchen cabinets from when we renovated our kitchen. I strongly value reusing items whenever we can, and this project was the perfect way to do just that.
We started by setting the base cabinets on a 2 x 4 frame and trimming them out with baseboard that was consistent with the rest of the room. Then we topped these with an mdf top. Next, we used the recycled upper cabinets to make the top of the hutch. We built shelving on top of those and bridging over the piano. We lined the back of the open shelves with vertical paneling. I am a strong proponent for weaving common elements through rooms and this paneling style is in the adjacent dining room, kitchen, and mudroom. For the shelving, we followed this method. This was finished with crown moulding that matched what was in the rest of the room, creating the built-in look.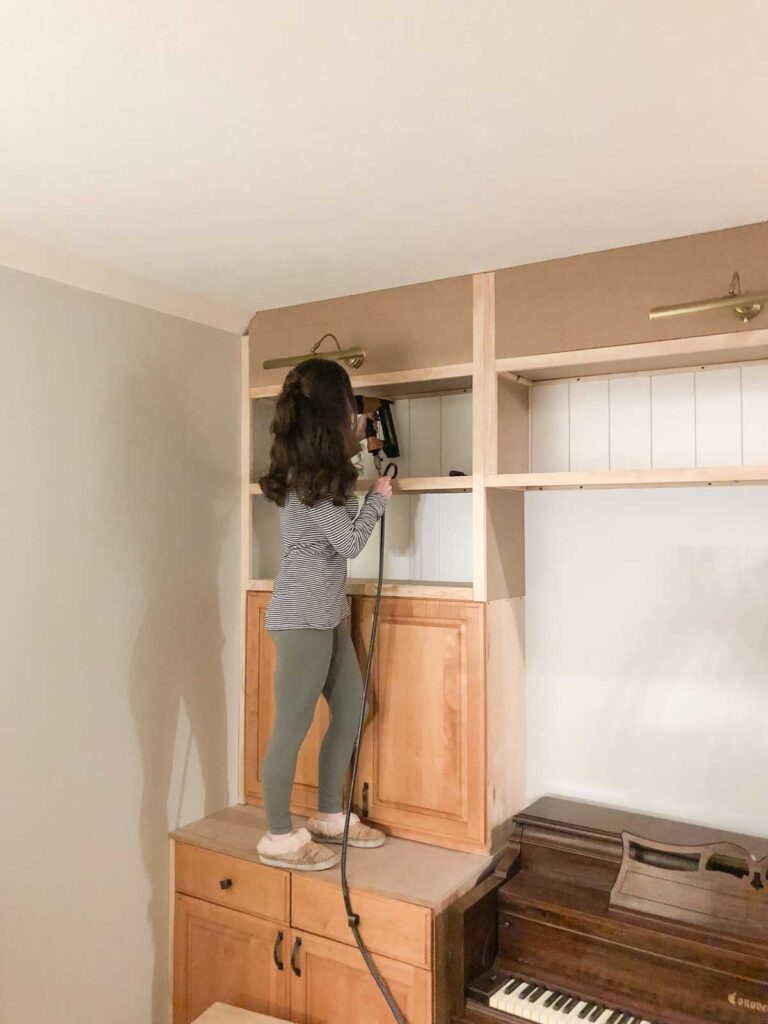 Paint & Details for the Piano Room Built-in Cabinets
I painted the cabinets a custom mix of Sherwin Williams Debonair (SW 9139) at 75% mixed with Sherwin Williams Agreeable Gray at 25% (SW 7029). I did this to muddy up the blue of debonair and add a little depth to it. Honestly, I think Debonair is a stunning color on its own.
The lights we used were the Ikea Arstid library lights, but they have since been retired. I used simple brass hardware in a vintage brass finish, and I love how classic they look.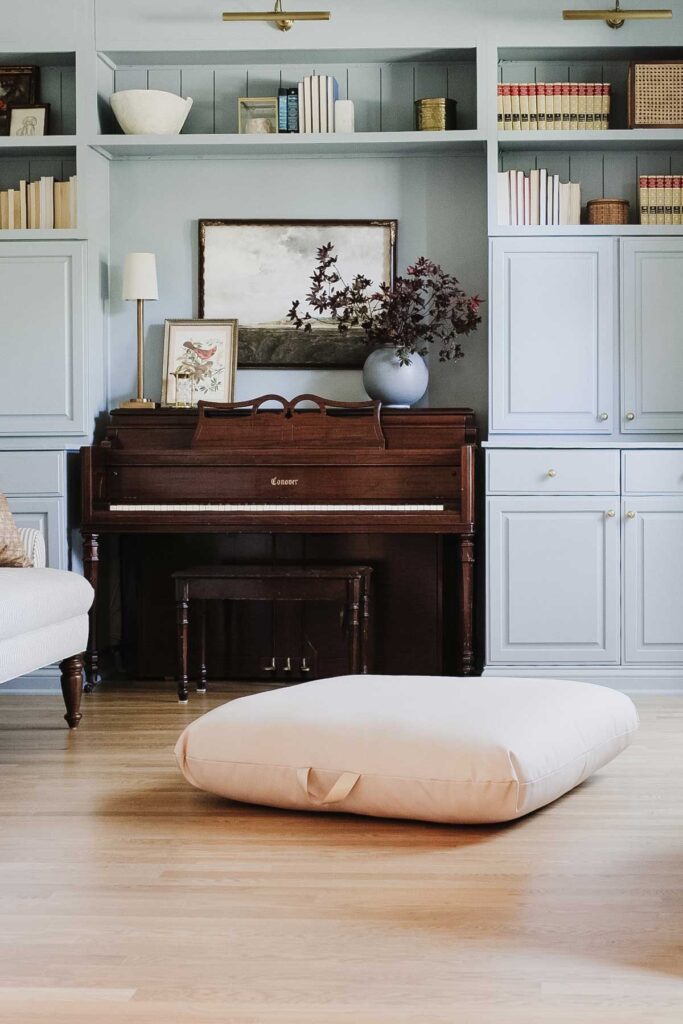 Sources for the Piano Room Built-In's
This post contains product links that may contain affiliate links. When you use the link to make a  purchase, I may make a small commission. This is not an additional cost for you, but helps me to produce this blog and content for you to enjoy.  My full disclosure is here.  Thank you! 
I am providing several library lights and piano/ table lamp alternatives to the unavailable ones we used! These are all ones I either have other places in my home, or have considered using after research. Hope this helps!

Please let me know by commenting on this post or tagging me on IG if this inspires you to create a beautiful room around your family's piano!